Are you looking for a review of the Woodpecker cold email tool? If you are going to use cold emails for your business, you might wonder if Woodpecker is great software.
I have been using cold email for my own business in a number of ways. And Woodpecker is the tool that I used at the moment. So I can tell you everything you need to know about it.
Many people used direct mail in the past, but it's too expensive to send a piece of mail when compared with a cold email. If you run Facebook ads or google ads, you may have to pay $5 or even more per link click. So cold email becomes the most affordable way when it comes to online advertising.
Woodpecker Email Review Takeaways
In this Woodpecker review, I'm going to cover the following to help you decide if you should use it or not for your marketing campaigns.
What is Woodpecker?
Woodpecker is a cold email tool that can automate your cold email campaign with follow-ups. If you are still typing an email and send it out to a prospect one-by-one, Woodpecker can help you speed up the process and save you a lot of time.
Woodpecker was founded in 2015, so it's not a newly established company. When choosing software, I try to avoid choosing those with less than a year, because they usually have a lot of bugs not fixed yet.
Since Woodpecker has been established for a number of years, you can rest assured that the software performs well without bugs.
In the next section, I'm going to tell you the key features of Woodpecker.
Start 30-Day Free Trial of Woodpecker
Woodpecker Features
Woodpecker offers many features that can make your life easier. When you visit their website, you will see a very concise description of what it can do for you. There are no fancy words and everything is easy to understand.
To help you decide if Woodpecker fits your needs, let me introduce the key features of Woodpecker to you:
Follow-up automation
Human-like email sending
Security
Teamwork
A/B testing
Agency features
Follow-up Automation
Woodpecker allows users to send a couple of automated follow-ups triggered by various conditions.
The automated follow-up feature can greatly increase the response rate of your cold email. You can schedule when to send the follow-up emails within Woodpecker. For example, you can choose the exact day or time to send out the email.
The automated email sequence will stop when you receive a reply from your prospect. If what you receive is just an auto-reply, you can reactivate it and send the follow-up email sequence again.
Human-Like Email Sending
Avoiding your emails to go into spam boxes is the most critical issue you have to solve when it comes to sending cold emails. Cold emails are unsolicited, so it's easy to be flagged as spam by email service providers.
Therefore, it's important to mimic sending email manually to avoid falling into the spam box. The frequency of sending will be set to random because manual emails do not send at a scheduled time.
Also, you can add a personalised touch to your automated emails with Woodpecker. That can greatly increase deliverability. Woodpecker enables you to add snippets and custom field in the emails like phone, job title, job field etc.
Security
Woodpecker has auto-duplicate detection, This is an important feature because it avoids you from sending an email to contact twice. This will increase the spam rate and affect your email sender reputation.
Moreover, the security feature can help you validate the email addresses, which means you can avoid sending to non-existent email addresses.
Also, all the bounces of emails will be recorded. Again it helps you avoid being blacklisted by email service providers and improve your sending reputation.
Teamwork
If you have a team, it's important to collaborate with each other on the same project.
Woodpecker has the teamwork features that can avoid errors caused by misunderstandings among the team.
For example, to avoid the team contacting the same person again, Woodpecker will detect the email address that has already been contacted. Then you can remove the contact from the campaign.
Moreover, you can see all the active campaigns in the "Team View". This can help you improve the quality of teamwork.
If you are an agency, Woodpecker provides you with two panels to manage your campaigns. One is the Agency Panel, another is the Company panel.
A/B Testing
A/B testing can track the open, respond and click rates. That way, you would have a better idea of how to optimise your email campaign.
Woodpecker categorises responses into 3 types: interested, maybe later, and not interested. If you receive a lot of "not interested" replies, it gives the signal that you should re-write your email.
Agency Feature
I have a lead generation agency and I use this Woodpecker feature for my agency.
Woodpecker comes with a number of features to improve the workflow for agencies. You can access your client list and log into their accounts easily within the Woodpecker platform.
You can also activate and detective your client's email campaigns by simply clicking on the on-off slider. That saves you a lot of time and effort in the process.
Woodpecker Pricing
Woodpecker's pricing plan is very reasonable.
For the monthly plan, it costs $39. If you pay annually, it only costs $32 per month. At this price, you can get access to the following features:
Up to 50 new people contacted daily
Unlimited follow-ups
Unlimited team members
Deliverability check
Integration with any email provider
Open, click & response detection
AI-powered interest level
If you want to create advanced campaigns like A/B tests, if-campaigns, manual tasks for LinkedIn & calls, the price will be $49/month or $40/month when billed annually.
Woodpecker offers a 30-day free trial. So if you want to test it and see if you like it, you can have a try for free. You don't have to provide your credit card information at all, so there is no risk that you will get charged by any chance.
Start 30-Day Free Trial of Woodpecker
Who is Woodpecker For?
As long as your business needs to send cold emails to prospects, Woodpecker is a great solution for you.
Here are the businesses that can benefit from Woodpecker:
Digital Agency
SaaS
Lead generation agencies
Consultants
Platforms
Recruitment agencies
What I Like About Woodpecker
In my opinion, Woodpecker is one of the best cold email and follow-up automation tools.
The personalisation options of Woodpecker allows you to send emails that do not look robot. This can greatly increase the response rate of your cold emails.
The prospects will feel like interacting with a one-on-one conversation with you. Without Woodpecker's personalisation function, your cold emails will look very spammy and be put into the spam box.
Moreover, Woodpecker really saves me a lot of time in following up with my prospects. If you don't send follow-up emails, you are going to miss a lot of potential customers. I received most of the reply emails after sending the follow-up emails. Woodpecker's follow-up feature is very robust and easy to use. It helps enhance the response and engagement rate of my email campaigns by a lot.
Finally, Woodpecker provides me with a lot of data to help me evaluate my email campaigns. For example, the open rate, reply rate, the number of positive replies, link clicks, bounce rates are all important data to look at.
Knowing these stats is very critical to optimize your email campaigns for more conversions.
Major Software Review Sites' Rating on Woodpecker
Capterra Rating: 4.8/5
G2 Rating: 4.4/5
TrustRadius Rating: 7.6/10
SourceForge Rating: No rating
Final Verdict: Woodpecker Review
Sending cold emails can save you a lot of expensive advertising in the long term. So it's worthwhile to invest in an automation tool to save time and efforts.
I have tested a number of cold email automation tools and I have chosen Woodpecker for my own business. The price of Woodpecker is very reasonable when compared with other similar tools.
The functions of Woodpecker are also very robust and sufficient for most online marketers.
Therefore, I highly recommend you take the risk-free 30-day free trial and start your cold email campaigns to get more leads and business.
Start 30-Day Free Trial of Woodpecker
Woodpecker Alternative: A Must-Have Online Marketing Tool
As you are reading this review, I'm sure you are an online entrepreneur, so I would like to introduce a very powerful marketing tool to you to help you scale your business to the next level.
It's called ClickFunnels. You may have heard of it, but if not, let me explain why you should consider using it to generate more sales online.
ClickFunnels is an all-in-one marketing tool that helps entrepreneurs, digital marketers and business owners market, sell and deliver their products or services online. 
ClickFunnels is the only piece of software you will ever need to run an internet business.
It eliminates the need to hire a web designer or salesman who is overpriced and lazy. So you can save a lot of money using ClickFunnels in the long term.
Anybody can build, design, and launch a sales funnel using ClickFunnels, regardless of their experience. Those days of hiring coders, web designers, and marketing agencies are over. With ClickFunnels, getting your business online has never been easier.
Get 14-Day Free Trial of ClickFunnels Here
But How Much Can You Earn With ClickFunnels?
Many online entrepreneurs are using ClickFunnels and have earned at least $1 million in sales using ClickFunnels. The earning potential is limitless.
ClickFunnels created an award called the "Two Comma Club" award for entrepreneurs who reached the 7-figure financial milestone inside one of their ClickFunnels funnels.
The screenshots below are some of the winners of the "Two Comma Club" award. Do you want to be one of them?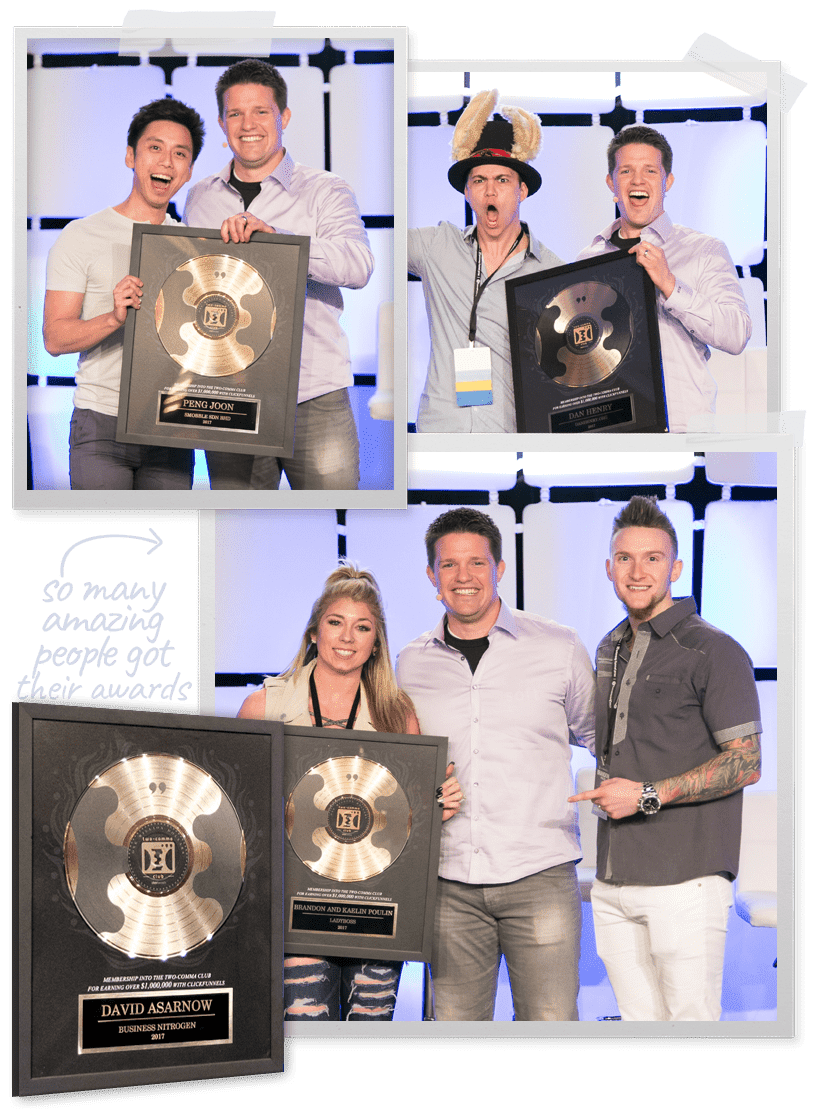 With ClickFunnels, you can drastically increase the opt-in rate and upsell conversion rate: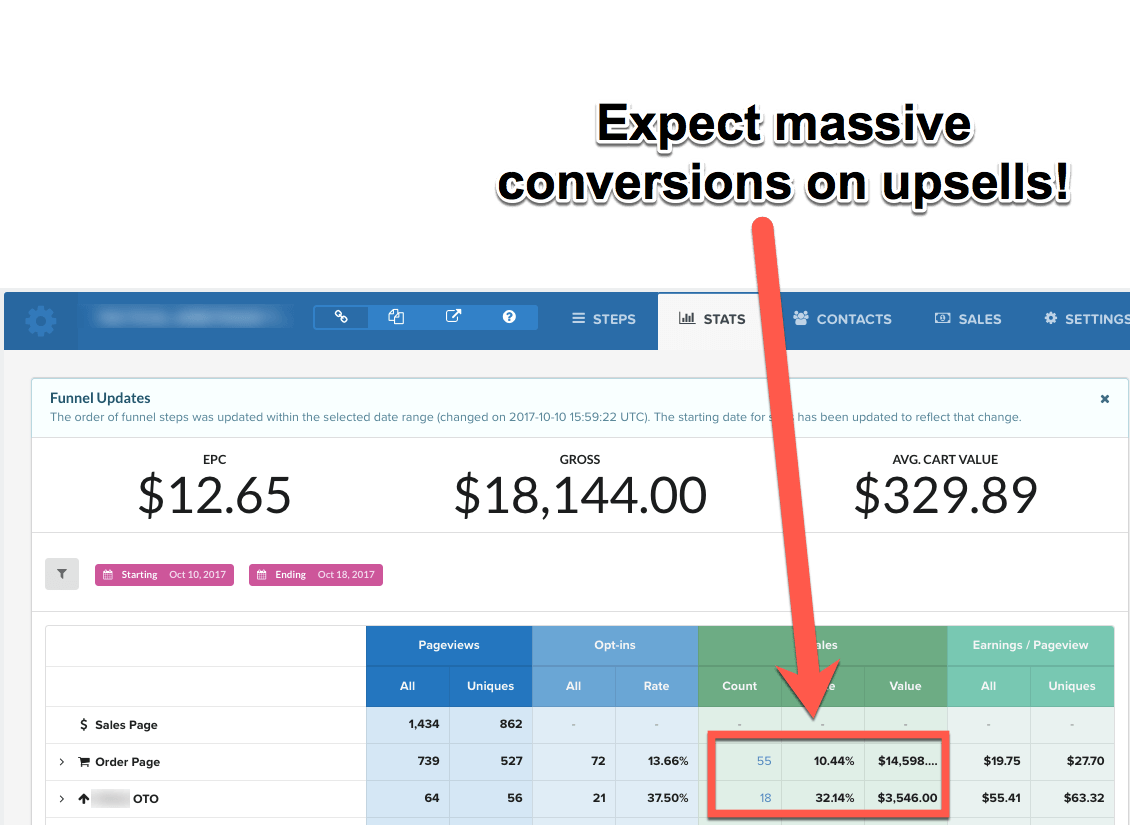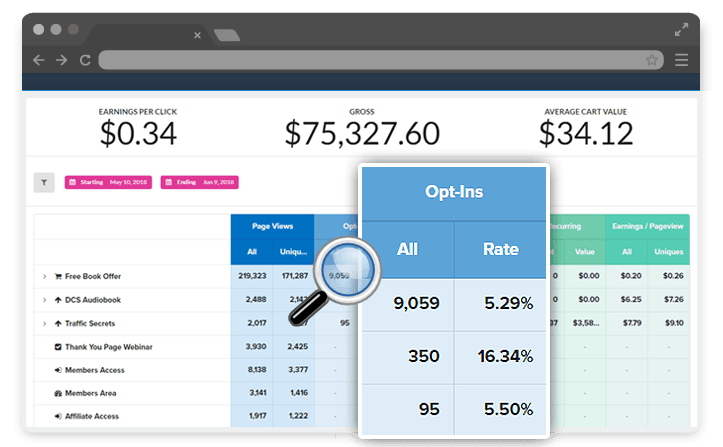 Get 14-Day Free Trial of ClickFunnels Here
Where to Get ClickFunnels?
ClickFunnels offers a 14-day free trial.
If you want to try ClickFunnels and see if it fits your online business model, you can sign up for the free trial here (no worries that you can cancel it anytime within 14 days and won't be charged a penny).
With the free trial, You can get instant access to every amazing feature of ClickFunnels:
Drag-And-Drop Website/Page Builder

One-Click Upsells & Downsells

Optin-Forms

Order Forms

Membership Area Pages

A/B Testing

Follow-up Funnels

Email List Building Tools

Email Management

Integrated Affiliate Management System

Sales Analytics

Pre-Built Funnel Templates

Payment Gateways Integration

Third-Party Integrations & Apps

CRM

And many more…
If you want to see a detailed evaluation of ClickFunnels, you can read this ClickFunnels review.
Anyway, I strongly recommend you to register a free account with ClickFunnels and see it yourself.