Are you looking for a review of GrooveFunnels? Should you use GrooveFunnels for promoting products and services online?
If you want to automate and scale your online business, you need powerful software. GrooveFunnels is known to be an all-in-one marketing tool that combines landing pages, email marketing, sales funnels etc.
But you may wonder if it is a worthwhile investment. To help you make a decision, I have done thorough research about GrooveFunnels. I also tried it myself. So I can tell you everything about it before you make the decision to buy it.
GrooveFunnels Review Key Takeaways
Software Name:

GrooveFunnels

Website: https://groovefunnels.com/
Features

: GrooveFunnels has many useful marketing features like sales funnels, websites and landing pages.

Ease of Use

: GrooveFunnels is easy to use. It's suitable for anyone without technical knowledge

Price

: the price of the lifetime deal is fair

Support

: Live chat support is available.

Overall Ranking

: 4.8/5
In this GrooveFunnels review, I'm going to cover the following.
What is GrooveFunnels?
GrooveFunnels is a suite of marketing software that can help you promote products and services online. It is built with simplicity in mind.
With GrooveFunnels, you can build sales funnels, websites, landing pages, create affiliate programs etc.
Here are what you can access when you subscribe for GrooveFunnels:
GroovePages
This is the main product of GrooveFunnels. With GroovePages, you can build a website, sales funnels and landing pages without coding. Just drag and drop and you will be able to create a professional and beautiful webpage.
I think GroovePages visual drag-and-drop editor is better than its competitors like ClickFunnels and Kartra.
Also, the loading speed of GroovePages is faster because the code is loaded on the browser. It doesn't make requests to the database.
Inside GroovePages, there are templates you can use. There are different types of pages. You can choose the one that fits your industry or business. It's really helpful if you are not a web designer.
After selecting a template, you can customise it with the blocks, pages, and elements by dragging and dropping. It's quite similar to Elementor, which is a page builder plugin for WordPress sites.
If you know coding, you can enable the source code editing and make adjustments. Sometimes, it's quite convenient to be able to replace the code directly. This is something that not many page builders allow.
GrooveSell
GrooveSell is a shopping cart function. You can use it to sell products. With GrooveSell, you can integrate with payment processors easily. It also provides you with sales analytics.
You won't be charged a transaction fee for your sales if you have a platinum subscription.
GrooveSell is different from other platforms like ThriveCart and SamCart. Your users can download invoices, change credit card info, cancel subscription etc.
As for payment gateways, GrooveFunnels supports more payment processors. For example, it supports PayPal, Stripe, Merchant Account, Braintree, AuthNet and NMI.
It also allows you to add order bumps, one-click upsells and downsells. This can increase the conversion rate and average order value.
Moreover, you can use the social proof widget feature. It is a popup that displays the orders your website received. That way, visitors will be more confident to check out.
GrooveAffiliate
If you want to create an affiliate program for your products, you can do this easily with GrooveAffiliate. That way, you can have your customers refer to your products and save advertising fee yourself.
Before you can set up an affiliate system, you need to have a product created with GrooveSell.
There are some amazing features inside GrooveAffiliate. For example, you can do "commission overrides" to give some special affiliates extra incentive to promote your products or services.
GrooveMail
GrooveMail is an email marketing and automation tool. You can use it to do email marketing. It allows you to send unlimited emails to your subscribers.
Also, I like GrooveMail that it can track deliverability rates, open rates, click-through rates and conversion rates.
You can segment your leads and tag them to create automated email sequences. What's so cool about GrooveMail is that you can send specific triggered emails depending on how your customers interact with your web pages. This is not available in other apps.
Moreover, GrooveMail supports membership sites. You don't need to install or pay for extra plugins to integrate. If you use other email marketing platforms like ActiveCampaign or MailChimp, you need extra plugins.
GrooveMember
GrooveMember is a membership platform that allows you to create online courses. Students who have enrolled in your course can access the member area.
With GrooveMember, you can issue certificates to your students. If you use Teachable for hosting your online course, you may wonder why you should use GrooveMember.
GrooveMember is just part of the features inside GrooveFunnels. You can use other apps within GrooveFunnels, such as the funnel tools, email marketing tools, shopping cart etc. GrooveFunnels is an all-in-one software that you don't have to worry about integrations with third-party apps.
GrooveVideo
GrooveVideo allows you to stream your videos. You can see the analytics of your videos as well. It is similar to Vimeo and Wistia.
GrooveVideo is not a tool for creating videos. It's just for hosting and marketing your videos. You can use some features like tagging and placing a call to action inside the video player.
For example, you can follow up with someone who watched your video by email.
GroovePages for Shopify
You can create pages for your Shopify store.
GrooveKart
GrooveKart is an eCommerce platform that allows you to build your online store. You can import your existing Shopify store into it.
GrooveWebinars
GrooveWebinars allows you to host webinars and integrate them with your pages, cart and funnels.
GrooveBlog
GrooveBlog allows you to create a personal blog. You don't have to use WordPress.
GrooveDesk
GrooveDesk enables you to provide customer support for your business. Your customers can open tickets and you can solve their problems in an organised way.
GrooveCalendar
GrooveCalendar is an alternative to Calendly. You can schedule meetings, events, and calls with it. For example, you can allow people to book appointments with you and link it to GrooveMail.
GrooveSurvey & GrooveQuiz
GrooveSurvey and GrooveQuiz allow you to create questionnaires, surveys, quizzes. You can store your survey results in the GrooveMail.
GrooveMarketplace
GrooveMarketplace is where you can find products from other users of GrooveFunnels.
What I Like About GrooveFunnels?
GrooveFunnels is a very powerful software that can save a lot of time for online marketers. All the apps within the platform can integrate with each other seamlessly.
Also, they provide API and SDK for developers to create plugins or extensions to integrate with the platform. That makes GrooveFunnels even more powerful.
The era of requiring coding knowledge to start an online business has gone. Anyone without coding knowledge can use GrooveFunnels without issues. To get familiar with GrooveFunnels at the beginning, you can get access to a lot of resources inside GrooveAcademy to learn how to use it. 
For the technology side, GrooveFunnels page builder uses a progressive JavaScript framework. That is great for scalability and flexibility in the long term. Actually, the tech team of GrooveFunnels is composed of brilliant minds coming from some reputable companies like WebinarJam, PrestaShop, Kartra etc. So you can be sure that GrooveFunnels is not buggy software.
What I Don't Like About GrooveFunnels?
GrooveFunnels is not perfect. Actually no software is perfect. There are some bugs in some aspects of the GrooveFunnels, but the development team is always quick to fix them.
Moreover, GrooveFunnels only has a lifetime deal, which is a lot to some people. However, they do have the free version, where you can try it out and see if it suits your needs.
Also, since GrooveFunnels has many apps and functions, there is a learning curve to get familiar with all the tools.
Who is GrooveFunnels For?
GrooveFunnels is suitable for different types of people.
Marketing Agencies
If you operate a marketing agency, you can use GrooveFunnels to manage your clients' marketing campaigns. Since GrooveFunnels is an all-in-one marketing software, it's more convenient to manage everything in one place.
Online Course Creators
Also, if you are a course creator, GrooveFunnels is a great choice for you as well. With all the marketing tools combined, you can create pages, funnels, membership sites, host videos altogether.
Managing everything in one place keeps things simple and organised.
Moreover, you can create an affiliate program for your course so that you can save money on promotion. You can improve your conversion rate by creating funnels with GrooveFunnels. This is lacking in some online course platforms like Thinkific and Teachable.
Also, GrooveFunnels does not charge you transaction fees. If you use Teachable, they will charge a 10% transaction on the free plan and 5% on the basic plan, which can add up to a huge amount of money.
eCommerce
It's possible to create an online store with GrooveFunnels. GrooveKart has everything built for you.
However, there are no plugins which are available in WooCommerce or Shopify.
Comparison of GrooveFunnels With Competitors
GrooveFunnels vs ClickFunnels
ClickFunnels is very popular in recent years, but many people have started switching to use GrooveFunnels because of the lifetime deal.
ClickFunnels and GrooveFunnels have very similar features.
But when it comes to pricing, ClickFunnels is more expensive because you have to pay $299 monthly payment.
GrooveFunnels vs Kartra
GrooveFunnels support first-mobile indexing which is good for SEO. Because Google now uses the mobile version for indexing and ranking. Kartra doesn't support this.
Actually, GrooveFunnels is made by one of the co-founders of Kartra. So features that are available in Kartra can be expected in GrooveFunnels as well.
GrooveFunnels vs Builderall
Builderall is much cheaper than GrooveFunnels. It starts at $20/month.
However, when comparing the features, GrooveFunnels is much better. When you use Builderall, you will realise a lot of limitations. Also, I personally like the user interface of GrooveFunnels.
GrooveFunnels Integrations
GrooveFunnels is an all-in-one software where the apps can integrate with each other. You don't need extra software or plugins for integration.
Also, GrooveFunnels can integrate with Zapier, which makes it possible to integrate with more than 200 apps. You can do a lot of automation with this.
Get A Special Offer of GrooveFunnels Here
GrooveFunnels Pricing
GrooveFunnels has changed its pricing, which may be changed again later.
Many other blog post's pricing is outdated.
At the time of writing, there are two plans.
GrooveFunnels Free Plan
The free plan allows you to get access to all tools with restrictions. You don't have to provide your credit card number. The free plan is only available for a limited time thought. It may revert to monthly billing later.
GrooveFunnels Lifetime Platinum Plan
The lifetime plan is a great deal. It might not be available in the future. So if you still see the lifetime plan, you should grab it before it's gone.
The lifetime plan costs $1,397. It's a one-time payment for lifetime access. You can also choose the payment plan, which is 5 payments of $497. In total, you would have to pay $2,485. I personally like the one-time payment as it is much cheaper.
Please note that the lifetime plan may increase to $2,497 very soon. The exact date of the price increase is not yet confirmed by GrooveFunnels founder. But very likely, it will happen very soon.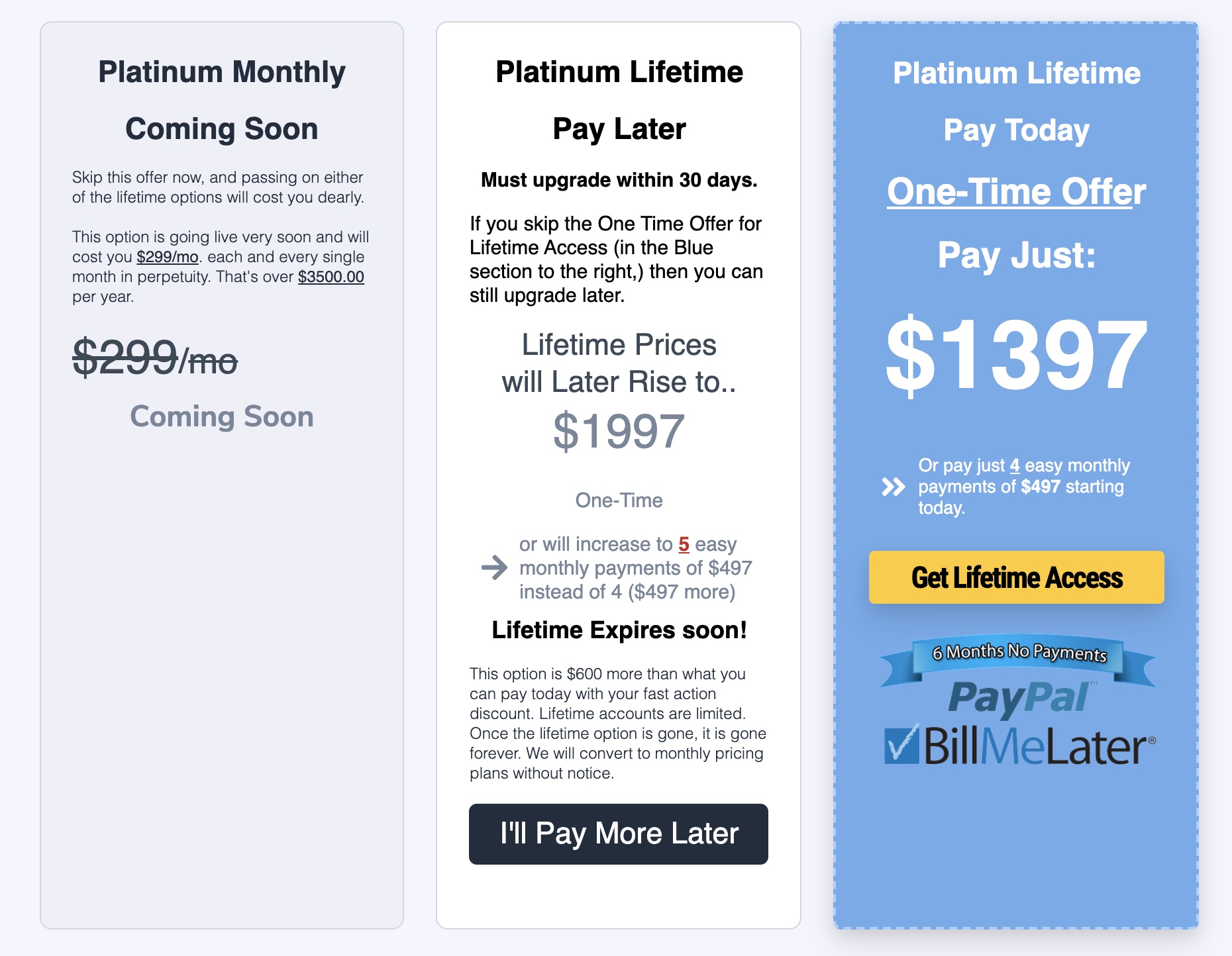 Final Verdict: GrooveFunnels Review
GrooveFunnels is a game-changer because of all the powerful features it offers for online marketers.
They are growing so fast that many people are switching from ClickFunnels to them.
If you are serious about your online marketing business, GrooveFunnels is great software to facilitate your success. It's worth the investment because it saves you a lot of time and money in the long term.
The lifetime deal is a bit pricey because it requires you to pay a lump sum upfront, but when you can build a powerful automated sales system with it, this one-time investment pays off.
Get A Special Offer of GrooveFunnels Here
GrooveFunnels Alternative: A Must-Have Online Marketing Tool
As you are reading this review, I'm sure you are an online entrepreneur, so I would like to introduce a very powerful marketing tool to you to help you scale your business to the next level.
It's called ClickFunnels. You may have heard of it, but if not, let me explain why you should consider using it to generate more sales online.
ClickFunnels is an all-in-one marketing tool that helps entrepreneurs, digital marketers and business owners market, sell and deliver their products or services online. 
ClickFunnels is the only piece of software you will ever need to run an internet business.
It eliminates the need to hire a web designer or salesman who is overpriced and lazy. So you can save a lot of money using ClickFunnels in the long term.
Anybody can build, design, and launch a sales funnel using ClickFunnels, regardless of their experience. Those days of hiring coders, web designers, and marketing agencies are over. With ClickFunnels, getting your business online has never been easier.
Get 14-Day Free Trial of ClickFunnels Here
But How Much Can You Earn With ClickFunnels?
Many online entrepreneurs are using ClickFunnels and have earned at least $1 million in sales using ClickFunnels. The earning potential is limitless.
ClickFunnels created an award called the "Two Comma Club" award for entrepreneurs who reached the 7-figure financial milestone inside one of their ClickFunnels funnels.
The screenshots below are some of the winners of the "Two Comma Club" award. Do you want to be one of them?
Where to Get ClickFunnels?
ClickFunnels offers a 14-day free trial.
If you want to try ClickFunnels and see if it fits your online business model, you can sign up for the free trial here (no worries that you can cancel it anytime within 14 days and won't be charged a penny).
With the free trial, You can get instant access to every amazing feature of ClickFunnels:
Drag-And-Drop Website/Page Builder

One-Click Upsells & Downsells

Optin-Forms

Order Forms

Membership Area Pages

A/B Testing

Follow-up Funnels

Email List Building Tools

Email Management

Integrated Affiliate Management System

Sales Analytics

Pre-Built Funnel Templates

Payment Gateways Integration

Third-Party Integrations & Apps

CRM

And many more…
If you want to see a detailed evaluation of ClickFunnels, you can read this ClickFunnels review.
Anyway, I strongly recommend you to register a free account with ClickFunnels and see it yourself.