In the ever-evolving landscape of online businesses, the right tools can make or break your success. Among the newer players in the digital marketing platform arena, GrooveFunnels has emerged as a contender, offering a suite of tools aimed at boosting your online business. But is the learning curve and the occasional technical glitches worth the investment?
This comprehensive review of GrooveFunnels aims to dive deep into the platform's offerings to help you decide whether it's the right fit for your online endeavors.
GrooveFunnels Review Key Takeaways
Software Name:

GrooveFunnels

Website: https://groovefunnels.com/
Features

: GrooveFunnels has many useful marketing features like sales funnels, websites and landing pages.

Support

: Live chat support is available.

Overall Ranking

: 4.8/5
What is GrooveFunnels?
GrooveFunnels is an all-in-one solution for managing your online business. It acts as a customer relationship management (CRM) platform while also providing marketing automation tools. In simple terms, GrooveFunnels is like having a toolkit that can help you build sales funnels, landing pages, and complete websites.
Additionally, it facilitates hosting webinars, managing affiliates, selling products, generating leads, and even creating content. GrooveFunnels claims to be suitable for both beginners and experienced digital marketers, making it an enticing option for those seeking a comprehensive suite of tools.
Get A Special Offer of GrooveFunnels Here
Features of GrooveFunnels
GrooveFunnels is equipped with a range of features designed to facilitate various aspects of your online business. Here's an in-depth exploration of each feature:
1. GroovePages
GroovePages is a versatile website and sales funnel builder. It empowers you to create entire websites and sales funnels from scratch or through pre-designed templates. The goal is to simplify the process of designing and launching your online presence. With GroovePages, you can:
Build Customized Websites: Utilize an intuitive drag-and-drop builder to construct websites tailored to your brand and goals.

Sales Funnels: Leverage sales funnels to guide visitors through a strategic sequence of steps, maximizing conversion rates.

Efficient Checkout: Create streamlined and efficient checkout processes to enhance user experience.

Upsells and Downsells: Implement strategies to increase sales by offering complementary products during the checkout process.

Affiliate Integration: Seamlessly integrate affiliate programs to boost sales through partnerships.
While GroovePages offers a powerful and user-friendly drag-and-drop builder, some users may initially find the interface complex to navigate.
2. GrooveCheckout
GrooveCheckout serves as a shopping cart software that seamlessly combines sales with affiliate marketing. It enhances the online shopping experience and empowers you to:
Checkout Options: Set up single-step or multi-step checkout processes to suit your products and customers' preferences.

Password Management: Integrate password management for added security during transactions.

Product Sales: Facilitate unlimited product sales, whether they are physical or digital items.

Detailed Reporting: Access comprehensive reporting and analytics to monitor sales, revenue, and more.
GrooveCheckout streamlines the online purchasing journey for your customers while providing valuable insights into your sales performance.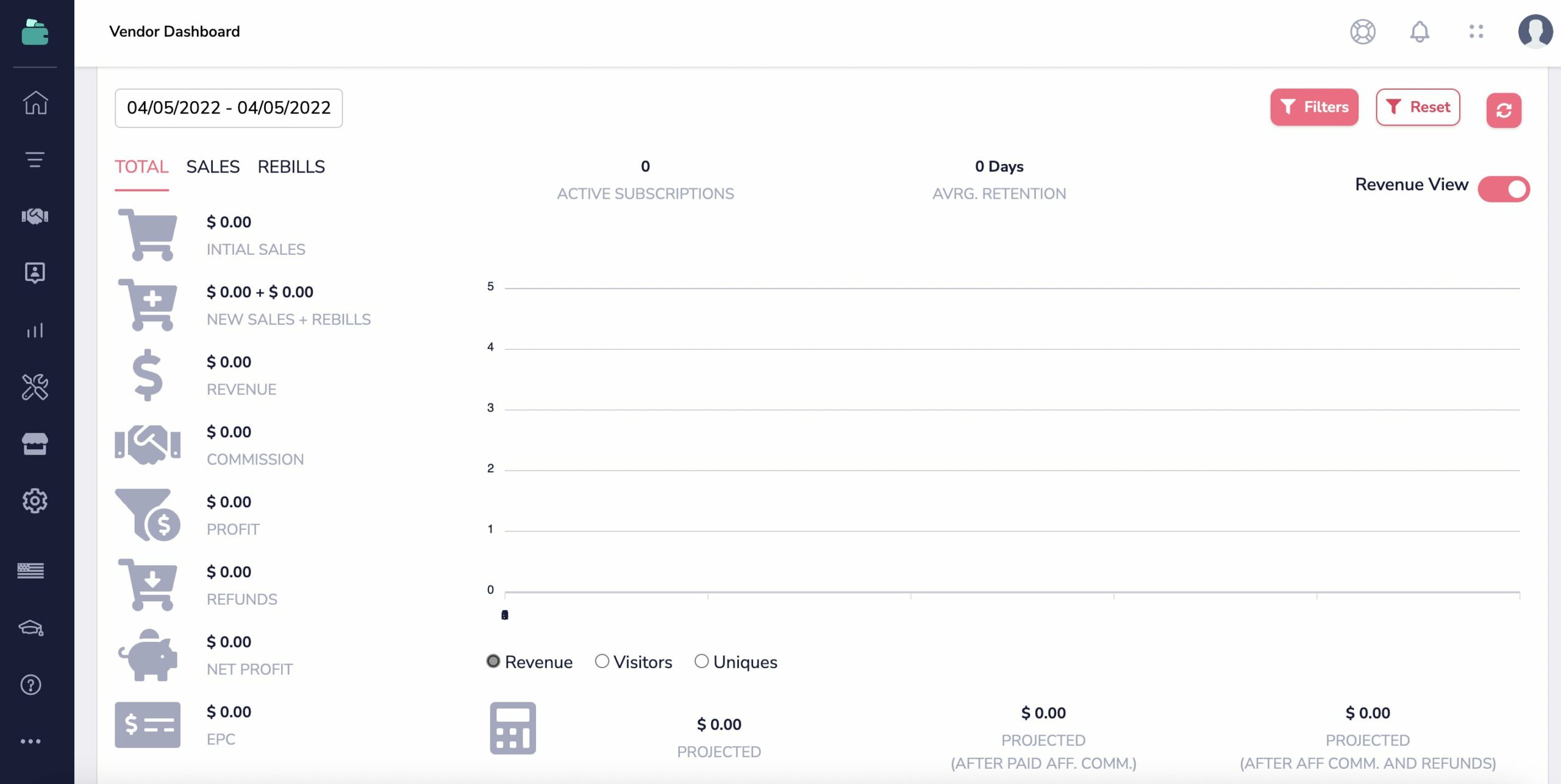 3. GrooveAffiliate
GrooveAffiliate is an affiliate marketing program that enables marketers to promote high-converting products and earn commissions. It offers various functionalities to enhance your affiliate marketing efforts:
Free Sign-Up: Join the program for free after creating a GrooveFunnels account.

Product Promotion: Market GrooveDigital products and earn commissions on sales generated through your affiliate link.

Custom Payouts: Tailor payout structures for affiliates, managing their earnings and commissions.

Tax Reporting: Streamline tax reporting for bonuses and earnings through ledger adjustments.

Payment Options: Facilitate easy payments to affiliates through PayPal or bank wire.

Automated Leaderboards: Motivate affiliates with automated leaderboards for contests and incentives.
GrooveAffiliate provides a platform for marketers to promote products, generate revenue, and build partnerships within the GrooveFunnels ecosystem.
4. GrooveMail
GrooveMail serves as an autoresponder and CRM automation tool, enhancing your email marketing campaigns. While basic features are available in the Free plan, premium accounts offer advanced functionalities:
Automated Sequences: Sequence automated emails to nurture leads and guide them through the customer journey.

Broadcasts: Send out broadcast emails to promote services, products, or events to your audience.

Analytics: Access detailed analytics to track engagement rates, click-through rates, and open rates.

Lead Import: Manage and import leads from various sources for easy access and segmentation.

HTML Emails: Create professional HTML emails with customized themes and layouts.
GrooveMail empowers you to engage with your audience effectively and convert leads into paying customers through well-crafted email campaigns.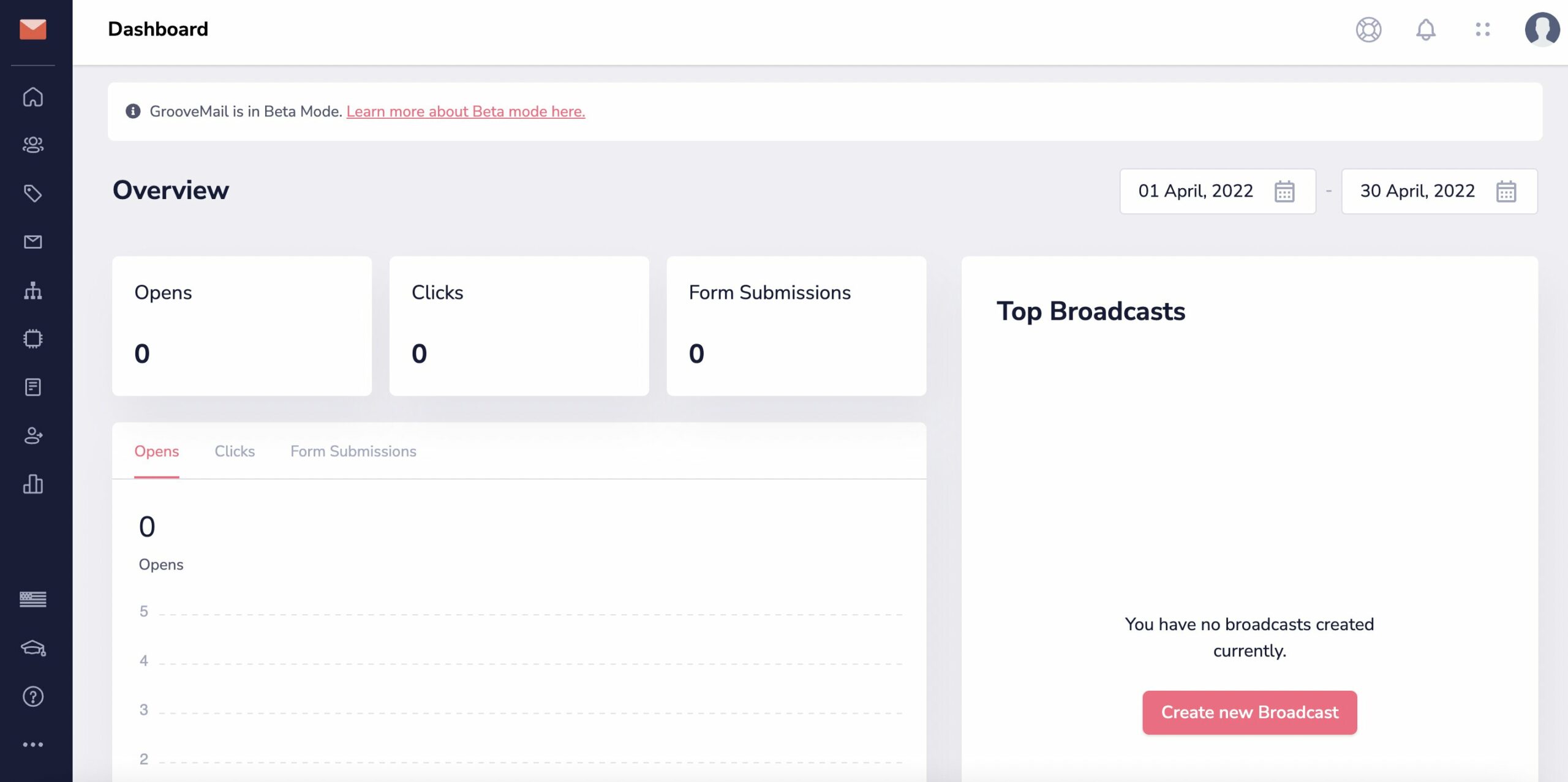 5. GrooveKart
GrooveKart is a versatile digital marketing tool that enables the creation of online stores for both print-on-demand and dropshipping models. It offers functionalities such as:
Store Creation: Build online stores with ease, catering to both print-on-demand and dropshipping businesses.

Product Customization: Create your own branded products or explore related products for your store.

Store Frequency: The Free plan allows the creation of a new store every 30 days.

Premium Access: GrooveKart is available separately or through upgrading to premium GrooveFunnels plans.
While GrooveKart offers great potential for online store creation, its access depends on your chosen subscription plan.
6. GrooveWebinars
GrooveWebinars is an automated webinar software that facilitates the development and hosting of evergreen webinars. It comes with features like:
Automated Webinars: Run automated webinars using past recordings to engage and educate your audience.

Live Webinars (Coming Soon): Plan to broadcast live webinars for real-time interactions with your audience.

Stream and Meeting Webinars (Coming Soon): Stream webinars to multiple platforms and host small group meetings.

Webinar Statistics: Access valuable statistics to understand the effectiveness of your webinars.
GrooveWebinars enhances your engagement strategies by offering automated webinar solutions to educate and connect with your audience.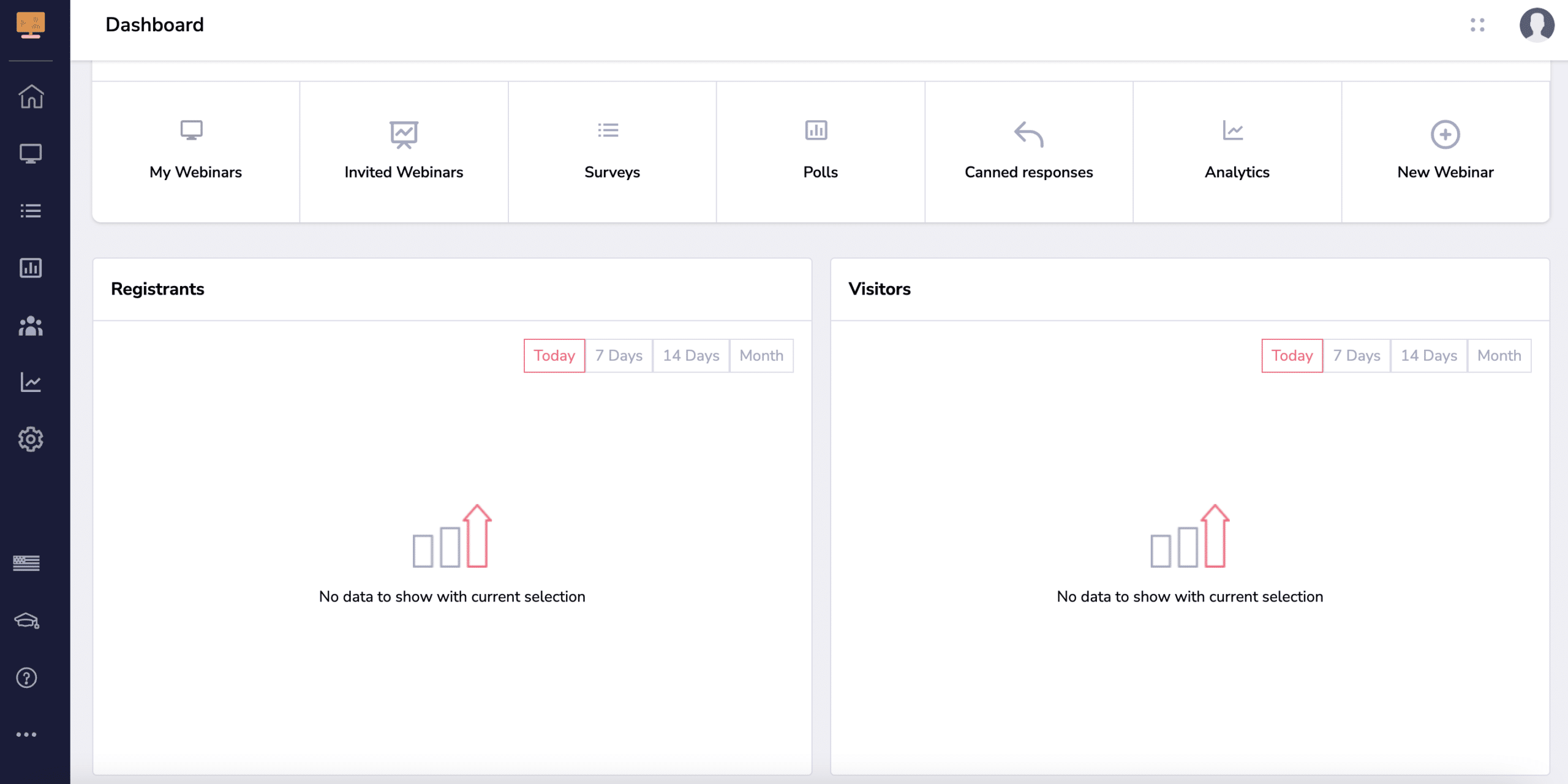 7. GrooveBlog
GrooveBlog serves as a content editor tailored for blog posts, enhancing your content creation efforts. While the Free plan offers limited access, upgrading to the Pro plan expands your possibilities:
Content Creation: Write, edit, and publish blog posts to share valuable information with your audience.

SEO Tools: Leverage powerful SEO tools to increase the visibility of your blog posts and attract more traffic.
GrooveBlog simplifies the process of creating and publishing engaging content to drive traffic and engage your audience.
8. Other Features
Beyond the primary features, GrooveFunnels offers additional platforms and services to elevate your digital marketing efforts:
GrooveMember: A content management system and membership site software for creating and managing membership sites.

GrooveVideo: A video hosting and marketing tool that optimizes videos for lead generation and engagement.

GrooveProof: A social proof tool that displays verified purchases to enhance credibility and conversions.

GrooveDigital Academy: A video course library that provides training on using GrooveFunnels and its features.

GroovePay, GrooveCopyPro, GrooveSolos, GrooveAds: Additional services that offer payment processing, copywriting assistance, targeted traffic, and ad management, respectively.
Get A Special Offer of GrooveFunnels Here
Who is GrooveFunnels For?
GrooveFunnels caters to a wide audience, making it suitable for both newcomers and experienced marketers. Beginners seeking the right tools to kickstart their online businesses can explore the free account option. As you gain familiarity and your business grows, you can consider upgrading to premium plans to unlock more advanced features and services. However, the learning curve might pose initial challenges for those unfamiliar with digital marketing tools.
How Much Does GrooveFunnels Cost?
GrooveFunnels offers a range of pricing plans to suit different needs:
Free Plan: As the name suggests, this plan is entirely free and provides access to a limited set of features, making it ideal for beginners or those on a tight budget.

Starter Plan: Priced at $99 per month (or $79 per month if billed annually), the Starter plan is designed for small businesses and offers more advanced features, including increased email sends and custom domains.

Pro Plan: The Pro plan, priced at $299 per month (or $239 per month if billed annually), is the most comprehensive option. It offers unlimited access to various features and is ideal for businesses looking for an extensive toolkit.
It's worth noting that the previously available Lifetime Deal has concluded, so these subscription plans are the current options.
What Are Customers Saying?
Customer feedback provides valuable insights into the actual user experience with GrooveFunnels. Positive reviews highlight the platform's versatility and the convenience of having multiple tools in one place. Users appreciate the ease of use, especially for beginners, and the availability of tutorials. However, some users have encountered technical issues, and the customer support response time has been a point of contention.
Get A Special Offer of GrooveFunnels Here
Pros of GrooveFunnels
GrooveFunnels boasts several strengths that can benefit your online business:
Affordability: Its pricing plans offer a competitive edge in the market.

Versatility: GrooveFunnels' comprehensive suite caters to various digital marketing needs.

Learning Resources: The platform offers an array of tutorials and guidance to facilitate tool utilization.

Template Selection: Professionally designed templates ease the process of creating landing pages and funnels.
Cons of GrooveFunnels
However, there are some downsides to consider:
Learning Curve: The platform's complexity might pose challenges for beginners.

Bugs: Occasional technical glitches can hinder smooth operations.

Unreleased Features: Certain features advertised might not be available yet.

Overwhelming for Beginners: The multitude of tools might be daunting for newcomers.

Limited Free Features: The Free plan comes with restrictions on features and services.

Customer Support: Support response times can be slow, with waiting periods of up to 72 hours.
Get A Special Offer of GrooveFunnels Here
GrooveFunnels Alternatives
While GrooveFunnels offers a comprehensive suite of tools, it's essential to explore alternatives to make an informed decision. Some popular alternatives include ClickFunnels, Kartra, and Builderall. Each option has its strengths and weaknesses, so consider your specific business requirements and goals when comparing these alternatives.
Final Verdict: GrooveFunnels Review
In conclusion, GrooveFunnels presents a comprehensive toolkit for online businesses, promising a range of features to streamline operations. While the learning curve and occasional technical issues might pose initial challenges, the platform's benefits, including competitive pricing and continuous development, make it an attractive option.
GrooveFunnels caters to both beginners and experienced marketers, offering a free plan for testing and premium plans for those seeking more advanced capabilities. Ultimately, the decision to invest in GrooveFunnels depends on your business requirements, willingness to adapt to new tools, and budget considerations.