If you've been scouring the digital highways for a roadmap to turn your blogging aspirations into a lucrative reality, you're in for a treat. Imagine a course that not only teaches you the nuts and bolts of blogging but also guides you through the winding roads of online entrepreneurship. That's where Blogging Fast Lane comes into play – an 8-week course that promises to fast-track your journey to online success.
If you're ready to rev up your engines and embark on this thrilling ride, keep reading as we dissect the ins and outs of Blogging Fast Lane.
What is Blogging Fast Lane?
Blogging Fast Lane is an 8-week online program meticulously crafted to guide you through the exhilarating world of blogging. Created by seasoned bloggers Tom and Anna, this course isn't just about stringing words together; it's about building a brand, attracting a dedicated readership, and monetizing your blog for long-term success.
Whether you're a newbie looking to dip your toes into the blogging waters or a seasoned content creator seeking to elevate your game, Blogging Fast Lane claims to have the tools to get you there.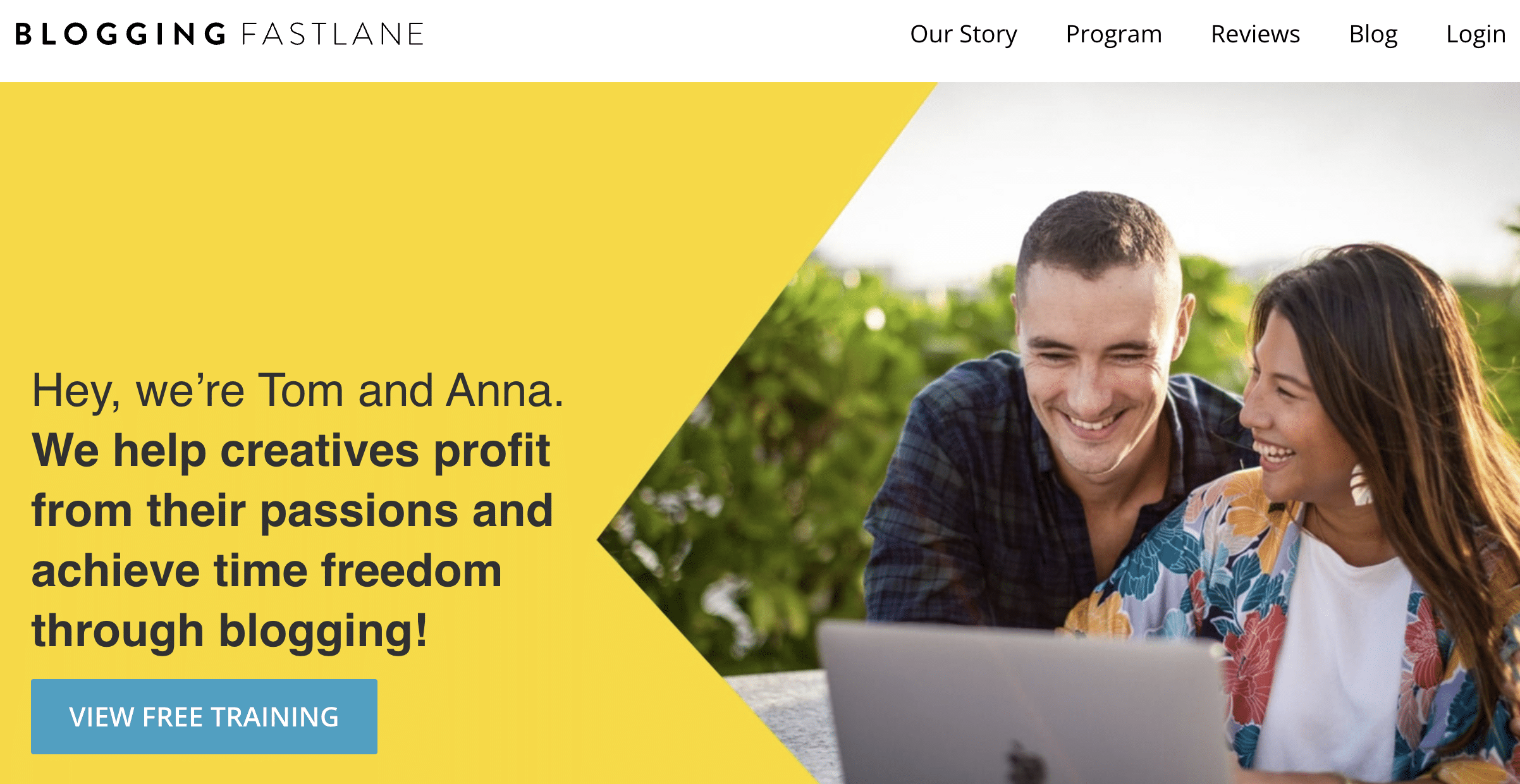 Learn more:
Check Out The Best Alternative Here
Who Created Blogging Fast Lane?
So, who are these masterminds behind the wheel? Meet Tom Rogers and Anna Faustino, a dynamic duo who've not only cracked the code to successful blogging but have also transformed it into a lucrative career. Their brainchild, the blog "Adventure In You," began as a humble endeavor and has since transformed into a six-figure business while they globe-trotted.
With their experience as guiding lights, Tom and Anna designed Blogging Fast Lane as a bridge to help you cross over from a mere blog hobbyist to a profitable online entrepreneur.
How Does Blogging Fast Lane Help You Make Money?
Now, let's get down to the nitty-gritty – how does Blogging Fast Lane steer you toward the road to riches? Well, imagine this course as your pit crew, fine-tuning your blogging engine for maximum performance.
The course breaks down into 11 comprehensive modules, each tackling a crucial aspect of successful blogging. From understanding the blogging landscape and setting up your website foundation to mastering affiliate marketing and search engine optimization, these modules promise to equip you with the skills to monetize your blog effectively.
Who is Blogging Fast Lane For?
Buckle up, because Blogging Fast Lane caters to a diverse range of aspiring bloggers. If you have a passion for writing and a burning desire to share your knowledge with the world, this course is your golden ticket.
Whether you're inclined toward travel, lifestyle, food, sports, or any other niche under the digital sun, Blogging Fast Lane claims to guide you toward success. It's not just for seasoned bloggers – beginners seeking a comprehensive guide to blogging basics are also encouraged to hop on board.
Check Out The Best Alternative Here
What's Inside Blogging Fast Lane?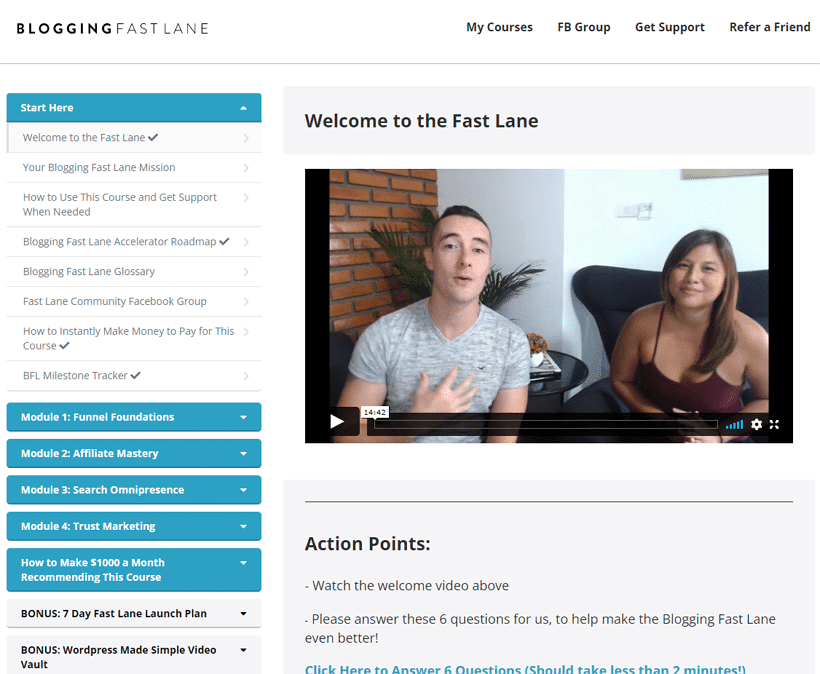 So, what does the Blogging Fast Lane pit stop offer? Hold onto your seat; it's quite a journey! The course curriculum includes:
Blogging Business Mindset

: Lay the groundwork for a successful blogging journey with a solid mindset.

Finding a Niche and Creating a Brand

: Discover your niche and learn how to build a recognizable brand.

Setting Up Your Blog

: Navigate the technicalities of blog setup and lay a strong foundation.

Mastering Affiliate Marketing

: Dive into the world of affiliate marketing and learn how to make it work for you.

Monetizing Your Blog through Adverts

: Uncover the secrets of effectively monetizing your blog through ads.

Search Engine Optimization and Content Planning

: Learn the art of SEO and strategic content planning.

Growing Blog Traffic from Pinterest

: Tap into the power of Pinterest to boost your blog's visibility.

Building an Email List and Automation

: Discover the importance of email marketing and harness its potential.

Resources and Tools

: Explore handy resources and tools that can make your blogging journey smoother.

Time Management and Productivity

: Learn how to manage your time efficiently for maximum productivity.
How Much Does Blogging Fast Lane Cost?
Blogging Fast Lane's ticket comes at a cost of $997. However, keep an eye out for discounts that Tom and Anna might offer. While this might seem like a considerable investment, consider it as laying the foundation for a potentially profitable blogging career. Think of it as fuel for your blogging engine, propelling you forward on the road to success.
Check Out The Best Alternative Here
Are Students of Blogging Fast Lane Getting Results?
Now, let's shift gears and focus on the real deal – are students of Blogging Fast Lane reaping the rewards? While individual results may vary, there are promising indications that the course is making a difference.
Positive feedback and success stories have been trickling in, showcasing students who've seen an uptick in blog views, subscriber lists, and even affiliate sales. While this might not guarantee your success, it does suggest that the strategies taught in the course have the potential to yield results.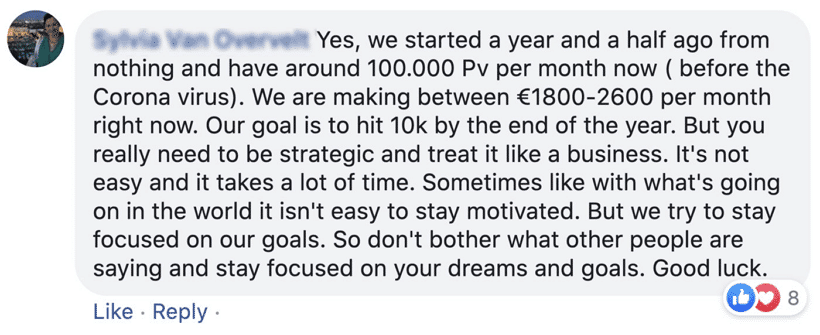 Is Blogging Fast Lane a Scam or Legit?
The million-dollar question: is Blogging Fast Lane a legitimate opportunity or just another digital mirage? From what we've uncovered, Blogging Fast Lane appears to be a legitimate endeavor. Tom and Anna, with their track record of turning a blog into a thriving business, lend credibility to the course. However, it's essential to approach any online course with a critical eye and realistic expectations.
Learn more: Best Affiliate Marketing Courses.
Check Out The Best Alternative Here
Pros of Blogging Fast Lane
Comprehensive Curriculum

: The course covers a wide range of topics crucial to successful blogging.

Experienced Instructors

: Tom and Anna bring their firsthand experience and success to the table.

Actionable Insights

: The course emphasizes practical action steps to implement what you learn.

Community Support

: Access to a community and Facebook group for guidance and troubleshooting.

90-Day Money-Back Guarantee

: A safety net that allows you to test the waters risk-free.
Cons of Blogging Fast Lane
Varied Pricing

: The course price seems to fluctuate, which might be confusing for potential students.

Initial Cost

: The upfront investment of $997 might be a deterrent for some aspiring bloggers.

Additional Costs

: The course doesn't cover tools, hosting, and other potential expenses.

Availability

: The course might not always be open for enrollment, and webinars may not run daily.
Should You Join Blogging Fast Lane?
Now that we've navigated through the twists and turns of Blogging Fast Lane, the question remains – should you take the plunge? The answer lies in your commitment and financial readiness.
If you're genuinely passionate about blogging, willing to put in the effort, and have the budget to invest in your blogging journey, Blogging Fast Lane could be a valuable pit stop on your route to success.
Is There a Better Alternative?
Here's the best alternative to Blogging Fast Lane: Wealthy Affiliate. It's an all-in-one platform to help you start your affiliate marketing business from scratch. This platform has been around for more than 17 years and gives you everything you need to succeed, like hosting for your website, tools to find the right words people are searching for, a friendly community, easy-to-follow lessons, and tools to help you write.
The best part? You can sign up for free and begin your affiliate marketing journey right away, without having to pay anything. If you really like what you see, you can choose to upgrade to a premium membership to get even more cool stuff. And unlike some other places, Wealthy Affiliate doesn't try to sell you extra things you don't need. You can read my complete review of Wealthy Affiliate to learn more.
Check Out The Best Alternative Here