In the realm of modern business, staying connected with customers is of paramount importance. In this digital age, email marketing has emerged as a powerful tool, and one of the prominent players in this arena is Mailchimp. With over 12 million users, Mailchimp has become a go-to platform for businesses seeking to engage and communicate effectively with their audience.
In this comprehensive Mailchimp review, we will delve into its features, strengths, weaknesses, pricing, and alternatives to provide you with a clear understanding of whether it suits your business needs.
What is Mailchimp?
Mailchimp is an email marketing platform that empowers businesses to create, manage, and analyze their email campaigns. It offers a suite of tools aimed at enhancing communication, engagement, and conversions through targeted email marketing efforts. From creating visually appealing emails to automating marketing campaigns, Mailchimp is designed to cater to a wide range of businesses, from small startups to large enterprises.
Features of Mailchimp
Let's take a closer look at the features that Mailchimp brings to the table:
1. Ease of Use
Mailchimp is designed with user-friendliness in mind. Its clean and intuitive interface allows users to navigate effortlessly and find the tools they need. The left-side menu provides an overview of campaigns and performance metrics, making it easy to monitor progress. The campaign creation process is straightforward – by clicking the "Create" button, you can choose the type of campaign you want to create. While Mailchimp's interface is generally intuitive, some features like double opt-in and reCAPTCHA might require extra effort to locate.
2. Email Editor
Mailchimp's email editor is equipped with two options: Classic and New Builder. The New Builder offers an enhanced user experience with a drag-and-drop editor, allowing you to create visually appealing emails without technical expertise. It provides a variety of content blocks, layouts, and styles, including images, videos, surveys, products, and apps. Editing content is simple – just click on a block and use the ribbon on top to make changes. A valuable addition is the integrated error-checking tool, which helps identify and fix potential issues promptly. Moreover, the "Generate" tool assists in generating text for headlines, paragraphs, subject lines, and more, saving time and enhancing creativity.
3. Marketing Automation
Mailchimp introduces the Customer Journeys feature, enabling users to create automated sequences and follow-ups for their audience. You can start from scratch or choose from pre-built journey templates. The workflow editor is user-friendly, allowing customization of existing journeys or addition of new steps. Mailchimp offers a range of rules and actions to create simple or complex sequences. While the builder may have a learning curve, it facilitates the creation of effective customer journeys.
4. Segmentation
Segmentation is a powerful tool in Mailchimp that enables users to group their audience based on various criteria. You can manually add subscribers or import lists from other services. The process is quick and easy, ensuring data accuracy before creating segments. The segment builder provides flexibility, allowing you to create specific groups based on tags, personal details, activity, and acquisition sources. However, a limitation lies in managing lists across segments, as Mailchimp's structure requires a single list for optimal results.
5. Personalization
Mailchimp enhances campaign effectiveness through personalization using merge tags. These dynamic content placeholders enable the insertion of personalized information into emails, such as first name, last name, address, and more. The Audience Tab allows customization of merge tags, making it easy to set default values and create targeted campaigns. However, it's essential to understand that formatting changes can affect merge tags' functionality.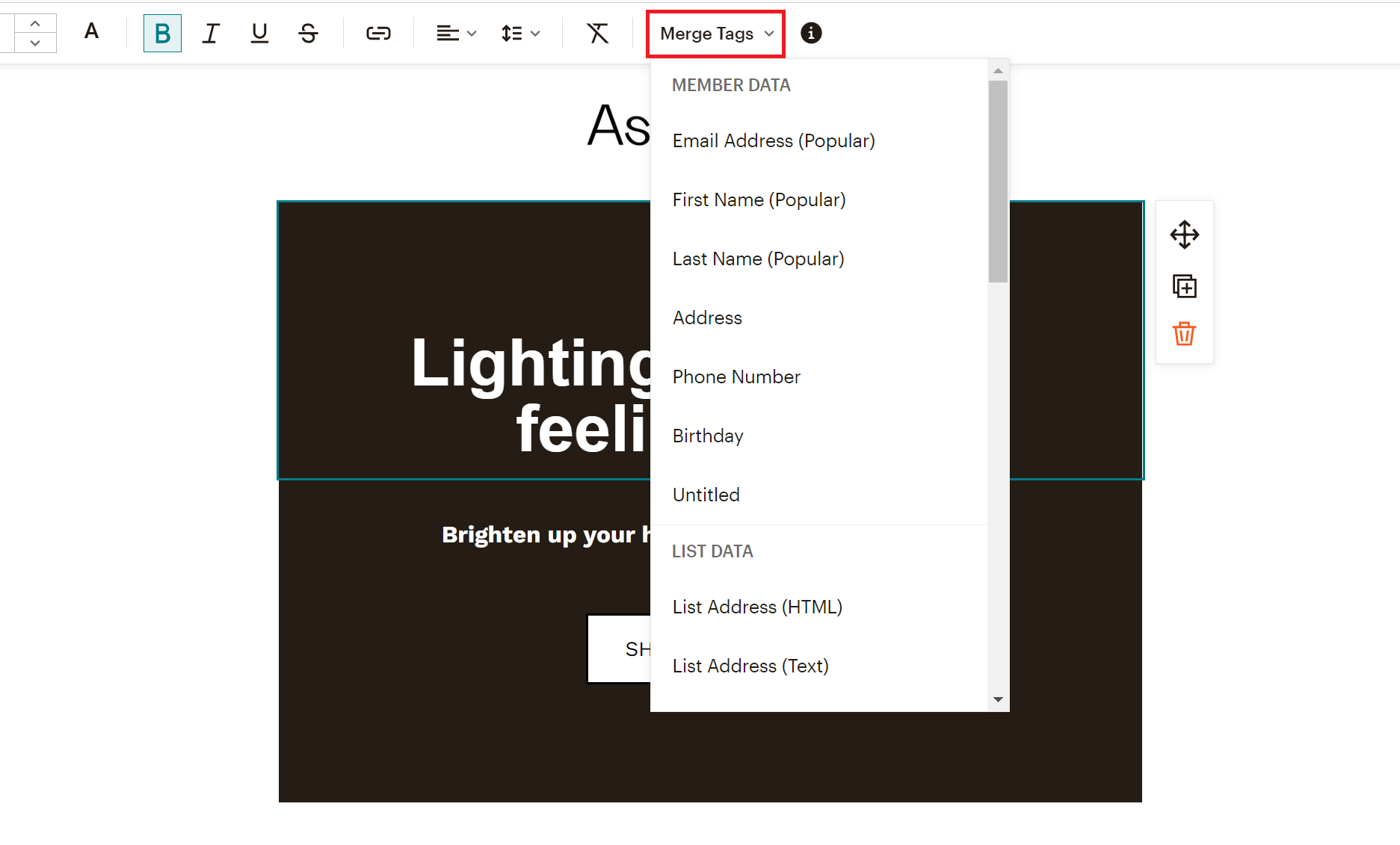 6. Analytics & Reporting
Mailchimp offers real-time analytics and reporting to track campaign performance. The introduction of Audience Analytics provides insights into contact status and subscriber growth. The Reports section presents crucial email metrics, including opens, clicks, bounces, and unsubscribes. Campaign reports are informative and suitable for small businesses seeking to monitor their performance. The Custom Reports tool provides an in-depth analysis of email performance. However, it's important to note that Mailchimp is transitioning from the Reports page to the "all campaigns" section.
7. Email Deliverability
Mailchimp generally maintains good email deliverability, ensuring your emails land in subscribers' inboxes. Authenticating your domain through SPF and DKIM is crucial for optimal deliverability. Mailchimp offers an Abuse Complaints metric to identify flagged messages, but ensuring best practices in email deliverability is essential to maintain a positive sender reputation.
8. Integrations
Mailchimp's extensive integration options enhance its functionality by connecting with various platforms. With over 300 integrations, you can streamline marketing efforts, whether you're using eCommerce platforms like Shopify, CRM tools like Salesforce, analytics tools, or social media platforms. These integrations are categorized for easy exploration, offering compatibility with a wide range of software.
Who is Mailchimp For?
Mailchimp caters to a diverse user base, including marketers, advertisers, eCommerce store owners, non-profit organizations, IT professionals, and SaaS businesses. Its range of features is suitable for businesses of varying sizes, from startups to established enterprises. However, the suitability of Mailchimp's pricing plans should be considered in relation to your business needs.
How Much Does Mailchimp Cost?
Mailchimp offers different pricing plans to accommodate varying budgets and requirements. These plans include:
Free Plan: Suitable for new marketers and those with basic needs. Offers limited features, including 1,000 monthly emails and email support for 30 days. Contacts are limited to 500.

Essentials Plan ($13/month): Geared towards building an audience and basic marketing needs. Removes Mailchimp branding, offers A/B testing, and provides automated customer journeys. Suitable for those with modest requirements.

Standard Plan ($20/month): Offers more advanced features, including dynamic content and send-time optimization. Provides access to custom-coded templates, predictive segmentation, and campaign management tools.

Premium Plan ($350/month): Designed for teams and larger businesses. Includes advanced tools, unlimited contacts, multivariate testing, and comparative reporting. Offers priority support and is suitable for those with comprehensive marketing needs.

Custom Plans – Pay As You Go: Allows for tailored plans based on your business requirements. Offers email themes, layouts, and basic reports. Pay-as-you-go option provides flexibility for irregular senders.
It's crucial to note that Mailchimp's pricing structure is contact-based, with considerations for duplicates, unsubscribed, and inactive contacts. This structure may impact costs, particularly for businesses with extensive contact lists.
What are Customers Saying
Customer feedback provides valuable insights into Mailchimp's performance and user experience. Reviews highlight the platform's user-friendly interface, efficient email editor, and robust marketing automation tools. Users appreciate the segmentation and personalization features, enabling targeted campaigns. However, concerns are raised regarding Mailchimp's pricing model, charging structure, and limitations in design options.
Pros of Mailchimp
User-Friendly Interface: Mailchimp boasts an intuitive and user-friendly interface, making it easy for both beginners and experienced marketers to navigate and utilize the platform.

Efficient Email Editor: The email editor comes with error-checking tools, ensuring that your emails look and function as intended before sending them to your subscribers.

Robust Marketing Automation: Mailchimp offers powerful marketing automation capabilities, allowing you to create complex automated workflows to nurture leads and engage subscribers.

Segmentation and Personalization: The platform provides advanced segmentation and personalization features, enabling you to send targeted and relevant content to different subscriber groups, resulting in higher engagement.

Integration Options: Mailchimp offers a wide range of integrations with other tools and platforms, providing flexibility in integrating your marketing efforts and data.
Cons of Mailchimp
Pricing Model: Mailchimp's pricing structure, especially for smaller businesses, can be expensive and might lead to unexpected costs due to the contact-based charging system.

Email Template Library: While the email templates are customizable, some users find that the template library lacks modern designs and responsiveness, potentially limiting the visual appeal of your campaigns.

Limited Functionalities: Certain features like signup form builders and landing pages have been criticized for being confusing or limited in functionality, which can be frustrating for users seeking more customization.

Testing Features: Some testing features that are commonly found in other email marketing platforms might be absent in Mailchimp, limiting your ability to thoroughly test different aspects of your campaigns.

Customer Support: There have been reports of delays in customer support response times, which can be problematic if you encounter urgent issues that require assistance.
Mailchimp Alternatives
Considering Mailchimp's strengths and weaknesses, it's important to explore alternatives that offer comparable features and potentially better pricing structures. Three notable Mailchimp alternatives include:
Moosend: An all-in-one email marketing and automation solution offering advanced features and affordability. With a user-friendly email builder and comprehensive automation capabilities, Moosend stands as a compelling alternative.

Constant Contact: A platform known for user-friendliness and effective email deliverability. It offers features like a website builder in addition to email marketing tools.

MailerLite: An affordable option with an easy-to-use email editor, automation capabilities, and better deliverability rates. MailerLite's simplicity and effectiveness make it a suitable alternative for businesses seeking an efficient email marketing solution.
Final Verdict: Mailchimp Review
In conclusion, Mailchimp presents a robust email marketing platform with a range of features designed to empower businesses in their communication efforts. Its user-friendly interface, efficient email editor, and marketing automation capabilities are standout qualities. However, businesses need to carefully consider Mailchimp's pricing structure, which may not be suitable for smaller budgets. The platform's strengths in segmentation, personalization, and reporting are countered by limitations in design options, testing features, and potential delays in customer support response times.
Ultimately, Mailchimp's suitability depends on your business requirements and willingness to navigate its pricing model. By assessing alternatives and weighing pros and cons, you can determine if Mailchimp aligns with your email marketing goals.