In the world of digital marketing, one name that has garnered significant attention is ClickFunnels. This review takes an in-depth look at ClickFunnels, exploring its features, benefits, drawbacks, pricing, and more. ClickFunnels is renowned for its role in pioneering online sales funnels, revolutionizing how businesses convert site visitors into paying customers. Let's dive into this ClickFunnels review to determine if it's truly a game-changing marketing tool or if it falls short of the hype.
Key Takeaways: ClickFunnels Review
What is ClickFunnels?
ClickFunnels burst onto the scene in 2014, rapidly becoming a dominant force in the marketing landscape. Founded by Russell Brunson, ClickFunnels is designed to simplify the process of selling products and services online using sales funnels, which guide potential customers through a series of steps to encourage them to make a purchase.
Russell Brunson, a successful marketer and author, developed ClickFunnels to streamline the creation of sales funnels, which had traditionally been a time-consuming endeavor. ClickFunnels' popularity soared due to its ability to help businesses enhance their online sales and marketing efforts.
Features of ClickFunnels
ClickFunnels boasts an array of features designed to make the sales funnel creation process more efficient and effective. Let's delve into some of its notable features:
1. Drag and Drop Page Builder
ClickFunnels offers an intuitive drag-and-drop page builder. This feature allows you to create landing pages, sales funnels, and even entire websites without requiring any coding knowledge. You can easily add elements like text, images, videos, buttons, forms, and more, and arrange them on your page with simple drag-and-drop actions.
2. Pre-Built Templates
ClickFunnels provides a library of professionally designed templates for various purposes. These templates cover different industries and types of funnels, such as lead generation, sales pages, webinar registrations, and more. This feature saves time by giving you a starting point that you can customize according to your brand and goals.
3. A/B Testing
A/B testing, also known as split testing, is crucial for optimizing your funnel's performance. ClickFunnels offers built-in A/B testing functionality, allowing you to create two different versions of a page and test them against each other to determine which one performs better in terms of conversions. This data-driven approach helps you refine your funnel for maximum effectiveness.
4. Integration Variety
ClickFunnels integrates seamlessly with various third-party tools and services. This includes email marketing platforms, payment gateways, membership site software, and more. You can connect ClickFunnels with popular services like Mailchimp, Stripe, PayPal, and many others, ensuring smooth operation of your marketing ecosystem.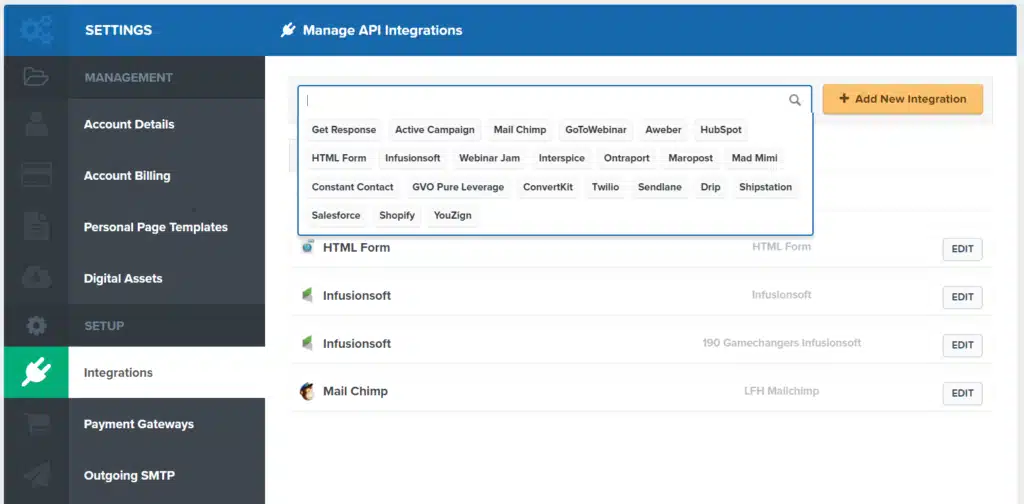 5. WordPress Plugin
For users with WordPress websites, ClickFunnels offers a dedicated plugin. This plugin enables you to embed your ClickFunnels pages directly into your WordPress site, creating a cohesive user experience. This integration is especially valuable for those who want to maintain their existing website while leveraging ClickFunnels' conversion-focused capabilities.
6. All-in-One Solution
ClickFunnels serves as an all-in-one platform for creating, managing, and optimizing your sales funnels. This means you can build landing pages, order forms, upsell and downsell pages, and even automate email sequences all within the same platform. This integration eliminates the need to use multiple tools and ensures a consistent and coordinated marketing strategy.
7. Membership Site Functionality
ClickFunnels allows you to create membership sites where you can host exclusive content, courses, or products accessible only to subscribed members. This feature is particularly useful for those who want to offer premium content and build a community around their brand.
8. Affiliate Marketing Management
ClickFunnels offers tools to manage affiliate marketing programs. You can create affiliate programs and provide affiliates with unique tracking links. This enables them to promote your products or services and earn commissions on sales they generate.
9. Custom Domain Integration
Branding is important for establishing credibility. ClickFunnels allows you to use your own custom domain names for your funnels and pages. This means your URLs can match your brand, making your funnels look more professional and trustworthy.
10. Email Marketing Automation
ClickFunnels includes basic email marketing automation capabilities. You can set up automated email sequences to nurture leads, follow up with customers, and provide relevant content. While not as robust as dedicated email marketing platforms, this feature can still help you engage with your audience effectively.
11. Order Bumps and Upsells
ClickFunnels facilitates the creation of order bumps and one-click upsells. Order bumps are additional offers presented at the point of purchase, while upsells are higher-value offers presented after a successful purchase. These features increase the average transaction value and boost your revenue.
12. Share Funnels
ClickFunnels allows users to share their funnel templates with others. This can be useful for collaboration, mentoring, or even selling your proven funnel designs to other ClickFunnels users.
13. Analytics and Tracking
ClickFunnels provides analytics and tracking tools to monitor the performance of your funnels. You can track key metrics like conversion rates, traffic sources, and revenue generated. This data empowers you to make informed decisions for optimizing your marketing strategy.
14. Funnel Marketplace
ClickFunnels offers a marketplace where users can buy and sell pre-built funnel templates. This can be a time-saving option if you're looking for specific funnel designs or if you want to earn income by selling your own templates.
15. Support and Training
ClickFunnels offers various resources for learning how to use the platform effectively. This includes video tutorials, webinars, articles, and a supportive community. While customer support can be a bit variable, the available resources can help you navigate any challenges you encounter.
Who is ClickFunnels For?
ClickFunnels caters to a diverse range of users, including consultants, coaches, e-commerce businesses, professional service providers, and those offering B2B services. Small businesses, startups, and individuals seeking efficient ways to enhance their online presence and convert leads into customers can benefit from ClickFunnels. The platform's versatility and user-friendly interface make it suitable for both beginners and experienced marketers.
How Much Does ClickFunnels Cost?
ClickFunnels offers two main pricing plans: the Standard Plan at $97 per month and the Platinum Plan at $297 per month. The Standard Plan includes 20 funnels, 100 pages, and up to 20,000 monthly visitors. The Platinum Plan offers unlimited funnels, pages, and visitors, along with additional features like Followup Funnels and Backpack. Both plans provide a 14-day free trial, allowing users to explore the platform's capabilities before committing to a subscription.
What are Customers Saying
Feedback from ClickFunnels users varies, highlighting both its strengths and weaknesses. Many users praise ClickFunnels for its user-friendly interface, drag-and-drop builder, and ability to streamline the sales funnel creation process. Positive reviews also emphasize its diverse templates and integration capabilities. However, some users express concerns about the platform's pricing, customer support, and occasional software glitches.
Pros of ClickFunnels
Effective Revenue Generation: ClickFunnels lives up to its promise of boosting sales and revenue through its streamlined funnel approach.

User-Friendly Interface: The drag-and-drop builder, along with intuitive features, simplifies the process of creating landing pages and funnels.

Diverse Integrations: ClickFunnels seamlessly integrates with various email autoresponders and payment processors, offering convenience and flexibility.

Time and Money Saver: By centralizing multiple functions, ClickFunnels eliminates the need for additional tools, saving both time and money.

A/B Testing: The built-in A/B testing feature allows users to optimize their funnels for better conversion rates.

WordPress Integration: The WordPress plugin enables effortless incorporation of ClickFunnels pages into WordPress websites.
Cons of ClickFunnels
Pricing: Some users find ClickFunnels' pricing relatively high, especially for businesses on a tight budget.

Customer Service: While basic queries are addressed, more complex issues might not receive the level of support expected.

Cult-Like User Base: The strong marketing hype and focus on Russell Brunson's methods can overshadow the actual product's potential.

Template Similarity: Some users note a lack of diversity in template designs, leading to a somewhat templated appearance for many ClickFunnels users' pages.

Software Glitches: Occasional outages and software bugs can potentially impact users' campaigns and result in lost revenue.

User Interface Changes: Frequent changes in the user interface can be disorienting for users seeking consistency in their workflow.

Simplistic Nature: Advanced users might find ClickFunnels too simple for their intricate requirements, potentially seeking more granular control.
ClickFunnels Alternatives
While ClickFunnels offers powerful features, it's important to consider alternatives that might better suit your needs:
Leadpages: A user-friendly landing page builder with focus on lead generation and opt-in forms.

Unbounce: Known for its easy-to-use interface and A/B testing capabilities, Unbounce is ideal for creating landing pages.

Kartra: Offers comprehensive features beyond funnel building, including email marketing, membership sites, and more.

Builderall: A versatile platform combining website and funnel building with various marketing tools.

GetResponse: A multifunctional platform offering email marketing, landing pages, and marketing automation.
Final Verdict: ClickFunnels Review
In conclusion, ClickFunnels offers a robust platform for businesses and individuals seeking to enhance their online sales and marketing efforts. Its drag-and-drop builder, integration capabilities, and diverse funnel templates make it a valuable tool for creating effective sales funnels.
While the pricing may be a consideration for some, the benefits of streamlining the funnel creation process and increasing revenue potential can outweigh the costs.
ClickFunnels' user-friendly interface and versatile features position it as a valuable asset for those looking to optimize their online conversions. However, users should be mindful of potential glitches and evolving user experiences.
Ultimately, ClickFunnels serves as a powerful ally for businesses seeking to transform their digital marketing strategies and boost their online success.