Are you looking for a GetResponse review? Should you use it for your business? Is GetResponse a scam?
If you are looking to use GetResponse in your business, you may have these questions in mind. But you will have all your doubts resolved by the end of this GetResponse review.
I have a passion to help businesses explore the best software to improve business operation and increase profit.
In the past week, I've done thorough research about GetResponse. So I can tell you a lot of things about GetResponse to help you make an informed and wise decision.
GetResponse Review – Key Takeaways
In this GetResponse review, I'm going to cover the following.
What is GetResponse?
GettingResponse has been around for a long time. The first autoresponder was created by SEO Simon Grabowski in 1997.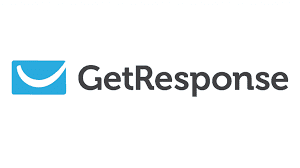 GetResponse has since expanded its features and grown its team worldwide. Furthermore, GetResponse has earned praise from publications such as Website Magazine, which rated GetResponse as the second-best email marketing provider in 2011.
How has GetResponse managed to stay afloat in the face of stiff competition with more bells and whistles, and a much broader range of features so users are delighted?
GetResponse's ability to grow and change with the times is one of its best features. The service hasn't rested on its laurels; it continues to offer users the best email marketing features to aid them in growing their business.
Why Start Building An Email List?
In a study by the Direct Marketing Association, email has the highest conversion rate (66%) in comparison to social media, direct mail and more.
According to Content Marketing Institute, 87% of B2B marketers use email newsletters to market their products.
Bloggers who make a living from their online businesses know that email lists are the primary source of income for them. Your email list is one of the greatest things you can do to build a tribe that's interested in your stuff and ready to buy what you sell.
Having a responsive and active email list is essential in this Google Panda and Penguin era. Perhaps you think social media will equally do the trick for you; however, you are mistaken.
Social media alone cannot carry your entire internet marketing campaign. Facebook can delete your account one day and you will automatically lose all of your efforts.
With a personal email account, you own everything related to it. Your data is completely under your control, and you can use it however you see fit.
According to Campaign Monitor, an email campaign is 6x more likely to get a click-through than a tweet or Facebook post.
Therefore now that you understand why you must build an email list as soon as possible, let's continue with the next point. I want to share with you some of the reasons GetResponse is a top email service provider.
Who is GetResponse For?
GetRespons is suitable for you if you meet the following criteria:
You want to capture leads
The GetResponse newsletter tool is among the few we've tested that is truly built for inbound marketing. The platform lets you capture and nurture leads with its flexible forms, landing pages editor, Google Analytics integration, and email automation. Plus, they can even offer on-demand and live webinars.
You can track everything with their Conversion Funnel feature and organize everything in an organized manner.
You're doing ecommerce
GetResponse has many features that can help you drive more sales – integration with platforms like Shopify and Magento, abandoned cart campaigns, dynamic content (based on purchases), and sales tracking.
The GetResponse conversion funnel feature lets you build sales funnels with landing pages, social media campaigns, webinars, and much more. 
You need sophisticated automation
In addition to sending emails, GetResponse's workflow builder lets you automate tagging, segmenting, and sending emails (available on higher-tier plans only).
Who is GetResponse Not For?
GetResponse is not for everyone. If you are looking for the following, don't use GetResponse.
You need perfect deliverability rates
Any email marketer should consider the deliverability of their emails.
The deliverability tests we conducted showed some room for improvement for GetResponse.
It is always a good idea to keep an eye on your deliverability rate since it can change at any time.
You're after a free plan
You cannot get GetResponse for free – only for a 30-day trial.
GetResponse Features
Compared with other email marketing tools, Getresponse offers an unusually comprehensive feature set – even on its entry-level plan.
While it carries across all the essential features you'd expect from an email marketing platform – list hosting, templates, autoresponders, analytics, and so on – it has expanded recently to become a marketing and e-commerce solution all in one.
All of this leads to the question of whether the product can do everything.
Let's explore its features.
Autoresponders – GetResponse Review
You can send autoresponders to your subscribers at intervals you choose.
You can set them up so that, for example,
Whenever someone signs up for your contact list, they receive a welcome message from your company
You might send them a discount offer a week later for some of your products or services
After three weeks, you could encourage them to follow you on social media.
An important selling point of Getresponse is its autoresponder functionality – it offers a broad range of options.
There are time-based and action-based options – the former include cycles such as the example above, and the latter can be triggered by information contained in user actions, for example:
opens

clicks

subscriptions to particular lists

changes in contact preferences

completed transactions / goals

birthdays

changes in user data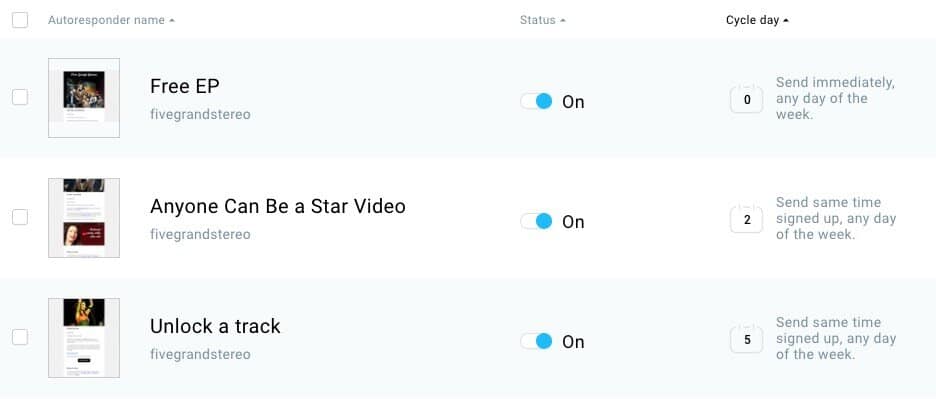 Marketing automation tools – GetResponse Review
Apart from the basic 'drip' style autoresponders listed above, GetResponse also offers a more advanced option for sequencing emails automatically. It is called 'Marketing Automation,' and is only available when you have a Plus plan.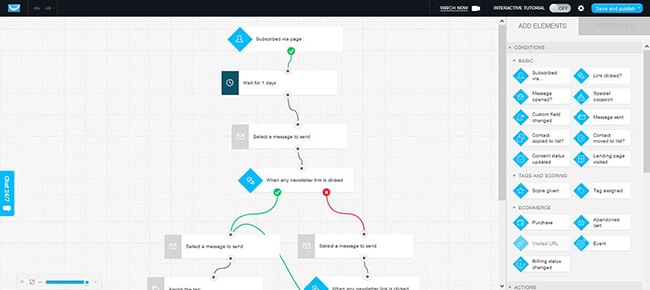 Drag-and-drop editor encourages users to set up workflows for automating a set of actions GetResponse should take when a user opens an offer, clicks on a link, etc.
It offers much more functionality than what is typically available from autoresponders, allowing you to create a user journey that is completely customizable.
You can check out Getresponse's video walkthrough below if you want a quick overview of how all this works.
Getresponse email templates – GetResponse Review
There are 115 Getresponse templates available – less than some of its competitors (most notably Aweber, with around 700) – but the designs are unique and the colors are contemporary (and tweakable).
There are a few categories of email templates focused on core goals (promotion, educating, selling, etc.) and the quality is generally good.
There is one omission worth noting, though – the option to set 'global' styles for headings and text. There is currently no way to define heading and paragraph styles that can be re-used throughout a message – this requires more formatting of text as you compose emails, which is a bit tedious.
In Getresponse, you can use web fonts extensively in the email creator. Your newsletter can use a huge selection of Google Fonts – more than any competing tool I have tested.
With the prevalence of Google fonts in corporate branding these days, a wide variety of web fonts is important, as it will enable many users to create email campaigns that maintain brand values.
In Getresponse you can specify a fallback font if your email program does not support web fonts, but in the ones that do, emails created via Getresponse have the potential to look very nice indeed.
The Getresponse templates are responsive, which means that they automatically adapt to the device on which an e-newsletter is being viewed – mobile, tablet, desktop, etc.
The preview function allows you to see how your newsletter will look on each platform.
Analytics – GetResponse Review
The analytics and reporting options offered by Getresponse are quite comprehensive.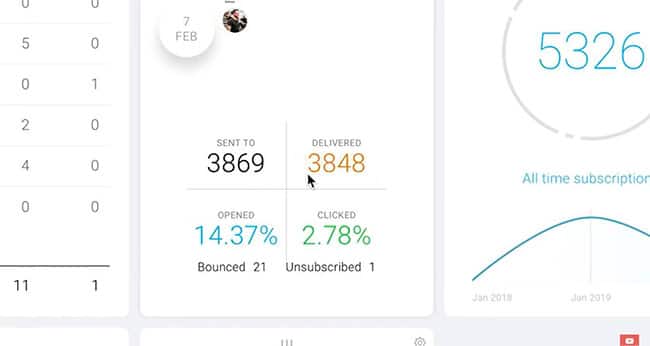 You'll get all the basic stats – open rate, click-through, unsubscribe rate, etc. Furthermore, there are some very handy report features, namely:
'one-click segmentation'

: You can identify people who did not engage with an e-newsletter and put them in a segment of subscribers to whom you can email again with a different version of the e-newsletter

'metrics over time':

If you know when most of your subscribers act on your emails, you can time your future mailouts accordingly

'email ROI':

Your site's post-purchase page can be equipped with tracking code so that you can track how effective (or not!) your email campaigns are at generating sales and calculate your return on investment.

per-user information

: By clicking on one of your subscribers, you can find out where they signed up from, where they live and which emails they have opened in the past.

e-newsletter performance comparison

: It is really easy to compare the performance of two e-newsletters side by side.

Mailchimp and Aweber offer some similar reporting functionality:

especially in relation to sales tracking — but Getresponse's reporting tool is the most comprehensive on the market.
Split testing – GetResponse Review
Split testing involves sending variants of your e-newsletter to some of your subscribers, monitoring the performance of each, and sending the 'best' version to the rest of your list.
In GetResponse, you can test test five subject headers OR five content variations.
It is possible to test two emails with different subject headers against each other, but both must contain the same content during a split test – for example, you can test two emails with different content during a split test.
There are a few other email marketing tools that are more flexible in this regard, allowing you to test more variables (such as the send time or sender name), or even the option to mix variables during testing. Therefore, Getresponse could improve here a little.
Landing page creator – GetResponse Review
When online advertising campaigns direct users to attractive 'squeeze pages' with clear information and a clean, well-designed form, rather than simply pointing them to an information-packed website, they generate more leads.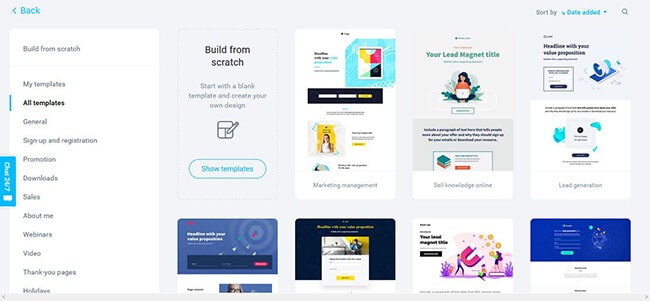 Among its competitors, Getresponse offers something very useful in this regard: a landing page creator (and one that is mobile-friendly, too).
In addition to building squeeze pages, you can also test the conversion rate of these pages in real-time and deploy the best performing one. This can greatly increase the number of leads you capture and the reach of your email campaigns.
As you usually have to use third-party tools to create landing pages – such as Unbounce or Instapage – with similar products, the landing page feature is a fantastic – and cost-saving – addition to your email marketing toolbox.
Furthermore, Getresponse's landing functionality is available on all plans. As leading landing page tools like Unbounce and Instapage cost between $80 and $199 per month, there are considerable savings to be made here.
Your landing pages can be hooked up to a variety of analytics tools and cookies, such as Google Analytics, Google Tag Manager, Kissmetrics, and your Facebook pixel.
As with Getresponse's email templates, these landing page templates look professional and contemporary (especially the more recent ones).
There are a few issues with the landing page creator, however.
First of all, the interface isn't particularly intuitive – it's rather clunky.
In addition, you will need to create separate landing pages for mobile and desktop.
This is a good thing, since you can hide parts of your landing page that you don't want mobile users to see. However, the process is rather fiddly.
Last but not least, although you can use analytics cookies on your Getresponse landing page, for example via the Facebook pixel, you cannot do so in a GDPR-compliant way.
If you wish to comply with GDPR requirements on cookies (and some US data protection laws as well), you must provide users with a clear mechanism to opt-in or out of cookie use. 
You can't do this with Getresponse – the best you can do is notify users that cookies are being used on a landing page.
Getresponse users – especially those in the EU – will end up breaking the law if they add their Facebook pixel to a Getresponse landing page. Getresponse should address this urgently since it is far from ideal.
The landing page is in many ways a good feature, but the interface and particularly the lack of a cookie consent banner let it down.
Webinars – GetResponse Review
Getresponse recently added the ability to host webinars on its platform.
The idea of having a webinar tool under the same roof is appealing given that webinars can both be used as a lead-generation technique as well as a revenue-generating feature.
By comparison with established webinar solutions, the pricing is also very competitive.
Hosting a webinar with up to 100 attendees costs $59 per month with Gotowebinar, one of the leading webinar platforms. Getresponse does the same – and a whole lot more – for $49 per month.
The Getresponse 'Plus' plan allows you to host a webinar with up to 100 participants; the 'Professional' plan allows up to 300 attendees; and the 'Enterprise' plan allows for up to 500 attendees.
Because I've found some aspects of the Getresponse interface clunky in the past – especially the landing pages – I didn't expect that much from the webinars feature.
But I was pleasantly surprised. The webinars interface and functionality are both excellent – and on par with any dedicated platform I have used for online meetings and webinars in the past.
Here are a few Getresponse webinar features that are especially useful:
Attendees do not need to download any software to attend your webinars

Record your webinars with one click

Share your screen with others

(YouTube) Video sharing functionality

You can upload Powerpoint presentations to Getresponse for use during a webinar.
Negative aspects to consider, however, are:
Only the 'Professional' plan or higher allows you to run paid webinars (i.e., where viewers must pay for access).

There is a 500-person maximum – you can't pay for an add-on to increase this limit.

On the 'Plus' plan, you get 3 hours of storage. On the 'Professional' plan, you get 6 hours. For the 'Enterprise' plan, you get 10 hours.
The webinar function, despite its limitations, is still one of the very useful features from an email marketing perspective, and its inclusion in Getresponse's email marketing platform surely gives it a significant edge.
You can integrate your webinar broadcasting tool fully with your email list, which is surprisingly good.
Now let's look at another unique feature of Getresponse: "conversion funnels."
Conversion funnels – GetResponse Review
Getresponse recently added a new feature called "conversion funnels" – and this marks quite a departure from the product's previous features.
The reason for this is that it turns Getresponse from being an email marketing platform into something that can be used to run a complete e-commerce business.
With this feature you can perform the following actions without ever leaving the GetResponse environment:
Create a product catalog

Ad campaigns on Facebook

Design landing pages

Create an autoresponder cycle for subscribers

Lead users to sales pages (also created in Getresponse)

Receive payment for products

If necessary, send abandoned cart emails
With all plans, you can access the conversion funnel feature – but you should note that the 'Basic' plan only allows you to create one funnel, and cannot be used for abandoned cart recovery (which emails people who added an item to their cart but did not complete it).
With this feature, you can integrate third party platforms, such as Shopify, BigCommerce, and Etsy.
For now, this feature seems best suited to 'solopreneurs' or small businesses looking for an all-in-one solution for creating sales funnels and converting subscribers into customers.
Even so, merchants who need to sell a large number of products and have extensive e-commerce requirements may find it more advantageous to use a dedicated e-commerce platform like BigCommerce or Shopify.
Getresponse's website builder – GetResponse Review
Getresponse has just added a website builder to its feature set.
The Getresponse interface allows you to create a website and connect it to a domain you own (you can also buy your domain through Getresponse).
While the website builder's templates are decent, the tool is a fairly basic affair that lets you only create simple, static pages. 
It is relatively easy to add Getresponse forms to these, but I couldn't find an obvious way to add any products I created in Getresponse to a test website I put together using the builder.
As a result, if you're hoping to build an online store with this tool, you will be disappointed. It will work well for some people as a means to create a simple brochure site, however.
The biggest downside of Getresponse's website builder is that the sites it creates aren't terribly fast or particularly compliant with Google's Core Web Vitals performance standards.
(This tends to be a problem for many 'hosted' website building tools – even Wix has problems in this area).
To summarize, the new website builder feature is currently a bit underwhelming – but it is in BETA, so you can expect improvements in the future. 
If you are running a small business, having everything in one place is certainly an attractive prospect.
As of now, this feature needs a bit of work if it's going to compete with more established website builders like Squarespace or Wix.
Getresponse Chats – GetResponse Review
To become an all-in-one marketing solution, Getresponse has introduced a 'chat' feature which adds live chat functionality to your website (either the one created by Getresponse's new website builder tool, or your own existing site). 
In the upcoming year, this feature will be available only to the more expensive plans – but at present, it is available on all plans.
You can enable Getresponse Chats by adding a snippet of code to your site, which then displays a live chat option to visitors.
Using this feature correctly can increase conversion and subscription rates. 
With all features like this, there is a tradeoff – adding more interactive tools like this to your site can cause the page to load slower (which can harm your search engine ranking).
Nonetheless, there are many situations in which this sort of functionality will prove very useful, so Getresponse's new feature will definitely be a useful addition.
Apps and integrations – GetResponse Review
Getresponse offers around 150 integrations with other platforms and tools.
Getresponse can integrate with popular e-commerce solutions and content management systems, such as Shopify and WordPress as well as some CRM systems, such as Capsule and Highrise.
There are many useful Google integrations too, including the ability to import contacts, add Google Analytics tags to an email campaign, and link your landing pages to Google Ads in order to better measure the effectiveness of your PPC campaigns.
Some of these integrations are official Getresponse integrations that work right out of the box – but you should be aware that many of these require third-party tools such as Zapier for the connection. (This can result in additional costs.)
Another way to integrate Getresponse with another system – assuming you have development skills – is to use its API (Application Programming Interface). Getresponse lets you send and receive data however you want.
Data management and deliverability – GetResponse Review
Data capture and forms
Getresponse allows you to add a form in two ways – you can add a HTML form you design yourself or you can design your form in Getresponse (you can choose from a range of templates and customize them to match your site design).
Alternatively, you can use JavaScript code to add the form to your site; this can be displayed in a range of formats (for example, inline, pop-up, or slide-up).
The HTML forms and javascript forms can be used to collect data into standard GetResponse fields or, if you prefer, to populate custom fields.
Javascript forms like these are pretty good. Both desktop and mobile versions are possible, and you can use a wide range of web fonts when styling them. Furthermore, the CAPTCHA feature prevents fake registrations by blocking spambots.
Getresponse, however, does not allow you to switch pop-up forms on or off for specific devices or specific pages of your site.
The Google policy on pop-ups on smartphones (which results in sites being penalized in search results if they display 'intrusive interstitials' on mobile devices) makes this a bit concerning.
You can connect Getresponse to a growth-hacking tool – there are quite a few available (Privy is an example). 
This will allow you to disable pop-ups for mobile users as well as style forms extensively and control which pages they appear on. 
However, this isn't ideal, as it involves additional costs.
You might not experience this problem if you integrate Getresponse with a CMS and use a forms tool – WordPress users, for example, could use an API tool like Gravity Forms (which gives you a lot of control over the appearance of your forms).
List management – GetResponse Review
Joining an email list will increase brand engagement and activity. Nevertheless, you can only motivate them to participate and stay active by sending them emails.
By first segmenting and adding conditions to your subscribers, GetResponse's List Management feature helps you achieve this.
For example, you can send a specific message to different groups of sign-ups based on the form they used (more on this later).
Once you have created a segment for them, you can send them a personalized campaign tailored to their interests.
By doing so, you make your interactions with each of your segments more dynamic and personal so that you can increase engagement, if not conversions.
Adding conditions to your subscriber lists is another way to manage them.
Subscribers can be segmented based on geolocations, contact actions, and other factors.
In this way, you can create personalized email campaigns for subscribers who met certain conditions.
You can also profile each of your subscribers through List Management. You can learn more about each one by clicking on it.
Based on the emails you sent to each, you can see their latest activity, add notes about the person, and other details that might help you convert them into customers.
In a sense, GetResponse is similar to a CRM. Using the information you can find here will help you profile subscribers and provide context for each of them.
Transactional emails – GetResponse Review
If you are running an e-commerce site, your email marketing software needs to do more than just collect subscribers and send emails.
Customers need receipts for every transaction and emails to remind them to check out their carts.
GetResponse's Transactional Email feature allows you to send transactional emails to your customers using its API or SMTP.
When you automate this system, you're able to focus on the big picture – the tool's 99% deliverability rate and reliable infrastructure ensure you're not letting off the hook too easily.
These emails can be analyzed and reviewed to maximize your sales opportunities.
Getresponse deliverability – GetResponse Review
Deliverability – the percentage of emails that make it to your subscribers' inboxes – is obviously one of the most important factors to consider.
Email marketing providers aren't all that transparent about their deliverability rates; however, Getresponse seems reasonably open about it on their website:
"We are frequently asked about the quality of our deliverability rate. Because deliverability depends on many factors, including the content of your messages, the deliverability rate could vary for each mailing. For all our customers collectively, however, we are proud to say our overall deliverability rate currently stands at 99%."
Getresponse
Obviously, you'll not take the company's word for this, but if it's true, it's a good deliverability rate and gives you confidence that Getresponse email campaigns will reach their intended recipients.
Further, Getresponse provides you with the deliverability rate of each message in its email analytics – something I haven't seen in other products' metrics. I give this a thumbs up.
Moreover, Getresponse plans include Custom DKIM – an authentication method designed to enhance security for email senders and recipients. Deliverability can be further improved.
Ecommerce store – GetResponse Review
Do you want to sell digital or physical products? It's possible.
GetResponse also provides this functionality, and it ties in nicely with their Conversion Funnel tool.
This allows you to build highly effective sales funnels without tying together different marketing tools.
Can payment providers be integrated? GetResponse integrates with Square, Stripe, PayPal, and many more.
GetResponse Pricing
GetResponse offers four plans, all of which come with a 30-day free trial.
Signing up for a higher plan unlocks more features. In addition, all plans cost more if you have more than 1,000 contacts.
You can save 18% or 30% on your subscription when you purchase a 12- or 18-month plan.
Here is a breakdown of the different plans available.
Basic
The lowest plan of GetResponse costs $15 per month ($12.30 per month paid in 12 months and $10.50 per month paid in 18 months). The following features are included:
The templates, tracking/reporting, e-commerce tools, landing pages, forms, surveys, and website builders.

Only limited automation features (drip campaigns, click-and-open follow-ups, and contact tagging).

You can create unlimited lead funnels and just one (1) sales funnel.

More than 150 integrations with third-party platforms.

The basics of customer service (live chat, email, and 24-7 availability).
Plus
Affiliate marketers looking to scale up their businesses will find this email marketing solution perfect. Starting at $49 per month ($40.18/month paid in 12 months and $34.30/month paid in 18 months).
A few other things are available under this plan besides what is included under the Basic plan:
Everything under the automation feature as well as the ability to create five (5) custom workflows.

You can host up to 100 attendees, unlimited registrants, unlimited live webinars, and three (3) hours of recording storage.

You can create unlimited lead funnels as well as five (5) sales funnels and webinar funnels.

You can add up to three (3) users to a single account (including yourself).
Professional
GetResponse's established users should be interested in this plan because it lets them take advantage of the email marketing and webinar capabilities.
The monthly price starts at $99 ($81.18 for 12 months and $69.30 for 18 months).
Automating everything, as well as creating unlimited custom workflows, are included.

Hosting 300 webinar attendees, unlimited registrations, unlimited live webinars, and six (6) hours of recording storage are all included.

You can create unlimited lead funnels, sales funnels, and webinar funnels.

You can create an account for up to five (5) users (including yourself).

On-demand webinars and web push notifications are available.
Max
For enterprises who want to run their operations using GetResponse's premium features, this plan is for you. Sign up for a custom quote to get your price.
Apart from the features of the Professional plan, this plan includes the following:
Hosting 300 webinar attendees, unlimited registrations, unlimited live webinars, and six (6) hours of recording storage are all included.

Add up to ten (10) users (including yourself) to a single account.

Get campaign and deliverability consulting for maximum results.

Transactional emails (paid add-ons)

Customer support (24/7 live chat, email, phone, and Slack).
Key differences between pricing plans
Getresponse plans cover the email marketing basics you might expect – but there are several features that are common to all plans:
Import, grow, and host a subscriber list

A selection of e-newsletter themes to use

Using the autoresponder feature

Designing responsive email

The split-testing method

landing pages

analytics

list segmentation options

a website builder tool
The main differences between the 'Basic', 'Plus', and 'Professional' plans are listed below:
The automation builder – Getresponse's standout feature (which lets you create autoresponder sequences based on user behavior) is only available on the 'Plus' plan.
As the pricing ladder goes up, you have access to more automated sales funnels.
Webinars – this functionality is not available on the 'Basic' plan and the number of attendees per webinar is limited to 100, 300, and 500 for the 'Plus', 'Professional', and 'Enterprise' plans, respectively.
Team management – you can only have one user account on the 'Basic' plan; you get 3 on the 'Plus', 5 on the 'Professional' and 10 on the 'Enterprise'.
e-commerce – the abandoned order recovery feature is only available as part of the 'Plus' plan.
How does Getresponse pricing compare to that of its competitors?
As long as you are willing to use one of the entry-level 'Basic' plans, Getresponse's pay-per-month plans are cheaper than many of its competitors', particularly if you have a large database of email addresses.
AWeber's starting price is more expensive than Getresponse's – you can host 1,000 email addresses for $29 a month with Aweber, while Getresponse's costs only $15. 
The monthly price for Mailchimp's broadly comparable 'Standard' plan is $14.99.
Getresponse continues to come in a bit cheaper than these products as you go up the product ladder.
On the competitor pricing front, you should be aware of:
A few competing providers, such as Mailchimp and Aweber, offer free plans for users with a small number of records. Getresponse does not yet offer a free plan similar to this.

The pricing of some solutions (like Mailchimp) can fluctuate depending on whether you're holding subscribers or unsubscribers, which can be a significant hidden cost. Getresponse only charges you for subscribers who are active.

With GetResponse, you can take advantage of substantial discounts that other competitors do not offer if you pay upfront for one or two years.

GetResponse's pricing is competitive against its competitors, despite the lack of an entirely free plan.
GetResponse Customer Reviews
GetResponse customers reviewed how GetResponse helped their business. 
Here is one review, 
"Easy to use, lots of great options. Love it. Thanks for making my job easy." – Sarah, a 3-year GetResponse customer.
Tom, a two-year GetResponse customer, wrote: "What I love the most is the simplicity of the design! I love the drag-and-drop smoothness." 
More reviews can be found on their official website.
Customer and Technical Support – GetResponse Review
GetResponse's customer support is generally good. Despite a few negative reviews on the web, the vast majority of customers rate the company's support services highly.
As a matter of fact, GetResponse won the 2013 Bronze Stevie Award in categories such as best customer service team, best customer service department, and most innovative customer support.
The following are the company's support resources:
Live Chat, Phone and E-Mail
On weekdays between 9 a.m. and 5 p.m. EST, GetResponse's support team can be reached by phone. You can also reach them through live chat or email 365 days a year. Responses to messages sent via the contact form are sent via email.
GetResponse Learning Center
GetResponse's Learning Center provides a variety of helpful resources, including 1-3 minute video tutorials, searchable FAQs, whitepapers, manuals, and reports.
Live Webinars
GetResponse makes up for its lack of forum support with its weekly Live Webinars. The GetResponse live webinar educates users on how to use email marketing and the GetResponse autoresponder in particular.
Social Media
You'll find GetResponse's customer support on social media, where most online marketers hang out. Some Facebook comments and questions are answered by its support team.
Blog
On GetResponse's blog, GetResponse shares tips and discusses trends in email marketing every week.
It provides excellent support to those who want to stay on top of the latest email marketing trends.
GetResponseeap Pros
Intelligent list automation
GetResponse's list automation offers more flexibility than most tools by allowing you to create a range of conditions to automatically segment your subscribers.
Design and spam testing
Even though you can easily use this feature, it can often be overpriced, or simply not work. The GetResponse API did an excellent job.
Conversion Funnel and landing page feature
With Conversion Funnel, you can create sales funnels and landing pages for various aspects of your business. For those who run e-commerce sites or promote webinars or other events, this is a great add-on.
Live chat
The live chat feature was recently introduced by GetResponse. The integration of it on your site will ensure that you never miss a new lead. It's easy to answer questions on your phone.
Google and social media ads feature
Directly from your GetResponse account, you can create and monitor your Google, Facebook, and Instagram ads.
GetResponseeap Cons and Complaints
Deliverability
GetResponse did not score very well in our deliverability tests, and we feel this disappoints us.
No free plan
You can try GetResponse for 30 days free, but they don't offer a free plan.
Automations only available on higher-tier plans
GetResponse is a bit more expensive than SendinBlue because you need the PLUS plan or higher in order to set up automation workflows.
Major Software Review Sites' Rating on GetResponse
Capterra Rating: 4.1/5
G2 Rating: 4.2/5
TrustRadius Rating: 8.3/10
PCMag Rating: 4/5
SaaSworthy Rating: 4.1/5
EmailToolTester: 4.2/5
WebsitePlanet Rating: 4.7/5
Fool.com Rating: 8.2/10
GetResponse Review: Final Verdict
Let's wrap up this GetResponse review.
Based on its features discussed above, it's easy to see why GetResponse remains a top dog in the email marketing industry.
The email marketing and automation services it offers to users are hard to beat.
The extensive library of templates for forms, emails, landing pages, workflows, and funnels further contributes to the ease of use of GetResponse.
Regardless of your knowledge of email marketing, templates like this help you fill in the gaps so you can better communicate your message.
You can also sell physical or digital products. It can even be used to build simple websites.
We haven't found any other marketing tool to compare to GetResponse's full-stack capabilities. All the tools you need to build a profitable business are contained within one tool, so you won't have to manage more than eight.
However, GetResponse isn't for everyone. Its full feature set may seem overkill if you're just looking for a simple email marketing tool.
GetResponse remains one of the best solutions for engaging your audience and converting them to customers. 
Sign up for a 30-day free trial at the very least so you can get a feel for it.
Getresponse Review FAQs
GetResponse: What is its purpose?
A platform like GetResponse enables you to create email campaigns according to your business goals, and also helps you build long-lasting relationships with your customers.
Is Getresponse free to use?
Getresponse offers a free trial that lasts for 30 days. Limits do apply, however: up to 1,000 contacts can be added to your account; a webinar can only consist of 10 people, and 10,000 landing page views are allowed.
How easy is it to use Getresponse?
Overall, yes. The landing page creator and form designer, in particular, aren't as intuitive as they could be.
What is the cost of GetResponse?
Getresponse offers four plans: Basic, Plus, Professional, and Max. On the first three plans, a list with 1,000 contacts costs $15, $49, and $99. Pricing for the 'Max' plan is negotiable. As your list size grows, so does the pricing.
How does GetResponse compare to CRMs?
GetResponse does not strictly fall under the CRM category. Nevertheless, it can help you identify leads that are likely to convert by profiling your contacts and scoring them appropriately.
How Can I Use GetResponse for My Business?
GetResponse allows you to build relationships with your customers, partners, and prospects, resulting in a profitable customer base for your business. 
Contacts can be added, campaigns can be planned and managed, results are analyzed and key strategies are developed.
GetResponse offers what types of templates?
GetResponse's templates cover a wide range of topics/subjects with over 500 available. These are the categories into which they fall:
Online marketing

Fitness and wellness

Travel

Retail and e-commerce

Online publishing

Health and beauty

Notifications

Creative agencies

Webinars

Restaurants

Real estate

Online coaching

Education

Automotive

Holidays

Non-profits

Financial services

Art and entertainment

Legal services

High tech
GetResponse allows you to send how many emails?
GetResponse's email marketing campaigns claims to have a deliverability rate of 99% and there are no restrictions on sending emails. At the basic price, you can send unlimited emails.
Can GetResponse be used to create webinars?
A webinar is a marketing strategy that allows great functionality and provides a great webinar hosting service. There is an option to create a simple webinar session or a complete webinar funnel.
GetResponse Alternative: A Must-Have Online Marketing Tool
As you are reading this review, I'm sure you are an online entrepreneur, so I would like to introduce a very powerful marketing tool to you to help you scale your business to the next level.
It's called ClickFunnels. You may have heard of it, but if not, let me explain why you should consider using it to generate more sales online.
ClickFunnels is an all-in-one marketing tool that helps entrepreneurs, digital marketers and business owners market, sell and deliver their products or services online. 
ClickFunnels is the only piece of software you will ever need to run an internet business.
It eliminates the need to hire a web designer or salesman who is overpriced and lazy. So you can save a lot of money using ClickFunnels in the long term.
Anybody can build, design, and launch a sales funnel using ClickFunnels, regardless of their experience. Those days of hiring coders, web designers, and marketing agencies are over. With ClickFunnels, getting your business online has never been easier.
Get 14-Day Free Trial of ClickFunnels Here
But How Much Can You Earn With ClickFunnels?
Many online entrepreneurs are using ClickFunnels and have earned at least $1 million in sales using ClickFunnels. The earning potential is limitless.
ClickFunnels created an award called the "Two Comma Club" award for entrepreneurs who reached the 7-figure financial milestone inside one of their ClickFunnels funnels.
The screenshots below are some of the winners of the "Two Comma Club" award. Do you want to be one of them?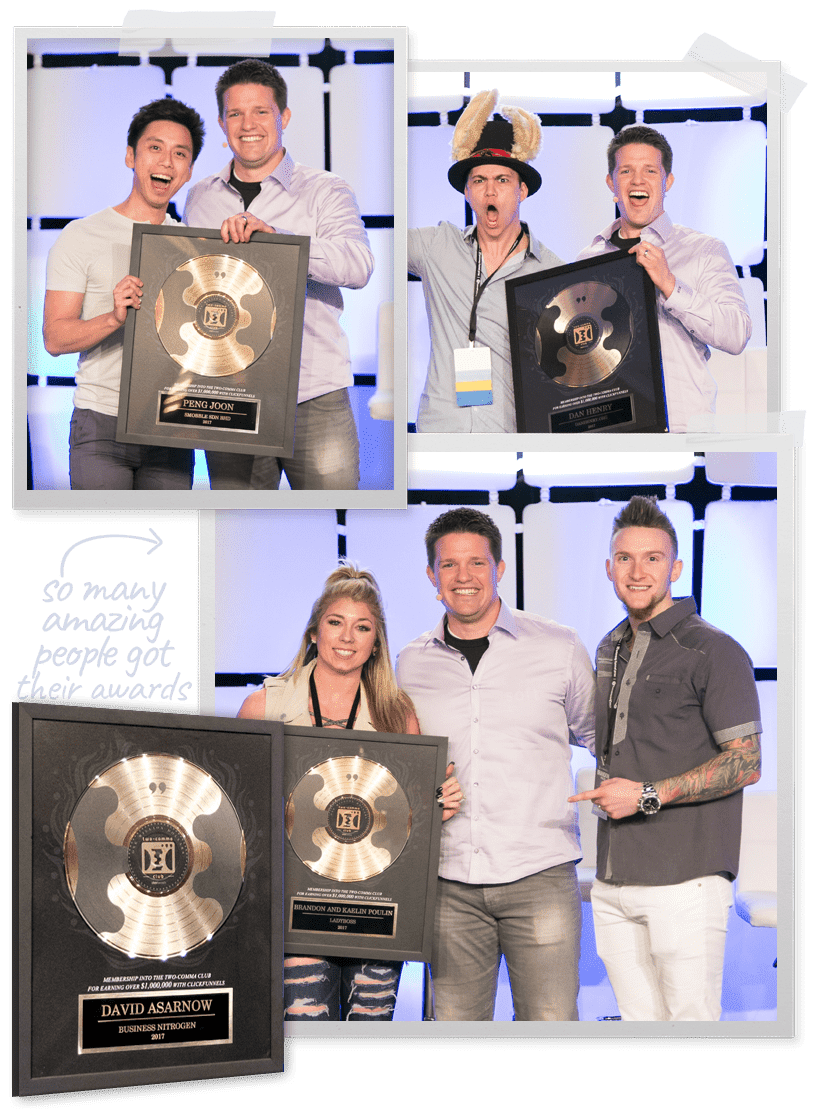 With ClickFunnels, you can drastically increase the opt-in rate and upsell conversion rate: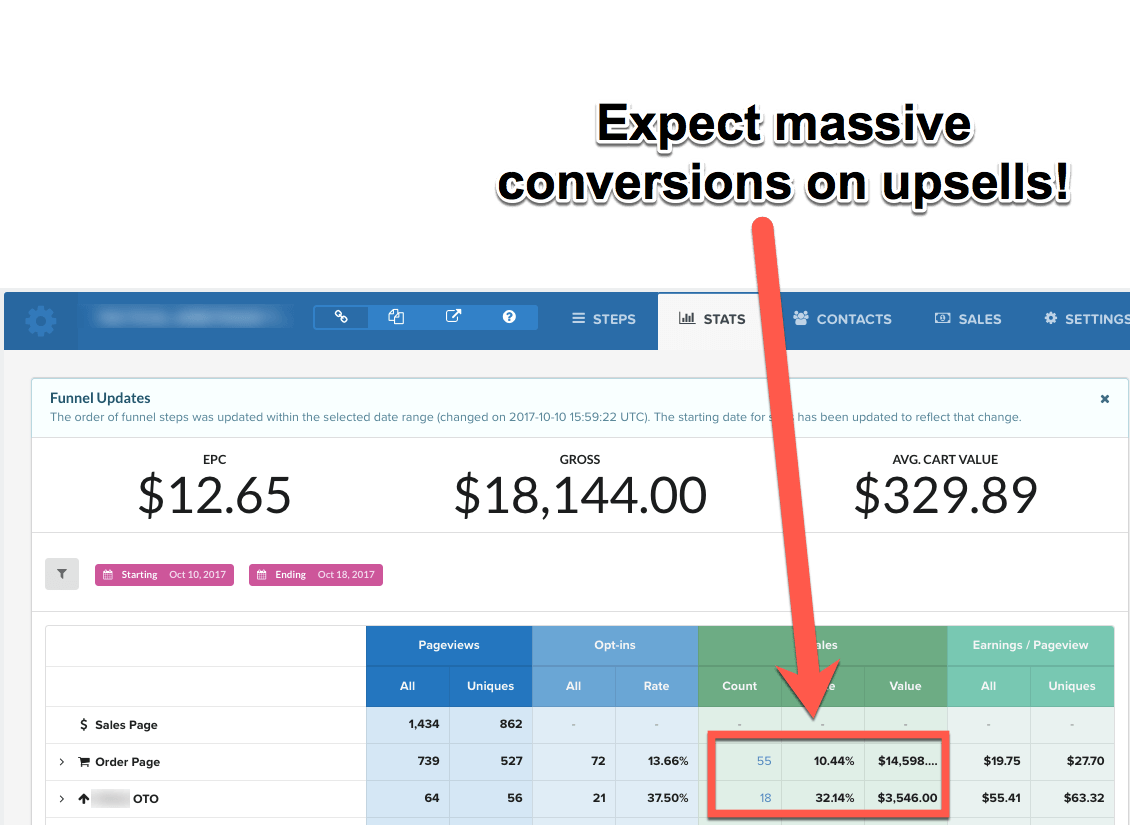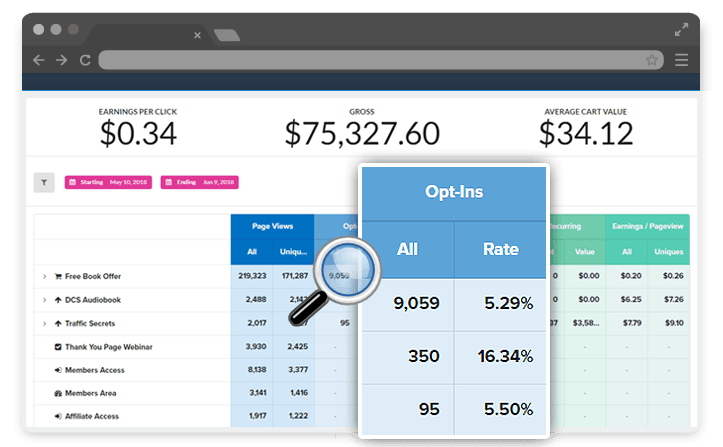 Get 14-Day Free Trial of ClickFunnels Here
Where to Get ClickFunnels?
ClickFunnels offers a 14-day free trial.
If you want to try ClickFunnels and see if it fits your online business model, you can sign up for the free trial here (no worries that you can cancel it anytime within 14 days and won't be charged a penny).
With the free trial, You can get instant access to every amazing feature of ClickFunnels:
Drag-And-Drop Website/Page Builder

One-Click Upsells & Downsells

Optin-Forms

Order Forms

Membership Area Pages

A/B Testing

Follow-up Funnels

Email List Building Tools

Email Management

Integrated Affiliate Management System

Sales Analytics

Pre-Built Funnel Templates

Payment Gateways Integration

Third-Party Integrations & Apps

CRM

And many more…
If you want to see a detailed evaluation of ClickFunnels, you can read this ClickFunnels review.
Anyway, I strongly recommend you to register a free account with ClickFunnels and see it yourself.