In the world of digital marketing, the power of effective communication cannot be overstated. One tool that has gained significant attention in this arena is GetResponse, a versatile email marketing platform that goes beyond just sending emails. With over 350,000 customers worldwide, GetResponse promises to revolutionize your marketing efforts. But does it truly live up to the hype?
In this comprehensive review, we'll dive into the depths of GetResponse, exploring its features, its suitability for various needs, the cost implications, customer feedback, pros, and cons. By the end, you'll have a clear understanding of whether GetResponse is the right fit for your marketing endeavors.
GetResponse Review – Key Takeaways
What is GetResponse?
At its core, GetResponse is more than an email marketing platform; it's an all-in-one marketing solution. Beyond emails, it offers an array of tools to construct landing pages, forms, and popups, manage contacts, automate responses, host webinars, and even delve into paid ads. This comprehensive approach enables users to build, nurture, and engage their audience seamlessly across multiple marketing channels. The platform's recent addition of AI-powered capabilities has further elevated its functionality.
Features of GetResponse
GetResponse stands out not only for its email marketing capabilities but also for its diverse set of features that cater to every stage of your marketing journey. Let's explore these features in detail:
1. Customizable Dashboard
Unlike most email marketing platforms, GetResponse's dashboard is a standout feature. It's not just a static design – it's fully customizable. You can arrange widgets that suit your workflow, ensuring quick access to the tools you use most often. This personalized approach to the dashboard enhances user experience and boosts efficiency.
2. Email Marketing
At the core of GetResponse is its Email Marketing tool. Create, schedule, and personalize newsletters to engage your audience effectively. However, what truly elevates this feature is the AI email generator. This innovative tool drastically reduces content creation time by generating compelling email content based on a few prompts. The AI's ability to understand your brand's essence and generate relevant content is a game-changer for time-strapped marketers.
3. Autoresponders & Automations
Automation is a cornerstone of efficient marketing. GetResponse offers autoresponders for automated email sequences based on triggers. This is perfect for welcoming new subscribers or sending follow-up emails. For more complex automation, the Workflows tool steps in. It allows you to create intricate automation sequences using triggers, actions, and filters. Whether it's a welcome sequence or a nurturing campaign, the automation possibilities are extensive.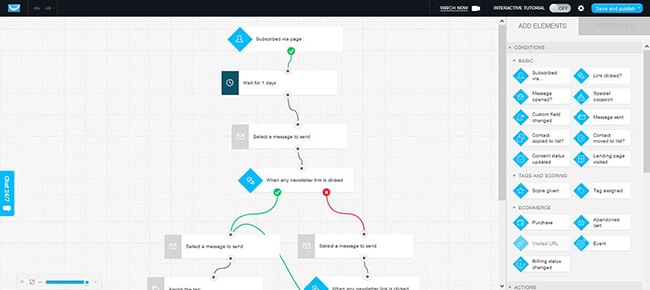 4. Website Builder
Creating a website is a breeze with GetResponse's website builder. You can start from scratch or use ready-made templates. The drag-and-drop editor simplifies the process, allowing you to design your website with ease. Whether you're a beginner or a seasoned designer, this tool makes website creation accessible and efficient.
5. Landing Pages, Forms & Popups
Individual landing pages, forms, and popups are crucial for lead generation. GetResponse offers a diverse array of templates for these elements, making it easy to design captivating and effective lead capture tools. The drag-and-drop editor ensures customization without the need for technical expertise.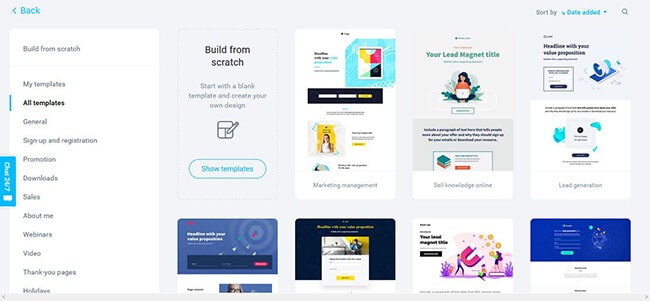 6. Contact Management
Managing your contacts is crucial for targeted campaigns. GetResponse's Contact Management tool helps organize your list into segments, allowing you to tailor your messages to specific groups. This feature ensures that your campaigns are relevant and engaging for each segment.
7. Ecommerce Tools
For online store owners, GetResponse provides an array of ecommerce tools. From creating promo codes to sending personalized product recommendations, these tools are designed to boost sales and enhance customer engagement. Abandoned cart recovery, product recommendations, and transactional emails streamline the shopping experience for your customers.
8. Reports & Analytics
Data-driven decisions are essential in marketing. GetResponse's reports and analytics offer in-depth insights into your campaigns' performance. Track metrics, understand audience behavior, and refine your strategies based on the data provided.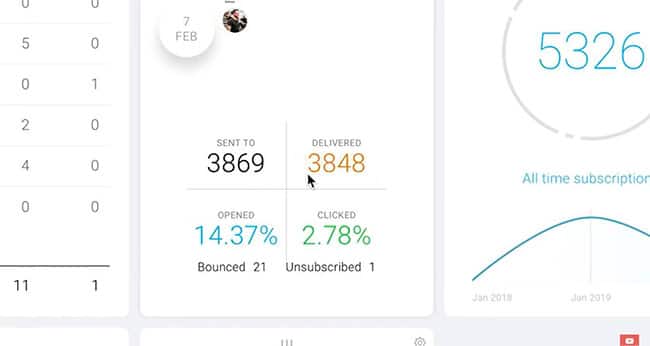 9. Webinars
Webinars are a powerful tool for engagement and education. GetResponse allows you to host both live and on-demand webinars. This feature helps you establish authority, engage your audience, and foster meaningful connections.
10. Chats & Web Push Notifications
Enhance customer engagement with chat support directly on your website. This feature enables real-time interaction, improving customer satisfaction. Web push notifications are another way to stay connected with your audience, delivering important messages even when they're not on your website.
11. Paid Ads
Managing paid ad campaigns is seamless within GetResponse. You can create, run, and manage ad campaigns on platforms like Google, Facebook, and Instagram directly from your GetResponse account. This centralized approach streamlines campaign management.
Who is GetResponse For?
GetResponse caters to a broad spectrum of users, from individual bloggers and small businesses to large enterprises. If you're seeking a platform that unifies various marketing tools into one place, GetResponse holds immense appeal. It's particularly beneficial for those looking to streamline their marketing efforts, enhance communication, and increase conversions.
How Much Does GetResponse Cost?
The cost structure of GetResponse varies based on the plan you choose. Here's a breakdown:
Free Plan: Ideal for beginners, offering basic features with limitations on contacts, email sends, and landing pages.

Email Marketing Plan: Starting at $19/month, this plan grants unlimited emails and landing pages, along with premium email marketing features.

Marketing Automation Plan: From $59/month, this plan builds upon the Email Marketing offering, introducing advanced automation features.

Ecommerce Marketing Plan: Starting at $119/month, this plan is tailored for online stores, offering specialized ecommerce tools.
It's crucial to note that GetResponse pricing is contact-based, meaning the cost increases as your contact list grows. Discounts of up to 30% are available for 12-month or 24-month plans.
What Customers Are Saying
Customer feedback provides valuable insights into the practicality and effectiveness of a platform. While individual experiences may vary, GetResponse generally receives positive feedback for its user-friendly interface, AI-powered features, and all-encompassing toolkit. Some users appreciate the time-saving benefits of AI content generation, while others find value in the ease of designing landing pages and automating campaigns.
Pros of GetResponse
Generative AI Capabilities: GetResponse's AI tools stand out, offering rapid content creation without compromising quality.

All-in-One Solution: The comprehensive feature set caters to all stages of marketing, eliminating the need for multiple tools.

User-Friendly: GetResponse's intuitive interface is accessible to beginners, reducing the learning curve.

Customizable Dashboard: The ability to tailor your dashboard enhances user experience and efficiency.

Strong Deliverability: GetResponse boasts an impressive deliverability rate, ensuring your messages reach recipients effectively.
Cons of GetResponse
Website Builder Limitations: While functional, the website builder may not match the capabilities of dedicated website-building platforms.

Cost Considerations: As your contact list grows, the cost can escalate, potentially becoming a significant investment.

Tiered Feature Access: Some advanced features are available only in higher-tier plans, which could limit access for users with smaller lists.
GetResponse Alternatives
If GetResponse doesn't align perfectly with your needs, consider these alternatives:
MailerLite: Offers a comprehensive toolkit akin to GetResponse, suitable for diverse marketing needs.

Moosend: Known for its user-friendly interface and automation capabilities, Moosend provides an efficient marketing solution.

ActiveCampaign: Boasting advanced automation features, ActiveCampaign is a versatile choice for email marketing and sales endeavors.
Final Verdict: GetResponse Review
In conclusion, GetResponse offers an array of features that can significantly elevate your marketing strategies. Its AI-powered content generation capabilities are particularly impressive, transforming the process of creating emails, landing pages, and more into a time-saving endeavor. The platform's all-in-one nature, coupled with its user-friendly interface and customizable dashboard, make it a compelling option for businesses of all sizes.
However, it's important to consider potential limitations, such as the constraints of the website builder and the potential for escalating costs as your contact list grows. For those seeking an integrated solution that spans the entire marketing journey, GetResponse holds immense promise.
Ultimately, the decision rests on aligning your marketing goals with the capabilities and pricing structure of GetResponse. By weighing the pros and cons against your specific needs, you can make an informed choice that will undoubtedly impact the success of your marketing endeavors.