Are you tired of endless searches for the perfect online marketing program or course? Do you suffer from FOMO (Fear of Missing Out) as you browse through countless Wealthy Affiliate reviews? Well, I have good news for you.
This will be the last Wealthy Affiliate review you'll ever need to read. I've done all the hard work and research for you, and in this comprehensive review, I will share my personal experience and insights to help you make an informed decision.
What is Wealthy Affiliate?
Wealthy Affiliate is an all-in-one platform that offers web hosting, affiliate marketing training, keyword research tools, content writing sheets, a large community, and customizable WordPress sites.
Founded by online entrepreneurs Kyle and Carson in 2005, Wealthy Affiliate has continued to thrive due to its effective affiliate business model and a growing community of bloggers.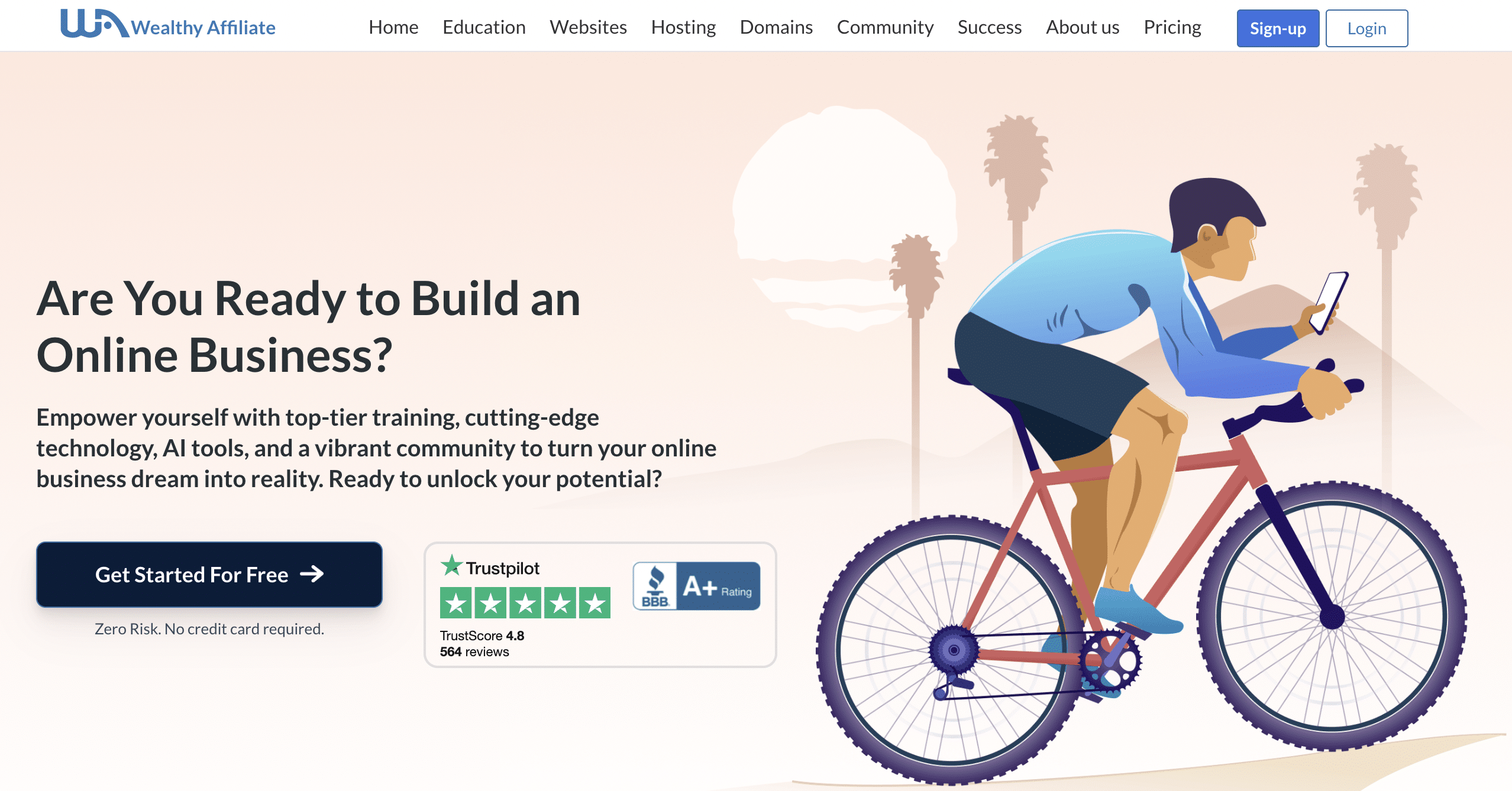 How Does Wealthy Affiliate Help You Make Money?
Wealthy Affiliate's business model revolves around providing comprehensive training and resources to help aspiring entrepreneurs succeed in affiliate marketing. The recent platform update in November 2020 has further strengthened their offerings, ensuring that members receive the latest industry insights and strategies.
Whether you choose to upgrade or start with the free training, Wealthy Affiliate can guide you through the fundamentals of affiliate marketing.
While WA teaches you effective methods to drive organic traffic and rank on the first page of Google SERPs, it's important to note that success in blogging requires patience and persistence.
Building an online business takes time, and you need to approach it with a long-term mindset. Consistency and treating your blog like a business are key principles emphasized within WA's training.
Learn more:
Founders and Success Stories
Wealthy Affiliate was co-founded in 2005 by two successful Canadian bloggers and online entrepreneurs, Kyle Loudon and Carson Lim. The platform initially started as a keyword list membership service but quickly expanded to become the most popular training portal for aspiring online entrepreneurs worldwide.
Over the years, Wealthy Affiliate has garnered a strong reputation and helped numerous individuals achieve success in the affiliate marketing industry.
One notable success story is Nathaniell, who joined Wealthy Affiliate in 2010 and built several profitable websites, including one that generated a monthly income of $126,000.
Steve, another Wealthy Affiliate member, earns $9,000 per month from a single website, showcasing the potential for substantial earnings through the platform.
Sign Up For A Free Account Here
Who is Wealthy Affiliate For?
Wealthy Affiliate caters to a wide range of individuals looking to make money online through affiliate marketing. It serves as an excellent option for newcomers to the world of affiliate marketing, providing them with a step-by-step guide and comprehensive training.
Even those with some experience in the field can benefit from Wealthy Affiliate's all-in-one solution, leveraging the platform's tools for website building, content creation, and organic traffic generation.
Advanced affiliate marketers can also find value in Wealthy Affiliate's services, particularly its high-quality hosting and keyword research tools. These features allow experienced marketers to streamline their efforts, saving both time and money.
What's Inside Wealthy Affiliate?
Wealthy Affiliate offers a comprehensive suite of services to support aspiring online entrepreneurs in building successful affiliate marketing businesses. Let's explore some of the key benefits:
Training
Wealthy Affiliate is renowned for its affiliate marketing training. The core training program, "Online Entrepreneur Certification," consists of five levels and provides 50 lessons with actionable tasks. The platform focuses on sustainable, white-hat methods to ensure long-term success. New training materials are regularly added to keep members up-to-date with the latest industry trends and strategies.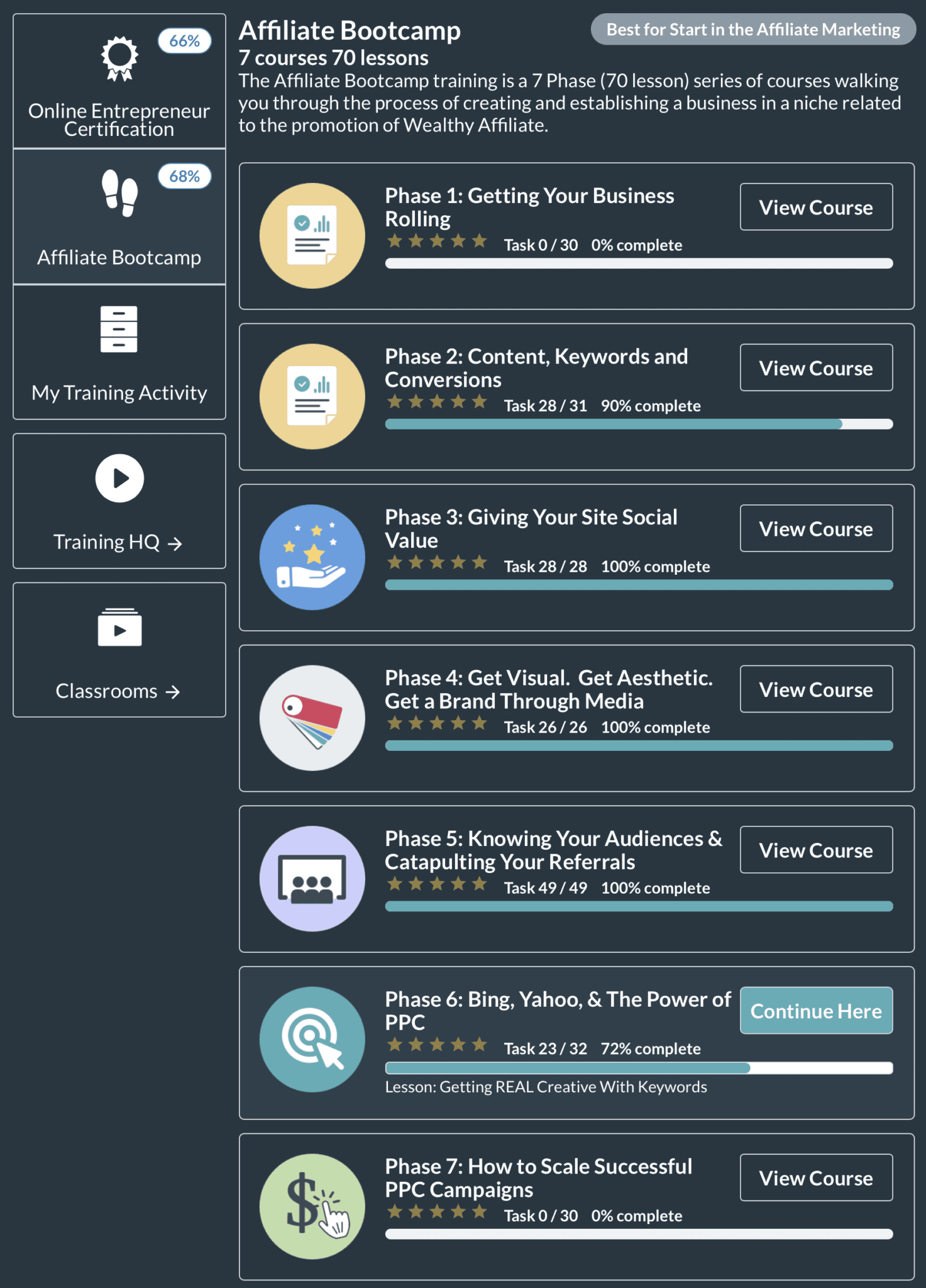 Hosting
Wealthy Affiliate goes beyond training and provides top-tier managed WordPress hosting. This eliminates the hassle of dealing with hosting issues, ensuring security, speed, backups, reliability, and spam protection. Members can host up to 10 websites on the platform, offering excellent value compared to other hosting providers.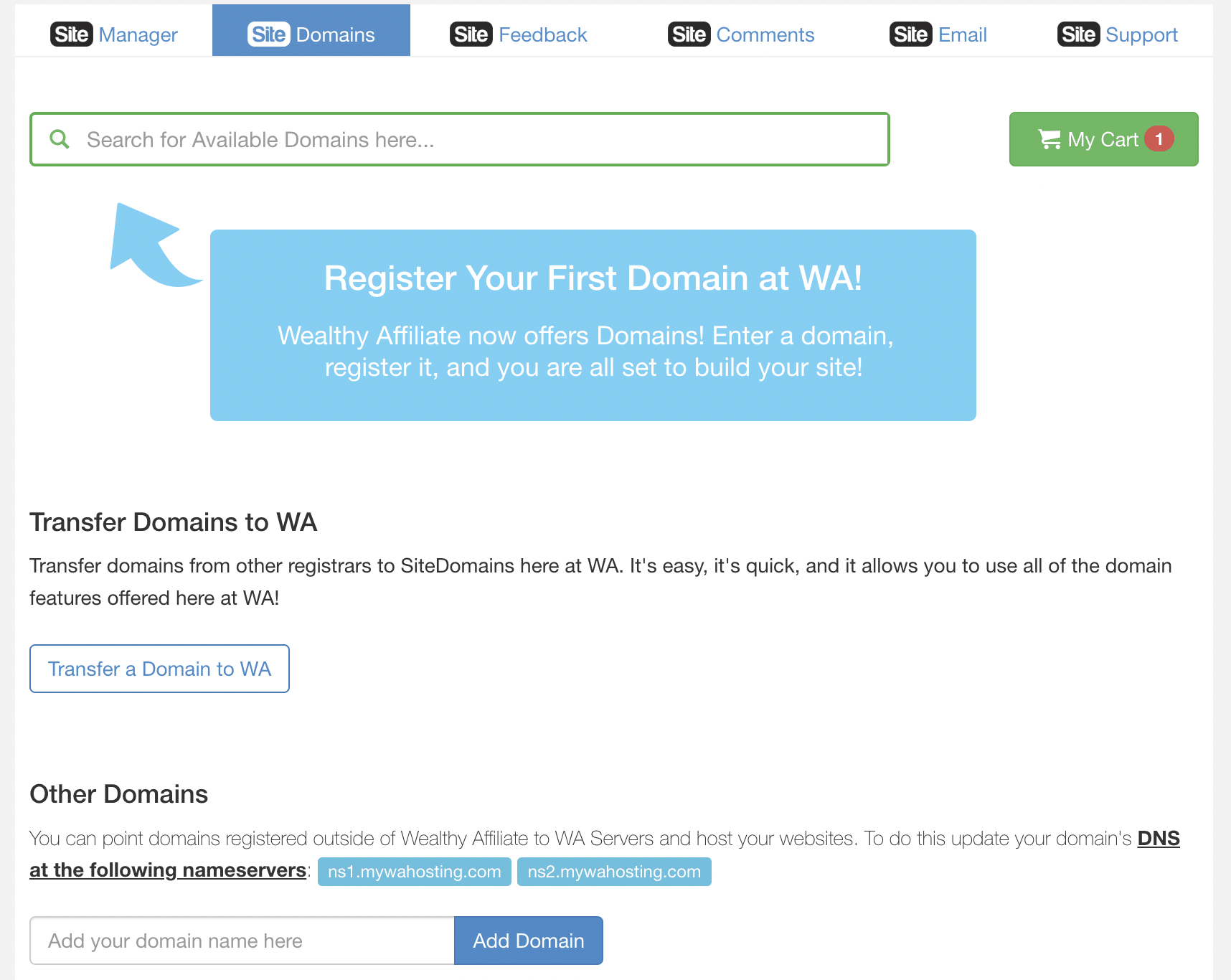 Community
Wealthy Affiliate fosters a vibrant and supportive community-driven learning environment. Members have access to live chat, forums, and discussion threads where they can seek help and advice from thousands of fellow entrepreneurs worldwide. The founders, Kyle and Carson, actively engage with the community, providing guidance and support.
Research Tools
Wealthy Affiliate offers powerful research tools, including Jaaxy, a popular keyword research tool. This tool enables members to uncover profitable keywords, validate market trends, and find relevant affiliate programs, saving them significant costs compared to standalone keyword research tools.
Site Builder
Wealthy Affiliate's SiteRubix Site Builder simplifies the process of creating a website. It guides users through four easy steps, allowing even non-technical individuals to build their sites effortlessly. This intuitive tool eliminates the need for external website builders and reduces the learning curve.
Site Comment and Site Feedback
Wealthy Affiliate's Site Comment and Site Feedback features are invaluable for new websites. Site Comment allows members to receive quality comments on their posts, boosting engagement and increasing the likelihood of ranking higher in search engine results. Site Feedback enables users to gather suggestions for website improvements, ensuring a user-friendly and visually appealing site.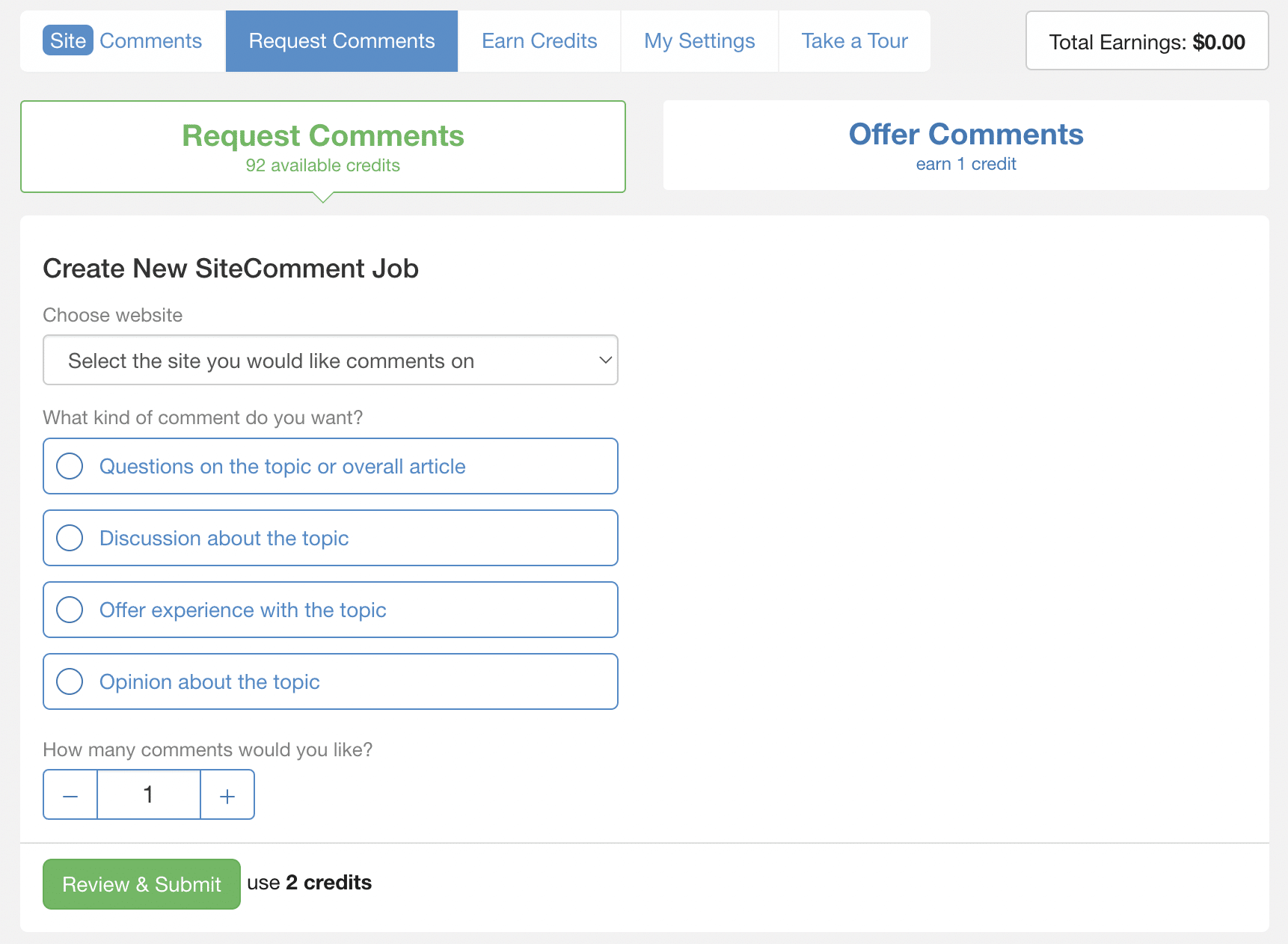 Site Support
Wealthy Affiliate's Site Support team deserves special mention. Whenever I encountered a technical issue or had trouble understanding a particular feature, Site Support was there to assist me.
Their response time was impressive, usually within minutes, and their friendly and knowledgeable approach ensured that no obstacle stood in my way for long.
Having such reliable support available 24/7 gave me peace of mind and allowed me to focus on building my business.
Sign Up For A Free Account Here
Pricing and Discounts
Wealthy Affiliate offers three membership levels:
Starter Membership: This entry-level option is free and provides limited access to training, tools, two websites, live help for the first seven days, and hosting services.
Premium Membership: For $49 per month, members gain access to all features on the platform. This includes comprehensive training, unlimited website hosting, advanced research tools, community support, and much more.
Premium Plus Membership: For $99 per month, Premium Plus members enjoy additional benefits, such as enhanced web hosting and access to all advanced training materials.
Wealthy Affiliate also offers various discount options. Annual membership, for instance, is 16% cheaper than monthly membership. Additionally, the platform often provides significant discounts during special events like Black Friday.
How to Choose the Right Membership?
When it comes to selecting the appropriate membership tier, it ultimately depends on your goals and budget. The free starter account is an excellent way to begin, but if you're serious about building a successful online business, I highly recommend upgrading to Premium or Premium Plus+. These memberships provide access to the full training, tools, and support needed to thrive in the affiliate marketing industry.
As a Premium member myself, I can attest to the immense value it offers. The training modules are well-structured and easy to follow, with video tutorials that cater to various learning styles. One "a-ha" moment for me was understanding the power of keyword research, which helped me drive targeted traffic to my website and significantly increase my revenue.
Moreover, the expert classes, live-streamed nightly, have been invaluable in expanding my knowledge and providing insights into trending topics and advanced strategies.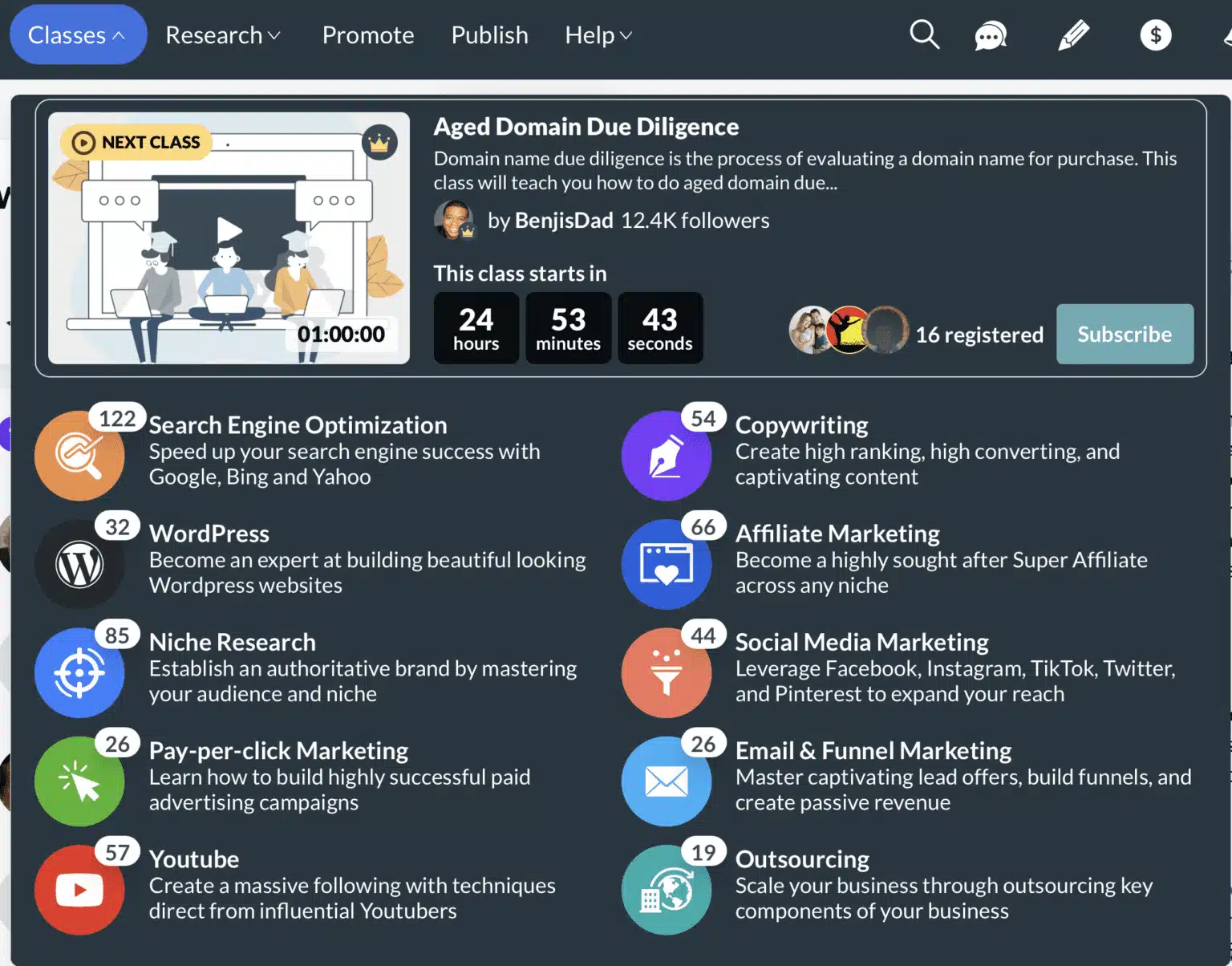 Sign Up For A Free Account Here
Wealthy Affiliate's Legitimacy and Reputation
With its 17-year history, Wealthy Affiliate has built a strong reputation within the online marketing community. The platform boasts a remarkable 4.8 rating out of 564 reviews on Trustpilot, with detailed positive feedback from satisfied users.
Notably, Wealthy Affiliate responds to all comments, whether positive or negative, demonstrating its commitment to addressing any concerns raised.
The success stories of Wealthy Affiliate members further exemplify its legitimacy. Numerous students have achieved remarkable results by following the platform's training and implementing its strategies.
From building profitable websites to earning substantial monthly incomes, the success stories speak volumes about the effectiveness of Wealthy Affiliate's approach.
Is Wealthy Affiliate an MLM?
It's essential to debunk the misconception that Wealthy Affiliate is a pyramid scheme or MLM (multi-level marketing) program. Wealthy Affiliate operates as a legitimate platform that offers various tools and services to support online businesses. Members can promote any products or services of their choosing and earn commissions through their affiliate links.
Pyramid schemes are illegal operations that focus solely on recruiting individuals to invest money, promising quick riches without any tangible products or services. In contrast, Wealthy Affiliate provides tools and resources for affiliate marketing, allowing members to promote a wide range of products and earn commissions through legitimate sales.
Similarly, Wealthy Affiliate is not an MLM program. While MLMs rely on a network of distributors to sell products and recruit new members, Wealthy Affiliate members are not involved in recruiting downline members. They have the freedom to choose any products or services to promote, including those outside of Wealthy Affiliate's offerings.
Praise
Newbie Friendly: Wealthy Affiliate is a great platform for complete beginners who want to learn how to start blogging and generate affiliate revenue. The training is designed to be accessible and easy to understand, even for those with no prior experience.
Over 1 Million Active Members: The vibrant community within Wealthy Affiliate is one of its strongest assets. You'll have the opportunity to connect with like-minded individuals, ask questions, and seek guidance from experienced marketers.
All-In-One Web Hosting: With Wealthy Affiliate, you don't need to worry about finding a separate web hosting service. They provide reliable hosting for your websites, saving you time and effort.
Keyword Research Tool Included: Keyword research is crucial for optimizing your content and driving organic traffic. Wealthy Affiliate includes a keyword research tool that helps you find valuable keywords to target in your niche.
Criticism
Monthly Fee: Some people might be put off by the monthly fee associated with Wealthy Affiliate. However, it's important to note that the fee covers access to a wide range of tools and resources that can significantly boost your chances of success.
Outdated Training: In the past, Wealthy Affiliate's training was considered outdated. However, with the recent update, this issue has been addressed, and the training materials are now current and relevant.
Not a Get-Rich-Quick Scheme: Wealthy Affiliate emphasizes the importance of hard work and dedication. It's not a shortcut to overnight riches but rather a platform that equips you with the knowledge and skills needed to build a sustainable online business.
Is Wealthy Affiliate a Scam?
With its recent updates and improved platform design, I firmly believe that Wealthy Affiliate is not a scam. However, success is not guaranteed, and it requires effort and consistency on your part. It's important to recognize that building a blog and generating traffic takes time, and Wealthy Affiliate provides you with the tools and knowledge to achieve your goals.
The first month of the premium package is available at a discounted rate of $19, making it a small investment for a significant step forward in your online marketing journey. You can also take advantage of the free plan to explore the platform and determine if it aligns with your goals and aspirations.
Learn more: Best Affiliate Marketing Courses
Final Verdict
Wealthy Affiliate is designed for beginner marketers who want to start their affiliate marketing business by leveraging the power of Google.
My personal experience with Wealthy Affiliate has been nothing short of transformative. The platform has provided me with the knowledge, tools, and support necessary to build a successful online business.
The training is comprehensive, the community is supportive, and the value it offers far exceeds the cost of membership.
If you enjoy writing and learning about search intent content, this program is perfect for you.