In the vast landscape of online marketing, finding the right tools to enhance your strategies is like navigating through a dense forest. One tool that has stood tall among the crowd is Semrush.
In this comprehensive review, we will delve into the intricacies of Semrush, exploring its features, benefits, drawbacks, and pricing to help you determine whether it's the right choice for your digital endeavors.
Semrush Review – Key Takeaways
Name

: Semrush

Features

: Organic search competitive analysis, backlink research, and the best keyword research tool

Website: www.semrush.com
Pricing: Get 1-Month Free Trial Here
Overall Rating: 4.7/5
Who is Semrush For: Newbie to Experts in Search Engine Optimisation
What is Semrush?
Semrush is more than just a tool; it's a comprehensive digital marketing platform that houses over 50 distinct SEO tools under its roof. These tools collectively cover the entire spectrum of online marketing channels, from search engine optimization (SEO) and content marketing to pay-per-click (PPC) advertising and social media marketing. Since its inception in 2008 by Oleg Shchegolev and Dmitry Melnikov, Semrush has grown to become a cornerstone of the marketing world, catering to the needs of over 10 million professionals worldwide. It's not just a tool; it's a complete toolkit, offering an all-in-one solution for marketers, businesses, and teams aiming to excel in the digital realm.
Features of Semrush
Semrush is not just a one-trick pony; it's a multi-faceted gem that shines across various dimensions of digital marketing. Let's explore its core features in detail:
1. Domain Overview
The Domain Overview tool in Semrush provides a comprehensive snapshot of any website's online presence. It offers a wealth of data that can help you assess the performance of your own website or gain insights into your competitors' strategies.
Domain Authority: Semrush calculates a domain's authority score, which indicates its overall credibility and potential to rank well on search engines.

Monthly Search Traffic: This metric estimates the amount of organic traffic a domain receives each month.

Backlinks: Get insights into the number of backlinks pointing to the domain and the quality of those links.

SERP Features: Discover the types of special search results features a domain's keywords trigger, such as featured snippets, knowledge panels, and more.

Organic Keywords: Find out how many keywords a domain is ranking for in organic search results.

Main Organic Competitors: Semrush identifies a domain's main competitors based on keyword overlap and similar rankings.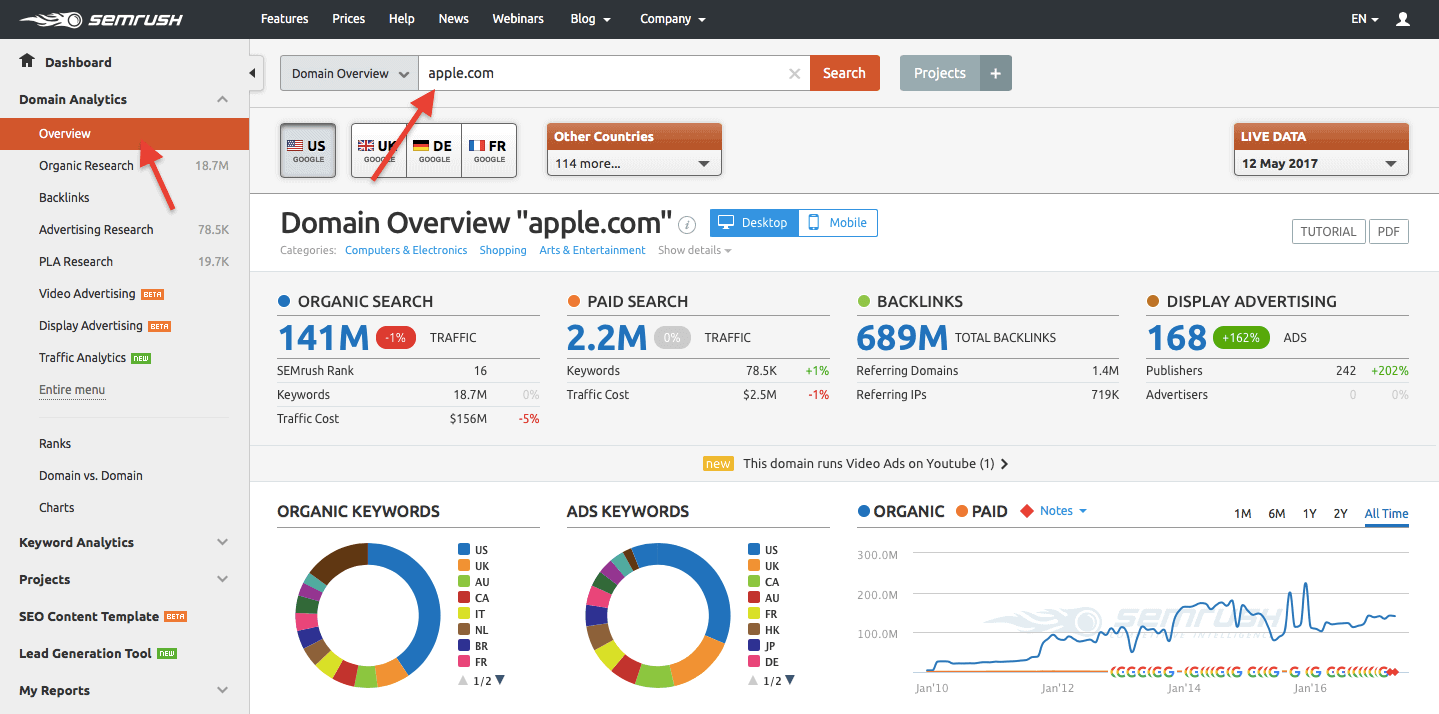 2. Traffic Analytics
The Traffic Analytics feature goes beyond just estimating the overall traffic a website receives. It provides a detailed breakdown of user behavior and sources of traffic.
Traffic Sources: Understand where a website's traffic is coming from, whether it's organic search, direct visits, referrals, or social media.

Device Distribution: See the distribution of traffic across different devices (desktop, mobile, tablet).

Pages per Session: Analyze how many pages a user typically views during a single visit.

Bounce Rate: Learn the percentage of visitors who leave the website without interacting with other pages.

Visit Duration: Understand how long users typically spend on the website.
3. Organic Research
The Organic Research feature is a treasure trove of data related to a domain's organic search performance.
Organic Keywords: View the list of keywords a domain is ranking for in organic search results.

Position Changes: Monitor changes in keyword rankings over time and see which keywords are moving up or down.

Competitors: Identify organic competitors and compare their keyword rankings with your domain.

Keyword Gap: Find keywords that your competitors are ranking for but your domain isn't, helping you discover potential keyword opportunities.
4. Keyword Research
Keyword Research is a foundational aspect of SEO, and Semrush offers a comprehensive suite of tools to aid in this process.
Keyword Database: Access a vast database of keywords along with metrics like search volume, keyword difficulty, and keyword trends.

Keyword Magic Tool: Generate keyword ideas and explore related keywords using advanced filters.

Keyword Difficulty: Evaluate the difficulty of ranking for a particular keyword based on its competition.

Keyword Intent: Semrush's unique feature categorizes keywords into informational, navigational, commercial, and transactional intent, helping you tailor your content strategy.
5. Backlink Analytics
Backlinks play a crucial role in SEO, and Semrush's Backlink Analytics tool offers comprehensive insights into a domain's backlink profile.
Backlink Data: Explore the backlinks pointing to a domain, including metrics like referring domains, authority scores, and anchor text distribution.

Toxic Backlinks: Identify potentially harmful backlinks that could negatively impact your SEO efforts.

Backlink Gap: Compare your backlink profile with that of competitors to uncover linking opportunities you might be missing.

6. Link Building Tool
Semrush's Link Building Tool helps streamline the process of finding and managing backlink opportunities.
Backlink Prospecting: Discover potential websites for link-building outreach based on relevant criteria.

Link Metrics: Evaluate the quality of potential backlink prospects using metrics like Domain Authority and organic search traffic.

Email Outreach Integration: Seamlessly integrate your mailbox to manage and track outreach campaigns.
7. Site Audit
The Site Audit feature performs a comprehensive analysis of a website's health and identifies technical issues that might affect its search engine rankings.
Crawl Health: Identify crawl errors, broken links, and other technical issues that could impact the user experience.

On-page SEO: Receive recommendations to optimize individual pages for better search engine visibility.

Mobile Friendliness: Check if the website is mobile-responsive, a crucial factor for SEO and user experience.
8. On-page SEO Checker
This tool is designed to optimize individual web pages for better search engine ranking.
Optimization Ideas: Receive actionable suggestions to improve on-page SEO, including keyword usage, content length, meta tags, and more.

Competitor Analysis: Compare your page's performance with that of competitors to identify areas for improvement.
Who is Semrush For?
Semrush is a versatile platform suitable for a wide range of users:
Professionals: Whether you're a digital marketer, SEO specialist, or content creator, Semrush equips you with the tools to enhance your strategies.

Marketing Teams: Collaborative efforts are streamlined through Semrush's project management features, making it ideal for marketing teams.

Businesses: Larger enterprises can benefit from Semrush's comprehensive toolkit to boost their online presence and drive results.

Entrepreneurs: Aspiring entrepreneurs and small business owners can use Semrush to compete on a larger scale in the digital landscape.
How Much Does Semrush Cost?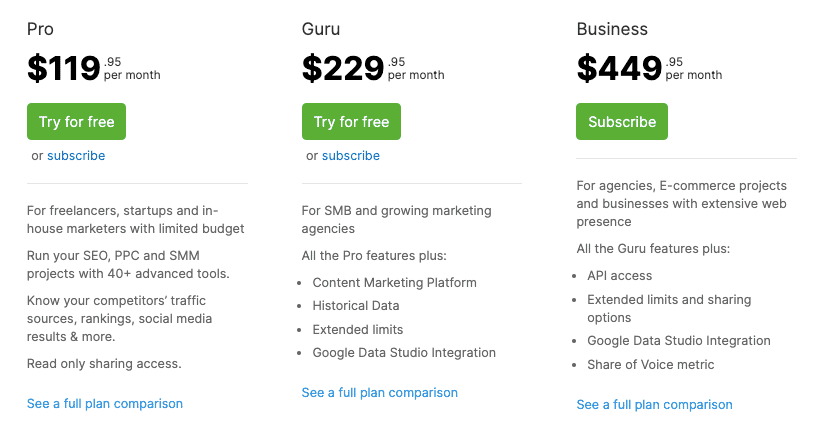 Semrush offers various pricing plans to cater to different needs:
Free: The free plan offers limited access to Semrush's tools with usage restrictions.

Pro: Starting at $129.95/month, the Pro plan is suitable for independent marketers and small teams.

Guru: Priced at $249.95/month, the Guru plan is recommended for most users and includes access to advanced features.

Business: Designed for enterprises, the Business plan costs $499.95/month and offers the highest usage limits and premium features.
Semrush also provides add-ons, such as Listing Management and ImpactHero, for further customization.
What are Customers Saying?

Customers are raving about Semrush's comprehensive features and the depth of data it provides. The platform's ability to uncover valuable insights, analyze competitors, and aid in content creation has garnered praise from marketers and businesses alike. Users appreciate the generous usage allowances and the extensive backlink and keyword metrics that empower them to make informed decisions. However, some note that the traffic analytics data might not always be entirely accurate and that the user interface can feel cluttered, especially for beginners.
Pros of Semrush
Huge Databases: Semrush boasts the largest keyword database and backlink crawler, providing a wealth of data.

Comprehensive Feature Set: With over 50 tools covering various marketing channels, Semrush is an all-in-one solution.

Extensive Metrics: Semrush offers detailed keyword and backlink metrics, including the unique Keyword Intent metric.

Powerful Link Building Features: Semrush's link-building tools are particularly robust, aiding in identifying, managing, and tracking backlinks.

Great Value for Money: Despite the cost, Semrush's comprehensive toolkit offers significant value, with higher usage limits than competitors.

Generous Usage Allowances: Semrush's usage limits surpass industry standards, allowing for more extensive research and analysis.
Cons of Semrush
Traffic Analytics Accuracy: The traffic data provided by Semrush is an estimate and may not always be entirely accurate.

Data Limited to Google: Semrush provides data only for Google, excluding other search engines like Bing and YouTube.

Cluttered User Interface: The abundance of features and data can make Semrush's user interface feel overwhelming, particularly for beginners.
Semrush Alternatives
While Semrush is a powerhouse, several alternatives cater to different needs:
SE Ranking: More affordable and suitable for smaller budgets, SE Ranking offers similar core features.

Serpstat: A comprehensive SEO tool with keyword and backlink analysis, perfect for beginners and experienced marketers.

Mangools: A user-friendly alternative with a focus on keyword research and link building.

SEO PowerSuite: A desktop-based suite of tools for in-depth SEO analysis, great for those seeking comprehensive data.
Final Verdict: Semrush Review
In the ever-evolving world of digital marketing, Semrush stands tall as a comprehensive and feature-rich platform. With its diverse toolkit, generous usage allowances, and extensive metrics, it empowers marketers, businesses, and professionals to navigate the complexities of the online landscape. While its accuracy in traffic analytics and the absence of data from non-Google search engines are minor drawbacks, the benefits far outweigh these limitations. Semrush's power lies in its ability to streamline SEO efforts, uncover insights, and drive effective strategies. Whether you're an independent marketer, part of a team, or running a large enterprise, Semrush has the tools to help you conquer the digital realm and achieve remarkable results.