Are you looking for a Semrush review? Should you use Semrush for your business? Is Semrush a scam?
If you are looking to use Semrush in your business, you may have these questions in mind. But you will have all your doubts resolved by the end of this Semrush review.
I have a passion to help businesses explore the best software to improve business operation and increase profit.
In the past week, I've done thorough research about Semrush. So I can tell you a lot of things about Semrush to help you make an informed and wise decision.
Semrush Review – Key Takeaways
Name

: Semrush

Features

: Organic search competitive analysis, backlink research, and the best keyword research tool

Website: www.semrush.com
Pricing: Get 1-Month Free Trial Here
Overall Rating: 4.7/5
Who is Semrush For: Newbie to Experts in Search Engine Optimisation
In this Semrush review, I'm going to cover the following.
What is Semrush?
A small team of SEO and IT specialists founded Semrush in 2008 to create the ultimate online marketing tool. To level the playing field for all businesses, a keyword research and competitor analysis tool would provide relevant and accurate information.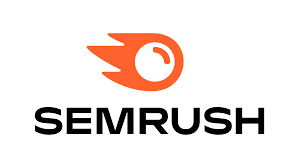 After over a decade, the company had been able to achieve exactly that, and today the company employs 1,000 people across 8 offices.
Semrush Features – Semrush Review
Get 1-Month Free Trial of Semrush Here 
1. Analyze Website
You should always look at your site's performance on various parameters before you begin your competitive analysis.
The following are the 3 most important things you need to know about your site:
Top organic keywords

Organic search positions

Total number of backlinks
With Semrush, you can gather all this information within minutes.
You can learn how the performance of your website and the websites of your competitors with Semrush's Domain Overview report.
Enter your domain name in the Semrush search bar, choose "Domain Overview" from the drop-down menu, and click "Search."
Several parameters, such as organic search and paid search traffic, backlinks, organic keywords, and more, will be examined by the report.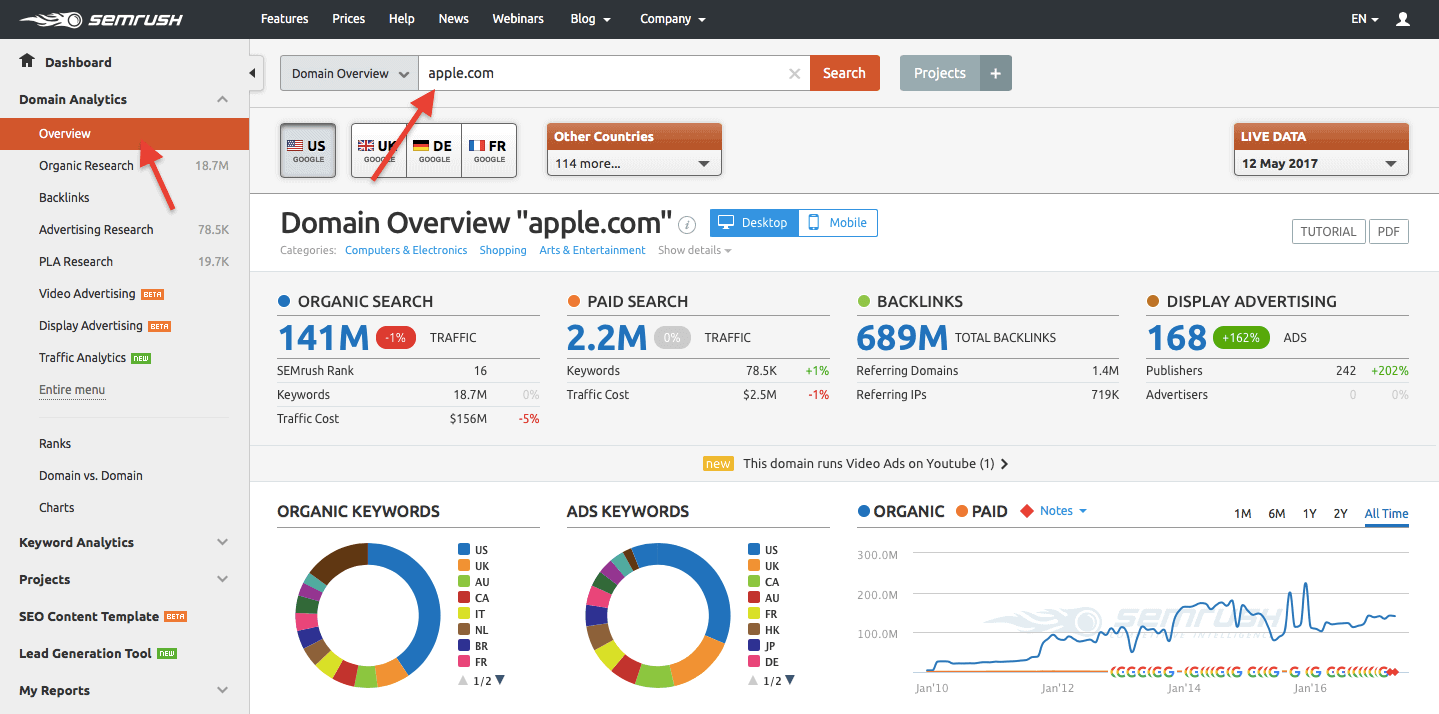 Next, click on "Organic Research" in the sidebar menu, to see organic keywords, traffic, and changes in organic position.
Click on the "Backlinks" option in the sidebar to view your backlinks. You can find your site's backlink profile, number of referring domains, types of backlinks (text, image, form, etc.) and percentage split between follow and nofollow links here.

Using Excel or CSV files, you can export the results for all the above categories.
If this is your first time using Semrush, I would recommend starting with this step before moving on to more advanced features such as site audits and position tracking.
2. Identify Your Organic Competitors
One of the most important steps in dominating search results is identifying your organic competitors. You need to understand what your competitors are doing and then do it even better.
You can find your organic competitors by entering your domain name in the Semrush search bar, selecting "Organic Research" from the drop-down menu, and clicking "Search."
To learn more about your competitors, visit the "Competitors" tab in the organic research report:
Your website will be compared to your competitors' websites in the Competitor Positioning Map.
There are bubbles in different positions on the map based on organic search terms and organic traffic.
Usually, a site will appear more to the right of the map if it ranks for more keywords. The higher up the map the site appears that receives more organic traffic.
By hovering over each bubble, you can see their organic keywords and traffic.
A table of organic competitors will appear when you scroll down.
Don't let the large number of competitors intimidate you. Keep an eye on these metrics:
Competition Level

Common Keywords

SE Keywords
Search engines will rank sites based on these three metrics, so outranking these sites is important.
3. Keyword Research
The keyword research tools are among Semrush's best-known features, despite its abundance of features in its digital marketing suite.
The Semrush toolkit contains three primary keyword research tools, each with its own purpose:
Use the Keyword Overview to see a quick summary of your keyword target's search volume, keyword difficulty, and other important metrics.

You can use the Keyword Magic Tool to generate tons of unique keyword ideas for your seed words.

Use Topic Research Tool to generate content topics.
Plug your seed keywords into Semrush's search bar to start the keyword research process.
Then, Semrush will generate an overview report for your keywords, with all the critical metrics and some top keyword variations based on your seed keywords.
Make sure you pay attention to the keyword difficulty level and trend graph as well as the search volume.
Under the "Keyword Variations" section, click the "View all" button to view more keyword variations for your targeted keywords.
You will then be taken to SEMrush's Keyword Magic tool, where you can use advanced filtering options to narrow down the list of keywords for your next campaign.
4. Do a Site Audit and Fix Errors
Using Semush's site audit functionality, you can diagnose your website to identify the most troubling on-page SEO and technical SEO issues.
You can perform a site audit on Semrush by clicking on "Add New Project," entering the details, and selecting "Setup Site Audit."
After selecting how many pages you want SemrushBot to crawl, click "Start Site Audit.".
If you select a lot of pages, it might take a while.
Upon completion of the audit, Semrush will produce a report that shows the overall SEO health of your site in percentage form as well as any errors or warnings that may be affecting it.
In red are the most critical SEO issues your site is facing at the moment, and you should start addressing them immediately.
5. On-Page SEO Checker
A highly underrated tool by Semrush, On-Page SEO Checker pinpoints the exact weaknesses of your website and provides you with actionable recommendations.
Using On-Page SEO Checker, you can quickly see if your content meets all of the on-page and off-page SEO elements, including relevance and quality of your content, trustworthiness and reputation of backlinks, page title, H1, and H2 tags, and meta descriptions.
The tool can be accessed by going to:
SEO > On Page & Tech SEO > On-Page SEO Checker
On this page, you can choose any of your active projects and configure your domain. You can add the pages and keywords you'd like to optimize and hit "Collect Ideas."
You will receive immediate recommendations on how to optimize each of these pages.
Click on the "Ideas" button next to the page you'd like to optimize to see Semrush's suggestions for improving your SEO.
Connect your Google account to Semrush to get recommendations about your site's user experience. 
You will be able to read Semrush's Google Analytics data and discover any UX loopholes that you might need to improve your search visibility.
6. PPC Analysis
Without mentioning Semrush's powerful PPC tools, I would not be doing it justice.
In order to stay one step ahead of your competition, you need to monitor your competitors' PPC ads.
You can see what keywords your competitors are targeting, their rankings in SERPs, and even their ad copy with Semrush.
You can then polish your own PPC ads and optimize your landing pages for maximum impact.
Semrush Pricing
You need to invest a decent amount of money in a good, reliable SEO tool if you want to dominate search rankings in your niche.
Semrush's basic plan costs about the same as the ones offered by Ahrefs, Moz, and Raven Tools, even after raising their prices in January 2021.
Semrush has three monthly pricing plans:
Pro – $119.95/month (best for beginners and bloggers)
Guru – $229.95/month (recommended for start-ups and sole proprietors)
Business – $449.95/month (perfect for marketing agencies and large companies)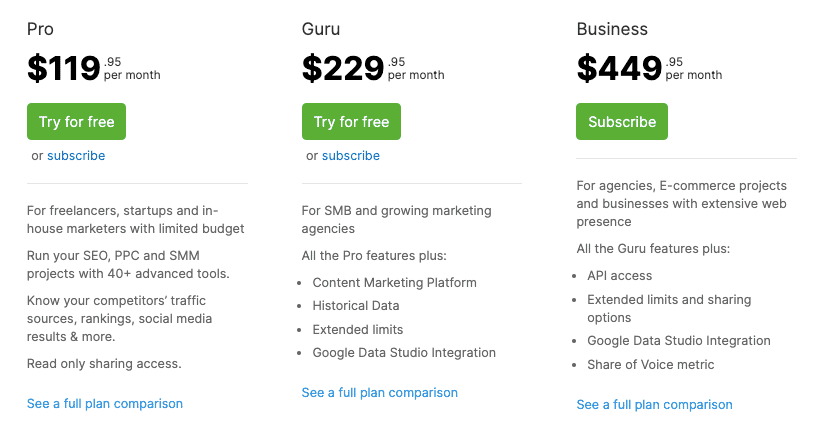 All three subscriptions are recurring.
If you manage 1-3 sites, I recommend signing up for the Semrush Pro plan. You might want to consider the Guru plan if you run an agency with many clients and projects.
Get 1-Month Free Trial of Semrush Here 
Semrush Pros
1. User-Friendly
With a clean user interface, Semrush is easy to use. However, it may take some time for you to get used to the interface, especially if you're migrating from tools like Moz or SpyFu. Additionally, it has a lot of features, so it can be a bit overwhelming at times.
As such, there is no need to fret as Semrush has a wealth of resources you can explore to get a step-by-step guide to mastering the tool.
Also, you can keep up to date with all the new features and functions by tuning into their webinars (both past and upcoming).
2. A good customer support system
The customer support of a company can make or break the reputation of the company. As a result, it is one of the most important factors involved in a company's success.
Especially with services like Semrush, where a highly active community of SEOs are likely to ask questions.
Support is available mostly through Semrush's extensive knowledge base and email services. The company also holds webinars regularly during which they reveal new features and provide some actionable tips for improving your SEO and PPC.
3. In-depth keyword research
Semrush allows you to choose the right keywords according to your niche based on comprehensive keyword analysis.
4. Priced reasonably
With the exception of Semrush's Pro plan, all plans are reasonably priced for small and midsize businesses.
5. Displays visitor information in a detailed form
Semrush allows you to take a peek at the demographics of your users such as age, gender, location, which are helpful when offering your business products and services to them.
6. Identification of Toxic Elements
Search engine rankings can be negatively affected by spammy backlinks more than you could ever imagine. You can identify a variety of other toxic elements with the Semrush backlink audit tool.
7. An all-in-one solution
Using Semrush, you can accomplish all your business intelligence, SEO, digital marketing, and digital marketing needs in one place.
Get 1-Month Free Trial of Semrush Here 
Semrush Cons
1. An issue with subsequent logging
In the event that you share a Semrush login with another user and that person then logs in with the same Semrush account, the first user will lose access to the account. The glitch needs to be addressed and Semrush should ensure that subsequent users are warned of unauthorized access or something similar.
2. Fear Factor
Several Semrush users complain that Semrush sends out too many warnings, which can be counterproductive.
3. It's too big to handle
Despite Semrush's many features, it can be hard to figure out exactly how all of them work together. To a complete beginner, the tool may seem quite complicated, and it will take some time to learn.
4. Ad Spend Data Is Inaccurate
The data displayed for ad spend, exports, and other data are inaccurate according to several users. I am not sure whether this is a speculation or a one-time glitch, but it happens with every product.
Get 1-Month Free Trial of Semrush Here 
Other Semrush Customer Feedback and Reviews
Semrush remains a popular marketing tool among bloggers and marketing experts alike. Semrush is prominently featured on the blogs of industry influencers like Neil Patel, Brian Dean, and Larry Kim.
It also has near-perfect ratings on review sites such as G2, TrustRadius, and Capterra.
The following three review sites rank Semrush:
G2 – 4.5/5 (1,034 reviews)
TrustRadius – 8.6/10 (306 reviews)
Capterra – 4.6/5 (1,194 reviews)
Trustpilot – 4.5/5 (265 reviews)

Who is Semrush For?
Ask the following questions to see if you meet the criteria for using Semrush:
You run a small or mid-sized business with a reasonable budget.

You have an online store.

You manage a large brand that is rapidly growing.

A competitor analysis tool is what you need.

An easy-to-understand SEO and marketing tool suite with top-notch features is what you need.

To improve your content marketing, you need a keyword suggestion tool.

In addition, you would enjoy the social media analysis features.
Get 1-Month Free Trial of Semrush Here 
Who is Semrush Not For?
Like other tools, Semrush is not for everyone. Don't use Semrush if are the following people:
You don't have much money to spend and could find some cheaper or free ways to achieve the same results.

In terms of keyword suggestions and tracking, you prefer a simpler method.

The interface doesn't appeal to you. It's a matter of preference, but you can easily test the SEMrush free trial and compare it with a similar solution like Ahrefs.
Final Verdict: Semrush Review
I have covered almost all of the main features of Semrush in this review. Hopefully, you now have more clarity about what it offers and whether it is the right tool for you.
In my opinion, any company that wants to increase its online presence should give this tool a go, regardless of company size. There are several plans to choose from based on your organization's needs or you can have a customized plan created for your business.
Would you like to try it?
Get a free trial and then upgrade to the plan that best suits your needs.
Get 1-Month Free Trial of Semrush Here 
Major Software Review Sites' Rating on Semrush
Capterra Rating: 4.7/5
G2 Rating: 4.2/5
TrustRadius Rating: 8.9/10
GetApp Rating: 4.7/5
PCMag Rating: 4/5
SoftwarePundit: 96/100
Fool.com Rating: 8/10
Software Advice Rating: 4.5/5
Semrush FAQs
1. What features are included in the free trial?
You can try out Semrush for free with certain limitations during the trial period. Using this tool for free gives you access to a number of things.
2. How do I edit my subscription and add/delete additional limits?
There are limits to how many projects/users/social profiles you can add to Semrush subscriptions, among other things. However, you can edit your subscription and increase or decrease the limit for each.
The subscription information tab is located at the top right corner of your account. Your plan's price will be automatically adjusted based on the changes you make.
Additionally, you can use this tab to check the limits of your current subscription plan.
3. Why should I pay for Semrush when I already have Google Analytics?
In comparison to Google Analytics, Semrush is the best tool for finding out what your competitors are doing. Semrush also has a lot of features, so GA doesn't even compare.
It should be noted, though, that Semrush should not be used in place of GA.
4. Can I change plans or cancel my subscription after purchasing?
Your subscription can be changed or cancelled at any time. If you cancel within seven days, you will receive a full refund.
You can request a refund by sending an email to [email protected] within seven days of subscribing.
5. When the free trial period ends, will my account automatically be charged?
Yes, once the trial period ends, you will be charged the monthly amount for the plan you selected. In any case, if you cancel within seven days of the free trial, you will not be charged.
6. Can I get my data back after cancelling my subscription?
There is a 30-day grace period after you cancel your subscription. During this period, your projects will remain active, and you can download and save your data before it expires.
All your projects and data will remain the same if you choose to renew your subscription during this time.
7. Does the free trial apply to all plans?
The free trial is only available with Guru and Pro plans.
You can cancel your subscription at any time within 7 days of purchase.
8. Is Semrush able to offer custom plans?
The answer is yes. Enterprise plans are 100% customized to meet your needs. Get a custom plan by talking to their sales team.