In the vast digital landscape, where businesses are striving to be noticed, SEO tools have become the trusted allies for growth. Among these tools stands Mangools, a name that's gaining attention for its simplicity and effectiveness. In this review, we'll journey through the realms of Mangools, exploring its features, benefits, and limitations. By the end, you'll have a clear understanding of whether Mangools is the right choice to steer your online journey.
Mangools Review – Key Takeaways
Name

: Mangools

Features

: Organic search competitive analysis, backlink research, and the best keyword research tool

Website: www.mangools.com
Pricing: Get 10-Day Free Trial
Overall Rating: 4.9/5
Who is Mangools For: Newbie to Experts in Search Engine Optimisation
What is Mangools?
Imagine Mangools as your SEO toolkit, designed to make your online presence shine. Mangools comprises a suite of five unique apps, each tailored to serve a specific purpose:
KWFinder: A keyword research wizard, helping you discover the perfect keywords for your content.

SERPChecker: An insightful guide to deciphering SERPs, revealing the competitive landscape.

SERPWatcher: Your virtual rank tracker, ensuring you're always in the know about your keyword performance.

LinkMiner: A backlink explorer, empowering you to analyze the links that shape your website's authority.

SiteProfiler: A site profiler that offers a glimpse into a website's backlink strength and social media presence.
Features of Mangools
1. KWFinder
At the core of SEO lies the art of selecting the right keywords. KWFinder, Mangools' keyword research wizard, simplifies this process. Begin by entering your target keyword, location, and language preferences. The tool then presents a comprehensive dashboard showcasing related keywords, along with essential metrics such as search volume, keyword difficulty, trends, competition, and cost-per-click (CPC). Toggle between Autocomplete and Questions modes to fine-tune your keyword exploration. This intuitive tool assists you in identifying keywords that align with your content goals.
2. SERPChecker
Understanding search engine results pages (SERPs) is paramount to crafting a successful SEO strategy. SERPChecker, one of Mangools' powerful offerings, grants you access to an insightful guide to deciphering SERPs. By entering your target keyword, you gain insights into keyword difficulty and the SERP features that dominate the landscape. The top-ranking sites for your keyword are listed, accompanied by metrics such as domain authority, page authority, citation flow, trust flow, and more. Comparing your page's authority to your competitors' aids in planning your ascent to the top of search rankings.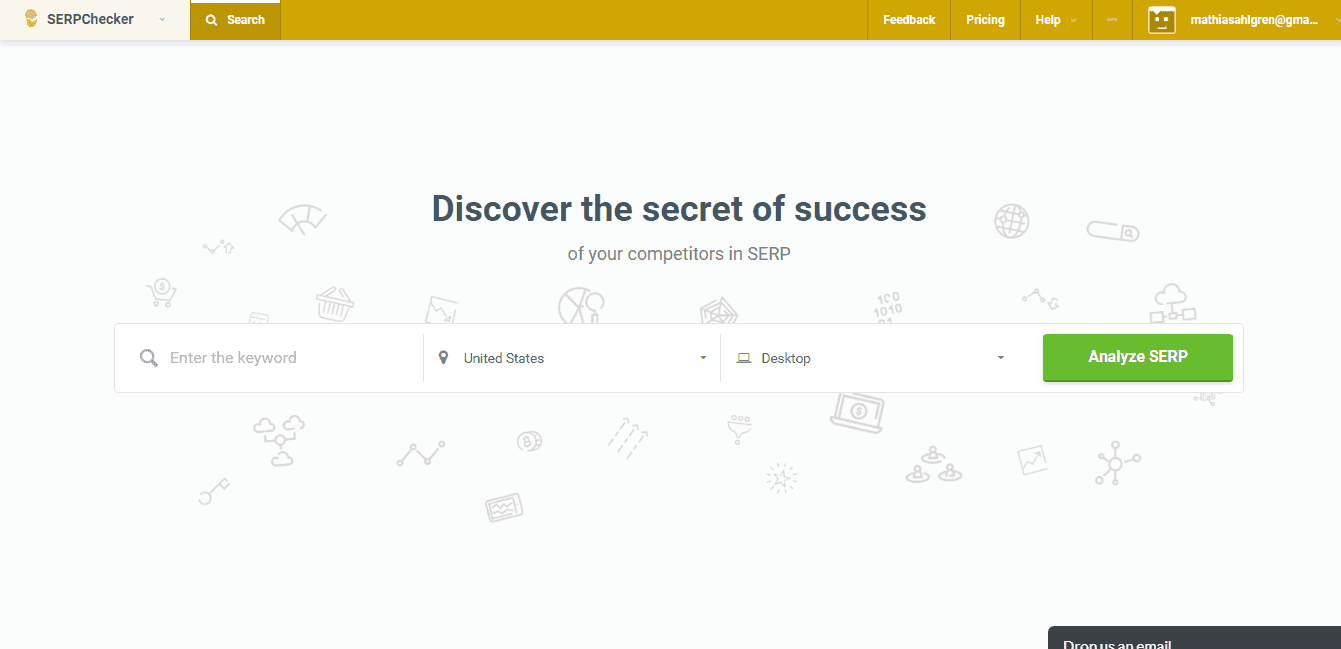 3. SERPWatcher
The heart of SEO lies in monitoring your keyword rankings and understanding their performance over time. SERPWatcher, your virtual rank tracker, ensures you're always in the know about your keyword performance. Begin by inputting your list of keywords, and the tool populates a dynamic dashboard with essential data. This data includes your rankings, estimated traffic, trends, search volume, and more. Witness the impact of your SEO efforts as you adapt your strategy based on the real-time insights provided by SERPWatcher.

4. LinkMiner
Backlinks, the lifeblood of authority in the digital world, require careful curation and analysis. LinkMiner, Mangools' backlink explorer, empowers you to delve into the links that shape your website's authority. Seamlessly analyze backlink profiles of entire domains or individual pages by inputting your target URL. The tool provides a wealth of insights, including metrics such as Citation Flow, Trust Flow, external links, Facebook shares, Alexa Rank, and more. By understanding the link landscape, you're equipped to refine your link-building strategy and enhance your website's credibility.
5. SiteProfiler
While SiteProfiler offers an overview of a website's backlink strength and Facebook popularity, it might feel like a less essential addition compared to the other tools within Mangools. The standout feature within SiteProfiler is the top domains report. This report provides a valuable glimpse into the most potent link sources, ordered based on their Alexa Rank. While SiteProfiler's offerings are limited compared to other tools, it still provides a snapshot of a website's overall authority.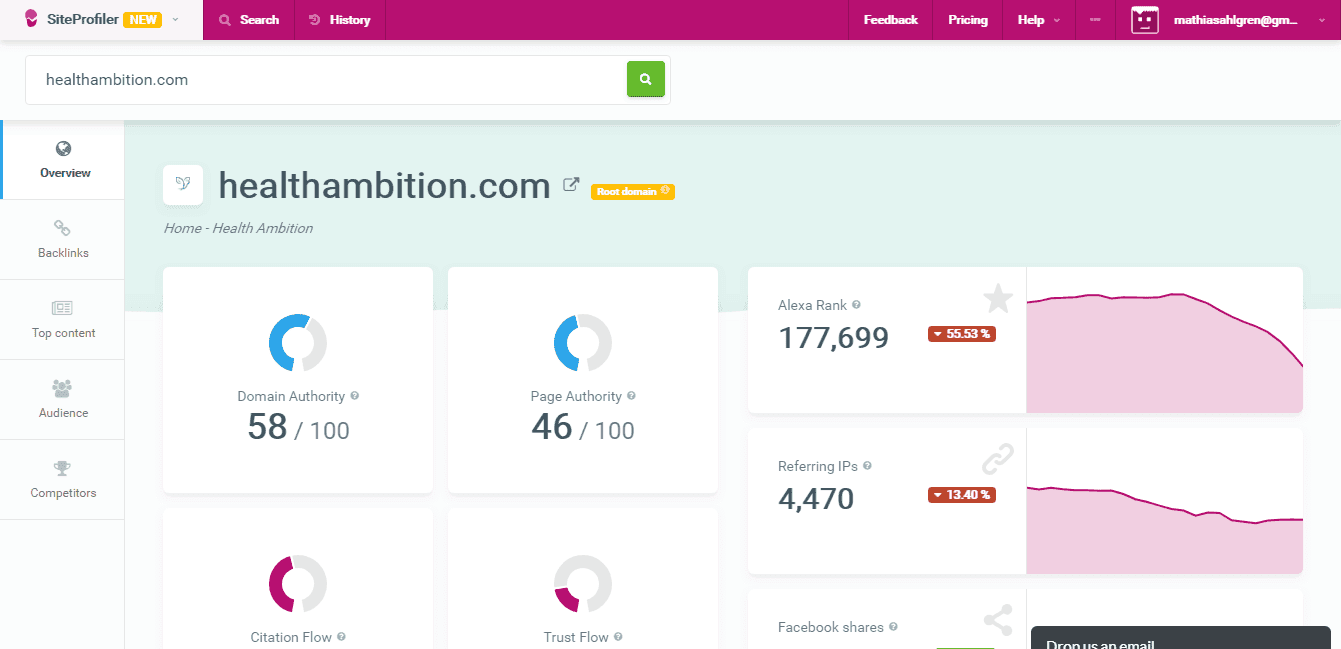 Who is Mangools For?
Mangools caters to a wide audience, making SEO accessible to all. Whether you're a blogger, small business owner, marketer, or part of a larger agency, Mangools offers a toolkit that simplifies the complex world of SEO. Its user-friendly interface ensures that beginners can navigate the tools with ease, while its powerful features satisfy the needs of more seasoned SEO practitioners.
How Much Does Mangools Cost?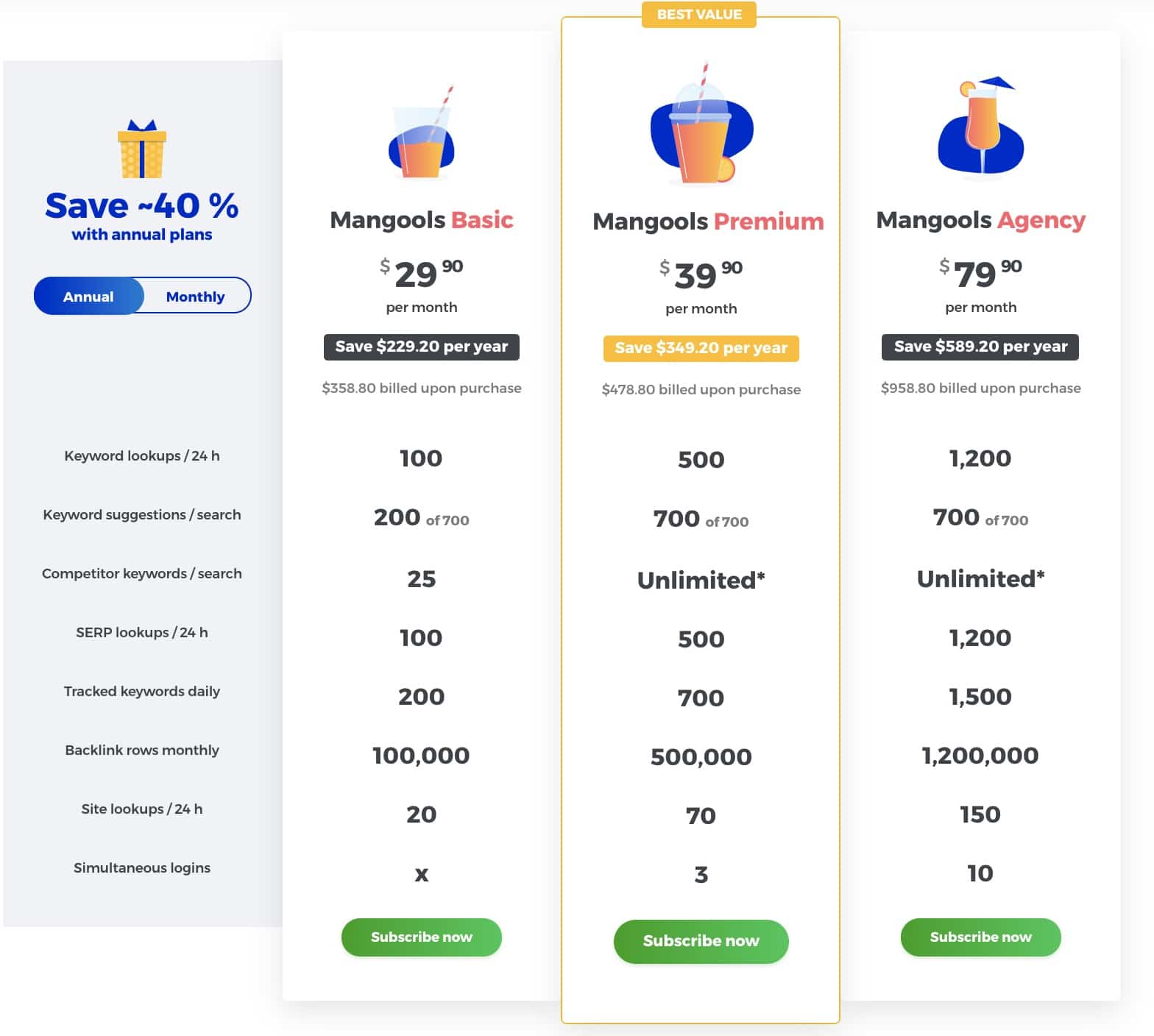 Cost should never be a barrier to growth, and Mangools has embraced this principle. The pricing plans are designed to suit various needs and budgets:
Entry: €29/month

Basic: €49/month

Premium: €69/month

Agency: €129/month
All plans grant access to the complete suite of features. Whether you're testing the waters or diving in headfirst, Mangools offers flexibility. Plus, choosing an annual plan brings a 35% discount, enhancing affordability.
What are Customers Saying?
The voice of customers is the true testimony of a tool's effectiveness. Mangools has garnered a positive reception:
Users praise Mangools for its affordability, enabling businesses to embrace SEO without financial strain.

The user interface receives accolades for its simplicity, making complex SEO tasks approachable for beginners.

LinkMiner's integration with Majestic SEO is celebrated, providing robust backlink analysis that rivals industry giants.
Pros of Mangools
All-in-One Convenience: Mangools offers a complete suite of tools, covering everything from keyword research to rank tracking.

Budget-Friendly: With pricing plans significantly cheaper than alternatives like Ahrefs and SEMrush, Mangools is perfect for those seeking value without sacrificing quality.

User-Friendly Interface: Even if you're new to SEO, Mangools' tools are designed to be intuitive, ensuring a smooth learning curve.

Quality Backlink Analysis: LinkMiner stands out, powered by Majestic SEO, delivering insightful backlink metrics.
Cons of Mangools
SiteProfiler's Limited Value: While some features within SiteProfiler are useful, it may not be as integral as the other tools, possibly making it feel like an unnecessary addition.

Restricted Free Trial Quota: The free trial provides only a limited glimpse of the tools' capabilities due to usage limitations.
Mangools Alternatives
While Mangools shines brightly, it's important to explore alternatives to make an informed decision:
Ahrefs: Renowned for its comprehensive backlink database and keyword research capabilities.

Semrush: A versatile tool offering robust keyword research, competitor analysis, and more.

Moz: Famed for its domain authority metric and comprehensive SEO insights.
Final Verdict: Mangools Review
In a world where simplicity often triumphs, Mangools is a shining example. Its user-friendly approach and affordability make it an ideal choice for businesses seeking effective SEO solutions. While SiteProfiler may be less vital, Mangools' core strengths shine through. For those seeking a budget-friendly, all-in-one SEO toolkit that doesn't compromise on quality, Mangools is the answer. As you embark on your SEO journey, Mangools is there to simplify the complex and guide you toward online success. Don't hesitate to explore Mangools and experience its potential firsthand. Click the link below to embark on your SEO journey with Mangools.