Are you looking for a Mangools Review? Should you use it to optimise the SEO of your websites? You will find the answer in this comprehensive review.
SEO tools are essential in crafting effective strategies for your websites. 
However, with the abundance of SEO tools in the market, sometimes it is hard to know which one can help you work more efficiently on the tasks like keyword research, backlink checking, content research, SERP analysis and even grammar checking.
One of the latest looks that have helped me successfully achieve 4 figures monthly income in a matter of a few months is Mangools, which offers 5 tools in one single package. I have tried other versatile SEO tools before but none of them works like Mangools. 
If you want to get ahead in the SEO game, you might want to know more about your competitors such as the backlinks they're getting and the keywords for which you can also rank and optimise.
Mangools Review – Key Takeaways
Name

: Mangools 

Features

: Organic search competitive analysis, backlink research, and the best keyword research tool

Website: www.mangools.com
Pricing: Get 10-Day Free Trial
Overall Rating: 4.9/5
Who is Mangools For: Newbie to Experts in Search Engine Optimisation
Below is my Mangools review which covers the SEO tools KWFinder, SERPChecker, SERPWatcher, LinkMiner and SiteProfiler. 
What is Mangools?
Mangools is one of the most popular SEO tools which bring innovative approaches to keyword research. 
It offers 5 different SEO tools in one package, including the KWFinder for keyword research, SERPChecker for SERP analysis, SERPWatcher for Rank Tracking, LinkMiner for link tracking, and SiteProfiler for SEO metrics and insights. 
When you log in to Mangools, you'll see your dashboard page as below:
The interface is so beautiful and easy to use that you can navigate the tools and do research efficiently.
Key Features of Mangools – Mangools Review
1. KWFinder Keyword Research Tool – Mangools Review
Keyword research is the most important step in optimising your content for SEO. Without doing keyword research before writing your content, your chance of ranking it on Google is slim. While Google algorithm is getting smarter and understands natural language, writing your content with a keyword in mind is still very important.
To find the best keyword to target, you have to rely on a keyword research tool. A good keyword should have a decent amount of traffic but easy to rank.
KWFinder helps you find the best keywords for your website and content, by offering more options than other keyword tools such as Google's Keyword Planner.
In addition, it offers many important details for each keyword such as Trends, Search Volume, Cost per Click and Keyword Difficulty.

Unlike most keyword research tools, KWFinder offers three types of keywords, namely, Suggestions, Autocomplete, and Questions.
With the Suggestions option, you can simply enter a keyword and get hundreds of keyword suggestions and variations of your target keyword.
With the Autocomplete option, you can get access to the autocomplete data from Google searches. Google Autocomplete suggestions can find out the keywords people are using when looking for something on the search engine.
With the Questions option, you will be provided with the questions people are asking related to your target keyword. These questions can help you better refine your content and give you guidance in content strategy.
In any SEO game, it never works by stuffing keywords in your article. 
Instead, you should begin with researching what questions people might be asking and then write content relevant to those questions and naturally incorporate the long-tail keywords.
KWFinder also allows you to see important details about the target keyword, what websites are ranking for the keyword and each keyword suggestion on the side.
Results Filter is another feature that sets KWFinder apart from other similar keyword tools available. 
It enables you to filter the keyword suggestions based on the minimum and maximum Search Volume, CPC, PPC, number of words, etc. 
That way, you can single out the winners without going through hundreds of similar keywords.
One of the most important and accurate data that KWFinder provides you is the Keyword Difficulty Score. it measures and estimates how difficult it is to rank for a keyword.
The higher is the Keyword Difficulty Score, the more difficult it is to rank on the first page of Google.
Mangools KWFinder takes into account your competitors' Link Profile Strength on the first page to give you the score, which is very accurate indeed.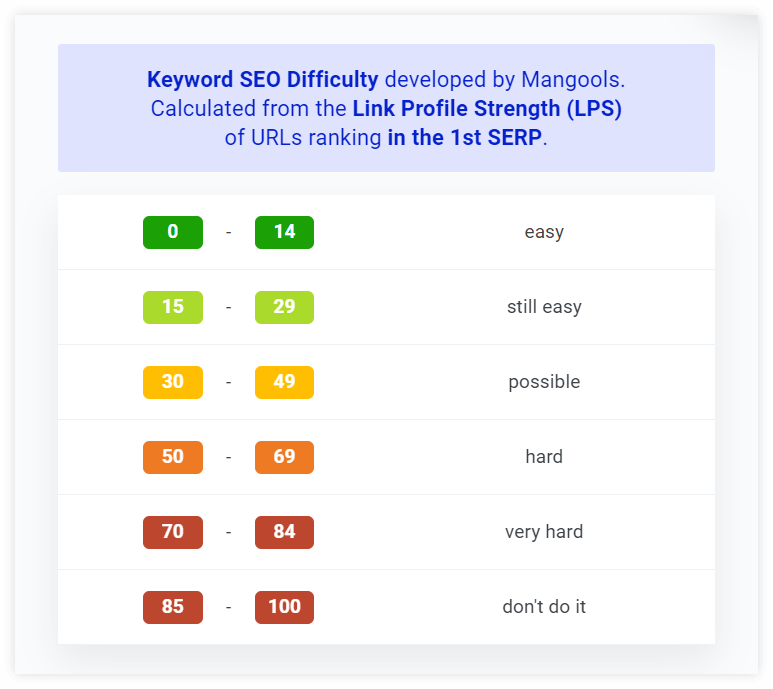 You can use this Keyword Difficulty Score to find and rank for the low-hanging fruits. It will save you a lot of time in deciding what keywords to target and drive traffic.
In short, KWFinder is an advanced upgrade from free keyword tools and it is probably the best keyword research tool on the market. 
2. LinkMiner Backlink Analysis Tool – Mangools Review
If you have learnt SEO, you should know quality backlinks are important to outrank your competitors on Google. Google sees a quality backlink as a vote for the content, which indicates the content is relevant and valuable. So content that has more quality and relevant backlinks will be ranked higher in the SERPs.
To outrank your competitors, you have to understand their backlink profile. LinkMiner allows you to find out what pages are linking to your competitors' website. 
Just enter a URL into LinkMiner and you will see all the backlinks your competitor has.
One of the best features that LinkMiner has is that you can filter the links based on the link types such as Blog, Q&A, forum etc. 
You can also filter the backlinks based on metrics like Link Strength, Citation Flow, Alexa Rank etc. That way, you can sort out the valuable backlinks and reach out to the website owners to link to your website.
LinkMiner not only helps you find the existing backlinks, but also the lost backlinks of your competitors. That means you can reach out to those website owners of the lost backlinks and ask them to link to your site instead.
If you want to do other advanced analysis of the backlinks yourself or upload it onto third-party software, you can export the links into a CSV file.
3. SERPChecker Keyword Difficulty Tool – Mangools Review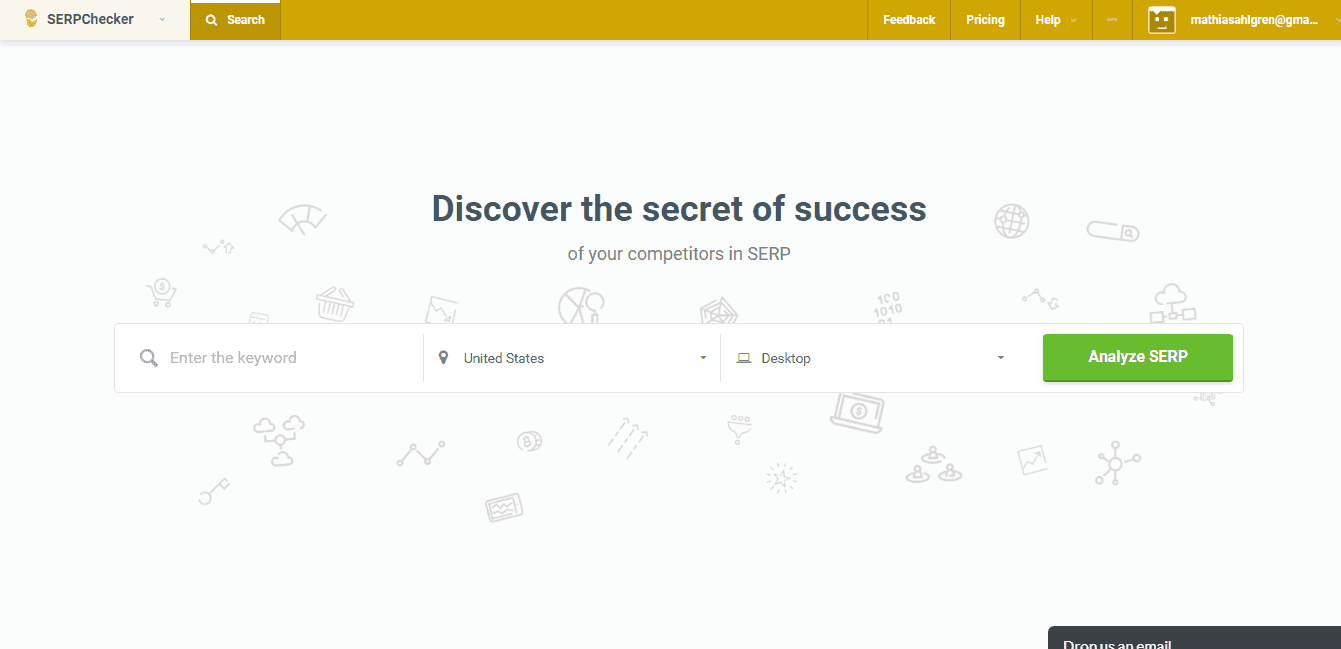 Over the years, Google has been personalised according to personal preference. Therefore when you enter a keyword on Google, the results you see can be entirely different from what other people see.

Here is where SERPChecker comes into the picture. With SERPChecker, you can see what most of the people searching for a keyword will see.

Apart from that, it also tells you how difficult it might be to rank for that specific keyword. 


There is a difficulty score for every keyword you enter, based on metrics such as an average number of links and domain authority.

You can also make reference to other SEO metrics such as Page Authority, Citation Flow, Trust Flow and Referring Domains for every page ranking for your target keyword.

Most of all, SERPChecker provides you with a number of details for every keyword you search. For example, it tells you whether there is a featured snippet, stories box or knowledge box.

It also estimates the percentage of clicks the search results might be getting, so that you know the number of clicks you might get if you were ranking in that place:
With SERPChecker, not only can you see the research results in your own country but also in other countries.

In addition, you can also choose to see the search results that will be displayed on mobile devices. 
You can also check a preview of what the search results would look like in the country and device type you chose.
Since Mangools' LinkMiner also provides backlink analysis, you can easily analyse the backlinks of each search results from SERPChecker.
What's more, if you want to compare your website's ranking with your competitors on the SERP, you can do this within SERPChecker.
Just enter your site's URL in the compare box.
Now, you can easily compare your website with your competitors on the same page.
Within SERPChecker, you can also see the Top Stories box, People Also Ask box and other details.
Also, SERPChecker gives you the freedom to choose the metrics to show for the search result.
I personally use SERPChecker to analyse if a keyword is easy to rank or not before I spend hours to write a post for it. You'll waste a lot of time producing content that can never be ranked if you skip this important step.
4. SERPWatcher Keyword Rank Tracking Tool – Mangools Review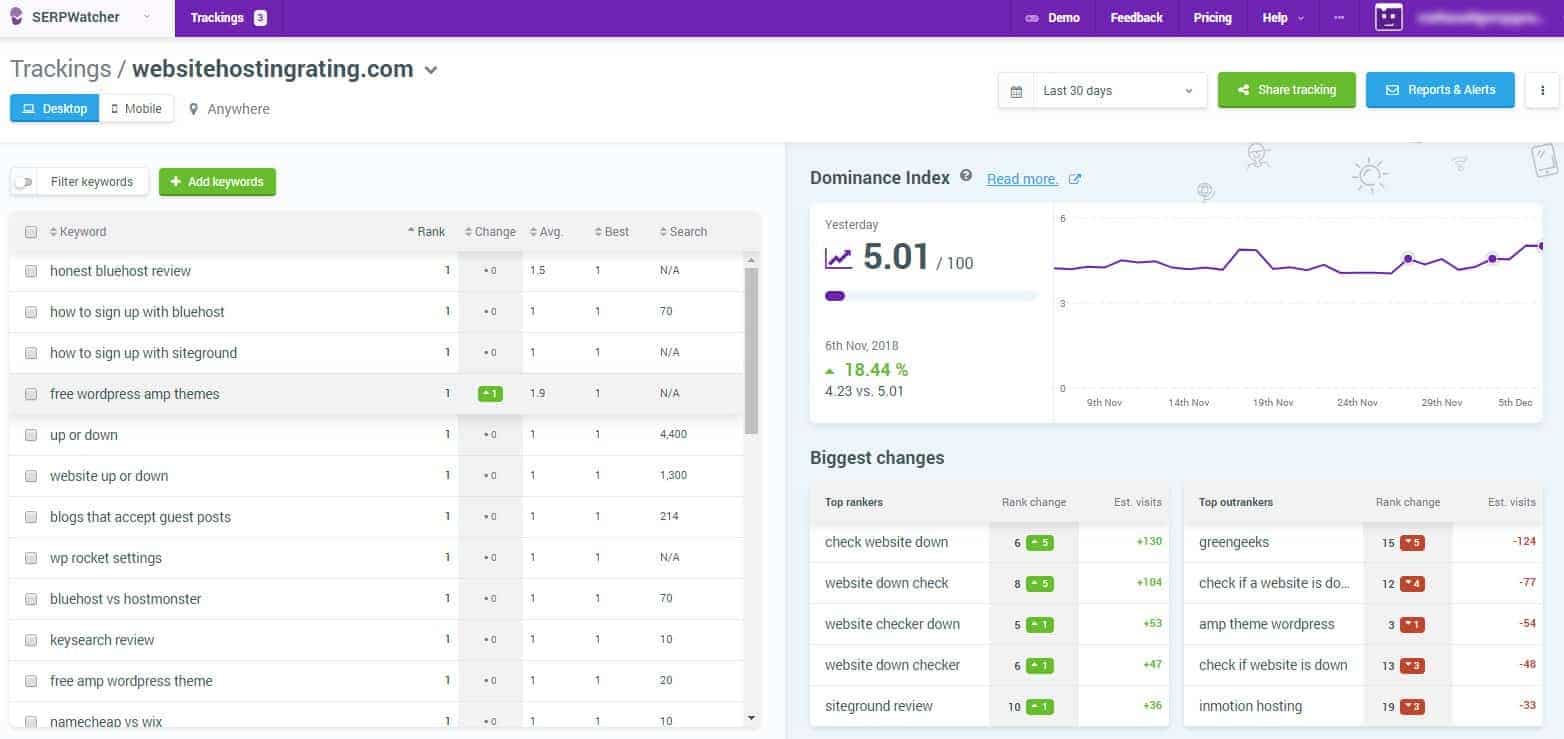 SERPWatcher is designed to help you keep track of your keyword rankings. To optimise your website's SEO, you need to understand your ranking for the target keywords and measure the changes. That way, you know what to make improvements to.
When you have lots of keywords to keep track of, it's not possible to do it manually. That's why you need SERPWatcher. 
SERPWatcher will help you track the ranking of keywords you aim to rank for. You can get an overview of how your site is performing in terms of SEO.
It's important to know when your blog post's ranking falls. Sometimes, you would need to improve the on-page and off-page SEO in order to rank higher again.
Just add your site to SERPWatcher and you can see the biggest changes in the rankings of your website. You will know what keywords are falling and what keywords are increasing ranking. You can then take action to make adjustments.
Moreover, you can see your site's Dominance Index, which is a useful metric developed by Mangools. It tells you the organic traffic share of your website based on the current keywords you are ranking.
If you want to know how much Google loves your website, there is a chart that shows you the keyword position distribution within SERPWatcher. That gives you an idea of your overall SEO results.
5. SiteProfiler Website Analysis Tool – Mangools Review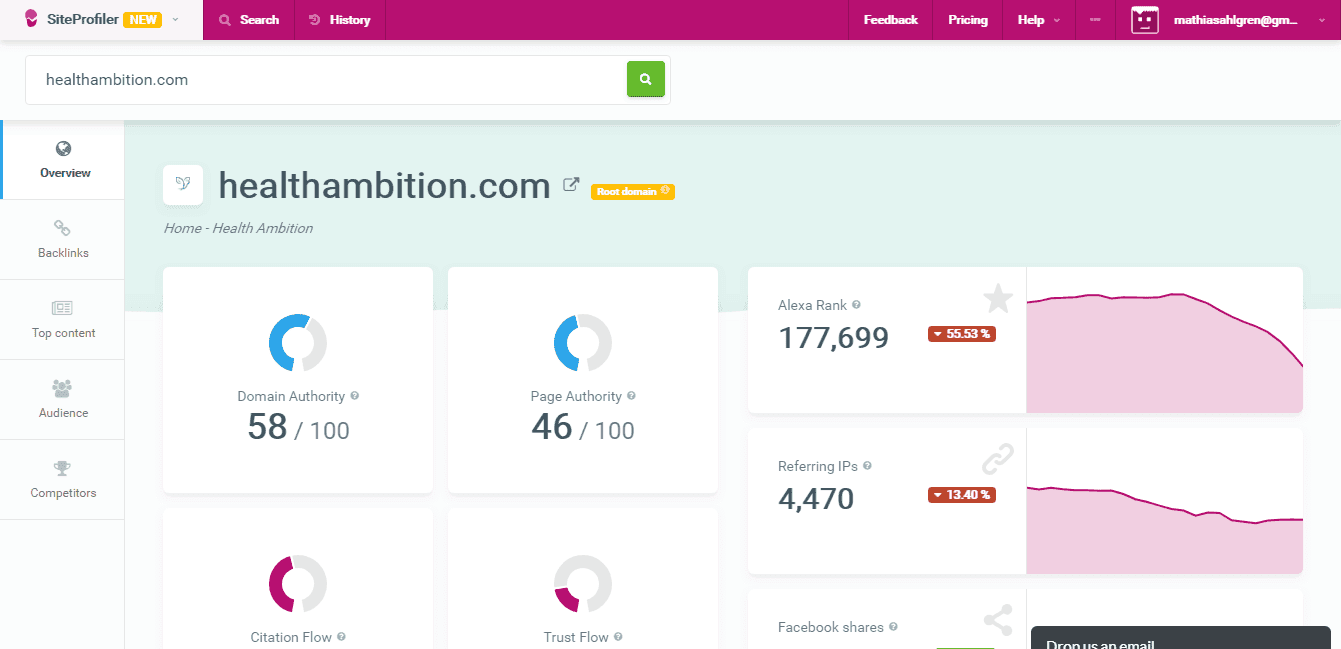 SEO is a game where you have to compete with other websites to rank for certain keywords. To win the game, you have to constantly spy on your competitors' website and see how they are doing.
SiteProfiler allows you to analyze your competitor's website thoroughly. It gives you all the important metrics like Domain Authority, Page Authority, Citation Flow and Trust Flow.
You can also see the Alexa Rank, Referring IPs, and Facebook Shares of your competitor's website.
SiteProfiler shows you a Total Backlinks graph of your competitor's website as well.
What I like about SiteProfiler is that you can see the Anchor Texts box, which shows your competitor's anchor texts.
If you want to outrank your competitor, you need to use similar anchor texts of your competitor. With SiteProfiler, you can see what type of anchor texts are common in your niche.
Why Choose Mangools Over Other SEO tools?
Mangools is a complete SEO package that allows you to do link research, keyword research and tracking of rankings.
If you want robust keyword research and competitor analysis, Mangools offers great value at a very affordable price. 
While SEMrush and Ahrefs are great alternatives to Mangools, they are too expensive. They cost at least more than $100 a month and most bloggers cannot afford it. Actually, most of the features are redundant for bloggers or small businesses.
Mangools is different. It offers robust and essential functions for bloggers and small businesses for doing SEO. The suite of tools has really cool features, which allows you to do thorough keyword research (KWFinder) and backlink analysis (LinkMiner). It's more than enough for SEO purposes. 
What I Like About Mangools – Mangools Review
I like Mangools for a number of reasons.
First, Mangools has a very user-friendly interface. It's easy to navigate as the buttons and labels are very clear. Each metric is clearly explained, which helps you understand the metrics and do analysis.
Second, Mangools is a great deal. It only costs $29.9/month for accessing all the valuable features. Actually, unlike other expensive SEO tools which limit the number of features in the basic plans, Mangools gives you access to all the features in the cheapest plan.
Third, it's very easy to do keyword research with Mangools KWFinder. You can generate a lot of keyword ideas and analyse which keyword is profitable. That saves me a lot of time in sorting out the best keywords to target and increase the organic traffic of my websites.
Fourthly, Mangools is a huge upgrade from Google Keyword Planner as you can get many important metrics for each keyword, including the Google Trends, Google search volume, keyword difficulty etc. The metrics are very accurate when compared with other SEO tools. Actually, I do not recommend using Google Keyword Planner as the data is very misleading.
What I Don't Like About Mangools – Mangools Review
Mangools is not perfect and there are some areas that need improvement. 
Firstly, Mangools is a bundle of 5 powerful and user-friendly SEO tools. The 5 apps seem to work separately and do not integrate with each other fully.
Also, many SEO tools offer a limited free version, but Mangools doesn't have one. You only get a 10-day free trial. However, as mentioned before, Mangools paid plan is much cheaper than other SEO software, so it's understandable that they don't offer a limited free version.
Moreover, in terms of features, Mangools doesn't have some of the features that other expensive SEO tools have. For example, Mangools doesn't have a Content Explorer available in Ahrefs. It helps you find mostly-shared content.
Also, Mangools doesn't have SEMrush's SEO site audit tool and features that help running PPC campaigns.
Despite the lack of some features in Mangools, the most critical features in keyword research and backlink analysis are all available in Mangools, so personally, Mangools meets all my SEO needs and help me generate a 4-5 figure income consistently.
How Does Mangools Work?
Mangools is an excellent software package with a link-building tool, keyword-search tool, and ranking tracker. 
Mangool looks like this:
Competitor Backlink Analysis (LinkMiner)
As with other SEO software, it is possible to find competitor links and find links on the web.
I'm especially fond of Mangools' ability to preview the link's target in the same window (iframe) without leaving the research tool. That's a game changer!
Robust Keyword Research
With Mangool, they came up with something very cool with their keyword research tool. As a first step, you get the usual keyword volume, CPC, etc. metrics. Toggle to "questions" and all related questions will be found based on your keyword. You can access additional information about related autocomplete terms by clicking "autocomplete". With the combination of questions and autocomplete data, we think it's easy to come up with content ideas. Simple, yet so powerful.
SiteProfiler
Mangool's traffic estimator tool. Like similar tools SEMrush and SpyFu, the accuracy is always questioned, but at least you get some idea.
Mangools Pricing
Mangools has three pricing plans. The basic plan only costs $29.9 per month. The difference between the three plans is the usage credits for the tools. The credits will reset every day.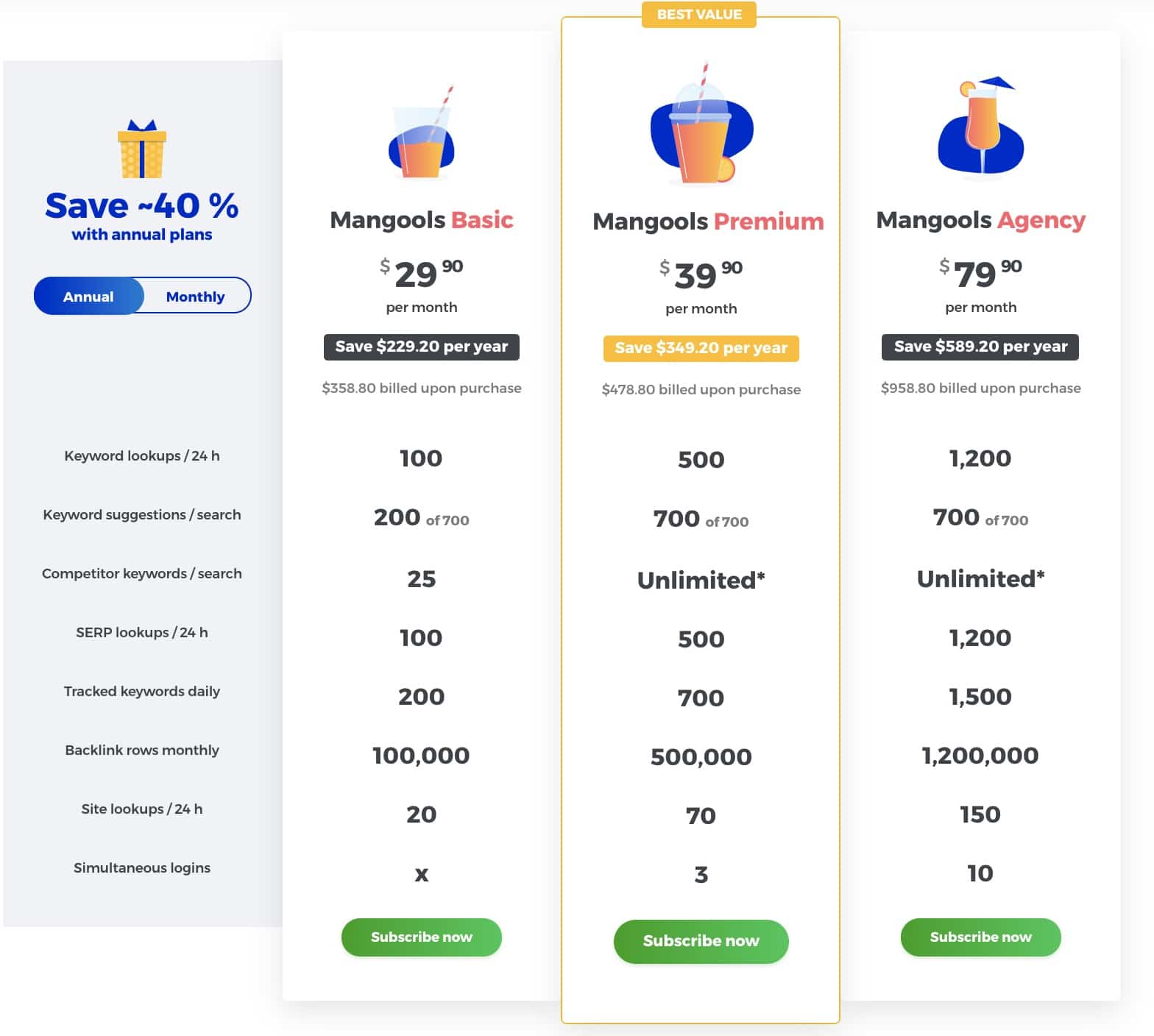 If you are a beginner at SEO and have a small website, the basic plan should be sufficient. You will get 100 daily credits for keyword lookups.
However, if SEO is your major traffic source and you have to do intensive SEO research every day like I do, then the Premium plan is more suitable for you.
The premium plan is only a little bit more expensive but you will have many more usage credits. So the Mangools Premium plan has the best value for the price. 
Mangools Pros
1. Mangools is an All-in-one SEO toolset 
Mangools seems like a one-stop solution for all your SEO needs. With this tool, you can handle the SEO side of your business easily.
2. Mangools is Affordable
With the cheapest plan (paid annually), you get access to all five apps and have a decent usage quota. However, even the most expensive plan is more than 3x cheaper than Ahrefs' high tier.
3. Mangools Has Good UX
 It is a pleasure to use Mangool's app and dashboard. The interface is intuitive, elegant, and very simple. Even a complete noob can get the hang of the tool in 10 minutes or less.
4. Mangools Has Good Link Index
Link building is crucial for SEO, and LinkMiner's Majestic-powered index gives you the tools you need to succeed.
Mangools Cons and Complaints
1. Lack of integration
Since Mangools 5 apps are not integrated, when using Mangools toolset you are actually using 5 different tools simultaneously. The process becomes cumbersome and unwieldy quickly.
2. Mangools' Free trial quota is severely limited 
A free trial of Mangools allows you to track 10 keywords, perform 5 keyword searches per day, profile 3 websites, and view 2000 backlinks. That's enough to get a taste, but if they decide to double, triple or quadruple that quota, I won't complain.
Mangools Review: Final Verdict
Mangools comes with everything you need to build a successful blog or website that relies on organic search traffic.
If you are a blogger or a small business owner, Mangools SEO tools are all you need to dominate the search engine in your niche.
Mangools is not the most feature-rich SEO tool, but it is much cheaper than other SEO tools on the market. You can get a lot of value for what you pay for. Personally, I think the value far exceeds the price.
Therefore, I personally use Mangools to build my 4-5 Figure online business and hence I highly recommend Mangools to anyone who wants to succeed in online marketing.
Major Software Review Sites' Rating on Mangools
Capterra Rating: 4.7/5
G2 Rating: 4.4/5
GetApp Rating: 4.7/5
Crozdesk Rating: 4.5/5
SaaSworthy Rating: 4.6/5
Mangools Review FAQ
Are Mangools tools free to use?
Mangools tools are premium. You can, however, sign up for a free plan and get 5 keyword lookups with KWFinder, SERPChecker, SiteProfiler per day, 10 tracked keywords with SERPWatcher and 500 backlinks with LinkMiner per day.
When I sign up for Mangools, what tools do I get access to?
With their premium plans, you'll gain access to five of their tools that include KWFinder, SERPWatcher, SERPChecker, LinkMiner, and SiteProfiler.
How easy is it to use Mangool's tools?
You can easily use Mangools SEO tools even if you're a beginner. They provide you with apps for each of those 5 SEO tools so you can perform keyword research, SERP analysis, Rank Tracking, Backlink analysis, and Profile analysis really quickly and effortlessly.
What is the best way to get started with Mangools tools?
Mangool's tools are pretty easy to use. To start using all the SEO tools to boost search rankings and sales, click on this link and create an account for yourself.
If I am not satisfied with Mangools tools, what can I do?
They will issue a full refund within 48 hours of receiving your payment if you are not satisfied. You can also downgrade, upgrade, or cancel your Mangools account at any time.
How is the keyword difficulty (KD) calculated?
Using Mangools' own SEO metric known as Keyword difficulty, you can determine how difficult it is to rank on Google's first page for a particular keyword. The higher the value, the more difficult it is to outrank your competitors.
What sources are KWFinder's data from?
Mangools uses multiple data providers alongside their own expertise and processing to keep the data as relevant and fresh as possible.
How can I pay for Mangools subscription?
Credit cards, bank transfers, and even cryptocurrency can be used to make a payment.
Can I only purchase KWFinder?
No, Mangools tools are included in all the subscription plans, and Mangools tools are highly interconnected. For example, running a KWFinder without SERPChecker doesn't make sense since the Keyword Difficulty metric is based on data from SERPChecker.