Are you eager to turn your website or blog into a money-making machine? Look no further than the Amazon Affiliate program, or as they call it, "Amazon Associates." It's a breeze to get started – sign up, get instant approval, and place those nifty Amazon affiliate links all over your site. And guess what? Every time someone clicks on your links and makes a purchase on Amazon, cha-ching! You earn a commission. It's like getting paid for simply sharing awesome products.
Now, you might be wondering, "Where do I begin?" Don't worry, my friend. I've got you covered with this step-by-step guide to becoming an Amazon Affiliate. And hey, I even threw in some screenshots to make it super easy to follow along. So whether you dream of being your own boss, starting a business, or just want a nifty side hustle, this guide is your perfect starting point.
What is the Amazon Affiliate program?
Amazon Affiliate program, also known as Amazon Associates, is a fantastic affiliate marketing program that allows you to advertise products from Amazon.com on your site and earn referral fees when customers make purchases through your links.
Getting started with the Amazon Affiliate program is incredibly easy, and best of all, it's completely free! Here's how it works:
Sign up as an Amazon Associate

: To join the program, all you need to do is create an Amazon Affiliate account on the platform. It's a straightforward process that takes just a few minutes.

Get your unique Associate ID

: Once your application is approved, Amazon will provide you with a unique Associate ID. This ID is essential as it allows Amazon to track the sales and commissions generated through your links accurately.

Create your affiliate links

: With your Associate ID in hand, you can start creating affiliate links in your Amazon portal. These links are specific to your account and ensure that you receive credit for any purchases made through them.

Promote the links on your website

: Now comes the fun part. Place your affiliate links strategically within your blog posts or other relevant sections of your website. This way, your readers will have easy access to the products you're promoting.

Earn commissions

: Whenever someone clicks on one of your affiliate links and completes a purchase on Amazon, you earn a commission! It's as simple as that. The more people you drive to Amazon through your links, the greater your earning potential.
How Much Can You Earn From The Amazon Affiliate Program?
If you're wondering how much you can earn from the Amazon Affiliate program, the answer is quite flexible and depends on various factors. On average, people can make anywhere between $100 to $20,000 by participating in this program. Your earnings primarily hinge on the number of referrals you generate for Amazon. The program operates on a commission basis, meaning you receive a percentage of each sale you generate.
The commission rate varies depending on the product category you promote. Let's say you run a blog focused on automobiles. In this case, you can earn a commission of 4.50% for every sale you refer. To give you an example, if you manage to sell three car parts at $1,000 each in a single day, you would earn $135 from those three transactions alone. If you continue to sell the same product 30 times per month, you would earn a monthly income of $1,350.
However, it's important to keep in mind that when you first start as an Amazon Associate, your earnings may be on the lower side. It takes time to build up your referral traffic and establish a steady income stream. So, it's advisable to have an additional source of income while you work on growing your affiliate business.
Before signing up for the Amazon Affiliate program, it's crucial to review the commission rates for each product category. By doing so, you can estimate your potential earnings based on your website's niche. This information will help you understand the earning potential and make an informed decision about joining the program.
Remember, success in the Amazon Affiliate program requires dedication, consistent effort, and understanding of your target audience. With the right approach and a niche that resonates with your audience, you have the potential to earn a substantial income through this program.
Amazon Associate Program Requirements and Rules
Building a website with original content that's easily accessible to the public is the first requirement. This means creating a platform where people can find valuable information and resources.
To ensure ethical promotion and prevent any attempts to manipulate the system, Amazon has set some rules that you need to keep in mind. Noncompliance with these rules could lead to being banned from the program, so let's be aware of the major ones:
Be transparent

: Disclose on your site or in your communication that you may earn from your recommendations. Let people know that you could receive a commission if they make a purchase through your links.

Be truthful

: Avoid making false or deceptive claims in your recommendations. It's important to provide honest and accurate information to your audience.

Mind your content

: Make sure your website doesn't contain any unsuitable content. Keep it clean, respectful, and appropriate for all audiences.

Price talk

: Refrain from referring to specific prices, as they tend to change frequently. Unless there are specific exceptions, it's best to avoid discussing prices.

Online only

: Amazon affiliate links should not be used in offline promotions, eBooks, or emails. They are meant to be utilized exclusively for online platforms.

Link long and strong

: Avoid using link shorteners on your affiliate links. Maintain the full link structure to ensure transparency and authenticity.
Once you've signed up, you'll need to consider the requirements for the application review process. Amazon expects new affiliates to generate a minimum of three sales within the first 180 days.
Additionally, the Associates team will review your website, mobile apps, and social network accounts. They're on the lookout for consistent, fresh, and original content that provides value to Amazon customers.
If you want to dive deeper into Amazon's policies, you can read their full policy document. It's also a good idea to review the operating agreement for associates to familiarize yourself with other requirements and guidelines.

How to Become an Amazon Affiliate: Step-by-Step Guide
Step 1: Get Your Website Ready
Before you dive into the Amazon Associates program, make sure you have an active website or platform that you can use to promote products. It's best if you already have some content on your site, as it helps create an authentic experience for your audience and Amazon. Think about your website's purpose, your target audience, and how you plan to attract traffic.
Step 2: Create Your Amazon Associates Account
To become an Amazon affiliate, head over to the Amazon Associates homepage and click on the "Sign Up" button. You'll be asked to either log in to your existing Amazon account or create a new one. Choose the option that works best for you.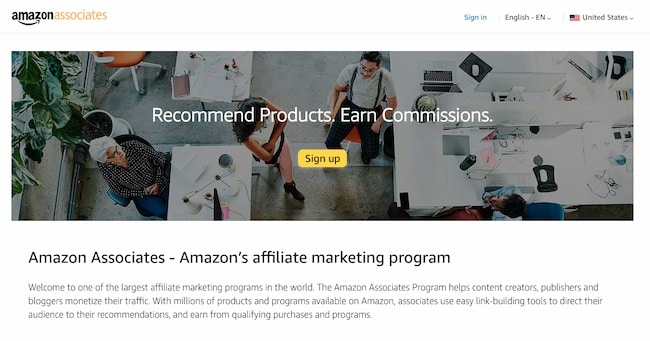 Step 3: Provide Your Account Information
Next, you'll need to enter your account details, including the name, address, and phone number of the payee. This information is necessary for Amazon to process your payments smoothly.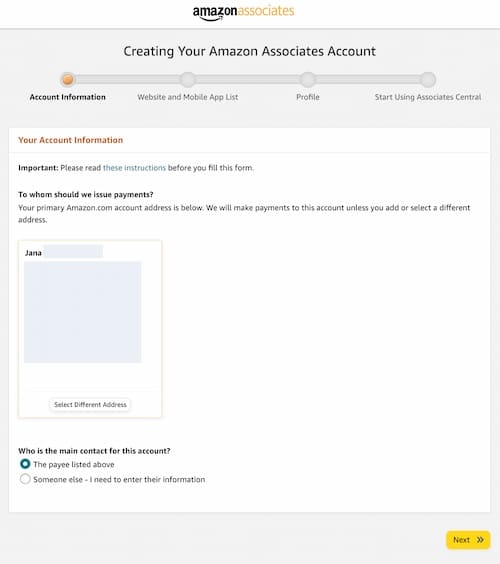 Step 4: Share Your Website and Channel Details
Now it's time to share the details of your website, app, YouTube channel, or any other platforms you'll be using. Provide the web addresses and explain what your websites hope to achieve. This helps Amazon understand your content and target audience better.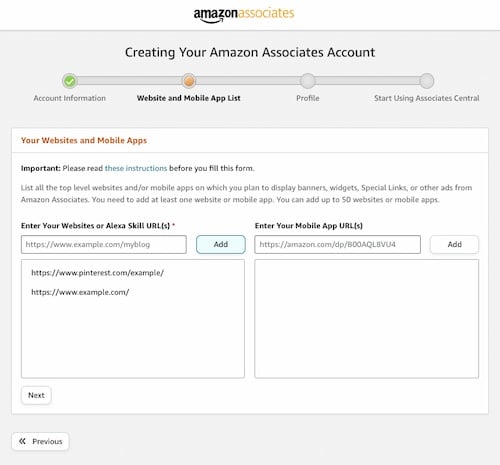 Step 5: Describe Your Traffic Generation Methods
In this step, you'll need to explain how you drive traffic to your websites or platforms and how you use them to generate income. Share your strategies for building links and attracting visitors. If you already have a good number of monthly visitors, mention that too.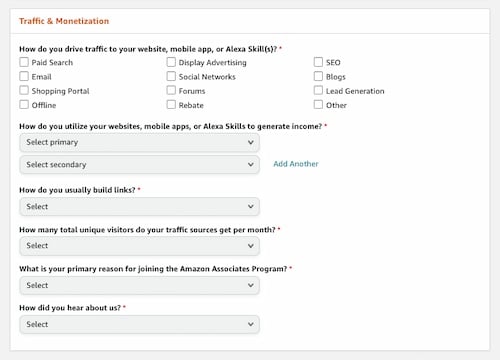 Step 6: Choose Your Payment and Tax Information
You have the option to enter your payment (credit card) and tax ID information right away or do it later. Choose the option that suits your preference. Remember, providing accurate payment and tax details is essential for receiving your earnings smoothly.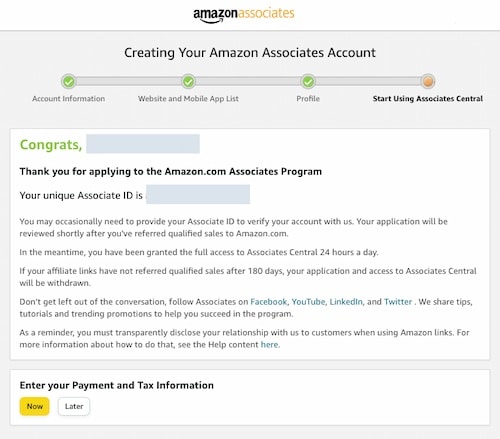 Step 7: Explore Your Associate Homepage
Congratulations, you've successfully created your Amazon Associates account! Now you'll be redirected to your personal Associate homepage. This is where the magic happens. Take a moment to familiarize yourself with the performance dashboard, which provides an overview of your earnings, monthly summary, and total clicks.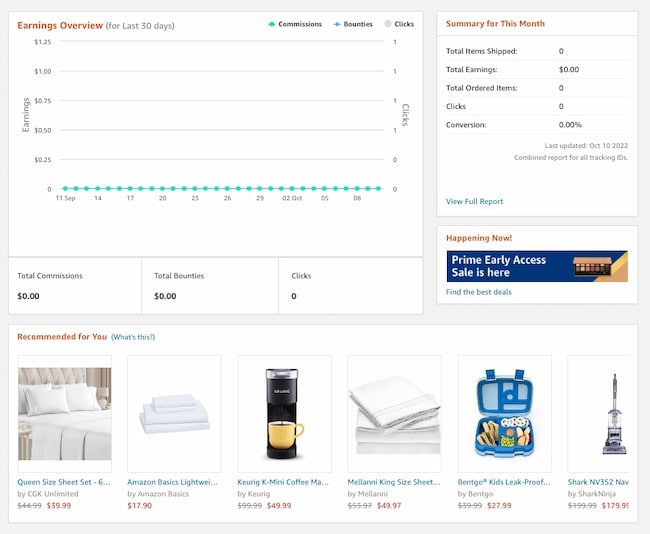 Step 8: Find Products to Promote
On your Associate homepage, you can search for relevant products to promote on your website or platform. Look for products that align with your content and would be of interest to your audience. Adding affiliate links to your content can help you earn commissions when people make purchases through your links.
How to Create an Amazon Affiliate Link
Using the SiteStripe Bar
The SiteStripe bar is a handy tool for generating Amazon affiliate links. When you're logged in to your Amazon Affiliate Panel and browsing product pages, you'll notice this bar at the top. To create your affiliate link, simply follow these steps:
Click the Text button in the Get Link selector on the SiteStripe bar.

In the popup that appears, you can choose to generate a short link or a full-length link.

Copy the generated Amazon Affiliate link to your clipboard.

Congratulations! You can now use this link to promote products and earn commissions.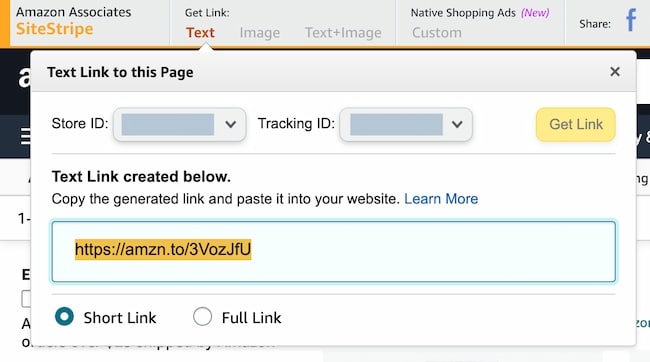 Idea Hub for Product Inspiration
If you find yourself running out of product ideas or you're unsure which promotions apply to your niche, the Idea Hub can help. Here's how you can use it:
From the Promotions banner, scroll to Idea Hub.

Click Filter & Sort and use the left-hand menu to narrow your search options.

You can filter by featured content, categories, star rating, and more.

This tool is particularly useful if you want to find products available for Prime Early Access or specific niche-related items.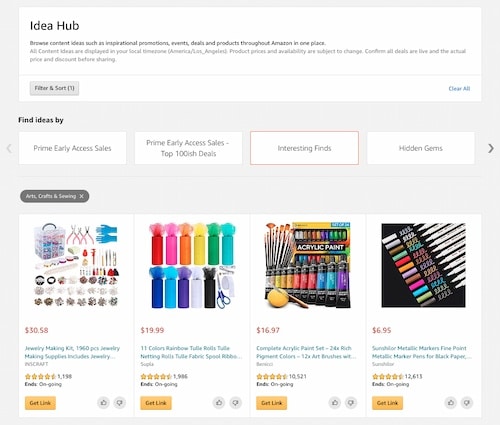 Linking to Product Categories
Sometimes, it's more helpful to highlight a product category rather than individual products. For instance, if you're writing a blog post about holiday shipping, you can link to a page featuring various packing and shipping supplies. This simplifies the process for your audience to find what they're looking for. Follow these steps to create category links:
Click on Product Linking in the top banner and select Link to Any Page.

Choose the Link to Favorite Destinations tab.

Narrow your search using the drop-down menus on the left.

Name your link and click Get HTML.

A preview link will appear on the right for you to review.

Click the Highlight HTML button at the bottom to copy your new link.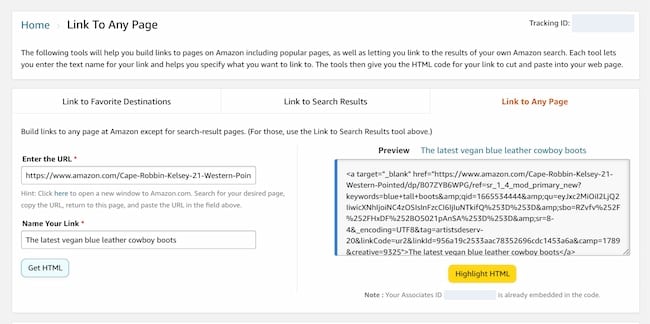 Targeted Content with Specific Keywords
Targeted content is often successful in driving conversions. You can create links for a specific keyword within your product category, showcasing multiple options to your audience simultaneously. Here's how:
Click on Product Linking in the top banner and choose Link to Any Page.

Select the Link to Search Results tab.

Use the drop-down menus on the left to narrow your search.

Name your link and click Get HTML.

Review the preview link on the right.

Click the Highlight HTML button at the bottom to copy your new link. You can also create a short link by clicking Text in the SiteStripe bar during the preview.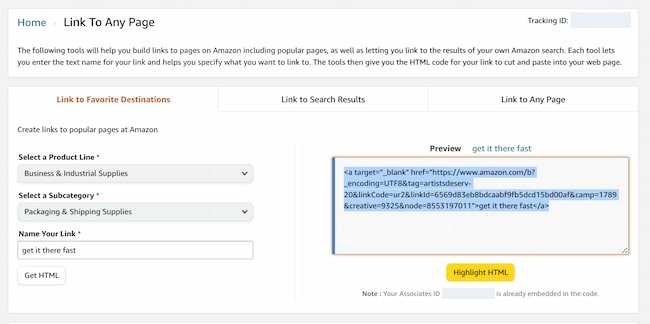 Guidelines and Tips
Before we wrap up, here are some important guidelines and tips to keep in mind as an Amazon affiliate:
Remember that offline promotions, email, and eBooks or PDFs are not allowed for Amazon affiliate links according to their guidelines.

Quality content is essential for success in marketing and sales. Make sure to attract your audience with valuable content and share relevant affiliate links on your website or YouTube channel.

Each link you generate will have a cookie that follows your website visitors for 24 hours after they click on the link. This cookie increases the likelihood of you receiving a commission for their purchases within that time frame.
Now that you have a better understanding of how to create Amazon affiliate links and the various options available to you, you can start earning commissions by driving traffic and converting visitors into customers.
Getting Paid as an Amazon Associate
Now it's time to reap the rewards and get paid for your efforts. Here's what you need to know:
Payment Options
As an Amazon Associate, you have a few choices when it comes to receiving your hard-earned money. The most convenient method is direct deposit, which means the funds will be automatically transferred to your bank account. If you prefer, you can also opt for an Amazon gift card or receive a good old-fashioned check by mail.
Monthly Payments with a Twist
Amazon Associates receive their payments on a monthly basis. However, there's a slight catch: you'll receive payment 60 days after the end of the month for which you're getting paid. Let's break it down with an example. If you earned a commission in January, you'll receive payment at the end of March. So, keep in mind that there's a two-month delay between earning your commission and actually getting paid.
When Do You Earn Commission?
Officially, you start earning commission as an Amazon Associate once the order has been shipped to the customer. However, it's important to note that if the customer cancels the order before it's shipped, you won't receive any commission for that transaction. Similarly, if a customer returns a product after making a purchase, the commission you earned from that sale will be deducted from your overall earnings.
Account Approval and Sales Requirements
Once you apply to the Amazon Associates program, your account will be approved for a period of 180 days. During this time, it's crucial to make at least three sales to keep your account active. Failing to meet this requirement may result in the closure of your account. That's why having a solid strategy for your Amazon Affiliate endeavors is so important. However, if you don't meet the sales threshold initially, don't worry! You can always make adjustments to your website and reapply for the Amazon Associates program.
Conclusion
In conclusion, the Amazon Affiliate program offers a great opportunity to generate passive income by leveraging your interests and expertise.
Choose a niche aligned with your passion, create product-centric content, and incorporate affiliate links naturally. As you consistently produce quality content and build your audience, your earnings will grow.
Be patient, track your performance, and adapt your strategies. With dedication and creativity, you can turn your passion into profit and achieve financial independence through the Amazon Affiliate program. Start your journey today and best of luck!