Want to know more about Foundr's Facebook ads course: "How to Run Facebook Ads"? This is a course created by Foundr and the Facebook ads expert: Nick Shackelford.
The reason why more than 9 million businesses advertise on Facebook is that it is much more profitable than any other traditional marketing channel such as the newspaper, magazine, and billboard.
It is however important to take the time to learn and practice Facebook advertising. But where and who should you learn from?
Facebook ads nowadays are taught by many gurus. But many of them are unreliable and promise unrealistic results.
Maybe you wonder if Foundr's Facebook ads course will teach you how to run your own ads on Facebook without having to pay for expensive and incompetent ad agencies.
So I researched Foundr's "How To Stop Facebook Ads" thoroughly to help you make an informed decision. In fact, I have completed this course myself, so I can tell you everything you need to know.
Foundr Facebook Ads Course Review Summary
The following will be discussed in this review of Foundr's Facebook ad course so that you can make an informed decision.
What is Foundr's "How to Run Facebook Ads" Course?
For people who have an interest in running Facebook ads to scale their business, Foundr's "How to Run Facebook Ads" course is for them.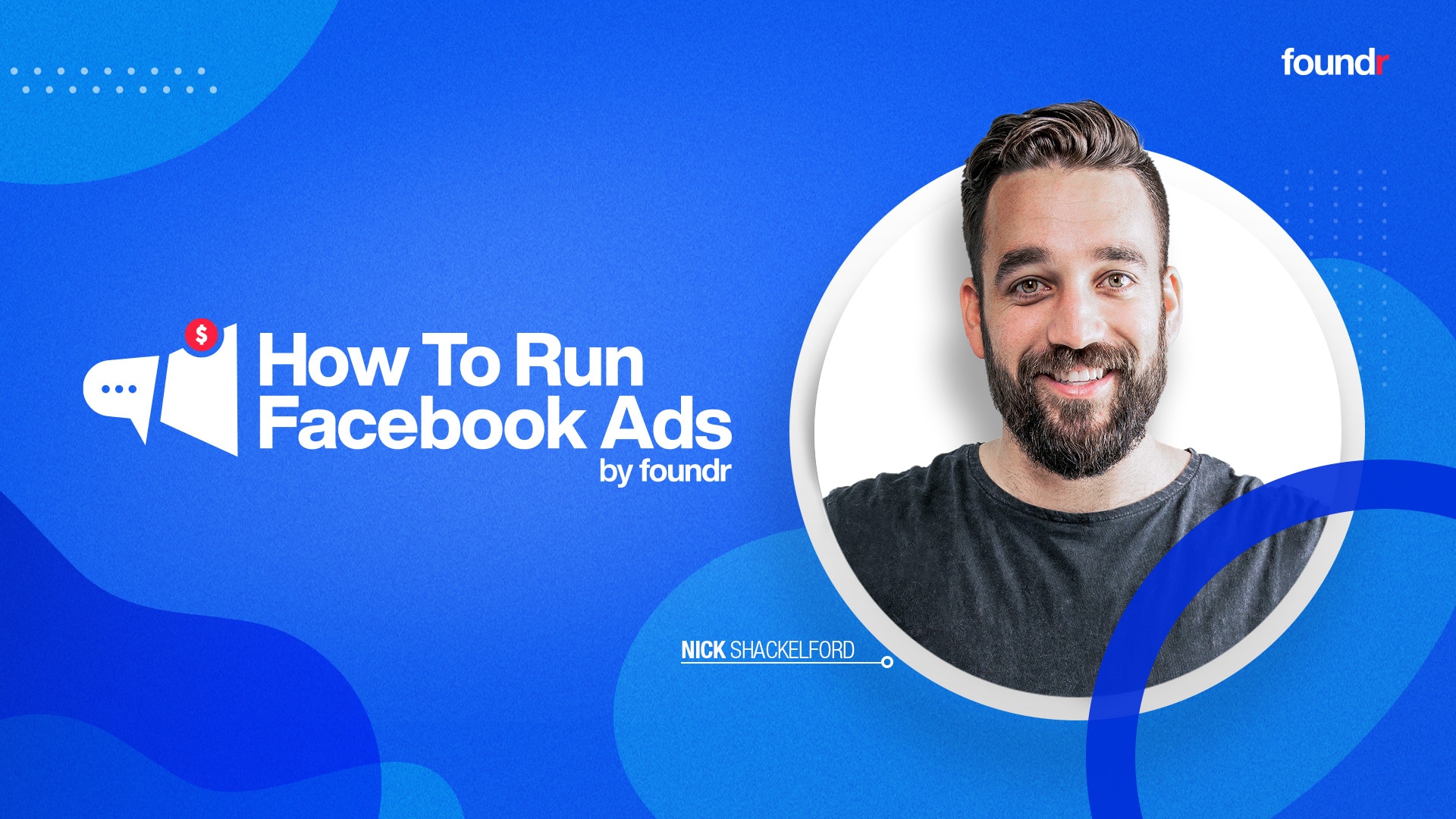 Online businesses use Facebook and Instagram as their most important marketing platforms.
Through Facebook ads, you can segment your prospects and remarket to them again and again. The exposure and impressions your product or business gets on Facebook and Instagram are so impressive that no online business can ignore them.
Many businesses and entrepreneurs choose Facebook ads as their prime marketing channel that can help them scale their business to a million dollars. For any business desiring more sales and leads, Facebook ads are essential.
You may have doubted if Facebook ads would work well for your business 10 years ago, but today, countless companies run Facebook ads to market products and services and get great results in a very short time.
This advertising works like magic, but Facebook advertising has changed the way businesses market their products.
When Facebook ads are done right, you can see a very high return on ad spend (ROAS). Many online marketers make $2, $3, or even $5 for every one dollar spent. This means that it can be 200%, 300%, or even 500% return on investment.
That's why paying for Facebook ads is well worth it for any business. Businesses that started from their bedrooms have made it to Silicon Valley because of platforms like Facebook, which don't have entry barriers.
But not everyone knows how to run Facebook ads correctly. If you are unfamiliar with Facebook ads, the first and foremost thing you have to do is to invest in a Facebook ads course that will teach you how to do it right and not waste your money.
In Foundr's How to Run Facebook Ads course, you will learn a proven strategy that not only works for all businesses but also works on Facebook's algorithm.
There are many questions that you may have in your mind. Here are a few:
What is a normal click-through or conversion rate?

What size of Facebook ad budget should you set for your company?

Facebook has changed its advertising policies, how do you stay in compliance with them?

What are Facebook advertising's basic building blocks?

What to look for when diagnosing a problem with an ad and what adjustments should be made.

How do I scale and optimize my ad?

How do you test your creative, audience, and ad copy?

How to make Facebook ads more engaging?
If you wish to learn how to use Facebook ads, you can find answers to these questions in this course.
In this YouTube video, Nick Shackelford will share with you some tips to run Facebook ads.
Get A Special Offer and Instant Access Here
Who is Nick Shackelford?
Founder of multiple businesses, Nick Shackelford is a famous Facebook ad expert. He has helped many big multinational companies like Apple run Facebook ad campaigns.
Before becoming a Facebook ads marketer, Nick Shackelford was a professional soccer player for the Los Angeles Galaxy II. Afterwards, he became a high school soccer coach before starting to learn eCommerce and becoming an entrepreneur.
More than $100 million has been spent on Facebook ads for Nick Shackelford's clients over the past few years; this generated nearly $239 million in return.
Below is an example of Nick Shackelford's track record where he generated $5.6M in return for a campaign spending $2M. You can also see how high his ROAS is.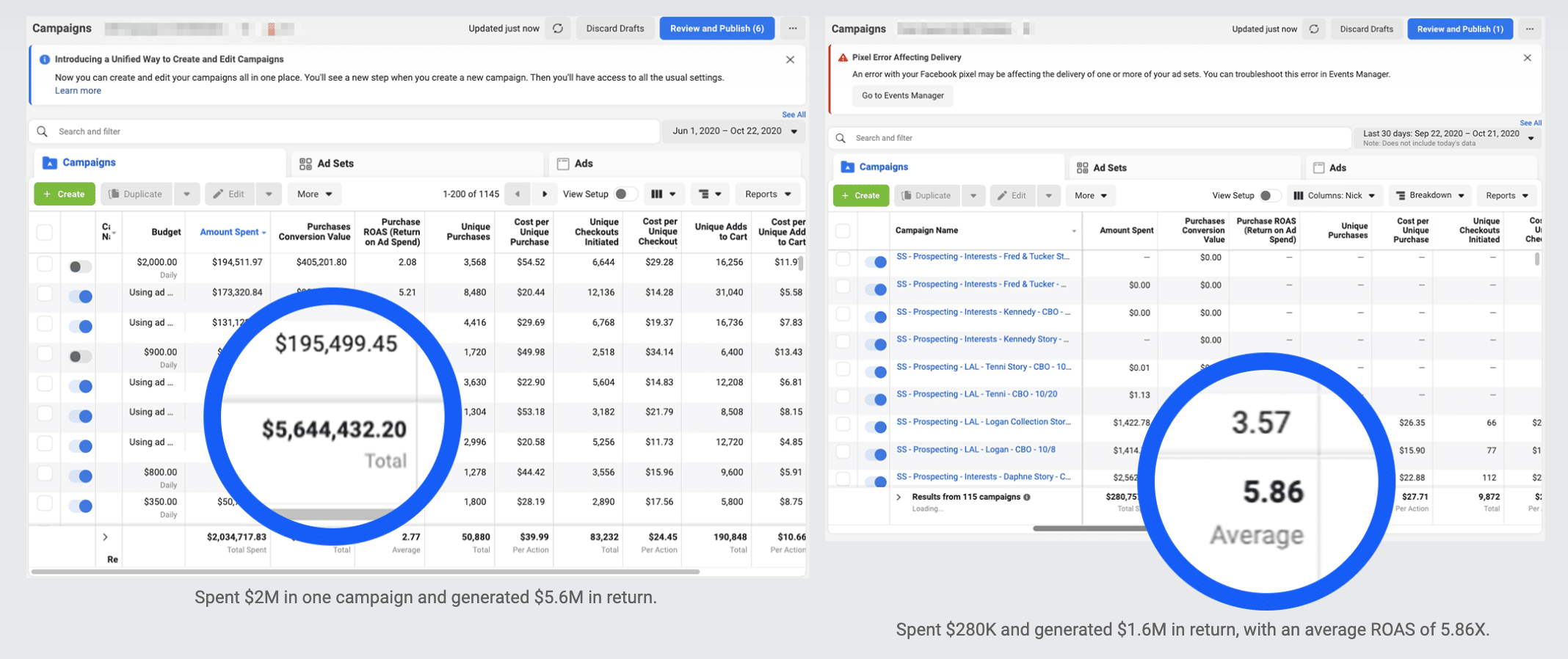 In fact, Facebook Business even did three case studies on the methods Nick Shackelford used to help clients succeed in running Facebook ads.
As an example, Nick Shackelford helped the Diff Eyewear company generate $255,000 in just 24 hours after launching their company.
In addition, Nick Shackelford performed remarkably well for Snow Teeth Whitening by increasing their orders by 240%!
Nick Shackelford's other phenomenal achievement was helping PupSocks to generate $13 million in sales in 32 days!
Due to Foundr's commitment to only working with experts, Nick Shackelford is an ideal candidate as Foundr's Facebook course instructor.
Who is Foundr?
Founded by Nathan Chan, Foundr is a global multimedia company. They have more than 2 million subscribers on social media such as Facebook, Instagram, YouTube, etc.
Foundr is unique from other online education companies in that it started as a magazine, and it regularly features interviews with successful entrepreneurs such as Mark Cuban, Richard Branson, Jack Dorsey and Arianna Huffington.
During the past few years, Foundr has collaborated with many successful online marketing professionals to create online courses to teach people how to start a successful online business.
They have a strict "no guru" policy which indicates that they only work with real entrepreneurs who have built their professional careers and actually do what they teach. Not only have I enrolled in several of their courses, none have disappointed me so far.
Foundr's courses have taught me a lot about marketing tactics, and I learned a lot of secret strategies from this Facebook ads course. I was stunned by how detailed the course is, which makes Facebook advertising much easier to manage.
Given Foundr's course quality, no wonder their rating on Trustpilot is so high. It's 4.9 out of 5 stars.

Get A Special Offer and Instant Access Here
An Overview of "How to Run Facebook Ads" by Foundr
Nick Shackelford is the course instructor of "How to Run Facebook Ads."
Since Facebook's algorithms change so frequently, most people will have difficulty understanding Facebook ads. What worked yesterday may no longer work in the present.
Therefore, Nick Shackelford is here to teach you the algorithm-proof process for running Facebook ads. This process has been used by more than 150 successful online businesses.
Testing is the key to success in Facebook ads, just like doing scientific experiments. But If you do the experiments yourself, you'll end up failing a lot.
Through his failures, Nick Shackelford came up with a step-by-step process for running Facebook ads. He has done all the hard work for you, so there is no reason not to follow his blueprint for success.
In addition, Facebook advertising algorithms change frequently, so many gurus will try to teach you cool ninja hacks. These hacks are not really legit as they game the Facebook system. So eventually those hacks lose their effectiveness or perhaps get banned by Facebook.
Foundr's Facebook ad course diverges from the rest. They provide lessons that are algorithm-proof, with no need to worry about changes in Facebook's algorithms.
Get A Special Offer and Instant Access Here
The MGD Framework of "How to Run Facebook Ads by Foudr"
During the "How to Run Facebook Ads" course, you will learn the MGD framework invented by Nick Shackelford as a result of his years of testing. The MGD framework is derived by Nick Shackelford's numerous testing efforts, failures, and successes.
This course from Nick Shackelford is not just about talking, it's about doing. You will be shown step-by-step how to run Facebook ads and all the steps in between.
What Can You Learn in "How to Run Facebook Ads by Foundr"?
Having seen numerous Facebook ads courses on the market, this is by far the most comprehensive. It covers everything from creative and copies to media buying and margin, along with launching ads that work.
There are no outdated or untested theories in this course.
Here's a summary of what you can learn:
Get loyal customers with Facebook advertising every day.

Structure ad creatives including copy, image, videos to convert customers

Sell any types of eCommerce products through the Easy Ads Formula.

Learn insider strategies to find the perfect audience that your competitors won't find.

Understand the prospecting, remarketing, and reengagement processes.

Learn all the essential building blocks of a successful ad
This course is about 6 hours long. Here's what you get access to in this Facebook ad course:
Module 1: Mastering the Facebook Ad Foundations
In this module, you will learn everything you need to succeed in Facebook ads. If you're a newcomer, this lesson will teach you everything you need to know to get started.
For example, you will know how to set margins on Facebook ads, how to set up your business manager account, and how to set up the Facebook pixel.
This module will ensure you don't get lost in the basic settings.
Module 2: Top of Funnel Prospecting – Finding Your Target Market Every Time
This module will teach you how to find your target market. You will learn how to conduct research to find the hidden group of people who are most likely to buy your product or services.
It is important to remember that the bulk of your budget will be spent on finding new prospects. Using this module will save you a great deal of money since you can discover new prospects at a minimal cost.
Module 3: Middle of Funnel – Re-Engagement to Drive Massive Traffic
This module teaches you how to reach out to your first stage prospects again. This middle stage is crucial because a lot of sales are bound to come in at this stage.
Nick Shackelford will give you insight as to where you should drive your prospects and the type of sales copy you should use. He will also share with you some creative examples, so you have a more concrete idea as to how to accomplish that.
Module 4: Bottom of Funnel – Remarketing For Scaling and Sales
This module will teach you how to remarket to prospects who have visited your website but have not yet made a purchase.
You should never give up on these people since they are your warm prospects. Nick Shackelford will teach you how to contact them with engaging ads and encourage them to make a purchase.
You will again receive some creative or copy examples from Nick Shackelford which you can use in your own ad campaign.
Module 5: Ad Creative That Consistently Converts
In my opinion, this module is one of the most valuable. I have learnt where sales copy and creatives get better and better results. Nick Shackelford's "Ad Creative Framework" is extremely effective and straightforward. You will learn what imagery, videos and sales copy promote products or services.
Module 6: Troubleshooting Common Problems and Avoiding Costly Mistakes
If you run Facebook ads, you will sometimes run into issues that prevent your ads from being delivered. For example, the ad copy you submit to Facebook may not be approved.
In this module, Nick Shackelford will introduce the most common issues Facebook ads encounter. It gives you the confidence to solve issues effectively because you will learn how to solve issues in the right way.
6 Bonuses
Other than the modules above, you also get 6 bonuses.
As a bonus, you get access to a private Facebook advertising community, where you can ask questions, check out what others are doing, and network with other business owners.
You can also invite your business partner to join this course for free. You can split the investment so you can get access to everything together.
Furthermore, Nick Shackelford will also give you the "swipe & deploy" Facebook ads file which includes thousands of ad examples driving millions in sales. You can easily copy them and use them to boost your sales.
Get A Special Offer and Instant Access Here
Who is "How to Run Facebook Ads by Foundr" For?
A Facebook ads course like this one is suitable for anyone of different businesses, backgrounds and budgets. You don't even need to know the basics of how Facebook ads work. It's a complete guide for beginners and professionals in Facebook ads.
In addition, no matter what products or services you sell, you can benefit from this Facebook ads course. Nick Shackelford has helped 150+ brands with Facebook ads, including industries such as teeth whitening, glasses, banking and even high-ticket services.
I would recommend you run your Facebook ads yourself if you hire an agency to do it for you. It's better to reinvest your money into Facebook ads and get more sales that way.
Having the skill set to run Facebook ads is like having the ultimate business building skills that you can never lose.
With a lot of profits coming in from Facebook ads, you can start training your staff to do the advertising for you by giving this course to them. This can help you automate your business and put passive income in your pocket while sleeping.
Who is "How to Run Facebook Ads by Foundr Not For?
Foundr's Facebook Ads course is not for you if you don't have any ad budget. It costs money for running Facebook ads, so you must be able to invest some capital in that in order to gain results.
You cannot expect to just spend a hundred dollars on Facebook ads and get brilliant results. The reason is that Facebook requires time to season the Facebook pixel. Facebook's algorithm needs to collect data and go through the process of machine learning to deliver results for your ads. So there is a minimum ad budget requirement for it to work.
So if your business is not yet generating any profits and you have no ad budget, this course is not for you.
Instead, I have another recommendation for you, which I will tell you in the last section of this review.
Get A Special Offer and Instant Access Here
What I Like About Foundr's Facebook Ads Masterclass
Foundr's "How to Run Facebook Ads" course is the most comprehensive I have seen so far. Everything you need to know about Facebook ads is here.
Split tests may cost thousands of dollars in order to determine an effective Facebook ad strategy.
In this course, you can learn from Nick Shackelford how to save money in the long term, as a result of his proven Facebook advertising strategy that works. You can simply copy his Facebook advertising strategy and apply it in promoting your own business.
Further, I appreciate how all kinds of budgets can benefit by the strategies Nick Shackelford teaches.
Some gurus like to teach you strategies that can only work if you have a million dollars to devote to Facebook ads, something most small businesses and beginners don't have access to. By following these strategies, you can succeed without spending a lot.
However, Nick Shackelford's method is different, and it works for all companies, despite their size.
Additionally, learning from simply following what the instructor says is not a great way to learn. If you do not understand why it works, you can't apply it flexibly. That's why I like it when Nick Shackelford explains what makes Facebook ads work.
Nick Shackelford doesn't make things complicated by asking you to follow a 100-step process when creating your ads. No team is needed for you to execute what you learn from this course, but you will have to manage a million-dollar ad campaign by yourself.
Although I did learn Facebook ads before, this course has taught me plenty of things I didn't learn elsewhere by other experts. I wish I'd taken this course when I first started so I wouldn't waste time, money and energy trying to figure out how to best run Facebook ads.
Foundr's Facebook Ads Course Complaints and Cons
1. It is a Bit Expensive
Although the value you receive outweighs the price, I realize not everyone can afford the course. I think you have to identify what you can sacrifice for success.
It shouldn't be a problem if you can limit your expenses and invest in this course. And there's a payment plan that you can take advantage of and you do not have to make a one-time payment.
At the end of the day, the money will pay for itself in your business.
2. Running Facebook Ads Cost A Lot of Money
It's true that you have to invest money in running Facebook ads. If you don't have an ad budget, you may have to look for other ways to do marketing.
When it comes to marketing, you either spend money or spend time. Spending money on Facebook ads is much faster to drive enough traffic for your business. If you don't have money, you can choose to use some free traffic method like growing a social media account for organic traffic.
It's your own choice as to which traffic strategy you prefer.
Also, while Facebook ads are expensive, no one can deny that it is an effective way for online marketing. More and more companies run Facebook ads because the return on ad spend is very high.
Unlike traditional tv or newspaper advertisement, Facebook uses artificial intelligence to help you identify your potential customers and show them the ads. It's so powerful that you can see a much higher conversion rate when compared with the traditional way.
Foundr's Facebook Ads Course Pricing
Foundr's Facebook ads course is not as cheap as other Facebook ads course you would find on some marketplaces like Udemy.
It's priced at $997. The regular price is $1,997, so if you take it right now, you should be able to enjoy the $1,000 discount. They might increase the price later as they are adding more content to the course.
Foundr offers a 365-day money-back guarantee, which cannot be found anywhere else. It means if you finish the course, apply it and find it doesn't work within a year, you can request a refund. It shows that Foundr is so confident in their course quality. This is a good sign before investing in any course.
If you are not so sure about joining, you can take the free masterclass first. Nick will share some Facebook ads insights with you in the masterclass.
Get A Special Offer and Instant Access Here
Is Foundr's Facebook Ads Course Worth It?
So you may wonder is the course worth the price? To answer this question, you have to think about how much money you need to spend to test a Facebook ads strategy by yourself.
If you have tried Facebook ads, you should know it costs several hundred dollars to do a small test. Therefore, many newbies end up burning thousands of dollars on Facebook ads without return.
So I always recommend people to learn the right way to run Facebook ads before diving in. Foundr's Facebook ads course is designed specifically for anyone who wants to learn the proven ways to run Facebook ads. With the course, you can actually avoid a lot of costly mistakes and do the right thing in the first place.
When you think in this way, investing $997 in a course is worth it.
Pros and Cons of Foundr's Facebook Ads Course
Foundr's Facebook ads course has pros and cons. Here's a summary for your reference.
Pros
There are many verified student success stories.

Allow you to avoid paying the advertising agency to run Facebook ads on your own.

The Facebook ads course is suitable for both beginners and experts.

See exactly how Nick Shackelford made millions from Facebook ads through a step-by-step blueprint.

Videos are of very high quality.

Content of the course is updated on a regular basis.

There are many useful templates for modelling
Cons
The price of the course may seem expensive, but the cost will be much more if you hire an agency or a personal coach. So when thinking in this way, I think the course price is fair.
Is Foundr's Facebook Ads Course a Scam?
It's certainly not a scam. Foundr's Facebook Ads Course is a legit course that teaches you the legit way to run Facebook ads.
It's not a low-quality course taught by some scammy gurus. Instead, Foundr cooperates with the Facebook ads expert Nick to create this course for anyone who wants to run Facebook ads.
Also, you can enjoy the 365-day money-back guarantee after enrolling in the course. No scams would offer this kind of generous guarantee.
Being a student of the Facebook ads course is like having Nick as your private consultant on Facebook ads. Imagine how much money you can save when compared with hiring a Facebook Consultant.
Therefore, if you are serious about getting results from Facebook ads, you cannot go wrong with Foundr's Facebook ads course.
Get A Special Offer and Instant Access Here
Final Verdict: How To Run Facebook Ads Course Review
"How To Run Facebook Ads" from Foundr is a new one-stop shop to get started with Facebook ads.
You will become proficient in Facebook ads very quickly through enrolling in this course; you just need to find the right method, which however is not taught everywhere.
With this Facebook ads course, you can save tons of money on the process of testing and failing. With Facebook ads, you can scale your business to the next level and make excellent sales.
Should you be still not sure, you are welcome to take the free masterclass beforehand to see what Nick Shackelford's teaching is like.
Afterwards, you can decide if you want to get the full course and start making more money from Facebook ads.
Get A Special Offer and Instant Access Here
Foundr's Facebook Ads Course Alternative
While Foundr's Facebook Ads course is one of the best courses for learning Facebook ads, not everyone has the budget to run paid ads.
If you are just getting started and do not want to take the capital risk, you may consider growing a social media following for your online business. Instagram is one of the most popular social media platforms where you can find your potential customers.
With a massive following on Instagram, you will be able to drive a lot of free traffic to your product and services. A lot of big brands successfully build a big Instagram account and save a lot of money on marketing.
But how can you do the same to grow an Instagram account? If you want to know exactly how to do that, I recommend you to take Foundr's Instagram Domination course, which is the most comprehensive course on the market when it comes to Instagram marketing.
Foundr's CEO Nathan Chan is an expert in Instagram and he will teach you the proven ways to grow an Instagram account. You can learn more about the course by reading this detailed course review.