Are you looking for a review of Foundr's Start and Scale Your Online Store course? Is the Start and Scale course a scam? If you are considering starting your own e-commerce brand and don't know where to start, Start and Scale may help you get started.

I have a passion to help people explore the best money-making opportunities online. Over the years, I have written hundreds of reviews to help people evaluate the best courses or tools.
I joined the Start and Scale course two years ago, so I can tell you everything to help you make an informed decision. Most other online reviews are written by people who didn't take Start and Scale, so their words are biased and incorrect.
In this review, I am going to elaborate on how the course works, and tell you what I like and don't like about the course. I'll also discuss the alternative you can take if you find the Start and Scale course is not suitable for you.
When you finish reading this Start and Scale review, you'll be able to decide whether to join it and learn from Gretta Van Riel.
Foundr Start and Scale Course Review – Takeaways
Course Name

: Start and Scale Your Online Store

Website

:

https://foundr.com/start-and-scale

Special Offer

:

Get A Special Offer Here
Course Instructor

:

Gretta van Riel

Overall Rank

: 4.8/5

Pros:

Gretta Van Riel is a successful eCommerce expert; lifetime access; helpful community; 365-day money back guarantee; templates for copy and paste; actionable guidelines

Cons: Expensive; lack of training on paid ads
Who it's for

: A proven eCom training program suitable for newbies to experts
Below is what I'll cover in this Start and Scale review:
What is Start and Scale?
Gretta Van Riel cooperates with Foundr to create the Start and Scale course. The whole course is taught by Gretta Van Riel, a serial young entrepreneur from Australia, whose brands include SkinnyMe Tea, the 5th, Dropbottle, and many more.
Her eCommerce brands are built on the back of social media, specifically Instagram, where she works with influencers to build her brand.
Throughout the start and scale course, Gretta will walk you through the whole process of building your own product, eCommerce store, and brand from scratch. The process has been used by Gretta herself and she is going to reveal everything to you in the course.
The Start and Scale course is one of the most popular eCommerce courses in the world. It's due to the fact that Gretta is a famous eCommerce entrepreneur and there are many success stories over the years.
At the time of writing, there are 21K students. This number is incredible if you look at other eCommerce courses which have fewer than a hundred students.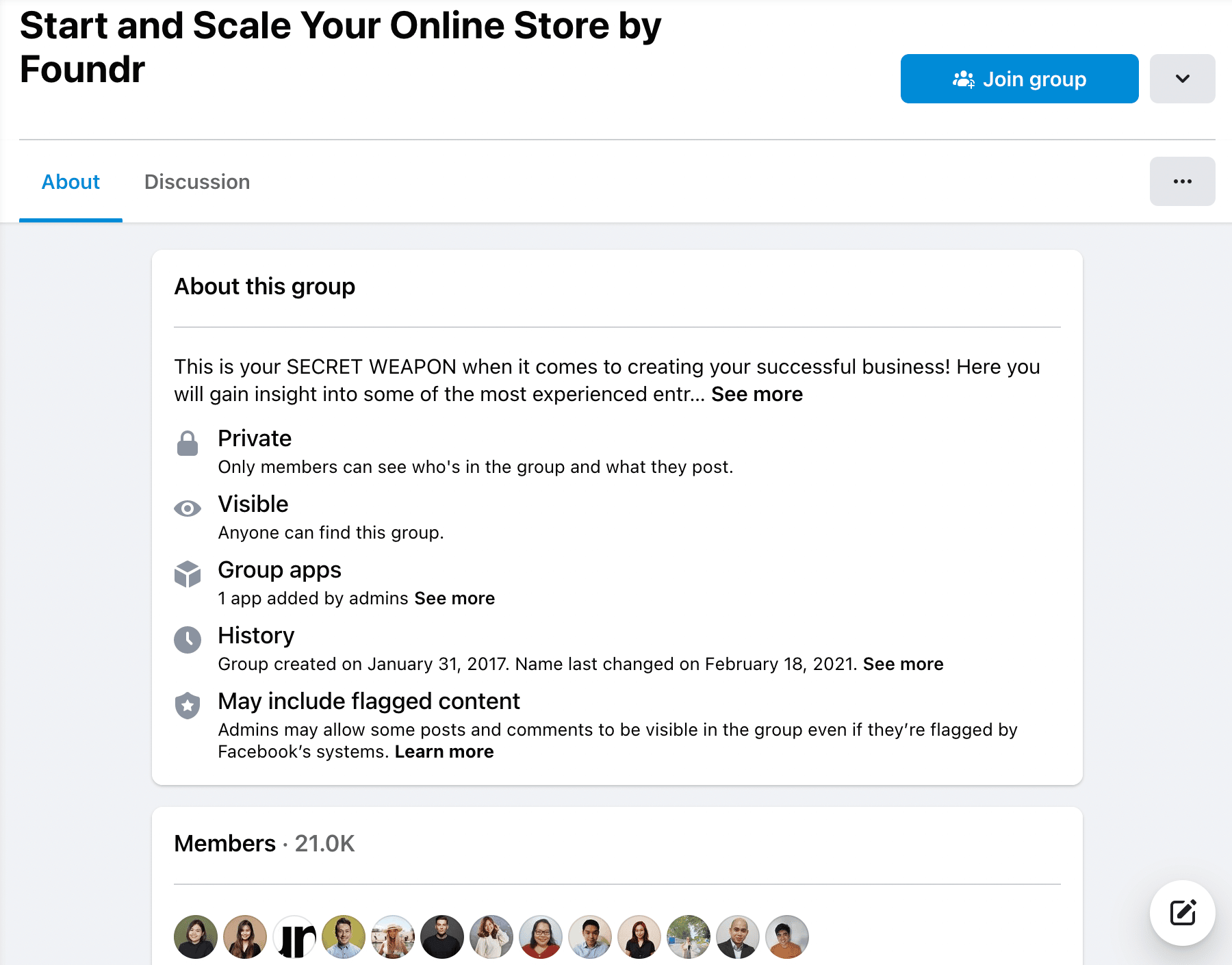 Who is the Creator of Start and Scale: Gretta Van Riel?
Greta van Riel is an Australian serial entrepreneur who graduated from Melbourne University in media and communications.
At the age of 22, she founded several successful multi-million dollar eCommerce brands such as SkinnyMe Tea, the 5th, Dropbottle, and many others.
As a result of her successful eCommerce career, she has been featured in Forbes Magazine's 30 Under 30 list.
Gretta Van Riel is a pioneer in using Instagram to market products. When she created SkinnyMe Tea, the first thing she did was open an Instagram account. At first, companies were not using Instagram back then. As an early adopter of Instagram, she is known as the "Instagram Queen".
As of today, her combined Instagram following, including vertical accounts (@befitfoods, @detoxwater, @detoxtips, @nutrition_planet, @smoothiebowls), is over 16 million.
To learn how Gretta Van Riel made a million dollars in a day, watch this YouTube video:
Get Instant Access To Start and Scale Course Here
How Does Start and Scale Help You Make Money?
Start and Scale Your Online Store provides a step-by-step roadmap to guide you through the entire process of establishing and growing a profitable e-commerce brand. From finding profitable product ideas to building a recognizable brand, developing a viable product, utilizing influencer marketing, and scaling your business, this course covers the essential elements required for success in the online business realm.
What's Inside Start and Scale Course?
If you are interested in starting or expanding your e-commerce business, this course will give you the blueprint of what to do.
You'll save money and time by receiving step-by-step training videos, workbooks, and templates.
Let's take a look at each module one by one:
Module 1: Finding Your Idea
We're going to look at how to come up with profitable product ideas in this module. Gretta will also share her unique approach to validating product ideas so you'll know your product has market demand.
Module 2: Branding & Getting Your Store
Gretta Van Riel is a brand-building legend. She will teach you how to create an online store that people will trust and recognise for years to come.
This module is indispensable if you wish to develop a sustainable business on the web.
Module 3: Developing & Planning Your Idea
Gretta Van Riel will share her knowledge on how to get a great product design and find a trustworthy manufacturer in this module.
After completing this module, you will understand how to design and make your prototype.
Module 4: Making Your Product Profitable
Gretta Van Riel will teach you how to keep track of your finances so your business is profitable. In this module, you'll learn how to ensure your business is profitable.
To make sure that you have a positive margin, it is important that you follow the advice in this module.
Module 5: Building An Audience Before Your Launch
Gretta Van Riel teaches you how to build an audience before making a product launch. Other people do not have an audience when a product is launched and spend months making their first sale.
Your brand will get sales on the very first day of product launch when you learn how to build an audience on social media.
Module 6: Million Dollar Influencer Marketing Blueprint
Influencer marketing is Gretta's speciality. She has made millions by using it. She even has a software that connects brands to influencers called "Hey Influecner".
In this module, you'll learn how to collaborate and reach out to influencers to market your brand.
Your sales will skyrocket with just this strategy.
Module 7: Launch & Operations
You must streamline your operations and logistics to run an online business. Start and Scale course is different from other courses since it goes through every aspect of your business with you.
During this training, you will learn how to set up payment processing, logistics, and customer support so that your operations run smoothly.
Module 8: Scaling Your Store
In the previous modules, you learned how to develop and launch a profitable product, manage your store, and how to launch a marketing campaign, but this course is much more.
With this module, Gretta Van Riel shows you how to further scale your eCommerce brand to reach seven figures in sales.
It is called "Start & Scale" for a reason.
BONUS 1: Ecommerce Mastery Series
After completing the previous modules, you will have the skills you need to start and scale your eCommerce business. But in this module, you can also learn from the founders of other successful eCommerce brands.
There are so many tips and tricks you'll pick up by listening to these interviews with other successful entrepreneurs.
BONUS 2: COVID-19 Case Studies from Start & Scale Students
Start & Scale is constantly striving to provide its students with the most current content. COVID-19 is a new challenge for all online retailers. This bonus module shares how some successful Start & Scale students deal with this challenge and convert it into a profitable opportunity.
You will gain much valuable insight from other entrepreneurs on how they cope with threats like COVID-19.
BONUS 3: Access to the Exclusive Private Group
The course is incomplete if there's no way to ask questions, so in addition to the course itself, you get access to the Exclusive Facebook group, where you can discuss the content with over 10,000 students in the Start and Scale course.
Members of the group are highly active and support each other.
Pros of Start and Scale
1. Gretta Van Riel is a Successful eCommerce entrepreneur
The main thing I like about Start and Scale is that it was created by someone who has had real success in eCommerce.
Many gurus are selling online courses and teaching people something that they don't do themselves.
She has left her mark in Ecommerce creating several brands that generate 7-figures and was recognized by Forbes as one of the 30 Under 30. She did not succeed once, but several times, which means she has really cracked the code of Ecommerce and is ready to share what she knows.
This gives me the assurance I need to succeed. In fact, there are many incredible success stories regarding students who have succeeded in scaling their businesses to 6-figures in several months.
2. The Start and Scale Community is Very Helpful
I like the fact that the Start and Scale course has a dedicated community on Facebook.
Building a business is not easy if you have to do it alone. Having a community where you can seek advice whenever you need it is essential. You can also ask questions within the group to validate your ideas.
3. The Start and Scale Training is Practical
I appreciate the fact that each lesson has action steps to take so that you can begin to see results. There is also an accompanying workbook for each module so that you can write notes.
There are no impractical theories. Everything discussed in the course can be implemented right away.
4. The Course Content is Current
You may have had a bad experience buying an online course with outdated material, but the content of Start and Scale is updated regularly.
The content of the Start and Scale 2.0 was updated over the last few months with hundreds of thousands of dollars spent and the old members also receive all of the updates. Therefore, if you join now, you will receive access to the new course content.
6. Start and Scale Course Has Many Successful Students
The start and scale course have many success stories over the years. The reason is that the methods taught in the course have been proven to work again and again. Think about it, if so many people follow it and succeed, it must mean something.
Here are some success stories in the start and scale course: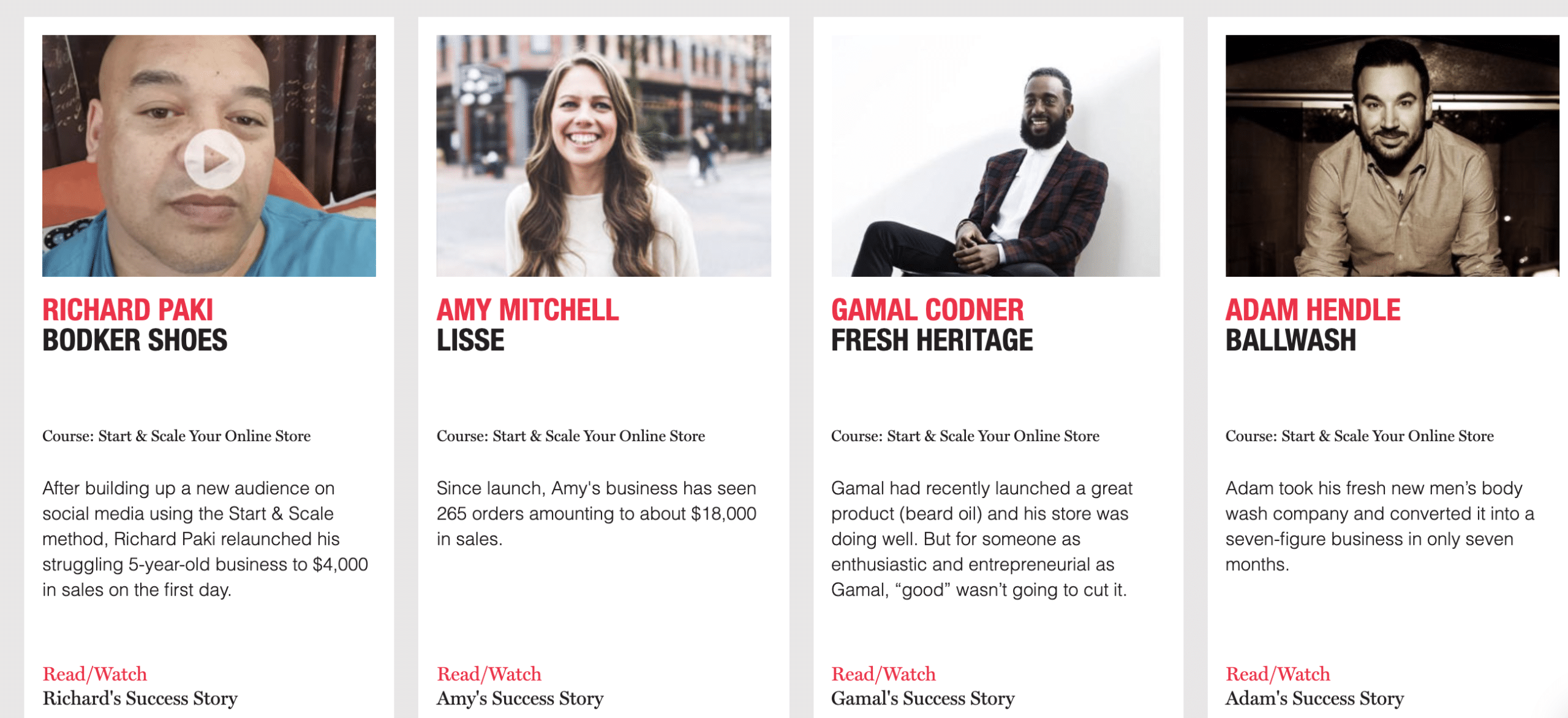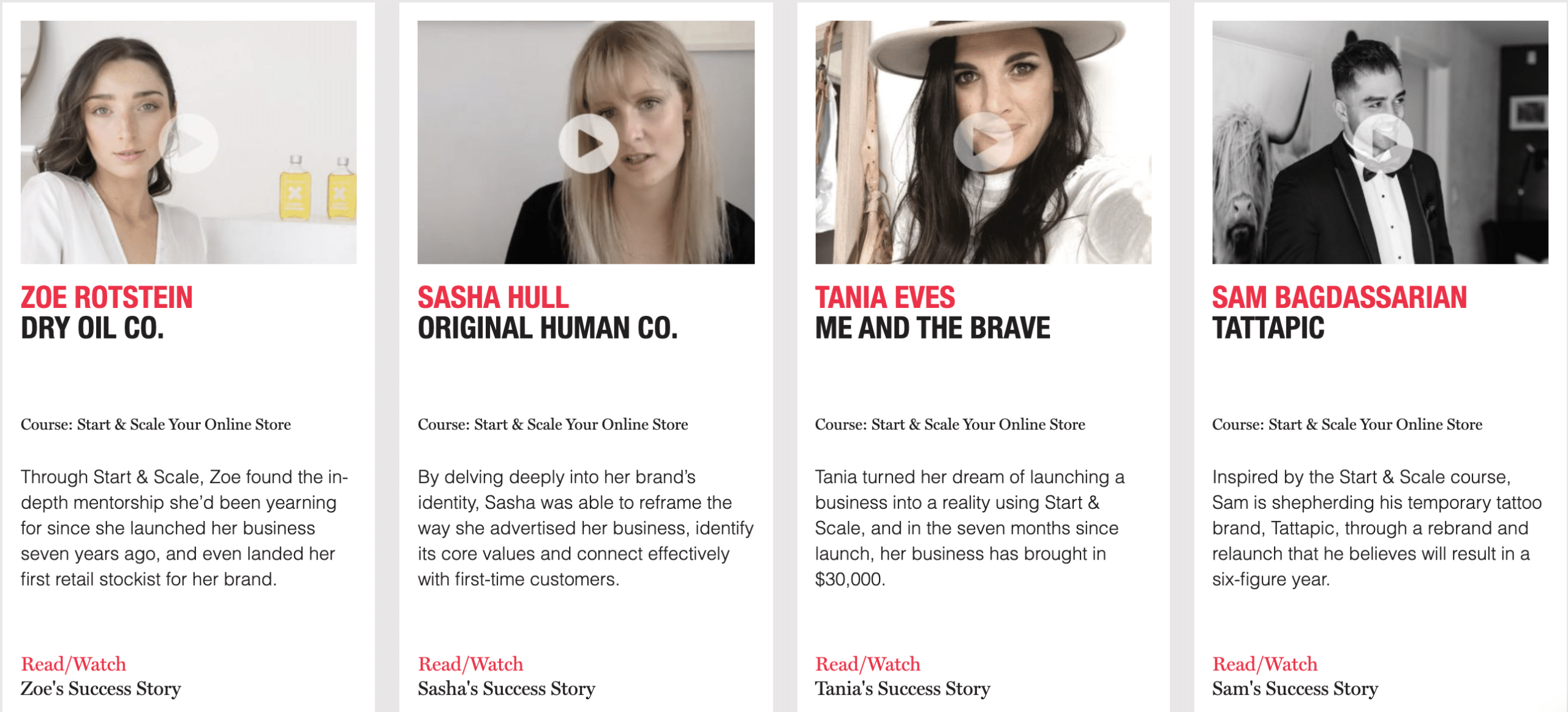 7. Foundr Offers a 365-Day Money-Back Guarantee
Foundr is so confident in the quality of the Start and Scale course. I have never seen a course offering a 365-day money-back guarantee. It simply means if you finish the course, implement it and find it doesn't work in a year, you can request a full refund, which is incredible indeed.
No wonder Foundr's Trustpilot rating is so high. At the time of writing, the rating is 4.9 out of 5 stars. I think they deserve such a high rating given the course quality and customer service.

Get Instant Access To Start and Scale Course Here
Cons of Start and Scale
1. It is a Bit Expensive
Although the value you receive outweighs the price, I realize not everyone can afford the course. I think you have to identify what you can sacrifice for success.
It shouldn't be a problem if you can limit your expenses and invest in this course. And there's a payment plan that you can take advantage of and you do not have to make a one-time payment.
At the end of the day, the money will pay for itself in your business.
2. The Facebook Ads Lesson is Not Exhaustive
If you are looking to just use Facebook ads to promote your store, start and scale might not be suitable for you. Start and Scale is not a dropshipping course, which tends to teach you how to run Facebook ads and make some quick money.
The Start and Scale course is going to help you build a long-term eCommerce business instead. Since Gretta is an expert in influencer marketing, the course emphasizes brand building more than running Facebook ads.
Facebook ads are effective in bringing in traffic, but they are also becoming more expensive. According to Statista, Facebook marketing has become a staple in nearly every social media marketer's playbook, and in 2021, Facebook's ad revenue hit 114 billion dollars. This figure marked an annual increase of 35 percent and represented more than 60 percent of the social media ad revenue worldwide.
People need to invest millions of dollars in Facebook ads. Of course, Facebook ads are an effective way for marketing, but you might not be able to cover the ad cost. So, if you don't have a lot of capital or are just a newbie, I don't recommend you take the risk.
Instead, you can use the influence marketing taught in the Start and Scale course. The influencer marketing concept is more focused on sustainable branding to grow a company. It helps you differentiate your product from others as well.
In the long term, you'll get a lot of organic free traffic as you build a brand name in the market. The word-of-mouth effect can bring you a lot of business without doing promotion.
Who is Start and Scale Course For?
The Start and Scale course is for anyone who wants to start an eCommerce store from scratch or for any physical store owners to take the business online.
If you want to build an eCommerce brand that lasts for many years and can generate passive income for you, the Start and Scale course is a good fit for you. It exactly teaches you how to do that step-by-step. Even if you don't have any technical knowledge, you don't have to worry about it, because the whole course is designed in a way that is organized and easy to understand.
Also, building an eCommerce Brand doesn't require a lot of capital because you make use of the power of social media. You will learn how to use free strategies to grow a following on social media and promote your eCommerce store.
Who is Start and Scale Course Not For?
The Start and Scale course is not for those who want to make quick money. The reason is that building an eCommerce brand takes time. It's not a "get rich quick scheme". It's not possible to make a lot of money in a few weeks.
A few weeks' time is only enough for you to go through the training, but not the implementation.
So if you are not patient and need some quick money to pay for the bills, don't enroll in the Start and Scale course.
Get Instant Access To Start and Scale Course Here
What Makes the Start and Scale Course Different From Other eCommerce Courses?
If you have read other online reviews about the Start and Scale course, please be careful because I found that most of the other reviews provide incorrect information about Start and Scale course.
They tend to regard Start and Scale course as a dropshipping course, but it's not true! The Start and Scale course doesn't teach dropshipping. but build a legit eCommerce brand as Gretta Van Riel does. This is what makes the Start and Scale course different from others.
Actually, most of the eCommerce courses online only teach you how to sell cheap and low-quality products from China. That is called dropshipping. This business model is rather scammy and is a very short-term business. Dropshipping stores tend to receive very bad customer reviews and will get a lot of credit card chargebacks. Because what you do is sell some knock-offs at a high price to customers.
You may see other bloggers recommending a dropshipping course called Ecom Elites, created by guru Franklin Hatchett. Those bloggers are affiliates of Ecom Elites, meaning they will receive a commission if you purchase Ecom Elites from them, so their words are biased and not trustworthy.
I haven't taken the Ecom Elites course myself, but when I search it on Google, I found that the website is a just simple landing page. There is no official company website at all. Obviously, it's not an established company like Foundr. If you enroll in the Ecom Elites course, I'm not sure if you can get any support at all in case of any issues.
Also, as I said, dropshipping is not a very legit business model, you might encounter some legal issues if you choose to do dropshipping taught in Ecom Elites.
Are Students of Start and Scale Getting Results?
The effectiveness of any course lies in the success stories of its students. Start and Scale boasts a growing community of over 21,000 students who have benefited from its teachings. Many success stories have emerged from individuals who have followed Gretta's blueprint and transformed their e-commerce aspirations into profitable realities.
How Much Does Start and Scale Cost?
The Start and Scale course is priced at $997 at the time of writing. I'm not sure if they will raise the price later because the regular price is $1997.
Some people may think $997 is too expensive, but when you consider the value you receive in the course, I think $997 is a fair price. There are many other eCommerce courses selling thousands of dollars but with lower quality.
Some people may argue that they found some courses cheaper than the Start and Scale course, but the problem is the course content and instructor are not the same. They are not identical products. Also, most cheap courses have poor quality and bad support, so I don't recommend some very cheap courses.
When you investing time and money in a course, you have to be sure that the course is of high quality. The Start and Scale course is not going to disappoint you.
If you are not sure if the Start and Scale course is a good fit for you, you can try the free masterclass here. Gretta generously shares her knowledge in this one-hour long free masterclass.
Get Instant Access To Start and Scale Course Here
Is Start and Scale Course a Scam or Legit?
Start and Scale is definitely not a scam. More than 10,000 students have enrolled in the Start and Scale course now.
It's true that the course is a bit expensive, but it's worth it. The reason is that the course can help you avoid a lot of mistakes, which can cost you thousands of dollars. Gretta has already unlocked the hacks of success for you so there is no reason to take the risk and test it yourself.
Moreover, the Start and Scale course is a really popular course. Since Gretta has been able to build many eCommerce brands that generate seven-figure income, who wouldn't want to know her system and blueprint? I'm not sure they will raise the price in the near future given the increasing popularity.
In the next section, I will discuss what I like about Start and Scale and where there is room for improvement.
Should You Join Start and Scale?
The Start and Scale course is a legit and useful course for eCommerce. You can begin building a 7-figure eCommerce brand by following Gretta's complete blueprint instead of starting from scratch with no clue.
Having a great mentor and a proven blueprint can contribute to your success. All you need to do is follow the steps and work towards your goal.
Starting an eCommerce brand is easy when you have the Start and Scale course. It teaches you a lot more than any other eCommerce course.
Where to Get Access To Start and Scale Course?
The VIP access is only available here: You can get the course now instead of joining the waitlist and waiting for months. That way, you can get started early and succeed earlier.
Feel free to try Gretta's free masterclass first if you're not so sure. Gretta is going to show you how to do eCommerce in the right way in the free masterclass.
Any questions? please leave a comment below, and I will get back to you as soon as possible.
Get Instant Access To Start and Scale Course Here
Start and Scale FAQs
1. Is it necessary for me to quit my job?
It is not necessary for you to quit your job now. You should only quit your job once your business generates enough cash flow for you to live on.
In this way, you do not take financial risk. Many students in this class start out as a side hustle and then quit their day job to scale their business.
When Gretta launched her first online store, she had a full-time job. So you can do the same.
2. How is "Start and Scale" different from other eCommerce courses?
"Start and Scale" teaches you to build an eCommerce brand on a step-by-step basis. It's a sustainable business model.
The Ecommerce expert Gretta can show you exactly how to achieve success with your online store. She has built several multimillion-dollar eCommerce brands in the past eight years.
She is going to share a proven formula for starting an online store, so you should take advantage of her valuable advice if you want to start one.
In fact, there are many successful students inside Start and Scale.
3. Should I be able to do it without a technical background?
The course isn't technical in nature. If you have little to no experience with computers, the instructor will introduce the best tools and software that could be used by anybody.
4. Does the course include case studies?
Each lesson in the course has a real action plan. It also includes a workbook so you can implement every step throughout the course.
5. Does the course content apply worldwide?
There are students from all over the world. All the way to the US, Asia, Europe and Africa. You can reach customers all over the world with an online store.
6. How will I come up with product ideas if I don't have any now?
Don't panic. Coming up with a profitable product idea is not difficult.
The course has a section about finding great product ideas.
The course also provides you with a lot of great information on conducting market research and validating product ideas. That's why the course is called "Start" and "Scale".
7. Are Instagram and Influencer Marketing covered in Gretta's course?
Certainly. Gretta is the Instagram Queen. Influencer Marketing will be a highlight of this course.
Greta will discuss how she used Influencer Marketing in building so many eCommerce brands to dominate Instagram, which she believes is the key to success.
8. Does this course only apply to Shopify stores?
What platform you use to host your online store does not matter. This course deals with the process and strategy of building a global eCommerce business.
If you use other platforms, that's completely fine. If you already have an e-commerce store, you will also benefit from this course. You'll learn how to scale your store.
9. Other than the course, is there any help available?
You will gain access to the Facebook Group after registering for the course.
Members of the community can help you with any questions you may have. You can use the group to validate your ideas or strategies, as well.
10. How long will I have access to the course, including any future updates?
The course is updated regularly and you do not have to pay extra for an update.
The course has had a huge update in the past few months. Foundr spent more than $50,000 renewing the course but did not charge extra for that.
Get Instant Access To Start and Scale Course Here
Start and Scale Course Alternative
If you already have an eCommerce store and have some success right now, you might find the training in the Start and Scale course not advanced enough.
In that case, you might consider a more advanced course called Ecommerce Masters by Foundr. This course is designed for the graduates from the Start and Scale course and help them take the business to the next level.
Ecommerce Masters is a very special course because it's taught by 5 successful eCommerce entrepreneurs. One of them is Gretta Van Riel. You will learn the proven strategies used by them and scale your existing online store to a million dollar.
I have enrolled in the Ecommerce Masters and I can say the course quality is very great. You will gain a lot of insights that cannot be learnt elsewhere.
If you want to learn more about the Ecommerce Masters course, you can read this detailed course review.