In the digital age, the prospect of earning a substantial income online has captured the imagination of many. Amid this pursuit, the Six Figure Mentors program has emerged, offering a pathway to building a thriving digital business.
In this review, we'll delve into the intricacies of Six Figure Mentors, exploring its origins, features, cost, and most importantly, whether it can truly pave the way to financial success.
What is Six Figure Mentors?
Six Figure Mentors, often abbreviated as SFM, is an online training program that promises to guide individuals through the complex world of affiliate marketing. The program's core objective is to empower its participants to construct a digital business while aligning their lifestyles with their aspirations. Launched in 2010, SFM has garnered attention for both its potential and its controversies.

Learn more: Best Affiliate Marketing Courses.
Check Out The Best Alternative Here
Who Created Six Figure Mentors?
The minds behind Six Figure Mentors are Stuart Ross and Jay Kubassek. Their vision was to provide a platform that equips individuals with the skills and knowledge required to thrive in the digital landscape. However, their history in the realm of MLM-type products has raised eyebrows and led to skepticism regarding the program's true intentions.
How Does Six Figure Mentors Help You Make Money?
The foundation of SFM's money-making approach lies in affiliate marketing. Students of SFM become affiliates of the program, promoting it to a broader audience. The process includes utilizing platforms like Facebook to attract potential customers and then converting those leads into actual sales of SFM products. This method follows the principles of affiliate marketing, where commissions are earned for each successful sale.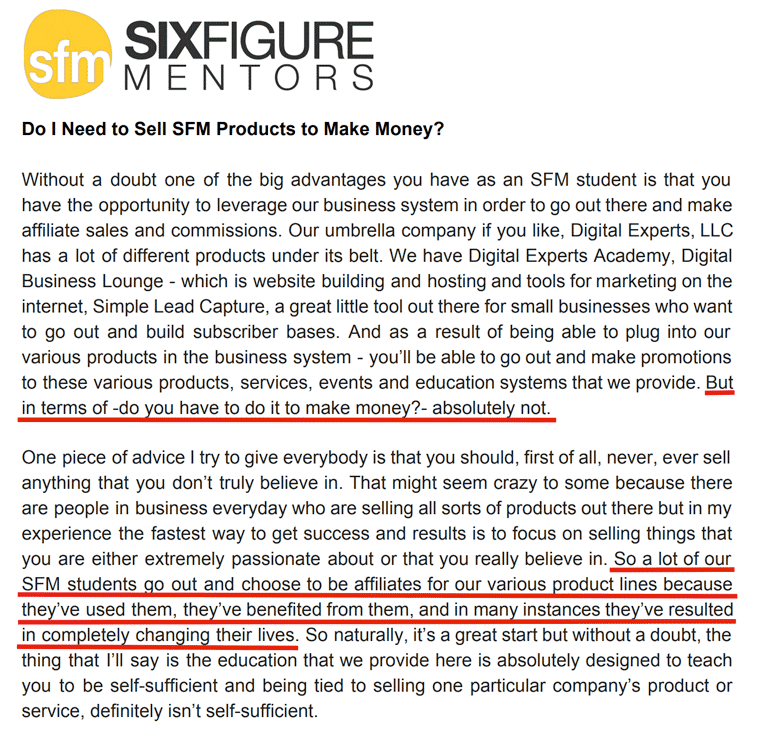 Learn more:
Who is Six Figure Mentors For?
SFM is targeted towards individuals who aspire to delve into the world of online business. Whether you're a seasoned marketer or a newcomer, SFM aims to provide insights and strategies to help you succeed in affiliate marketing.
What's Inside Six Figure Mentors?
The curriculum of Six Figure Mentors encompasses various aspects of affiliate marketing, primarily focused on promoting the SFM program itself. Paid traffic strategies, especially using Facebook ads, take center stage. However, concerns arise as students often report inadequate guidance for promoting products or services other than SFM itself.
How Much Does Six Figure Mentors Cost?
SFM offers multiple membership levels, each with its own price point. Starting with free training, the costs escalate to higher tiers, including the Digital Experts Academy (DEA) ranging from $2,500 to $20,000. A discounted Essential Membership option exists, but even with the discount, the expenses can exceed $1,200 annually. This places SFM on the higher end of affiliate marketing course costs.

Are Students of Six Figure Mentors Getting Results?
The crux of the matter lies in whether SFM students are truly achieving success. While some have earned substantial income, a recurring pattern emerges: most earnings are attributed to recruiting new members into SFM. This raises concerns about the program's similarity to a multi-level marketing (MLM) model, where recruitment appears to be the primary avenue to financial gain.
Is Six Figure Mentors a Scam or Legit?
Determining the legitimacy of SFM is complex. While it's not an outright scam, its resemblance to an MLM model has ignited skepticism. Legitimate MLMs exist, but as highlighted by the Federal Trade Commission (FTC), most individuals within such systems make little to no money. SFM's emphasis on recruiting new members and the lack of substantial evidence of successful students engaging with products outside SFM triggers reservations about its authenticity.
Pros of Six Figure Mentors
Affiliate Marketing Knowledge

: SFM does offer insights into the world of affiliate marketing, which can be valuable for those new to the field.

Refund Policy

: The program offers a 30-day, no-questions-asked refund policy, which shows a willingness to address customer concerns.
Cons of Six Figure Mentors
Multi-Level Marketing Emphasis

: SFM's focus on recruiting new members raises concerns about its similarity to an MLM model.

Limited Success Stories Outside SFM

: The scarcity of significant success stories beyond promoting SFM itself raises doubts about the program's efficacy in diverse affiliate marketing endeavors.

Founder's Background

: The founders' connections with previous MLM-type products trigger skepticism about the program's intentions.

Empty Testimonials

: Many SFM testimonials lack concrete evidence of successful results, relying on vague praise instead.

Style Over Substance

: The marketing materials prioritize aspirational lifestyles over concrete details about the training and business-building process.

Hidden Costs and Upsells

: Students might incur significant additional expenses for advanced training and paid advertising.
Should You Join Six Figure Mentors?
Considering the mixed bag of pros and cons, it's crucial to approach SFM with caution. The program's MLM-like structure, combined with the emphasis on recruiting new members, raises red flags. Given the substantial costs and potential drawbacks, it's advisable to explore alternative affiliate marketing courses that provide transparent training and a broader approach to success.
Conclusion
In conclusion, while Six Figure Mentors may hold promise for a few individuals, the overarching model and history of its founders raise concerns about its suitability for the majority. Your time and financial investment are precious, and it's vital to select a program that aligns with your goals and values while offering comprehensive and sustainable strategies for online business success.
Check Out The Best Alternative Here
Is There a Better Alternative?
Here's the best alternative to Six Figure Mentors: Wealthy Affiliate. This all-in-one platform helps you start your affiliate marketing journey from the beginning. It has been around for over 17 years and gives you everything you need to succeed. This includes website hosting, tools to find good keywords, a helpful community of people like you, easy-to-follow guides, and ways to improve your writing.