In the vast world of online business, finding the right path to success can be overwhelming. That's where courses like Digital Worth Academy come in. In this review, we'll take a deep dive into what Digital Worth Academy is all about, who it's designed for, its features, costs, and most importantly, whether it's worth your time and investment.
What is Digital Worth Academy?
Digital Worth Academy is an online course and suite of software tools that aim to guide individuals through the process of building a successful online business. Specifically, it focuses on helping you create a website, drive traffic to it, and then earn money through affiliate marketing. If you're new to these terms, don't worry – we'll break it down in simple words.
Learn more: Best Affiliate Marketing Courses.
Check Out The Best Alternative Here
Who Created Digital Worth Academy?
The minds behind Digital Worth Academy, Andrew Hansen and Sara Young, are no strangers to the world of affiliate marketing. They have successfully navigated this landscape and are now sharing their knowledge and expertise with aspiring entrepreneurs. Their experience lends credibility to the program, and their straightforward approach is a breath of fresh air in an industry often plagued by exaggerated promises.
How Does Digital Worth Academy Help You Make Money?
Digital Worth Academy takes a two-pronged approach to help you make money online. First, it teaches you how to build an "authority website" – a website that ranks well on search engines and attracts organic traffic. This is achieved through effective search engine optimization (SEO) techniques.
Second, it guides you in monetizing your website through affiliate marketing. The program particularly emphasizes the Amazon affiliate program, showing you how to find and promote products on this popular platform.
The key topics covered in the training include:
Finding a profitable niche.

Selecting target keywords within your chosen niche.

Identifying affiliate products to promote.

Building and optimizing a WordPress website.

Creating high-quality, SEO-optimized content.

Effective promotion of affiliate products on your website.

Off-site SEO techniques, such as link building, to boost your website's rankings and traffic.
In a nutshell, Digital Worth Academy provides a step-by-step roadmap to creating a website, driving traffic to it, and monetizing it through affiliate marketing.
Learn more:
Check Out The Best Alternative Here
Who is Digital Worth Academy For?
Digital Worth Academy is designed to cater to both newcomers and those with some prior experience in online business. The training is comprehensive and covers all the essentials of building a successful authority website. Unlike some programs that promise quick riches with minimal effort, Digital Worth Academy is honest about the time and effort required to succeed. If you're new to the online world, it's recommended to gain some basic experience before diving into affiliate marketing through this program.
What's Inside Digital Worth Academy?
The core of Digital Worth Academy is the "Digital Asset Blueprint," which is divided into six sections, comprising over 30 modules and more than 150 videos. This extensive training covers everything you need to know about building a profitable website and leveraging affiliate marketing.
Additionally, when you join Digital Worth Academy, you gain access to a private community where you can connect with fellow students for support and guidance.
How Much Does Digital Worth Academy Cost?
Investing in your education and business is crucial, and Digital Worth Academy offers a fair deal for what it provides. The program's lifetime access comes with a price tag of $797, payable as a one-time fee. While this might seem like a significant investment, it's important to consider the potential returns once you successfully implement the strategies taught in the program.
Apart from the program fee, there are a few additional costs to keep in mind, such as:
Domain name

: Approximately $11.

Web hosting

: Around $5 per month.

Research tool

: Minimum of $37 per month (for at least 1 month).
The program also includes lifetime access to three custom-built software tools – Commission Wizard, Profit Calculator, and Diamond Keyword Miner – designed to enhance your affiliate marketing efforts.
Check Out The Best Alternative Here
Are Students of Digital Worth Academy Getting Results?
While the success stories and testimonials from Digital Worth Academy students are predominantly from 2019 and earlier, it's reasonable to assume that the principles and strategies taught in the program continue to yield results.
However, recent testimonials and success stories are noticeably absent, which might raise some doubts. It's possible that the creators, Andrew Hansen and Sara Young, have simply not updated their sales page with the latest achievements of their students.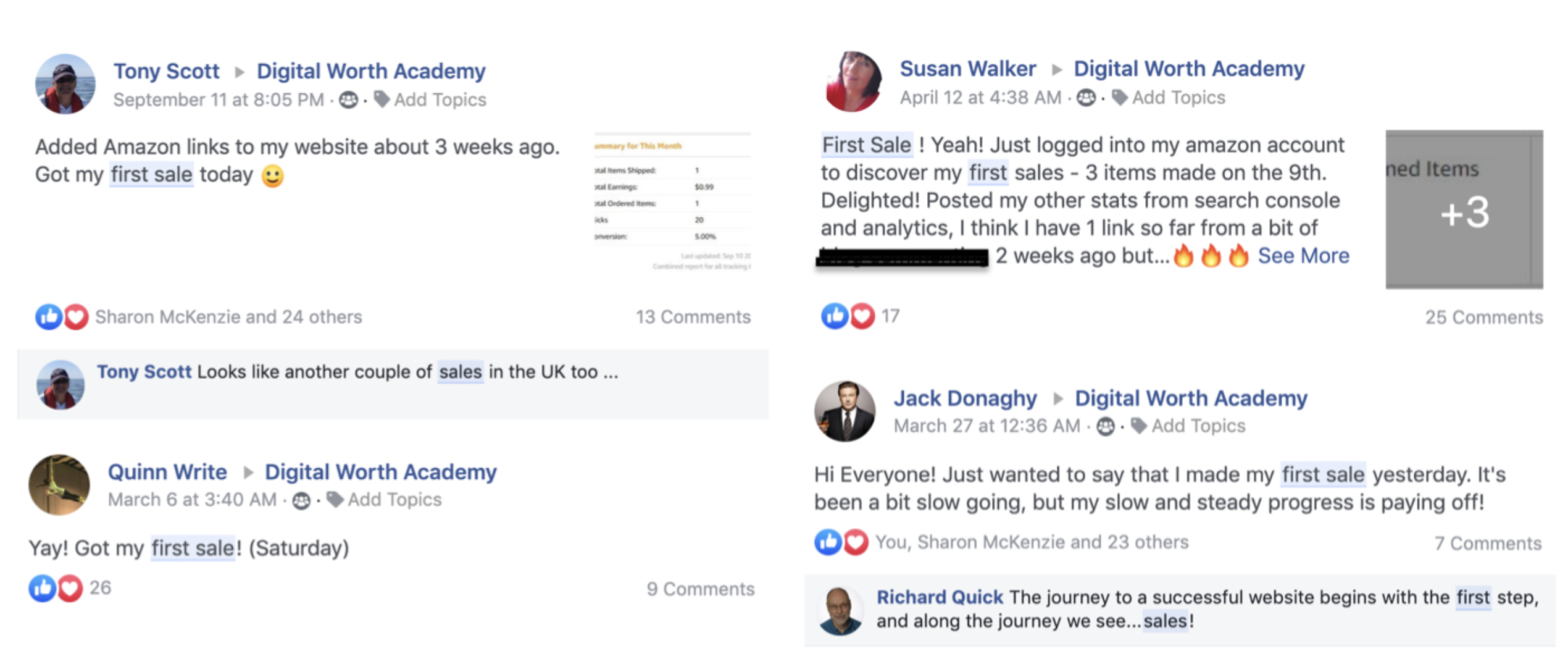 Is Digital Worth Academy a Scam or Legit?
Digital Worth Academy is far from being a scam. It's a legitimate training program created by experienced affiliate marketers who have a track record of success. The lack of any major controversies surrounding Andrew Hansen and Sara Young, coupled with their straightforward approach, adds to the program's credibility.
Check Out The Best Alternative Here
Pros of Digital Worth Academy
Tried and Tested Model

: Digital Worth Academy combines SEO techniques with affiliate marketing, a proven model that has worked for countless online entrepreneurs.

Transparent Pricing

: The one-time fee of $797 for lifetime access is reasonable compared to the potential returns from a successful affiliate marketing business.

Credible Creators

: Andrew Hansen and Sara Young bring their expertise and experience to the table, providing reliable guidance.

Comprehensive Training

: The program covers essential topics, from niche selection to SEO and affiliate marketing, ensuring a well-rounded education.
Cons of Digital Worth Academy
Limited Recent Success Stories

: The absence of recent student success stories on the sales page might raise concerns about the program's current effectiveness.

Update Frequency

: It's unclear how frequently the training materials are updated, which could impact the relevance of the content.

Amazon Focus

: While Amazon affiliate marketing is emphasized, it might limit your options, especially considering Amazon's changing commission rates.
Check Out The Best Alternative Here
Should You Join Digital Worth Academy?
In conclusion, Digital Worth Academy presents a solid opportunity for individuals seeking to establish a profitable online business through affiliate marketing. The program's credible creators, comprehensive training, and realistic approach make it a valuable investment. With a transparent pricing structure, a 30-day money-back guarantee, and access to software tools, you have a lot to gain from joining.
However, it's worth considering your own level of experience and whether you're prepared to invest the time and effort required to implement the strategies. While Digital Worth Academy is undoubtedly a reputable program, exploring other active courses within a similar price range might provide a more up-to-date and supportive learning experience.
In the end, success in the online world depends on your commitment, dedication, and willingness to learn. If you're ready to embark on this journey with Digital Worth Academy, you could be well on your way to building a successful online affiliate marketing business.
Check Out The Best Alternative Here
Is There a Better Alternative?
Here's the best alternative to Digital Worth Academy: Wealthy Affiliate. This platform is like a complete package to help you start your affiliate marketing journey right from the start. It has been around for more than 17 years and gives you everything you need to do well. This means it helps you make a website, find good keywords, connect with other marketers, follow simple guides, and get better at writing.