When it comes to affiliate marketing networks, ClickBank is a pioneer that has been shaping the industry since its establishment in 1998. With a user-friendly platform and a solid reputation for reliable payouts, ClickBank remains one of the top choices for affiliate marketers. However, it's essential to explore other options as well to find the perfect fit for your affiliate marketing needs.
In this review, we'll dive into the key features of ClickBank, its strengths, weaknesses, and explore some alternative networks that might be worth considering.
Is ClickBank Legit?
Yes, ClickBank is 100% legit. As an affiliate network that has been in operation for over two decades, ClickBank has built a network of nearly 100,000 affiliate marketers and has facilitated over $4 billion in commissions.
The platform has received a 4.5-star rating on Trustpilot based on more than 2,300 reviews, showcasing its credibility.
With thousands of vendors and products listed in its marketplace, ClickBank has proven itself as a reliable and reputable affiliate network.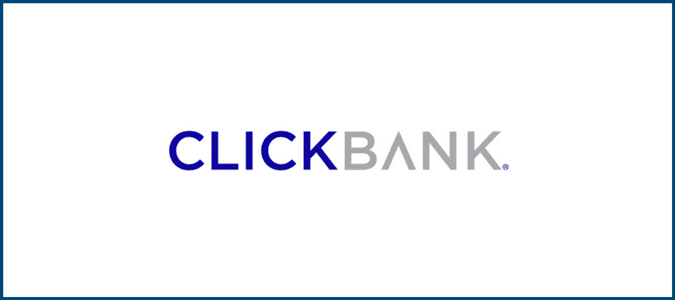 Check Out The Best Affiliate Marketing Course Here
How to Sign up?
Signing up for ClickBank as an affiliate is a straightforward process.
First, you provide your location, name, telephone number, and email address on the signup page. The platform also offers the convenience of a multilingual signup page, available in six different languages.

After entering your personal details, you accept the terms and conditions and proceed to join ClickBank. However, it's important to note that ClickBank requires affiliates to reside in countries where direct deposits are possible due to fraud prevention measures.

Once you've completed the signup process, ClickBank offers free training to help you get started.
You'll then be presented with a welcome video that introduces you to the platform and offers an upsell for ClickBank vendors to join a monthly membership.
Finally, you'll need to optimize your performance by specifying whether you're an affiliate, a seller, or a researcher. Creating a nickname is also necessary, as it will be part of your referral URL and should not exceed ten characters.
Here's an instruction video:
ClickBank Options and Pricing
ClickBank functions as both an affiliate marketplace and a platform for sellers. As an affiliate marketer, you can sign up for free and gain access to over 100,000 digital marketers. The marketplace offers a vast selection of more than 4,000 digital and physical products across numerous categories. Creating an affiliate account is a straightforward process that involves filling out a signup form and completing your client profile. You can then explore the marketplace to find lucrative products to promote.
Affiliate marketers on ClickBank can earn commissions through revenue share or cost per action (CPA). Revenue share is the most common commission type, paying a percentage of the sale, usually around 50%. CPA commissions provide a flat fee for each conversion, typically the first sale in the seller's sales funnel. This commission structure allows affiliates to earn a lump sum upfront, even if subsequent sales or subscriptions do not offer additional commissions.
Sellers can create a ClickBank seller account to sell their products on the platform. During the signup process, sellers can choose to sell or promote products or select both options. Creating a seller account involves paying a one-time activation fee of $49.95, with an additional fee of $29.95 for any additional accounts. Sellers must have their products approved by the ClickBank Compliance Team before listing them for sale. Stricter guidelines, including the requirement for a website and a registered domain name, apply to seller accounts.
ClickBank takes a percentage of each sale made through the platform, separate from the affiliate commission. The purchase price is calculated at 92.5% of the sale price plus $1. Sellers need to factor this into their pricing decisions to ensure profitability. In addition, ClickBank charges a refund chargeback fee of $0.50 or $1 for each refund, applicable to both sellers and affiliates.
Check Out The Best Affiliate Marketing Course Here
What Brands Can You Promote with ClickBank?
ClickBank offers a wide range of products, including both digital and physical ones.
However, it's important to note that the brand names featured on ClickBank may not be as recognizable as those of high-profile online retailers. While some products might have been seen in social media feeds or through retargeting campaigns, they are often not household names.
Nevertheless, many of these products sell exceptionally well and can generate substantial commissions for affiliate marketers. It's worth mentioning that health supplements have become particularly popular on ClickBank in recent years. Here's an example:
How to Find Affiliate Programs on ClickBank?
The ClickBank Marketplace is the central hub where affiliates can find products to promote. The marketplace interface may seem outdated, but it has been successful in fulfilling its primary function for over two decades. You can search for affiliate programs by using keywords or browsing through individual categories and applying filters to refine your results. While the keyword search functionality could be improved, filtering options based on metrics such as popularity and gravity work well.
Gravity is ClickBank's equivalent of Earnings Per Click (EPC) and measures the conversion rate of affiliate products. Higher gravity scores indicate better conversion rates. By exploring different categories in the marketplace, you can find programs suitable for your niche. Applying additional filters allows you to narrow down your search, such as focusing on products with recurring commissions or specific languages.
How to Create Affiliate Links?
ClickBank simplifies the process of creating affiliate links. When you find a product you want to promote, you click on the "Promote" button, which opens a pop-up window. In this window, you add the account nickname you created during the setup process, and then click on "Generate Hoplinks" to create your link. These hoplinks, ClickBank's term for affiliate links, differentiate them from other types of affiliate links in the market.
While banner links and graphics are available for promotional purposes, their availability depends on the vendor. Affiliates may need to navigate to affiliate resource pages to find banners, and there is no guarantee that vendors will provide them. Some vendors offer comprehensive promotional materials, including swipe files, articles, and autoresponder sequences. While the affiliate link creation process is decentralized, it is less convoluted compared to other affiliate networks.
How to Get Paid?

ClickBank offers weekly or bi-weekly payments, which is more frequent than the typical monthly payments offered by other networks. However, keep in mind that there is an additional two-week waiting period after the payout date to receive your payment. It usually takes 4 to 6 weeks for ClickBank payments to start overlapping and feel like weekly or fortnightly payments.
Payment options are limited to checks or direct deposits, and there are no alternative methods such as PayPal or wire transfer. For international affiliates, it's important to note that ClickBank checks may take up to seven days to arrive. To avoid bank charges, it is advisable to set a higher payment threshold for check payments.
ClickBank requires affiliates to reach a minimum of $10 in commissions to trigger a payment. In addition, a minimum of five sales is required before receiving a payment.
Refund Policy
ClickBank's Achilles heel is its 90-day money-back guarantee. While this policy benefits customers, some unscrupulous individuals take advantage of it by ordering digital products, downloading them, and then requesting a refund.
This behavior, often done by scammers posing as affiliates, can impact ClickBank affiliate commissions. It is crucial to be aware of this refund policy and its potential impact on earnings.
Publisher Help
ClickBank offers a support system that includes a ticketing system and a knowledge base. While their support options are minimal compared to other networks, they provide a basic level of assistance.
The knowledge base offers comprehensive information on various topics, but the presentation could be improved with more mixed media elements like screenshots and tutorial videos.
ClickBank also has a Facebook page with a substantial following and no visible negative feedback, indicating that their customer service is generally well-received.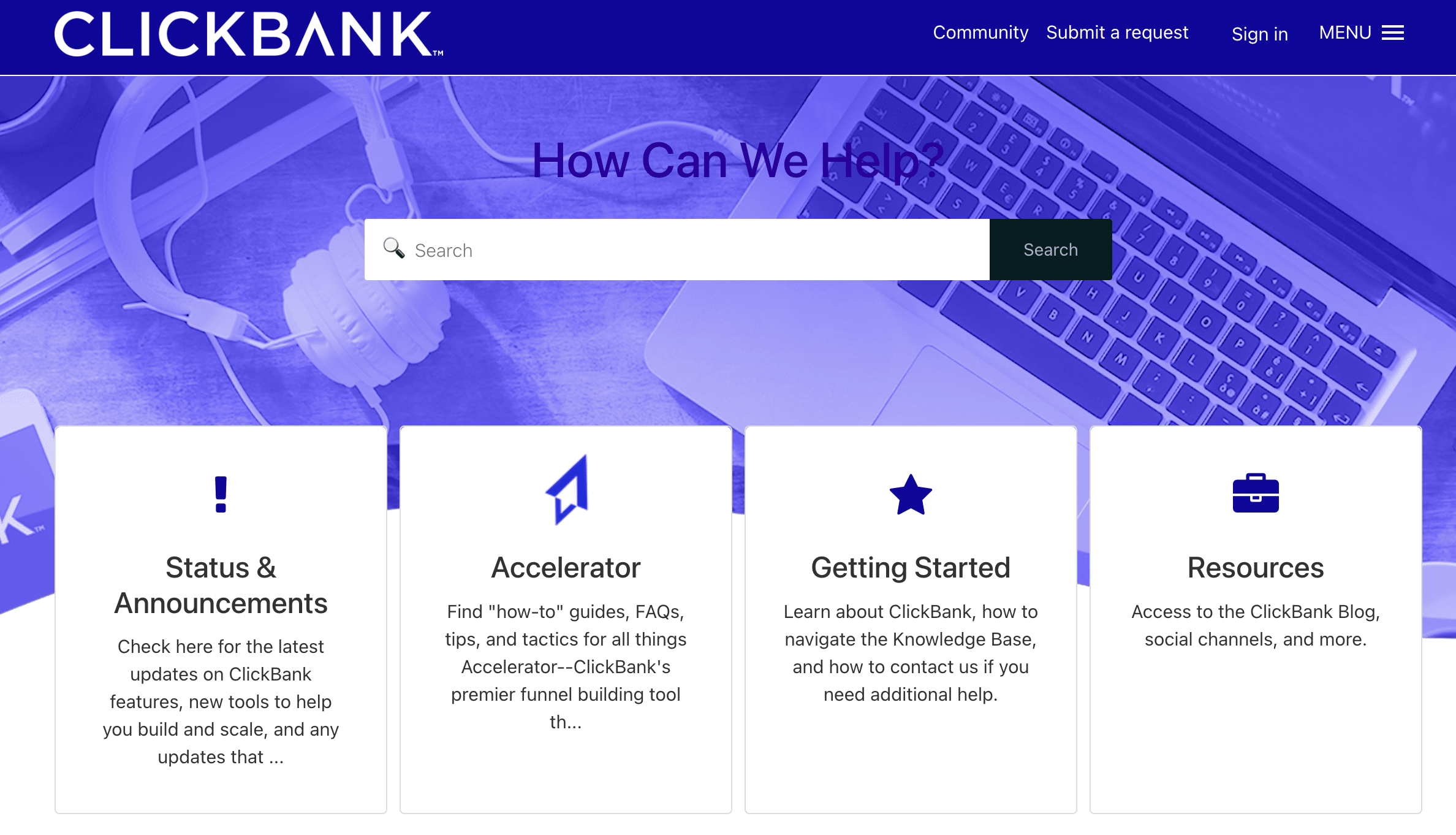 Spark Certification Course
For those new to affiliate marketing or looking to enhance their skills, ClickBank offers a comprehensive course called the Spark Certification. This course has been refined over 20 years and is delivered by ClickBank's internal expert marketers. The Spark Certification covers essential topics such as internet marketing, product creation, affiliate marketing, direct response psychology, and more. It offers valuable insights and practical strategies to help you succeed as a seller or an affiliate.
The Spark Certification Course is priced at $23.50 per month, providing lifetime access to the course materials. You can complete the course at your own pace, with the option to finish it in as little as two weeks by working through a few daily lessons. ClickBank stands behind the quality of its educational materials and offers a 30-day 100% money-back guarantee if you're not satisfied with the course.
Check Out The Best Affiliate Marketing Course Here
Praise for Clickbank
1. Low Barriers to Entry and Access to Marketing Education:
ClickBank provides easy accessibility for marketers at all levels. Setting up an account is free and quick, requiring only 15 minutes of your time. Unlike other networks, ClickBank does not require vendor approval, simplifying the process. Morover, ClickBank offers an affiliate marketing education program called Spark, which covers a wide range of topics. With affordable monthly fees starting at $47, you can access self-paced courses taught by subject matter experts, allowing you to learn and progress at your own convenience.
2. High Affiliate Commissions and Robust Statistics
ClickBank stands out by offering some of the highest commissions in the digital marketing industry, with rates reaching up to 75% for certain products. This competitive environment motivates vendors to provide generous commission rates, giving you the opportunity to earn more. ClickBank also provides detailed statistics and reports for each product, including the Gravity Score, which indicates recent sales performance. This data helps you make informed decisions and identify potentially profitable products to promote.
3. Large Marketplace for Vendors and Regular Payments
As a vendor, ClickBank offers a vast marketplace with access to over 200 million customers worldwide. You can sell both physical and digital goods without any restrictions on the number of products you can list. ClickBank also provides a network of over 100,000 affiliate marketers, allowing you to find ideal partners who are passionate about your products. Moreover, ClickBank ensures regular and predictable payouts, offering weekly or biweekly options. The platform has a reliable payment history, never missing a payment in its 20-year existence. Multiple payment methods are available, catering to your preferences.
Criticism of Clickbank
1. Issues with Low-Quality Products and Steep Fines
ClickBank's marketplace contains a significant number of low-quality products, making it challenging to find valuable products to promote. With millions of options available, thorough research and careful examination of product specifications are necessary to identify worthwhile products. Additionally, inactive users face steep fines, with dormant accounts incurring fees of $1 per pay period after 90 days, increasing to $5 after 180 days, and escalating to $50 after 365 days. It's crucial to start generating income promptly to avoid these penalties, as ClickBank doesn't provide notifications about dormant accounts.
2. Challenges in Driving Sales and High Competition
Generating sales on ClickBank requires substantial investment in marketing strategies such as creating optimized landing pages, building an email list, launching email marketing campaigns, and following up with leads. Compared to more established marketplaces like Amazon, ClickBank demands more effort to achieve profitable results. The platform's low entry barriers and high commissions contribute to intense competition, posing challenges for beginners to find and convert sales initially. However, ClickBank offers educational materials and training to support marketers in developing their skills and overcoming these obstacles.
3. Dependence on Marketing Efforts for Success
Success on ClickBank heavily relies on your marketing efforts. Without effective marketing strategies, it can be difficult to drive traffic and convert sales. Unlike other platforms that may have built-in customer bases or organic search traffic, ClickBank requires marketers to invest time and effort in promoting their products. While the platform offers potential rewards, it's important to recognize that achieving success on ClickBank may take time and a significant dedication to refining marketing techniques.
Alternatives
If ClickBank doesn't align with your specific needs, there are alternative networks worth exploring. ShareASale offers access to affiliate managers and the opportunity to negotiate higher commissions. Awin provides more control over commission models, allowing you to tailor your earnings structure. MaxBounty focuses on high-cost-per-action (CPA) commissions, particularly beneficial for international and digital nomad affiliate marketers.
Ultimately, the right choice of affiliate marketing network depends on your goals, preferences, and the specific products or services you wish to promote. Consider your needs, conduct thorough research, and choose the platform that best aligns with your aspirations in the affiliate marketing industry.
My Personal Experience
In my personal experience, ClickBank proved to be a valuable platform for affiliate marketers. Its accessibility, educational resources, and high commission rates made it an attractive option for beginners and experienced marketers alike. While there were challenges such as low-quality products and the need to stay active to avoid fines, I found that with dedication and perseverance, I was able to overcome these obstacles.
ClickBank provided me with the tools and resources I needed to succeed as an affiliate marketer. The robust tracking and reporting features allowed me to make informed decisions, and the potential for high commissions motivated me to put in the necessary effort. Ultimately, ClickBank played a significant role in my affiliate marketing journey and helped me achieve a level of success that I had initially aspired to.
If you're looking for an affiliate marketing network that offers accessibility, reliable payouts, and the potential for lucrative commissions, I would recommend giving ClickBank a try. With its extensive marketplace and educational resources, it can be a valuable platform to kickstart your affiliate marketing career.