Welcome to the review of 123 Affiliate Marketing, the course designed to help you harness the power of affiliate marketing and turn your online audience into a source of income.
If you're eager to learn the ins and outs of this course, including who it's for, how it works, its cost, and whether it's a legitimate opportunity or a scam, you're in the right place.
Join us as we dissect every aspect of 123 Affiliate Marketing, so you can make an informed decision about whether it's the right fit for you.
What is 123 Affiliate Marketing?
At its core, 123 Affiliate Marketing is an online course that guides you through the world of affiliate marketing. Created by Pat Flynn, the mastermind behind Smart Passive Income (SPI), the course is designed to help you leverage your existing online audience to generate income through affiliate partnerships. Unlike other courses that focus on building new audiences, 123 Affiliate Marketing emphasizes making the most of what you already have.
Learn more: Best Affiliate Marketing Courses.
Check Out The Best Alternative Here
Who Created 123 Affiliate Marketing?
Pat Flynn, a well-known entrepreneur, podcaster, and online business coach, is the brains behind 123 Affiliate Marketing. His reputation for transparency and honesty in the online business world lends credibility to the course. With over $3.5 million earned through affiliate marketing since 2010, Pat Flynn brings a wealth of experience to the table.
How Does 123 Affiliate Marketing Help You Make Money?
Affiliate marketing is the cornerstone of this course. It's a business model where companies pay you a commission for promoting their products. When someone clicks on your unique affiliate link and makes a purchase, you earn a percentage of the sale. 123 Affiliate Marketing teaches you how to identify the right products for your audience, create effective promotional campaigns, and maximize your earnings.
Learn more:
Check Out The Best Alternative Here
Who is 123 Affiliate Marketing For?
This course is aimed at online business owners of all sizes who already have an established online presence. Whether you have a small email list, a budding social media following, or a website with moderate traffic, you can benefit from 123 Affiliate Marketing. However, it's important to note that the course doesn't focus on building an audience from scratch – it assumes you already have one to work with.
What's Inside 123 Affiliate Marketing?
The course is divided into six modules, comprising a total of 38 lessons. The majority of these lessons are presented through concise video content, accompanied by transcripts for easy reference. It's important to mention that the focus of this training is purely on monetization strategies and not on audience-building techniques. If you're seeking guidance on SEO or list-building, you might need to look elsewhere.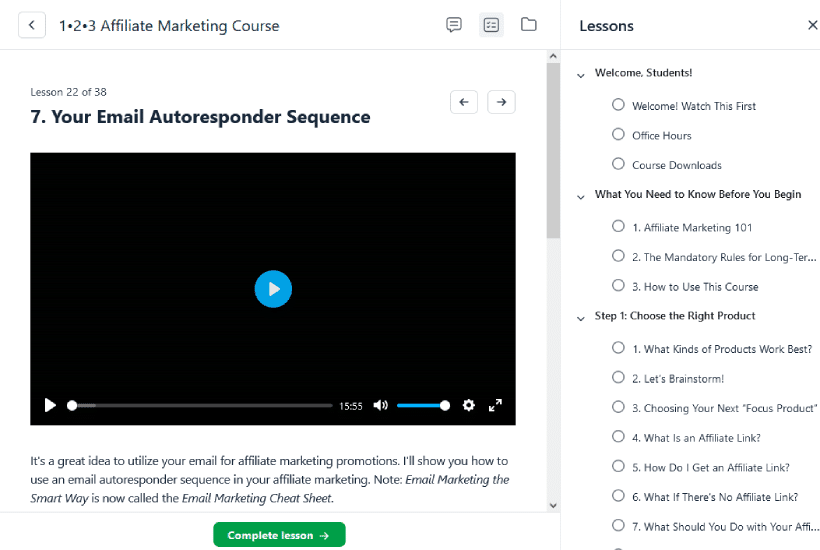 How Much Does 123 Affiliate Marketing Cost?
If you're considering investing in 123 Affiliate Marketing, you'll need to budget $499 for lifetime access to the course. Alternatively, you can explore the Smart Passive Income All-Access Pass, which provides access to 123 Affiliate Marketing and other courses for $179 per quarter or $599 per year. Keep in mind that you might also need to allocate funds for email marketing software, such as ConvertKit, to fully utilize the course.
Check Out The Best Alternative Here
Are Students of 123 Affiliate Marketing Getting Results?
While praise for Pat Flynn's teaching style is widespread, specific success stories directly tied to the course are somewhat elusive. Although testimonials emphasize the impact of the training, tangible outcomes are occasionally missing. A more robust collection of student success stories could provide a clearer picture of the course's effectiveness.
Is 123 Affiliate Marketing a Scam or Legit?
Rest assured, 123 Affiliate Marketing is not a scam. Pat Flynn's reputable background, proven success in affiliate marketing, and transparent approach add legitimacy to the course. It's a genuine opportunity to learn and implement effective affiliate marketing strategies.
Check Out The Best Alternative Here
Pros of 123 Affiliate Marketing
Authentic Approach

: Pat Flynn's honesty and transparency shine through, setting realistic expectations for your affiliate marketing journey.

Concise Training

: The course is designed to provide actionable insights without overwhelming you with unnecessary information.

Credible Creator

: Pat Flynn's reputation and track record in the online business world enhance the credibility of the course.
Cons of 123 Affiliate Marketing
Narrow Focus

: The course primarily revolves around monetizing an existing audience, lacking guidance on audience building.

Limited Updates

: Some course material may appear outdated, potentially affecting the relevance of certain strategies.

Pricey for Content

: At $499, the course might seem a bit steep for its content, especially when compared to more comprehensive alternatives.
Should You Join 123 Affiliate Marketing?
123 Affiliate Marketing can be a valuable investment if you meet certain criteria. If you already possess an established online audience, have a genuine interest in affiliate marketing, and want to learn from a respected expert like Pat Flynn, this course could provide valuable insights. However, if you're seeking a more comprehensive guide that covers audience building and traffic generation, you might want to explore other options.
Remember that the Smart Passive Income All-Access Pass could be a more cost-effective way to access a range of Pat Flynn's courses and tap into his expertise across different aspects of online business.
Ultimately, the decision to join 123 Affiliate Marketing hinges on your specific needs, goals, and existing online presence. By carefully considering the pros and cons outlined in this review, you'll be better equipped to make an informed choice that aligns with your aspirations.
Is There a Better Alternative?
Here's the best alternative to 123 Affiliate Marketing: Wealthy Affiliate. This platform is like a useful package that contains all the things you need to start your journey in affiliate marketing. It has been around for more than 17 years and gives you tools to create a website, discover good keywords, connect with other marketers, follow simple directions, and get better at writing.