Is Nathan Chan's Rapid Course Formula a Scam? Should you learn from him to create and sell online courses? You will find the answer in this review.
Millions of people have been able to improve their skills through online education, and the high costs of higher education have allowed them to do so at affordable costs. In the United States alone, more than 6 million people study online.
Due to this high demand, you might be considering creating your own e-learning course and selling it as a digital product. What are the best ways to ensure that your product is successful?
The Rapid Course Formula course teaches you how to sell courses online, and has now become one of the most popular online courses on this topic.
In order to tell you more about Rapid Course Formula, I myself have enrolled and completed the course.
Here is a comprehensive review of Rapid Course Formula that will help you decide whether this program is right for you.
Rapid Course Formula Review Summary
Course Name

: Rapid Course Formula

Special Offer: Get A Special Offer Here
Instructor

: Nathan Chan

Overall Rank

: 4.8/5

Who it's for

: Newbie to Expert in Creating and Selling Courses
This Rapid Course Formula Review will cover the following:
Introduction to Rapid Course Formula by Foundr
There's no doubt that online courses have become so popular lately that a great chance exists to make money by selling courses. Many people make six-figure incomes by sharing their unique skills and knowledge with the world.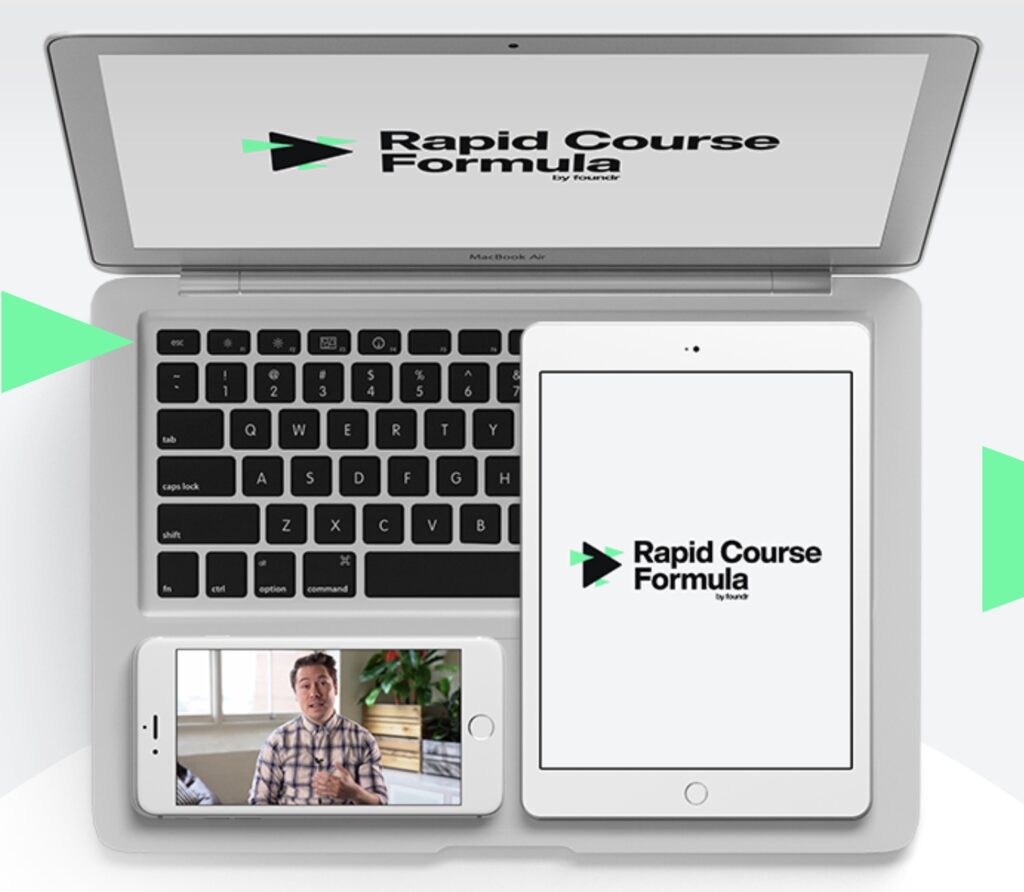 Many people, from influencers to bloggers to consultants to existing business owners, are tapping into this booming online education trend. A recent study predicts that the online education market will more than double to $438 billion in the near future.
If you are an entrepreneur, you might want to learn how to create a course that can sell well online.
You will learn the tricks that have helped Foundr become a multi-million dollar education company from the Rapid Course Formula. From topic validation to marketing and production, you will get everything you need to create your own successful course.
Get A Special Offer and Instant Access Here
Who is Nathan Chan?
Since founding Foundr Magazine in 2013, Nathan Chan has overseen the successful creation and marketing of Foundr courses, which is one of the fastest growing online entrepreneurial brands in the world.
It's no wonder why he has worked with many famous entrepreneurs, like Mark Cuban, Arianna Huffington, Tim Ferriss, Jack Dorsey, and more!
Given Nathan Chan's experience in creating and selling online courses, he's the perfect person to show you how.
Watch this YouTube video where Nathan Chan shares how to make money by selling online courses:
Who Should Join Rapid Course Formula?
Everyone who wants to share their expertise or skills with the world through an online course will be able to use Rapid Course Formula, as well as anyone who has already launched a course but failed to scale into the six-figure range.
Creating an online course doesn't require that you know everything yourself because you can partner with experts and offer their courses. Foundr is one example of doing this where they collaborate with leading industry experts to create and sell courses.
You don't have to trade your time for money if you want to make money from your skills.
You won't want to waste time and money guessing on how to design, market, and sell your course. In the Rapid Course formula, Nathan Chan reveals the Step-By-Step process of how Foundr creates, launches, and sells hundreds of online courses.
Who is Rapid Course Formula Not For?
Rapid Course Formula is not for you if you are looking to create a course and become a millionaire overnight. This is not going to happen.
You have to be patient when it comes to building an online course business. Even Foundr didn't succeed in a short period of time. Foundr is now worth multi-million dollars but it takes a few years to achieve the current success.
Of course, if your goal is just to make a full-time income, you can probably achieve this in less than a year. Selling online course is a very profitable business because you don't have product cost. What you need are your knowledge and marketing skills.
So don't join Rapid Course Formula if you want to achieve massive success in a few months. Only join if you are willing to devote yourself to this journey and commit many hours to your business.
Get A Special Offer and Instant Access Here
Foundr? Who are they?
More than 2.3 million people follow Foundr on Instagram. Foundr is a global media and education company that connects people with some of the most successful living entrepreneurs.
Foundr adheres to the "no guru" policy where they only work with proven practitioners and entrepreneurs who have performed these actions before. They prefer to teach by following a proven system or framework rather than just theory.
Due to the fact that Foundr produces a lot of seven-figure online courses, they certainly qualify to teach you about creating and selling courses.
Nathan Chan will cover lots of actionable insights, tools and ideas that Foundr themselves have learned and applied to creating seven-figure courses. This is an inside look at how Foundr created successful courses from scratch.
No wonder Foundr has a very high rating on Trustpilot, which is the most credible review site in the world. At the time of writing, Foundr's is rated 4.9 out of 5 stars.

What's Inside Rapid Course Formula?
Rapid Course Formula is one of Foundr's best courses. More than $50,000 was spent and close to 1000 hours were used developing and producing this course.
There are 7 modules that contain action items with bite-sized videos, each of which can be utilized immediately after completion.
The modules are as follows:
Module 1: Online Business Fundamentals—Finding Your Idea
Module 2: Validating Your Course Idea
Module 3: Building Your Audience
Module 4: Producing Your Course
Module 5: Tech Setup
Module 6: Launch & Marketing
Module 7: Bonuses
Rapid Course Formula will teach you a straightforward, step-by-step approach to:
Identify your online course idea

Validate your course topic

Build your audience before you launch

Develop your course content & produce it at a budget

Develop a marketing launch strategy

Launch your course for monetisation
Rapid Course Formula Complaints and Cons
1. It Takes Time To Create a Course and Market
While selling online courses can make a lot of money, it's not a get-rich-quick scheme.
You are not going to make you become a millionaire overnight after enrolling in this course.
However, the principles and methods taught in the course will give you the right direction for you to practise. You will understand what is good copywriting and what is bad copywriting. Through continuous practice, you will gradually become better and better at copywriting.
2. Copywriting is Bit Expensive
Some people may think the 7-Figure Copywriting course is a bit expensive. I understand not everyone can afford the course.
However, if you consider how much you have to pay a copywriter, you would start to realise that the course is a deal. Most great copywriters charge you by the number of words. So it can be very expensive if you hire someone to write a long sales page for you.
By taking the 7-Figure Copywriting course, you will be able to write a decent sales page by yourself. What you need to do is to follow the principles taught in the course. As a result, you can save thousands of dollars.
Sales are like science that you don't have to be great in language. You just have to know what words can persuade prospects to buy from you.
What I Like About Rapid Course Formula
Rapid Course Formula really stands apart from similar courses taught by other gurus. Gurus lack the expertise to provide a practical, clear framework that works for every topic or niche.
In contrast, Foundr is an expert in creating courses. It has a team of professionals to create so many different online courses, which have attracted over 500,000 enrolments worldwide.
Thus, inside Rapid Course Formula, you will discover a professional process for developing a course that works like a charm. Nathan Chan dives in-depth and covers everything from creating the course to building an audience to getting it launched into the world.
Additionally, you will have a workbook that will walk you through the process of working towards your goal.
Get A Special Offer and Instant Access Here
Rapid Course Formula Pricing
Rapid Course Formula is not a cheap course. It costs $997 at the time of writing. The regular price is $1,997. So you can save $1,000 if you grab the special offer before it ends.
Since the course becomes more popular and Foundr keeps investing more money to improve the course, I'm not sure if they will raise the price in the near future.
Although there is no free trial, you do enjoy a 365-day money-back guarantee from Foundr. Foundr is so confident in the course quality. So if you finish the course, apply it and think it doesn't work, you can request a refund from Foundr. You cannot find such as generous guarantee elsewhere.
Moreover, if you are not sure if this course is for you, you can take the free masterclass first. Nathan Chan will share some tips with you.
Get A Special Offer and Instant Access Here
Is Rapid Course Formula a Scam?
Rapid Course Formula is not a scam. It is a legit course that teaches you the legit way to create and sell online courses.
There are so many valuable tips shared in this course. Nathan Chan is really an expert in creating and marketing online courses.
There are some scammy courses online that make bold claims in order to lure people into the course. They tend to create some rubbish content, take your money and run away.
But this is not Foundr's Rapid Course Formula. Foundr is a reputable company as I have mentioned. They have thousands of students worldwide.
Moreover, Rapid Course Formula is taught by the CEO of Foundr, who is the mastermind behind Foundr. He really practises what he teaches you. So you can be sure the strategies shared in the course have been proven to work.
Also, after enrolling in the course, Nathan Chan and the Foundr's team are not going to run away. They will be there to help you when you have difficulties. It's really like having a private consultant by your side and guide you throughout the journey.
Think about how much money you can save when compared with hiring a private consultant.
Rapid Course Formula Pros and Cons
Here's a summary of the pros and cons of the Rapid Course Formula for your quick reference.
Rapid Course Formula Pros
The content of the course is very comprehensive, so you will learn everything about creating an online course that will work.

Videos are clear and made professionally.

The workbooks were professionally designed and produced.

You'll have access to the community and can ask questions anytime.

Landing Page Formula is a bonus course that teaches you how to create the best sales funnel and landing page.

Take advantage of the List Building Mastery Bonus Course. It will teach you various strategies for building an email list.

Learn how to create powerful campaigns with ready-to-go templates.

Take advantage of Teachable's free 3-month premium trial.

A 365-day money-back guarantee is offered by Foundr.

Upon completion of the course, you will receive a certificate.
Rapid Course Formula Cons
Quite pricey, but there is a payment plan available to help finance the course.
Final Verdict: Rapid Course Formula Review
An online course has never been easier to create. You don't need to have a fancy production set to create a valuable course that will sell.
But creating a 6 or 7 figure online course requires a proven framework. Rapid Course Formula gives you exactly the steps you need.
Rapid Course Formula is your ticket to building a digital empire. Join the full course here.
You can also watch the free masterclass first if you still hesitate to join.
Where To Get The Best Price of Rapid Course Formula?
Rapid Course Formula was priced at $1,997. But you can get a $1,000 discount for a limited time.
Since Foundr keeps investing more money to create more valuable and new content, it's possible that it will raise the course price later. So if you are really serious about creating your online course empire and generate passive income, I recommend you enrol in this course as soon as possible.
Get A Special Offer and Instant Access Here
Rapid Course Formula Alternative
I have tried to search online for other similar courses, but I cannot find one like the Rapid Course Formula. Some courses cost thousands of dollars, which are too expensive. Some are very cheap like ten or twenty dollars but are of very low quality.
So after searching around, I still come back to the Rapid Course Formula, which is taught by a true expert Nathan Chan and the price is affordable.
Of course, if you don't have time to just want to make some quick and easy money, Rapid Course Formula is not for you. Creating a good quality course takes many hours. You also have to devote quite a lot of efforts to market it to your audience.
In my opinion, the online course business is a long term business. It's going to generate a handsome amount of passive income for you once you get everything right.
The process and methods taught in Rapid Course Formula can help you succeed faster because you will be able to avoid a lot of costly mistakes. It's always good to learn the right way to do something before diving in.
If you are not sure if it works or not, you can take the free masterclass first. Nathan Chan will tell you some hacks inside the free class.
Let me know if you have any questions about Rapid Course Formula. Leave a comment below.