Are you looking for a Wrike review? Should you use it for your business? Is Wrike a scam?
If you are looking to use Wrike in your business, you may have these questions in mind. But you will have all your doubts resolved by the end of this Mailchimp review.
I have a passion to help businesses explore the best software to improve business operation and increase profit.
In the past week, I've done thorough research about Wrike. So I can tell you a lot of things about Wrike to help you make an informed and wise decision.
In this Wrike review, I'm going to cover the following.
What is Wrike?
Are you struggling with project management software? Do you think Wrike may be able to help you? Several big digital companies, such as Paypal, Gapgemni, and Hootsuite, use Wrike for managing their digital projects.
You can expect to drown if you are not equipped with the right tools to manage large projects with many resources, stakeholders, dependencies, and complexity. 
You'll find that while Google Docs, Trello, and Asana are great tools for small teams, larger teams will require more tools that contain similar and often linked information in order to keep your sanity.
Why is Wrike becoming so popular? Wrike offers much more than just a one-trick pony, as you'll soon discover.
Wrike Features  – Wrike Review
Due to its extensive feature set, Wrike has a steep learning curve. It was fortunately easy once I mastered Wrike; I find everything Wrike offers to be worth the effort of learning it. 
The following are some of Wrike's key features:
1. Dashboard
Like many of its competitors, Wrike includes a dashboard for users that provides useful information, such as upcoming tasks and analytics of your recent efficiency. 
Using the filtering tool, you can quickly find things in your sidebar after reassigning your projects.
2. Project Management
It is obvious that this is where the real action is. I found that the way Wrike manages projects is similar to other programs I've seen, with projects containing tasks and subtasks. Each task and subtask has a due date and can be set up with dependencies. 
What really makes Wrike stand out to me is its folder system. You can create folders for your projects to further organize them (and organization is key, right?). 
You can group all your recurring projects together in folders if you have recurring clients. Having this feature helps you set up a smooth project completion machine.
3. Tasks
You can easily create tasks and subtasks in Wrike, and you can view them both in list and timeline views. 
Additionally, Wrike allows you to create custom categories for your tasks, which can be found in the Table view of the project page. You can use this for more customized projects.
4. Resource Management
With Workrike, you can monitor the workloads of your employees. You can use the drag-and-drop interface to view which tasks have already been assigned to employees and to assign tasks to employees who have room in their schedule.
5. Gantt Charts
It is possible to manipulate due dates, dependencies, and task statuses using Wrike's Gantt charts.
6. Time Tracking
In Wrike, every task and subtask has a timer function. Track time by clicking the start button. In case you forget to start the timer, you can also add entries later. There is a time log view in Wrike that shows the amount of time you spend on various tasks.
7. Calendar
Calendar view of specific project tasks. You can view your calendar in many ways with Wrike. Adding another layer to your calendar allows you to view additional projects by status, task type, and more.
8. Messaging
It's important for team members to be able to communicate easily and quickly. One way to do this is via the inbox. 
Your notification and comment history is available here. Comment on tasks, projects, and subtasks to respond. Messages cannot be sent directly from the inbox.
9. Reports & Analytics
Other companies often restrict you to selecting from a limited menu of premade reporting options, but Wrike lets you generate reports on every aspect of your projects.
It appears that these reports are quite complicated and require a lot of knowledge to use effectively. 
In contrast, the application provides a lot of functionality in one place. Reporting could become a useful tool once you learn how to use it, especially since it's available on both mobile and desktop. 
The fact that Wrike's reports are interactive and shareable adds another level of functionality to this feature.
10. Workflow Automation 
Workflow automation is one of the new features included in Wrike in the past year. By pre-defining several "stages" of your project, you can fill them with the appropriate tasks. 
The team will be assigned tasks for the next stage as soon as each stage is completed with Wrike. If you plan it carefully enough, you will be able to set-and-forget your projects.
Who is Wrike For?
Wrike for Marketers
For marketing and creative teams, Wrike offers custom packages. From one collaborative workspace, marketers can manage the entire marketing project lifecycle. 
Wrike allows you to gather and analyze marketing performance data from 50 different platforms, including Facebook, Instagram, and Google. 
Make your advertising channels unique, leverage marketing-specific templates, and make sure your projects and tasks are coordinated between them.
The following features are available in Wrike for Marketers:
All Wrike Business plan features

Wrike Proof add-on

Wrike Publish add-on

Extension for Adobe Creative Cloud

Marketing-specific templates and workspace
Recently, Wrike released a more advanced version of this offering, called Wrike for Marketers Performance. It is more of a comprehensive marketing solution that goes beyond basic project management. 
The plan supports integrations with Salesforce and Marketo, in addition to all the features listed above. Additionally, data from social media, search, SEM, and more can be integrated across digital campaigns. 
You'll need to contact the Wrike sales team for a custom quote if you're interested in Wrike for Marketers or Wrike for Marketers Performance. There is no online pricing information for either of these plans. 
Both of these options provide excellent project management solutions tailored specifically to marketing teams.  
Wrike for Professional Services
For agencies, Wrike for Professional Services is the perfect tool. Team members can use it to manage projects for clients while ensuring deadlines are met. You can turn billable hours into revenue for your services agency with Wrike for Professional Services. 
Utilization analytics, time tracking, workflow automation, and resource management are all included with the solution specifically designed for the use case.
With Wrike, you can create ready-made templates for client projects, meeting notes, project schedules, proofing, approvals, and more. 
It also includes Wrike's Resource module, which most business plans do not offer.
Additionally, there is a professional services performance version, which is like the marketing plans. 
Integrations with Salesforce, QuickBooks, NetSuite, and 400+ third-party apps are available. This solution includes advanced reporting, data visualization, and automation to minimize manual work. 
Wrike for Professional Services Performance offers the best option for organizations looking to connect Wrike with their CRM for maximum efficiency.
For more information on these two packages, contact the Wrike sales team.
Wrike Pricing
A comprehensive review of project management software would not be complete without a detailed look at the plans and pricing. Wrike offers several different package tiers and product options, each at a different price.
Wrike even offers a free version that supports up to five users. The following is a general overview of the plans and pricing:
The Free Plan
While the free plan comes with task management basics, it is not a viable option for businesses. You can, for example, use the free package for basic board views and spreadsheet views, but not for Gantt charts. 
Despite the fact that it supports file sharing, basic task management, and some integrations, 
Wrike's free version seems to lack a lot of practical uses. Don't waste your time with it. If you want a free project management tool, there are better options on the market.
Professional plan
A team of 15 people can be added to Wrike's Professional plan in five-person intervals throughout the year. 
You will end up paying for extra seats if you fall between these numbers. In the case of an 11-person team, you'll need to sign up and pay for 15 users. Your overall costs may be increased by this pricing structure.
Wrike's Professional package is its entry-level project management solution. Among its features are task management, subtask management, Gantt charts, shareable dashboards, and advanced integrations.
 However, if you want Wrike to perform at its best, upgrade to the Business plan.
As of today, the cost per user per month is $24.80, which is a bit expensive compared to alternatives that provide similar features. 
Wrike Business comes with all of the Professional features, plus:
Custom workflows

Real-time reports

Calendars

Request forms

Project and task approvals

Time tracking

User and group permissions

Automation engine

Graphical analytics

Report templates
In addition to Salesforce integration, the package allows you to brand your workspace with company logos. 
The Enterprise solution is suited to large organizations with advanced security needs. In addition to custom IT admin permissions, SSO, two-factor authentication, password policies, network access policies, and advanced access controls, this solution comes with BI integrations as well. 
In general, Wrike Business will be the best option for most organizations looking for a project management solution. It's a bit pricey, but it still has a lot of features.
Try Wrike for 14 days for free.
Wrike Pros –  Wrike Review
1. An easy-to-use dashboard
Compared to other project management solutions, Wrike's dashboard is unique. You can view your entire workflow in three panes. To manage resources, the first pane provides access to all projects, teams, and finances. 
Next, you can create a task, assign tasks, and set due dates. On the far right, you can view all of your tasks and subtasks. This way, you'll be able to see everything without switching between screens.
2. Enterprise-level functionality
You'll have access to enterprise-level project management tools with Wrike. You can share files, publish assets, track time on teams and projects, and more—all backed by enterprise-level security.
Wrike comes with a wide range of features. These enterprise-level features will benefit even smaller teams.
3. Real-Time Analytics
Infographics and charts in Wrike are automatically updated every 15 minutes. 
Managers can get a real-time overview of project statuses, team performance, task statuses, and more. When you manage multiple projects at once, this is a key benefit. 
Since Wrike offers analytics, I appreciate the fact that it's different from other project management tools.
4. Department-Specific Solutions
Today, Wrike is one of the most versatile project management systems available. 
Business operations, IT teams, marketing teams, creative teams, professional service organizations, and more can all benefit from their solutions. 
Whatever your project management needs are, Wrike has a solution for you. 
5. Custom Request Forms
For administrators and project managers, the software includes a form builder. Forms are created using conditional logic in this robust tool. 
If you fill out a new form, Wrike can automatically do things like assign tasks and projects, populate subtasks within the form, and more. 
A custom set of rules allows the admin to automate all of this, saving the admin time and manual labor over time.
6. Automated Workflows
Each user can benefit from workflow automation beyond the custom form requests. Rikke integrates with 400+ third-party tools that can be used within a workflow. Wrike can even automate your task approval process. 
In this way, repetitive tasks can be reduced and efficiencies can be increased across your entire organization.
7. Team Collaboration Tools
For project management, teams can use Wrike as a single source of truth. As an alternative to email threads, messages, phone calls, and other methods of team communication, users can work directly within Wrike. 
In addition to real-time comments and notifications, the software offers dynamic reports, live editing, and more. 
Wrike also allows you to share information with stakeholders whenever you want.
Wrike Cons –  Wrike Review
1. This is not for beginners
Beginners can find Wrike difficult to use and navigate. 
Wrike has a great dashboard and enterprise-level features, but people who aren't too familiar with project management software will likely find it overwhelming. Getting started can be challenging, as well. 
Although Wrike offers training to get you started, most businesses don't like being trained for software like this. Contrary to what one would expect, this makes no sense.
2. Limited Mobile Functionality
Most project management tools include some kind of mobile application. Although Wrike has an app on iOS and Android, it isn't the easiest app to use. 
You cannot move or edit tasks on the app, and moving and editing tasks is a hassle. Wrike is best used on a desktop or laptop computer.
3. Expensive
When it comes to price, Wrike is definitely on the higher end of the spectrum for similar tools in the project management category. 
The software can be configured to meet a wide range of needs, but many advanced features are available as add-ons. 
By the time you've added all these features to the plan, the price could be double or triple what you thought.
Wrike Review: Negative Reviews & Complaints
User ratings for Wrike are generally positive. Nonetheless, users frequently voice a few complaints about Wrike. The following are some of the complaints I have found:
1. Learning curve is steep
By far, this is the most common complaint about Wrike. Several users complain that Wrike is very difficult to learn and use. 
Businesses that struggle to get their employees to adopt new software can face this hurdle.
2. Expensive
There have been reports that Wrike is too expensive. A few more comments criticize Wrike's method of billing its software annually. 
The users in a few cases overlooked cancelling their subscriptions and were therefore automatically billed for the following year.
3. A bad user interface
People find the interface uninspiring. Compared with the UIs of competitors like Redbooth and Trello, they might have a point. 
It is unlikely that the interface of Wrike will ever be a beauty contest winner.
Major Software Review Sites' Rating on Wrike
Capterra Rating: 4.2/5
G2 Rating: 4.2/5
FinancesOnline.com Rating: 9.7/10
TrustRadius Rating: 8.5/10
GetApp Rating: 4.2/5
PCMag Rating: 4/5
SourceForge Rating: 4.5/5
CompareCamp Rating: No rating
SoftwareSuggest Rating: 4.7/5
SaaSworthy Rating: 4.1/5
Gartner Rating: 4.5/5
Fool.com Rating: 8/10
SelectHub Rating: 8.5/10
Final Verdict: Wrike Review
In addition to checking all the boxes (or at least most of them), this highly popular project management program allows for effective communication and offers lots of ways to analyze your progress. It is competitively priced and, in general, appears to be a good choice for your project management needs.
In comparison to rivals such as Asana and Trello, Wrike is rather complex. When you first start, it can be a little challenging to find simple features. 
I don't want to criticize too much because Wrike does a great job, especially if you learn how to make the most of it. 
Even though the features aren't quite where you would expect them to be, they do what you need them to.
Overall, Wrike is a satisfactory product and well worth trying out (via the free version or free trial). Wrike offers excellent reporting features, communication tools, and project management features. 
There's a good chance you'll be one of the thousands of satisfied customers: not a bad thing at all.
Wrike Alternative: A Must-Have Online Marketing Tool
As you are reading this review, I'm sure you are an online entrepreneur, so I would like to introduce a very powerful marketing tool to you to help you scale your business to the next level.
It's called ClickFunnels. You may have heard of it, but if not, let me explain why you should consider using it to generate more sales online.
ClickFunnels is an all-in-one marketing tool that helps entrepreneurs, digital marketers and business owners market, sell and deliver their products or services online. 
ClickFunnels is the only piece of software you will ever need to run an internet business.
It eliminates the need to hire a web designer or salesman who is overpriced and lazy. So you can save a lot of money using ClickFunnels in the long term.
Anybody can build, design, and launch a sales funnel using ClickFunnels, regardless of their experience. Those days of hiring coders, web designers, and marketing agencies are over. With ClickFunnels, getting your business online has never been easier.
Get 14-Day Free Trial of ClickFunnels Here
But How Much Can You Earn With ClickFunnels?
Many online entrepreneurs are using ClickFunnels and have earned at least $1 million in sales using ClickFunnels. The earning potential is limitless.
ClickFunnels created an award called the "Two Comma Club" award for entrepreneurs who reached the 7-figure financial milestone inside one of their ClickFunnels funnels.
The screenshots below are some of the winners of the "Two Comma Club" award. Do you want to be one of them?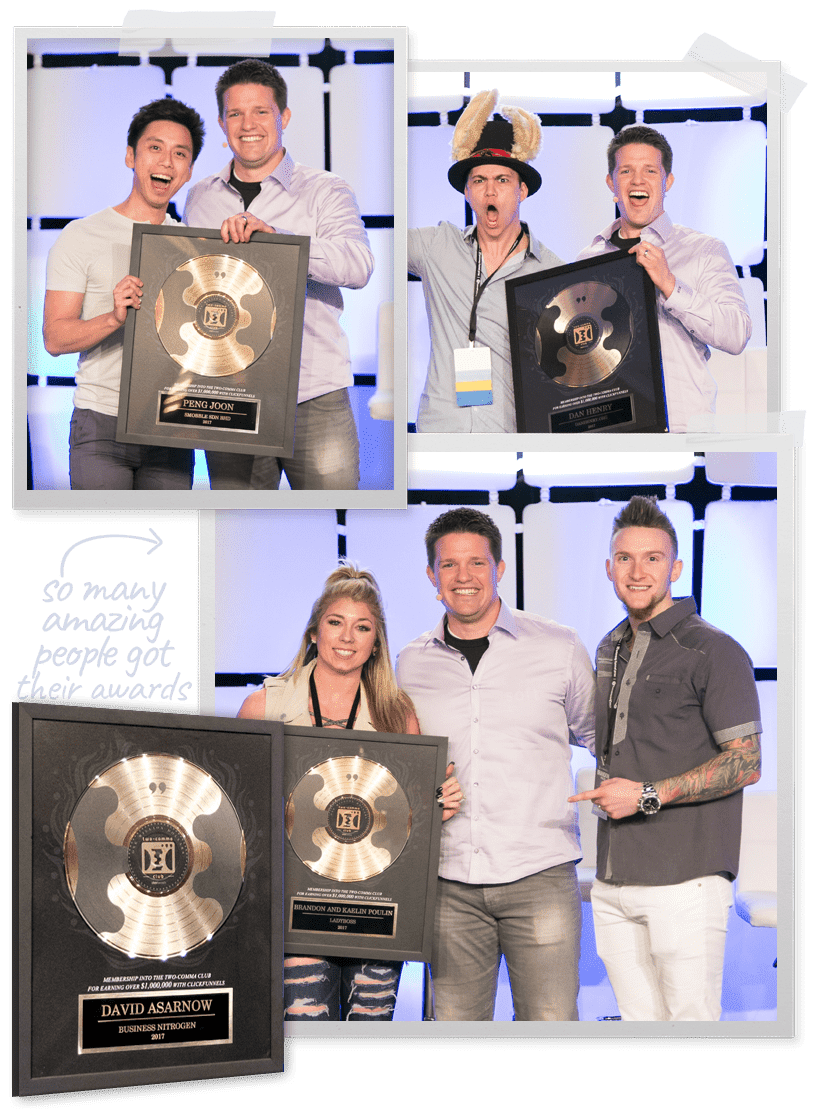 With ClickFunnels, you can drastically increase the opt-in rate and upsell conversion rate: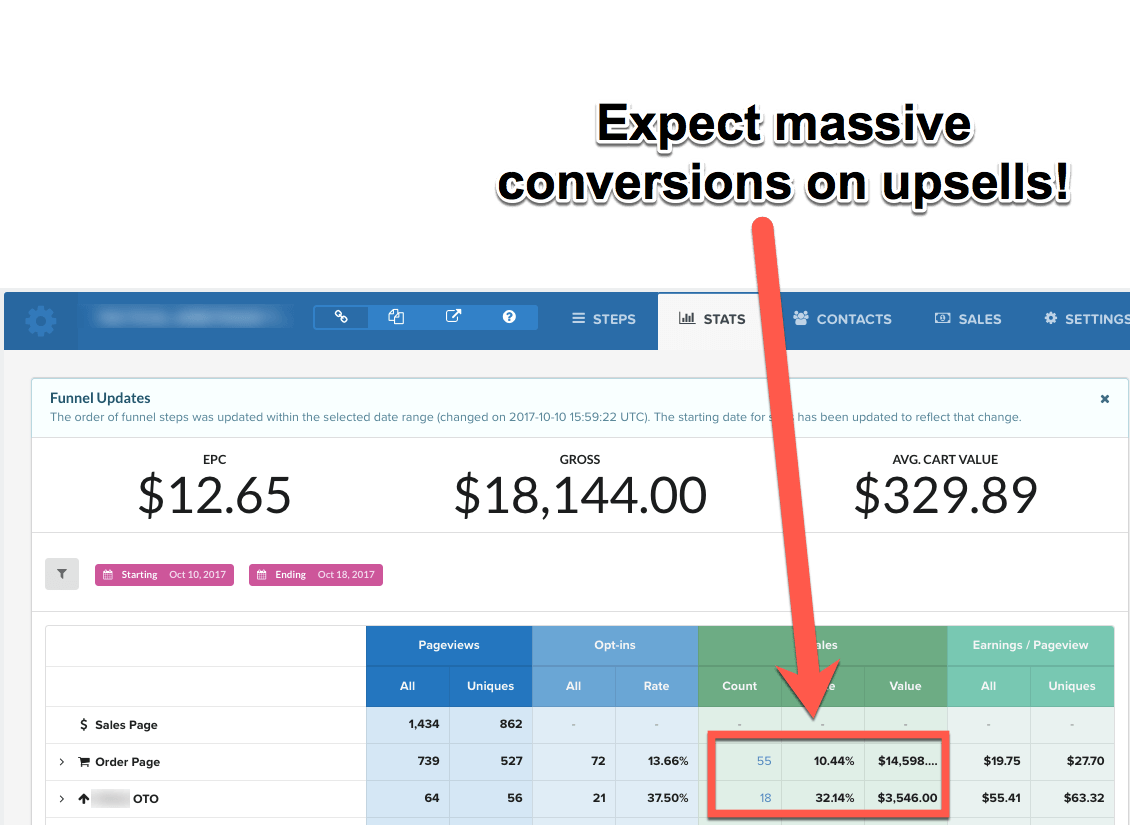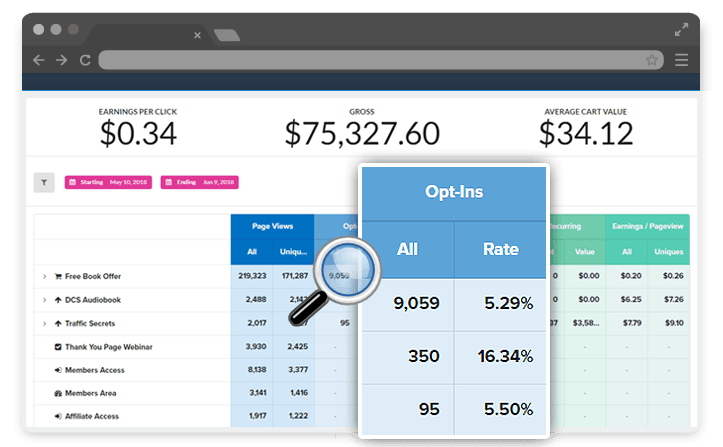 Get 14-Day Free Trial of ClickFunnels Here
Where to Get ClickFunnels?
ClickFunnels offers a 14-day free trial.
If you want to try ClickFunnels and see if it fits your online business model, you can sign up for the free trial here (no worries that you can cancel it anytime within 14 days and won't be charged a penny).
With the free trial, You can get instant access to every amazing feature of ClickFunnels:
Drag-And-Drop Website/Page Builder

One-Click Upsells & Downsells

Optin-Forms

Order Forms

Membership Area Pages

A/B Testing

Follow-up Funnels

Email List Building Tools

Email Management

Integrated Affiliate Management System

Sales Analytics

Pre-Built Funnel Templates

Payment Gateways Integration

Third-Party Integrations & Apps

CRM

And many more…
If you want to see a detailed evaluation of ClickFunnels, you can read this ClickFunnels review.
Anyway, I strongly recommend you to register a free account with ClickFunnels and see it yourself.