Are you looking for a review of WPX Hosting? If your website is built using WordPress, you should understand the importance of choosing a great web host.
I have built multiple WordPress websites, so I can tell you which web host is the best. As you know, there are many WordPress hosting providers on the market. The quality and price can have a big difference.
It's quite a headache to choose a good web host if you are not familiar with WordPress.
Since I have been blogging with WordPress for some time and have tried a number of web hosts, I have a lot to share with you on web hosting.
I have done thorough research about WPX hosting and have used it for some time. I can tell you everything you need to know before you make a decision.
WPX Hosting Key Takeaways
Name

: WPX Hosting

Type

: Managed WordPress Hosting

Website: https://wpx.net/
Features

: offer all the essential features like email, staging, SLL, DDOS protection, backups and security

Ease of Use

: the cPanel is very user-friendly

Price

: when comparing with other Managed WordPress Hosting, the price is reasonable

Support

: customer support is very helpful

Overall Rating

: 4.8/5
In this WPX Hosting, I'm going to cover the following to help you evaluate WPX Hosting.
Analysis of WPX Hosting Features
Before I used WPX Hosting, I only considered the price of a web hosting service. So I chose some cheap shared hosting service like HostGator. After some time, I was very frustrated with the slow loading time and poor customer support.
I then found WPX Hosting, which is a Managed WordPress Hosting service. I realised a lot of bloggers like me are using their service. Many of them praised the speed and security.
As a Managed WordPress Hosting provider, WPX Hosting takes care of everything for me, such as the loading times, security, performance, server maintenance, backups etc. It saves me a lot of hassles.
After all web hosting is the foundation of an online business, so it's worthwhile to invest a little more money in this.
Let me dive into the detailed evaluation of WPX Hosting and see if it suits your needs as well.
WPX Hosting Speed
Before migrating to WPX Hosting, my websites hosted on the cheap shared hosting service were very slow. It required more than 4 seconds to load.
After migrating to WPX Hosting, my website's loading speed is below 1 second. I didn't make any adjustments to the websites. All the themes and plugins remain the same.
I was so impressed by WPX Hosting's speed.
If you want to further increase your website speed, I recommend using WP Rocket Cache plugin. It is the best cache plugin I have used so far. I like its compatibility and ease of use.
Website Migration With WPX Hosting 
Site migration can be quite troublesome and many web hosts charge it for a fee.
However, WPX Hosting provides unlimited site migrations for free. You just have to open a support ticket and start the site migration. They will help you migrate the site within a short period of time. They can do the site migration for you with zero downtime.
Website Backups With WPX Hosting 
Backing up your website is very important. Accidents happen. Your website might be hacked and hence your database might be lost.
WPX Hosting provides free backups for your website every day. You can access the last 28 days of backups inside your dashboard. Those backups are saved in a separate server so it's safe all the time.
Many web hosts charge you for backing up your website because it takes up resources to store. So you can save money with WPX Hosting on this aspect.
If you want more safety, you can also install a plugin called UpdraftPlus to backup your website on a regular basis.
Email Management With WPX Hosting 
WPX Hosting allows you to create your domain email accounts. There is no limit on the number of email addresses. You can also forward the emails to your personal Gmail account.
This is very convenient. For some web hosts, you have to pay extra for each domain email account. It can add up to an enormous amount of money if you need many email addresses for your business.
Other Features of WPX Hosting
Free SSL Certificates
Some web hosts charge you a fee for the SSL certificates. But at WPX Hosting, you can get it for free. WPX Hosting will handle the renewal of the certificates as well.
It's very important to have an SSL certificate because websites without SSL certificates will be considered insecure. Google doesn't like insecure websites. So if you want to rank high on Google, you must make sure you have the SSL certificate installed.
If you see that your website URL is http instead of https, you can contact the support of WPX and they will help you activate https without any redirection issues.
DDOS Protection
Every day, hackers around the world are trying to hack your WordPress sites. They will send a lot of requests to your server.
WPX Hosting provides you with Incapsula DDoS protection to safeguard your website from DDoS attacks. You don't have to pay extra for this service.
Many web hosts charge an expensive fee for this. Usually, it's made as an upsell by some cheap shared hosting service.
Security Coverage
WPX Hosting offers Sucuri for free if you host your websites on their server. This includes malware scanning, hack removal and DDoS protection. If you check the price of Sucuri, it's very expensive. It costs $199,99/yr for the basic plan.
But at WPX Hosting, you can enjoy the protection of Sucuri for free. With Sucuri protection, you don't have to worry about your site being hacked. You can also be sure that there won't be malware harming your site.
Staging Area
WPX Hosting allows you to create staging sites so that you can test and make modifications without affecting your live website. Not many web hosts offer this feature, so it's really an advantage of using WPX Hosting.
WPX Hosting Pricing
WPX Hosting is one of the most affordable Managed WordPress Hosting services on the market. Many Managed WordPress Hosting like WP Enigne or Kinsta charge a much higher price than WPX Hosting.
There are 3 pricing plans: Business, Professional and Elite.
You can choose either a monthly and yearly plan. The yearly plan is much cheaper.
Some cheap web hosts claim to offer unlimited space and bandwidth for you. But remember, it's not true. No web hosts actually offer unlimited space and bandwidth, otherwise they would lose money for sure.
WPX Hosting's business plan allows you to host 5 websites, 10 GB storage and 100GB Bandwidth. This is sufficient for most blogs that do not have hundreds of thousands of traffic every day.
You can upgrade your plan easily when your website gets more traffic. If you are not sure how much bandwidth you need for your website, WPX Hosting has a free bandwidth checker tool for you.
Actually, given all the premium features and services offered by WPX Hosting, the price is fair. Definitely, you are not overcharged by them.
Get A Special Offer of WPX Hosting Here
Major Software Review Sites' Rating on WPX Hosting
G2 Rating: 4.8/5
FAQs on WPX Hosting 
Does WPX Hosting Have CDN Service?
Yes, WPX Hosting has a built-in CDN called the WPX Cloud. It can help speed up your website in different locations around the world.
Is SSL Certificate Free?
As mentioned, SSL Certificates are free to install on WPX Hosting.
Can I Migrate My Site To WPX Hosting For Free?
Yes, WPX Hosting can migrate your website for free. Just contact the support and they will handle it for you within a day.
How Many Websites Can I Host on WPX Hosting?
It depends on which pricing plan you choose. For the most expensive plan, you can host up to 35 websites, which is more than enough for most businesses.
Final Verdict: WPX Hosting Review
WPX Hosting is one of the best web hosting providers for WordPress sites. If you host your website there, you don't have to worry about security, speed and performance.
WPX Hosting will make sure your website performs optimally all the time.
As for the price of their great service, if you compare it with WP Engine and Kinsta, WPX Hosting is more affordable. Therefore, I always recommend people to choose WPX Hosting to get started.
Get A Special Offer of WPX Hosting Here
WPX Hosting Alternative: A Must-Have Online Marketing Tool
As you are reading this review, I'm sure you are an online entrepreneur, so I would like to introduce a very powerful marketing tool to you to help you scale your business to the next level.
It's called ClickFunnels. You may have heard of it, but if not, let me explain why you should consider using it to generate more sales online.
ClickFunnels is an all-in-one marketing tool that helps entrepreneurs, digital marketers and business owners market, sell and deliver their products or services online. 
ClickFunnels is the only piece of software you will ever need to run an internet business.
It eliminates the need to hire a web designer or salesman who is overpriced and lazy. So you can save a lot of money using ClickFunnels in the long term.
Anybody can build, design, and launch a sales funnel using ClickFunnels, regardless of their experience. Those days of hiring coders, web designers, and marketing agencies are over. With ClickFunnels, getting your business online has never been easier.
Get 14-Day Free Trial of ClickFunnels Here
But How Much Can You Earn With ClickFunnels?
Many online entrepreneurs are using ClickFunnels and have earned at least $1 million in sales using ClickFunnels. The earning potential is limitless.
ClickFunnels created an award called the "Two Comma Club" award for entrepreneurs who reached the 7-figure financial milestone inside one of their ClickFunnels funnels.
The screenshots below are some of the winners of the "Two Comma Club" award. Do you want to be one of them?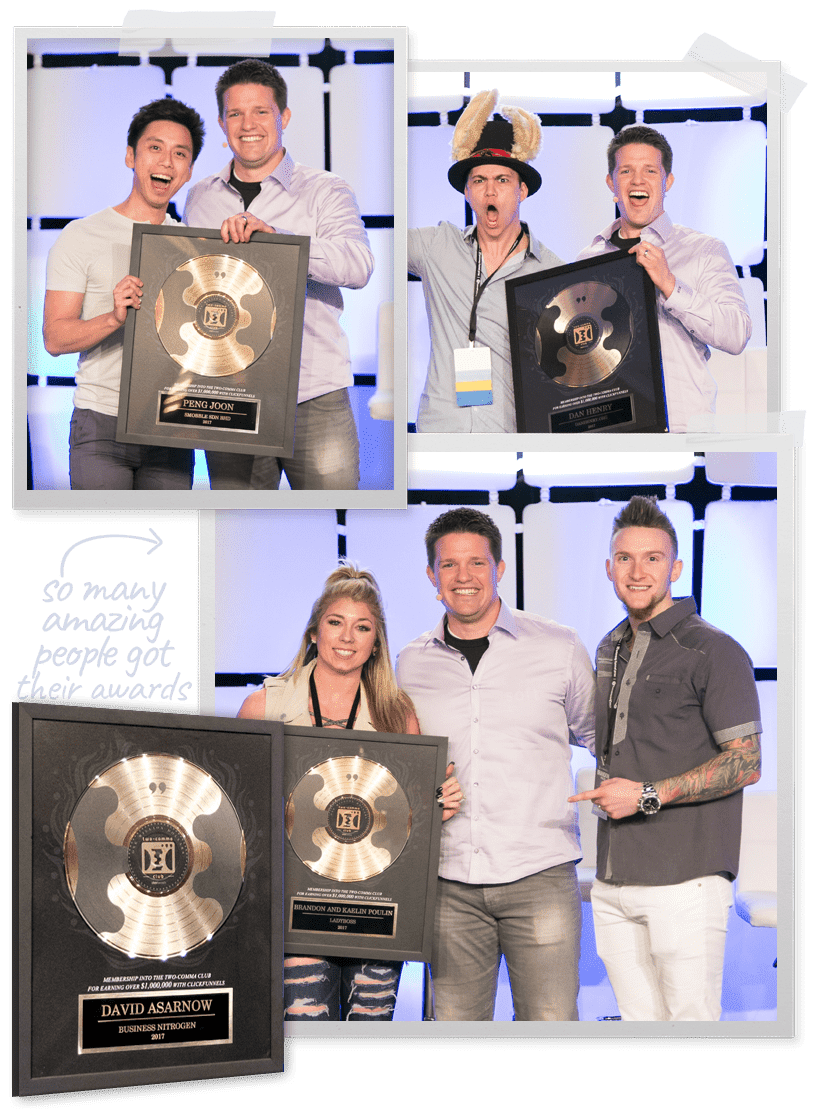 With ClickFunnels, you can drastically increase the opt-in rate and upsell conversion rate: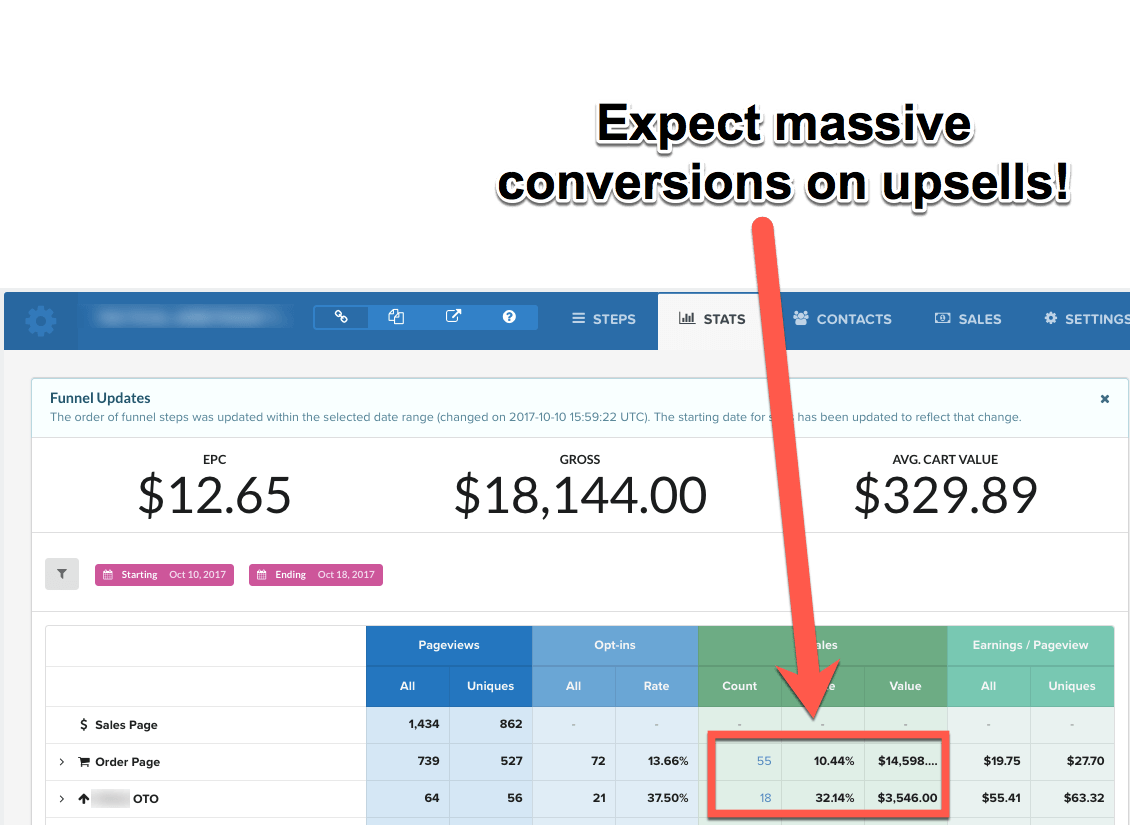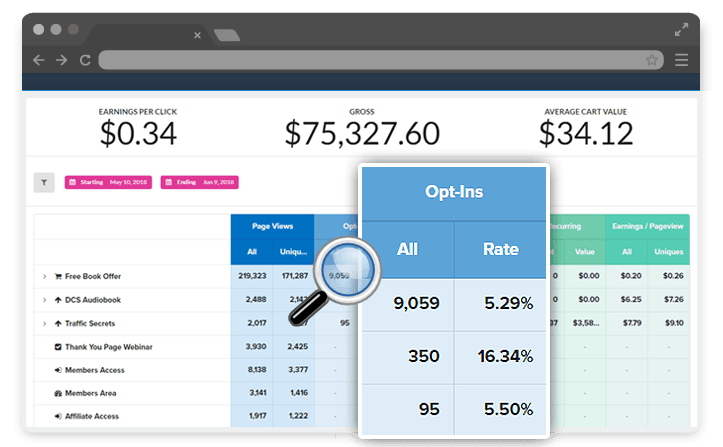 Get 14-Day Free Trial of ClickFunnels Here
Where to Get ClickFunnels?
ClickFunnels offers a 14-day free trial.
If you want to try ClickFunnels and see if it fits your online business model, you can sign up for the free trial here (no worries that you can cancel it anytime within 14 days and won't be charged a penny).
With the free trial, You can get instant access to every amazing feature of ClickFunnels:
Drag-And-Drop Website/Page Builder

One-Click Upsells & Downsells

Optin-Forms

Order Forms

Membership Area Pages

A/B Testing

Follow-up Funnels

Email List Building Tools

Email Management

Integrated Affiliate Management System

Sales Analytics

Pre-Built Funnel Templates

Payment Gateways Integration

Third-Party Integrations & Apps

CRM

And many more…
If you want to see a detailed evaluation of ClickFunnels, you can read this ClickFunnels review.
Anyway, I strongly recommend you to register a free account with ClickFunnels and see it yourself.