How do you decide which Webinarjam pricing plan to use in 2021?
Each of the three plans available is explored in-depth as well as key questions, such as how the software compares to Zoom, how to host evergreen webinars, and what hidden charges there are. 
Once you have the information at hand, you will have a clear picture of whether it's worth it for you.
Many reviews of Webinarjam's cost structure refer to prices for 2020, which is out of date information. The prices in this article reflect today's prices for 2021. 
We have a special offer available on our website for 30 days of $1 trial access to Webinarjam. You cannot access this directly from Webinarjam's homepage. 
How Much Does Webinarjam Cost?
Webinarjam Pricing Plans
Basic
$499 / year
(NO MONTHLY PLAN AVAILABLE)
500 ATTENDEES
Unlimited Webinars
Includes 2 Hosts
2 Hours Max Duration
Paid Webinars
Live Chat With Audience
Email Notificatons To Audience
Share Files With Audience
Polls & Surveys
Professional
$699 / year
(NO MONTLHY PLAN AVAILABLE)
2000 ATTENDEES
Unlimited Webinars
Includes 4 Hosts
3 Hours Max Duration
Always-On Live Room
The Panic Button
Plus Basic Plan Features
Enterprise
$999 / year
(NO MONTHLY PLAN AVAILABLE)
5000 ATTENDEES
Unlimited Webnars
Includes 6 Hosts
4 Hours Max Duration
The Control Center
Plus Basic Plan Features
Plus Professional Plan Features
Webinarjam Basic Plan at $499 per year
Webinarjam's plans are simple and effective. There are only a few differences between each tier. Choosing the right plan for your company becomes easier with fewer moving parts.
There is no limit to the number of webinars you can host at any plan level.
With the Basic plan, you are limited to 500 attendees. For a small business owner starting out, this should be enough.
During the webinar, if your registrations reach around 500, you can upgrade to the professional plan.
With the Basic Plan, you are limited to 2 hosts/panelists, but, as entrepreneurs, this shouldn't pose any issues. If you are looking for an expert roundtable discussion, multiple hosts can be handy, but they aren't strictly necessary. 
In this plan, the duration of the webinar is set at 2 hours, so it should be long enough to lead to a  productive seminar.
Question & Answer sections typically eat up the most time in webinars. Maintaining control over them is key to staying within your time limits.
There is no restriction on any of the following features for any plan level, including Basic
Paid Webinars: You can integrate a payment gateway such as PayPal or Kartra into Webinarjam and create a password protected room for your customers to view.
Live Chat: Real time direct comments and group chat are essential in engaging your audience and securing a sale.
Email Reminders: Webinarjam's servers can automatically send customers pre- and post-webinar email reminders. Emails will appear as if they were sent from your domain.
Automatic Recording: Through Webinarjam's 'Replica Replay,' everything that happens in your Webinar will be exactly replicated during recording.
Handouts: You can easily share documents during the live webinar that your audience can download, such as PDF bonuses
Webinarjam Professional Plan at $699 per year
With an extra $200 per year, you can host 2000 attendees instead of 500.
The number of panelists / hosts is doubled to four, and the webinar is extended to 3 hours. 
At the Professional level, there are also two unique features. 
When webinars go wrong, you can use the panic button feature. If your webinar site experiences technical issues during a live webinar, you can use Webinarjam's Panic Button as an exit strategy. 
Upon clicking the button, a new webinar room will be created and your audience will be automatically transferred there.
Also available is an 'Always On Room' feature. It is easy to reserve this room with a permanent link to your own branded URL if you regularly host live webinars.
You'll have the same link each time so it's easier to share.
Webinarjam Enterprise Plan at $999 per year
Webinarjam's Enterprise plan tier has a number of self-explanatory feature increases. 
There will be 4,000 attendees rather than 2,000.
There is a limit of six people per host, which should be sufficient for any roundtable discussion, and the webinar is extended to four hours.
It's hard to imagine anyone would want to sit through 4 hours of material, so hopefully, you won't need the full 4 hours.
The Enterprise plan comes with a Control Center, which is one of its unique features.
Your moderators can use this page to coordinate the live event, while you can focus on presenting. Using this control panel, users can broadcast or reply to comments privately, and they can create competitions and polls and manage other aspects of the event in real-time. 
Webinarjam Pricing FAQ
Is there a monthly fee for Webinarjam?
There is no monthly fee for Webinarjam. There is an annual fee starting at $499 for the  Basic plan.
Is Webinarjam able to run automated / evergreen webinars?
You can't do automated, recurring webinars. Webinarjam is a platform for live webinars. Yet it integrates with Everwebinar, an automated webinar service that is a sister product.
Your live seminars can be conducted on Webinarjam, which you can then automate with Everwebinar.
Is Webinarjam able to accept credit cards?
Yes, there are three major payment providers: Mastercard, VISA, and American Express.
Is it possible to receive a full refund from Webinarjam?
If you request a refund within the first 30 days after your purchase, Webinarjam will issue you a full refund. 
What sneaky charges are there with Webinarjam?
You may be surprised by the chargeback fee we discussed in the terms and conditions. The chargeback fee is $50 if you initiate one (you ask for a refund after paying for Webinarjam within the first month). 
Zoom vs Webinarjam: Which Is Better?
For companies with larger budgets, Zoom Webinar is designed for big online events.
Their pricing tiers are far more expensive, but they can accommodate 10,000 attendees and 100 panelists.
Hosting 1,000 attendees will cost you $2720 per year with Zoom, while Webinarjam allows you to host 2000 attendees for $699 per year.
Webinarjam offers more marketing features designed to drive conversions than Zoom Webinar, which is less focused on the marketing and sales side of things.
Although this is mostly a matter of budget and size, bigger SMEs and corporates should choose Zoom Webinar over Webinarjam.
A summary of pricing
Webinarjam offers three plans for your consideration (there is no monthly pricing option):
Base Plan at $499 per year
Pro Plan at $699 per year
Enterprise Plan at $999 per year
Webinarjam Tutorial
If you want take a peek inside Webinarjam, here's the YouTube video for you:
Webinarjam Alternative: A Must-Have Online Marketing Tool
As you are reading this review, I'm sure you are an online entrepreneur, so I would like to introduce a very powerful marketing tool to you to help you scale your business to the next level.
It's called ClickFunnels. You may have heard of it, but if not, let me explain why you should consider using it to generate more sales online.
ClickFunnels is an all-in-one marketing tool that helps entrepreneurs, digital marketers and business owners market, sell and deliver their products or services online. 
ClickFunnels is the only piece of software you will ever need to run an internet business.
It eliminates the need to hire a web designer or salesman who is overpriced and lazy. So you can save a lot of money using ClickFunnels in the long term.
Anybody can build, design, and launch a sales funnel using ClickFunnels, regardless of their experience. Those days of hiring coders, web designers, and marketing agencies are over. With ClickFunnels, getting your business online has never been easier.
But How Much Can You Earn With ClickFunnels?
Many online entrepreneurs are using ClickFunnels and have earned at least $1 million in sales using ClickFunnels. The earning potential is limitless.
ClickFunnels created an award called the "Two Comma Club" award for entrepreneurs who reached the 7-figure financial milestone inside one of their ClickFunnels funnels.
The screenshots below are some of the winners of the "Two Comma Club" award. Do you want to be one of them?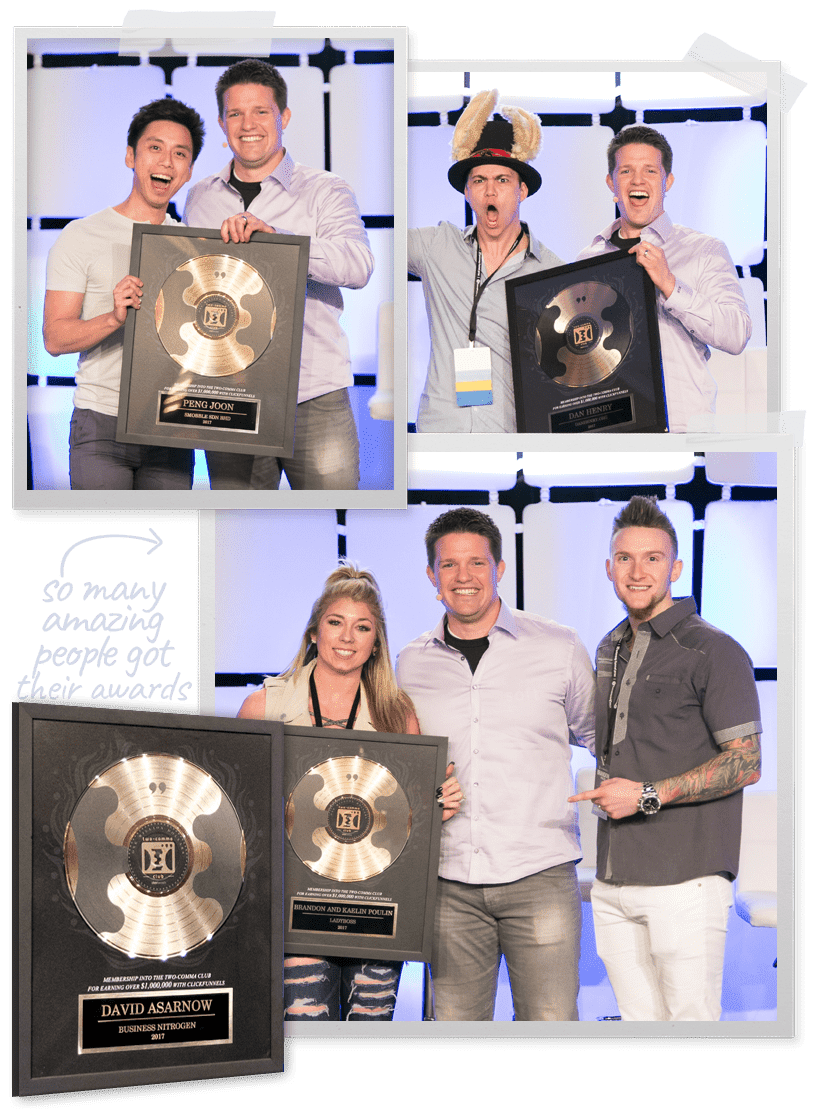 With ClickFunnels, you can drastically increase the opt-in rate and upsell conversion rate: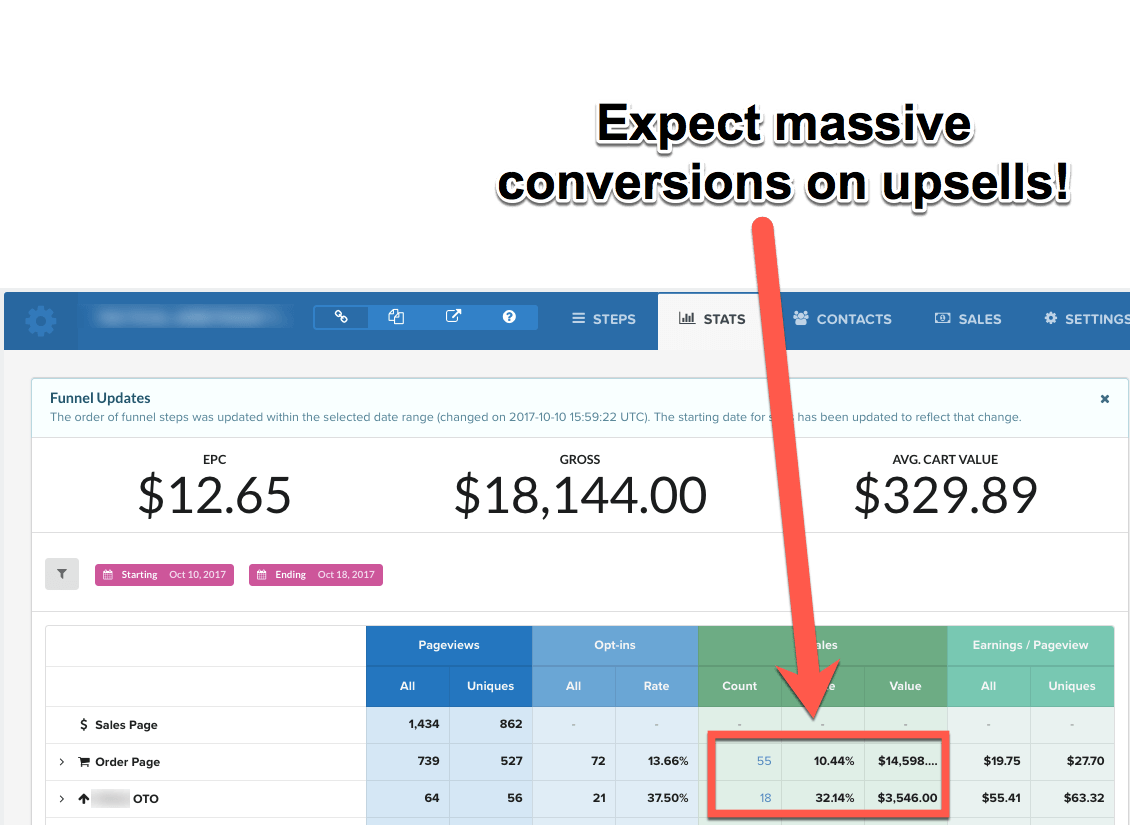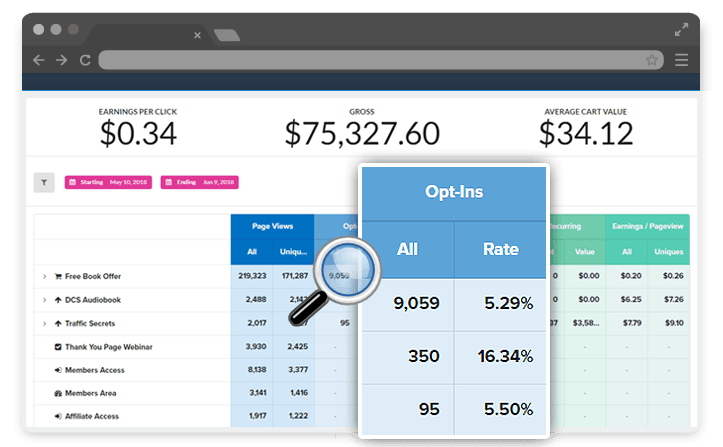 Where to Get ClickFunnels?
ClickFunnels offers a 14-day free trial.
If you want to try ClickFunnels and see if it fits your online business model, you can sign up for the free trial here (no worries that you can cancel it anytime within 14 days and won't be charged a penny).
With the free trial, You can get instant access to every amazing feature of ClickFunnels:
Drag-And-Drop Website/Page Builder
One-Click Upsells & Downsells
Optin-Forms
Order Forms
Membership Area Pages
A/B Testing
Follow-up Funnels
Email List Building Tools
Email Management
Integrated Affiliate Management System
Sales Analytics
Pre-Built Funnel Templates
Payment Gateways Integration
Third-Party Integrations & Apps
CRM
And many more…
If you want to see a detailed evaluation of ClickFunnels, you can read this ClickFunnels review.
Anyway, I strongly recommend you to register a free account with ClickFunnels and see it yourself.