You don't want to end up with the wrong kind of software for your needs if you follow these tips before making your final purchase decision.
Your team and you have spent months meeting, researching, and analyzing possibilities for your company's new software system, and have finally narrowed it down to just few choices. Your only remaining step is to finalize your purchase. Right? What a simple thing to do, right?
I wouldn't put it that way. 
Capterra's Great Software Match survey* asked 1,000 small business decision-makers about their most recent software purchase, and it was found that they got a Great Match-a purchase that meets or exceeds expectations without compromises-only 27% of the time.
It is surprising how likely it is for you to make a mistake at this stage. Having no software could lead to a lot of stress (missing features, extra workarounds), if you're unlucky, to an even worse situation than if you didn't have it at all (frustrated users, corrupted data).
At this stage, there are a few tips for choosing the correct software to buy for your business.
1. Start with your original problem
When Einstein said, "If I had an hour to solve a problem, I would spend 55 minutes analyzing the problem, and 5 minutes evaluating the possible solutions," it's a sign you should go back to the problem you're trying to solve with software in the first place.
Is this software primarily used by end users? Which aspects of our current method need to be improved? What metrics are we using to measure success? Re-evaluating your team's responses to these questions might give you the "aha" moment you need.
2. Distinguish between your wants and your needs
You come across a cool advertisement for a software product that's sleek, feature-rich, and, to be blunt, very cool. After researching other systems, but being less impressed, you decide to pick it up, only to discover six months later that you have only used half of its capabilities. Ultimately, it is decided to cancel the subscription and switch to an affordable option.
Every time this happens, it's because companies get too enamored with a system that offers more features than they actually require. When it comes to premium items, sometimes it is best to hold back. Don't forget: you can always upgrade your product to the more feature-rich version later.
3. An all-in-one solution doesn't always make sense
A solid all-in-one software package that covers all of your needs is an enticing choice if you have many requirements with your next software purchase. A single solution, a single contract, and one interface to master – what could be better?
It does not mean, however, that a program can do all of its functions well. You might be better off buying and integrating two or three systems each with their own specialized strengths instead of settling for a single solution that is "good enough" for all of your needs. All that being said, don't hesitate to add more software if that is what you need.
4. Examine your current tech stack
In the software industry, there are no bubbles. Your new system may require integration with another system you already have, such as a customer relationship management (CRM) system, human resource information system (HRIS), or business intelligence tool, in the event your new purchase provides deeper analysis of data.
The software interfaces (APIs) in use today have become so sophisticated, integrating two systems isn't the near-impossible challenge it once was. In any case, you should ask your vendor if they have any issues integrating with any of your systems. Even better, you may discover that a vendor you're thinking of hiring has a partnership with one of your current vendors that gives you a discount or additional services. Your decision could be influenced by either of these factors.
5. Usability should be used as the deciding factor
There are only two software options left. The feature set is the same, both have positive reviews, and the price is about the same. What is your preference?
Choosing the easier option is the right choice if both options are equally good. Ideally, your company will use this system for years to come, and any blemishes in its user experience will quickly tarnish your company's reputation.
Time to Make a Software Decision
It is possible to solve one problem by causing another to arise. That's what you run the risk of when you buy the wrong software.
Here are some final suggestions if you're still unsure whether the software we have discussed here is the right choice for you.
You should not add to your shortlist unless it is absolutely essential: It can be tempting to look at more software options once you've created your shortlist, but our research shows this usually leads to a lesser quality purchase. Don't add to your shortlist products that you already rejected, and take into account what you've done so far.

You can always request another demo if you still have concerns or questions after a demo and a trial period of your own. Your purchase decision may be influenced by something you hadn't seen before.
Check out our Software reviews for additional resources if you're still on the fence about your next software purchase:
A Must-Have Online Marketing Tool
As you are reading this article, I'm sure you are an online entrepreneur, so I would like to introduce a very powerful marketing tool to you to help you scale your business to the next level.
It's called ClickFunnels. You may have heard of it, but if not, let me explain why you should consider using it to generate more sales online.
ClickFunnels is an all-in-one marketing tool that helps entrepreneurs, digital marketers and business owners market, sell and deliver their products or services online. 
ClickFunnels is the only piece of software you will ever need to run an internet business.
It eliminates the need to hire a web designer or salesman who is overpriced and lazy. So you can save a lot of money using ClickFunnels in the long term.
Anybody can build, design, and launch a sales funnel using ClickFunnels, regardless of their experience. Those days of hiring coders, web designers, and marketing agencies are over. With ClickFunnels, getting your business online has never been easier.
Get 14-Day Free Trial of ClickFunnels Here
But How Much Can You Earn With ClickFunnels?
Many online entrepreneurs are using ClickFunnels and have earned at least $1 million in sales using ClickFunnels. The earning potential is limitless.
ClickFunnels created an award called the "Two Comma Club" award for entrepreneurs who reached the 7-figure financial milestone inside one of their ClickFunnels funnels.
The screenshots below are some of the winners of the "Two Comma Club" award. Do you want to be one of them?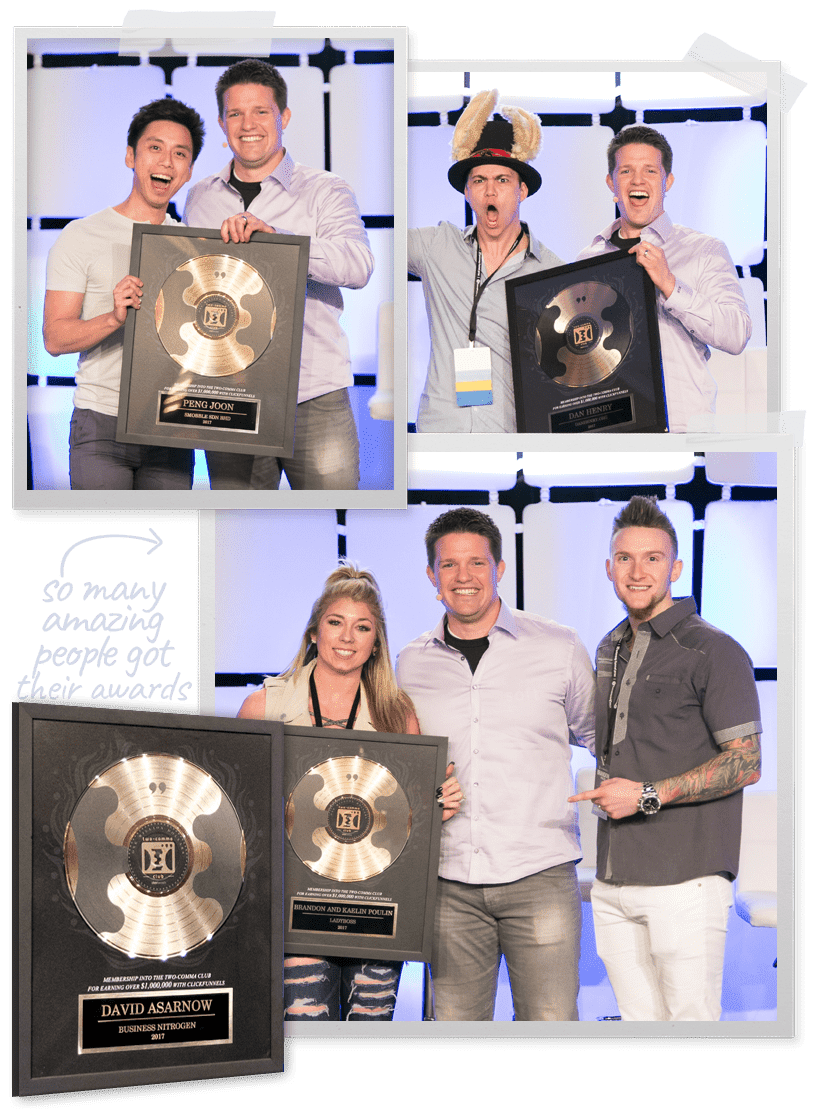 With ClickFunnels, you can drastically increase the opt-in rate and upsell conversion rate: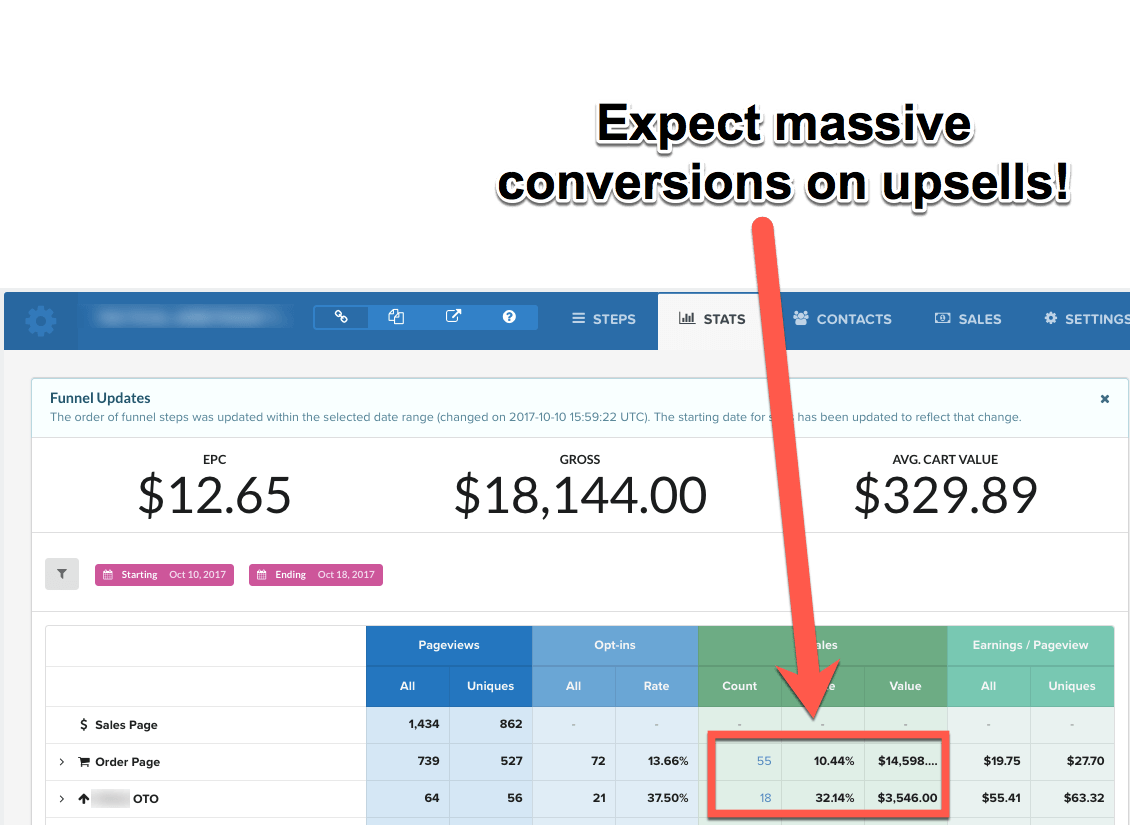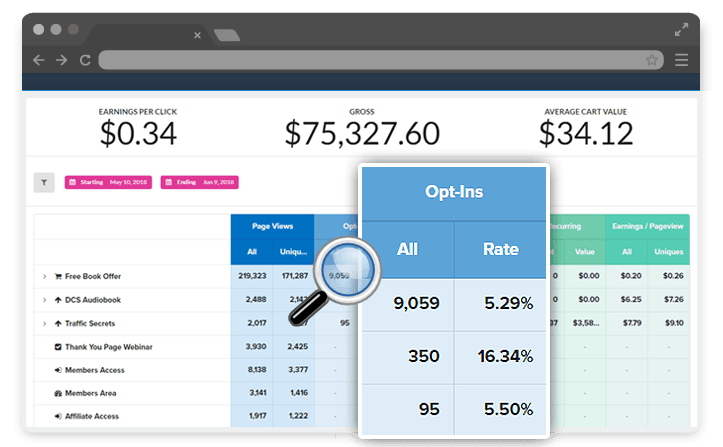 Get 14-Day Free Trial of ClickFunnels Here
Where to Get ClickFunnels?
ClickFunnels offers a 14-day free trial.
If you want to try ClickFunnels and see if it fits your online business model, you can sign up for the free trial here (no worries that you can cancel it anytime within 14 days and won't be charged a penny).
With the free trial, You can get instant access to every amazing feature of ClickFunnels:
Drag-And-Drop Website/Page Builder

One-Click Upsells & Downsells

Optin-Forms

Order Forms

Membership Area Pages

A/B Testing

Follow-up Funnels

Email List Building Tools

Email Management

Integrated Affiliate Management System

Sales Analytics

Pre-Built Funnel Templates

Payment Gateways Integration

Third-Party Integrations & Apps

CRM

And many more…
If you want to see a detailed evaluation of ClickFunnels, you can read this ClickFunnels review.
Anyway, I strongly recommend you to register a free account with ClickFunnels and see it yourself.