Software solutions are essential for every business to prosper in the present day. No matter how large or small your business is, software is now essential if you intend to do more than just survive.
According to a 2019 report, small and midsized businesses used 73 apps on average in 2018, while large corporations used 129 apps on average.
In other words, you do not need to double down on your software acquisition to keep up with your peers, but you could certainly explore a limited selection of tools to increase efficiency and eliminate waste. This mix is what makes up your company's technology stack.
It is not as simple as picking out software tools of your choice and installing them. How will you decide what kind of software your business needs? Is automation a good fit for which processes? How long will you need to use the tools? Is the software compatible with each other?
To put it simply, you cannot just start buying apps for your stack – you need a plan and strategy.
In order to assist you, we've created this article that explains how to build a tech stack at your site. 
You will also learn what factors to take into account when choosing the right tools for your business. We will cover the following:
What is a tech stack?
The tech stack is a collection of cloud-based software tools that work together to achieve a business objective. There are several ways to integrate these tools (for example, Microsoft Excel and SpreadsheetWeb work well together).
As well as multiple tech stacks, your business could have a marketing tech stack dedicated to marketing and an app development tech stack dedicated to app development.
Let's now consider how to build an appropriate technology stack.
Step 1: Find out which processes you should automate
Break down your primary business processes into individual steps to identify those that are ripe for automation. Consider writing each step on sticky notes and arranging them linearly.
Watch how the steps relate to each other and with other processes within the process. Identify inefficient areas next. Here are a few things to look for:
What areas of the process are slow?

Is there a repeating process of approvals, signoffs, and handoffs?

Are there too many steps in a particular process? Is it possible to simplify it?

Could a process be improved by eliminating redundant steps?

Does a process have any bottlenecks?
Finding areas of inefficiency in your processes can be identified by answering these questions. Identifying areas of inefficiency creates opportunities for automation.
Whenever you find ways to automate a process, keep in mind its operational requirements. A process may have a high cost of error or higher chances of human error due to its complexity, or it can rely on accurate documentation to keep it transparent or run on outdated systems that have become too expensive to maintain.
This information is crucial to getting a complete picture of risks and inefficiencies.
Step 2: Pick between industry- and process-specific tools
You may wonder if the tool you choose should be aimed at your specific industry or at your specific process.
A process-specific tool, on the other hand, is easier to set up and get started with than industry-specific tools. A process-specific tool typically isn't customized, while industry-specific tools are often costlier and tend to be more off-the-shelf solutions.
In contrast, process-specific tools include invoicing, marketing automation, and CRM solutions which are industry-specific.
Choosing a tool to suit your business needs depends on the challenges your company faces and if it is unique to it. You might choose a loan origination tool if you're in the banking business and facing major challenges in loan origination. 
While a tool tailored specifically to management of invoices or lead generation is ideal if you are facing challenges in a process that is applicable to all industries.
Think about differences between all-in-one software platforms and specialized tools, as well as off-the-shelf tools versus custom-built software. 
Your core business challenge won't matter as much for choosing between these solutions as your operational obligations (such as project timelines, resources, and IT budget) will.
Step 3: Check user reviews to find what your peers think
According to our 2018 survey, small and midsize organizations that used software reviews and catalogs to make a selection spent five months fewer than those who used social media or internet searches (22 vs. 27 months).
The following tips will help you use reviews most effectively:
Review software specific to your industry or process so that you can see how it relates to your needs.

Check reviews for details about the software's strong and weak points. Moreover, they may speak about features the tool should offer but doesn't.

The reviews should reveal common themes, such as complaints or praises around certain features, the user interface, or ease of use. It is likely that you will experience a similar issue as many other users.
Step 4: Plan for the long run
As you build your tech stack, you should consider the future so that you won't face challenges as your business grows.
In order to fully grasp this point, let us take an example from Growth Marketing founder Stacy Caprio. An email marketing automation software app was selected by Stacy's company. 
With over 2,000 subscribers, their pricing plans became too expensive to sustain. As a result, the tool had to be discontinued, and a new one had to be researched.
You should consider the following criteria when deciding on a software vendor:
The ability to customize a software platform will allow you to modify the tool to meet your business requirements. You may need additional features if you add another service or product to your business. You can customize the tool to accommodate these by using a customizable platform.

You'll have more data to manage when your business gets bigger and expands across geographies. In order to accommodate the growing amount of data, your application must be scalable.

Third-party integration should be made easy with your tech stack. Data will be seamlessly exchanged between the stack and allow it to work cohesively.

As we saw in Stacy's example, some tools can become too expensive to support as business needs change. You should discuss not just the current but also the future pricing options with the vendor.
Include the teams that will be most affected by the tools in your tech stack when you go over all these considerations. When using tools specific to processes, it will be easy to identify these teams. Check the underlying business challenge(s) and the teams that are most affected by these.
This team will have key insight into the process, so consult them about the considerations. As a result, marketing teams can forecast how their needs are likely to change as time marches on, and how marketing tools should be tailored to meet those changes.
Next steps
Here are some steps you can take to choose the right tool once you know what you need from it and the criteria you need to judge it on:
Create a shortlist of 3 to 5 products. This comparison template, which comes in handy if you're having a hard time choosing between competing tools, can help you choose the best one.

After you have a shortlist of vendors, check whether they offer free trials. Get a taste of the tools through a free trial. You can use the tools and let your team know if they have any concerns.

You might wish to schedule a demonstration with the vendor if you're not able to receive a free trial. We can discuss queries and get an overview of the tools' features. You should have a list of questions prepared before going for the demo. 
After you've clarified your queries with the vendor and evaluated the tools' performance, it's time to make a final decision. Make sure you discuss the contract terms with the vendor, determine if you qualify for discounts, and outline payment plans with the vendor.
By doing your research before buying, you'll end up with higher efficiency and savings in the long run.
A Must-Have Online Marketing Tool
As you are reading this article, I'm sure you are an online entrepreneur, so I would like to introduce a very powerful marketing tool to you to help you scale your business to the next level.
It's called ClickFunnels. You may have heard of it, but if not, let me explain why you should consider using it to generate more sales online.
ClickFunnels is an all-in-one marketing tool that helps entrepreneurs, digital marketers and business owners market, sell and deliver their products or services online. 
ClickFunnels is the only piece of software you will ever need to run an internet business.
It eliminates the need to hire a web designer or salesman who is overpriced and lazy. So you can save a lot of money using ClickFunnels in the long term.
Anybody can build, design, and launch a sales funnel using ClickFunnels, regardless of their experience. Those days of hiring coders, web designers, and marketing agencies are over. With ClickFunnels, getting your business online has never been easier.
Get 14-Day Free Trial of ClickFunnels Here
But How Much Can You Earn With ClickFunnels?
Many online entrepreneurs are using ClickFunnels and have earned at least $1 million in sales using ClickFunnels. The earning potential is limitless.
ClickFunnels created an award called the "Two Comma Club" award for entrepreneurs who reached the 7-figure financial milestone inside one of their ClickFunnels funnels.
The screenshots below are some of the winners of the "Two Comma Club" award. Do you want to be one of them?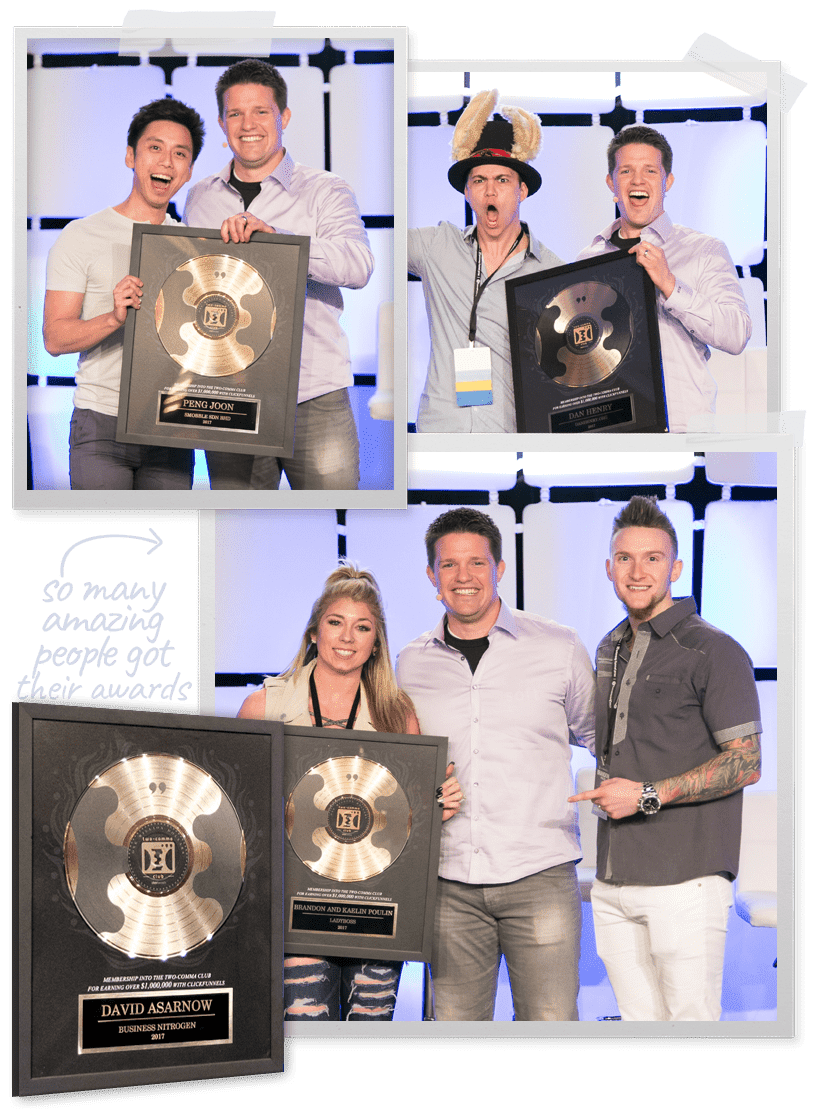 With ClickFunnels, you can drastically increase the opt-in rate and upsell conversion rate: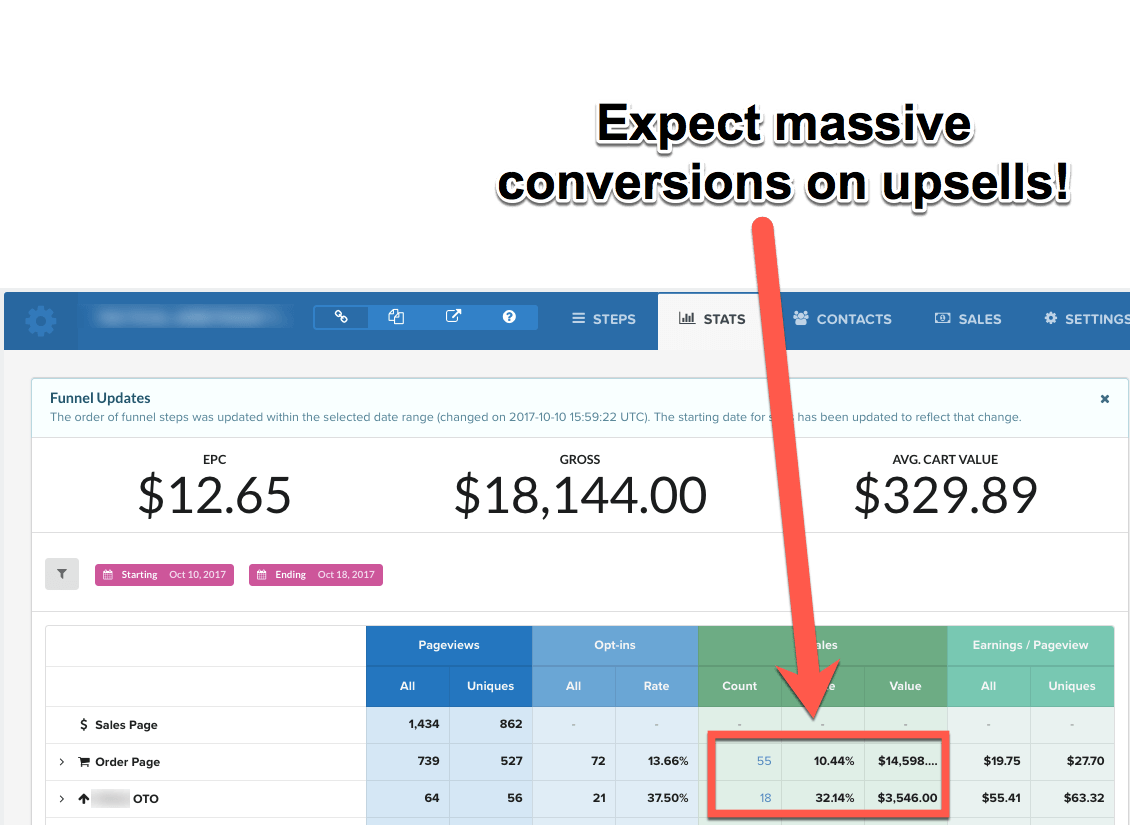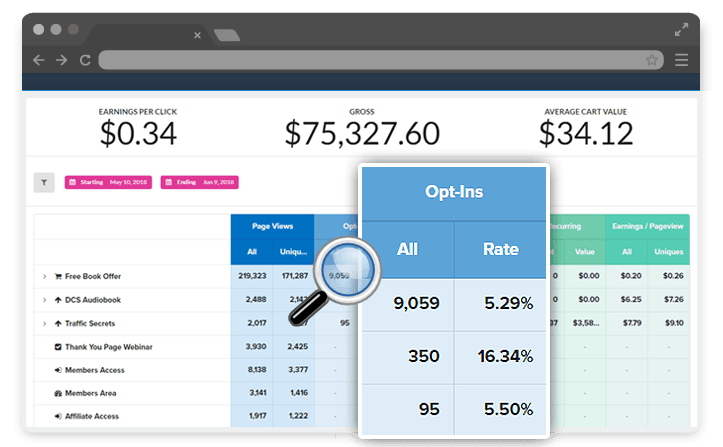 Get 14-Day Free Trial of ClickFunnels Here
Where to Get ClickFunnels?
ClickFunnels offers a 14-day free trial.
If you want to try ClickFunnels and see if it fits your online business model, you can sign up for the free trial here (no worries that you can cancel it anytime within 14 days and won't be charged a penny).
With the free trial, You can get instant access to every amazing feature of ClickFunnels:
Drag-And-Drop Website/Page Builder

One-Click Upsells & Downsells

Optin-Forms

Order Forms

Membership Area Pages

A/B Testing

Follow-up Funnels

Email List Building Tools

Email Management

Integrated Affiliate Management System

Sales Analytics

Pre-Built Funnel Templates

Payment Gateways Integration

Third-Party Integrations & Apps

CRM

And many more…
If you want to see a detailed evaluation of ClickFunnels, you can read this ClickFunnels review.
Anyway, I strongly recommend you to register a free account with ClickFunnels and see it yourself.