Are you looking for a Sociamonials review? Should you use it for your business? Is Sociamonials a scam?
If you are looking to use Sociamonials in your business, you may have these questions in mind. But you will have all your doubts resolved by the end of this Sociamonials review.
Social media is generally regarded as the most effective way to drive short-term engagement, generate leads, and attract users to your website. Today, every business has a social media profile. 
Being active on Instagram and Facebook alone isn't enough. Some companies need accounts on at least three social media platforms, while others need even more. The mere thought of keeping track of all that is enough to make your head spin. 
Sociamonials can help with this. Social media management software helps users increase revenue from social media. You can use it to create custom metrics, build campaigns, and add prospects to your social CRM.
I have a passion to help businesses explore the best software to improve business operation and increase profit.
In the past week, I've done thorough research about Sociamonials. So I can tell you a lot of things about Sociamonials to help you make an informed and wise decision.
In this Sociamonials review, I'm going to cover the following.
What is Sociamonials?
Analyzing social media campaigns with Sociamonials is easy. From one interface, social media managers can post updates and interact with their audiences on multiple platforms.
Sociamonials allows users to engage with their followers, track link interactions, and generate reports. This allows them to determine the effectiveness of their strategies and make modifications or come up with new strategies as needed.
Socialamonials is also mobile, like its users. Managing and updating an account from mobile devices has become easy.
Sociamonials Review: Features
Sociamonials has many features. Here's a list of features for your reference:
Brand Tracking

Automated Publishing

Content Management

Conversion Tracking

Customer Targeting

Multi-Account Management

Post Scheduling

Contact Database

Lead Management

Multi-Campaign

Analytics

Event-Triggered Actions

Keyword Filtering

Content Management

Multi-Account Management

Post Schedulin
You can use Sociamonials' features to boost your social marketing campaign. Among them, here are a few you'll use most often: 
1. Social Account Management 
With Sociamonials, you can link up to 200 social media accounts, depending on your subscription plan. This allows you to manage all of your accounts under one dashboard, especially if you are an agency managing multiple brands. 
It's easy to add accounts. After connecting the login credentials, you can start using the system. With it, you can keep tabs on everything that happens with your social accounts.
2. Post Scheduling 
With Sociamonials, you can schedule posts for later or publish them immediately. Especially helpful are tools for targeting audiences with different behavior patterns.
For example, you might schedule a LinkedIn post at 9 am for morning commuters, and repurpose the post at 11:00 am for college students on Instagram. 
Create filters by category, type, and social network to make posting for multiple accounts a breeze.
3. Customized Campaigns 
Within the app, you can also use the editor to create customized posts and campaigns. You can also create email notifications, blog posts, submission forms, and more. 
From here, you can add your branding and make other changes to make sure users know they're interacting with your company's account. 
Additionally, Social Testimonials offers a guide tool to explain what each button does, so new users can get the hang of it more quickly.
4. Promotions, Sweepstakes, and Other Interactions 
Using sweepstakes to drive engagement is a fantastic idea. So Sociamonials includes tools that allow you to create sweepstakes and other promotions within the platform itself. 
Creating custom rules and settings allows you to set campaigns to randomly select winners from your audience on a regular basis. 
Additionally, Sociamonials has its own built-in fraud detection tool to ensure your audience is the one being compensated and not some spammer.
5. Social Media Analytics 
Developing a social media strategy that works is a science. You can enhance your campaigns with the help of Social Media Testimonials. With this tool, you can track user activity, revenue generated by the platform, engagement rates, and link shares.
You can also use it to determine the best time to post, record data on the share buttons, and other elements essential to your campaigns. 
In addition, it integrates with Google Analytics so you can track website performance.
6. Mobile App 
In addition, you can take Sociamonials with you wherever you go. Since so much of social media publishing occurs on mobile devices, this makes it much easier to sync accounts and stay on top of things wherever you are. 
Even so, it isn't flawless. Most of the time you will use the web version since this version can be a little buggy at times. It is useful and is a nice companion to the web platform.
7. Campaign Planning
Social Media campaigns can accomplish wonders for your business, but planning the campaign and creating it takes time. 
You can design and plan which campaign goes where with the Campaign Planning tool. 
You can even schedule your posts so that they appear at a certain time. It also suggests the best time to post. 
Eight out of ten times, it will be posted. I'm still working out a kink that's causing it to fail two times.
Ideally, this will allow your social media team to get the exposure your business deserves while freeing up time on their schedule.
8. Public Relations
Digital media blurs the lines between public relations and digital relations. 
Public relations is about generating the right kind of buzz for your brand to resonate with your target audience, from putting out fires to building new relationships. 
When we say electric cars, your mind immediately goes to Tesla. 
With Sociamonials, you can create beautiful and impactful PR campaigns that do more than just put out fires. Send a message to tap into your user's mindset. 
9. Integrating Video
Increasingly, society shifts away from reading and print media to visual media, which carries photos and videos. 
Making videos is easy now's there are so many video editing tools, but making it part of a campaign makes it stand out by sending a message that can go viral. 
This is best exemplified in Nike's "You Can't Stop Us" campaign, which showcases Nike's stance in the market, and expresses their message of we are all in this together. 
You can transform your business into a brand by adding video to your campaign, which will not only bring your campaign to life but also make it much more than a way to gather business. 
All the while, it needs to be easy to use and responsive across a diverse range of devices so that a simple adaptation doesn't get in the way of your business objectives.
Who Should Use Sociamonials? 
Small agencies, solo digital marketers, and small businesses wishing to promote their own brands will find Sociamonials helpful. 
A few days are enough for even a novice to learn how to use it. Even experienced markets will find plenty to help them get better organized and launch more effective social campaigns. 
Despite its Enterprise tools supporting large agencies and firms, Sociamonials might not be the right fit for you. It might be better to use a dedicated Instagram or Pinterest solution like Iconosquare. 
Consider getting a full-featured option like Hootsuite or HubSpot.
Sociamonials Pricing
Unlike any marketing platform, there is not a single offering, but rather a whole tier of services. 
Sociamonials' pricing structure is quite comprehensive and allows users to enjoy the best in class services for just $19/month for the basic plan. 
As you move up in the world, you can also upgrade your plan all the way up to $399 per month with the platform's Enterprise plan.
The best part is that you can try any plan for a free 14-day trial. 
The requisite tier fee will be deducted at the end of that period if you continue to use the platform.
Sociamonials Pros 
All-Around Account Management
Depending on the subscription plan, Socialmonials supports up to 200 social media accounts. Using this service, companies with multiple brands can manage all their accounts in one place.
Through Sociamonials, businesses can monitor account-related activities at all times to ensure they remain connected to integrated services.
Furthermore, Sociamonials filters profanities to protect companies. Keeping contact details and channels available to the general public ensures that interactions remain friendly.
Immediate & Scheduled Publishing
Not all posts should be shared immediately. Users are able to schedule their updates on Sociamonials so that they know when they will be published. 
Adapting this to each account can also help reach audiences with varying behavior.
Customized Campaigns
Sociamonials provides a WYSISYG editor that allows users to customize their campaign designs, email notifications, and submission forms. Their audiences can rest assured that they are engaging with the official account by applying their branding.
Sweepstakes Interaction
Sociamonials allows companies to engage with their audiences through games. Campaigns can be run to select winners in one-time or periodic events, and custom settings can also be applied. 
Additionally, account managers can flag suspicious entries to ensure that no fraud is committed during the process.
Social Media Analysis
Using Sociamonials, users can improve their social media strategy. 
In addition to monitoring the activity of users across all devices, the social media manager can segment revenue from different social platforms.
On top of that, Sociamonials also monitors interactions with shared links. The reason for that is that any links shared on social media accounts through the app are shortened and automatically tracked. 
Posters will know how effective their link sharing is and can optimize their strategies accordingly.
Performance Reports
Users and stakeholders can better understand the numbers generated in reports with Sociamonials.
In other words, it offers interactive charts and graphs along with visual reports. They provide the necessary details related to social media campaigns, and can be customized to show only the information needed.
In addition to exporting to Microsoft Excel for editing, Sociamonials offers the option of converting to PDF for sharing.
Sociamonials Cons and Complaints
Sociamonials is not perfect, and it has some cons. Here are some of the cons:
Instagram Integration is glitchy

Scheduled posts may not get posted

Pinterest is missing

Template options and UI are relatively limited and outdated

Needs some getting used to using it effectively.
Some customers also make complaints about Sociamonials:
"Learning how to set up all of the campaigns and features. I basically only use it for social posting because the other aspects started getting confusing. It was a challenge to get my employees logged into their own accounts. I had to give up and just give them my password. And it keeps logging me out of my social accounts so it's a bit annoying to have to keep going back and resyncing my social accounts."
"No real con but you must learn how to use all of the available functions before being able to use all of the options provided."
"It is a little hard to get used to but once you got it down it is so worth it."
"Some initial bugs led to some weird image rotation issues on our FB channel. Video and media handling are improving but still need a little work. Hashtags and tagging individuals and groups not yet available."
"No automatic posting to Instagram. Good size learning curve but that's only because there are so many features! :)"
Is Sociamonials Worth It? 
Marketing strategies must include social media. Whether you run a small business, an agency, or are a solopreneur, the strategy is the same. There is so much to keep track of that social media management software can not only help you stay organized, but also save you time. 
The pros and cons of Social testimonials are well balanced. While its analytics and other tools may not be as robust as those offered by its competitors, it does offer a lot in one convenient location. 
If you already have a social media solution, you probably won't switch to Sociamonials. There is nothing that sets it apart from its competitors. However, if you're looking for an all-in-one solution, Sociamonials could be what you're looking for!
Sociamonials Customer Support
"Customer is King", as pioneering author and economist Philip Kotler once said. Every great team that wants to win at business must believe in this ideology. To resolve all your questions and doubts, the folks at Sociamonials wear all hats from CEO to customer support. 
You can reach them via the contact form at https://www.sociamonials.com/contactus.php.
The "Talk to Us" button on the homepage will still take you to the Contact Us page. The following page will appear when you click on this link:
Scroll down the page and you'll see a contact form where you can fill in your information and tell us about your grievance. 
It is a pleasure to work with this team who are very responsive and help to find a quick and meaningful resolution to your problem. 
The majority of the answers can be found in the FAQs of the platform itself, but in some cases, you might need to contact support.
In most cases, queries are resolved within 24 hours, but in some cases it may take up to 3 business days for a response. 
The staff of Sociamonials does not work on weekends in order to maintain a healthy work-life balance. 
You might have to wait a little longer over the weekend if you post your grievance or query on a Friday evening or Saturday morning.
Additionally, if your query is more complex, it may take a bit longer to resolve, but rest assured it will be resolved. Despite the team's best efforts, please keep in mind that the company operates with only three people, and handling queries may take some time. 
However, the resolution provided will be in accordance with the brand's standards.
How to Get Started With Sociamonials?
The homepage of Sociamonials' website is aesthetically pleasing and minimalist, with prominent call-to-actions (CTAs) highlighting the actions the site wants you to take.
Here is the page that will welcome you:
Immediately upon opening the fold, you will find all of the company's most important callsigns. Registered users will find the login link in the top right corner. Right below it, there is a Sign-Up button that you can use to register for the tool. 
Further, you can access the same page if you click on the Free trial button. The following pages will appear in both cases:
The fact that you can sign up for social media management tools using a social media account is amusing. 
There's a double paradox here, but it's also quite convenient. The "Sign Up with email instead" option is for those of you who don't want to fill out the whole form which will appear after you click on it.
If you select one of the social media platforms to fast track the registration process, a new window will open that contains the permissions about what data the platform needs access to. 
As you can choose which of the permissions to accept on your phone, social media platforms give permissions all at once, so you can either accept them all or reject them all as you see fit. 
When you click on the sign up link for Twitter, you will be prompted to fill out the following information:
After you sign in to your account, you can allow access to the information in your account. As soon as you grant permissions and register, the dashboard will appear, containing all the menus and buttons to access the different campaigns.
In addition, there is a "Guide" toggle on the dashboard at the right side of the screen which can be used to turn off the small bubbles that show you tips and tricks as you learn how to use the platform.
You can access and design all your social media campaigns from the menu on the left. The interface is easy to use, and there are not many hassles when it comes to navigating through the platform. 
Be sure to explore every menu on the left and every tab on the top to make sure what the campaign goal is and whether it is being met.
As with any other platform, it requires ample practice to make sure that you know what each function does. 
To test the platform, it is recommended that you create a dummy social media account prior to using it on a real ID to test its functionality. 
The platform is lacking in some aspects, which some users have complained about. 
Even so, we can confirm that the platform has done a great job of keeping its customers and users engaged and calm.
Major Software Review Sites' Rating on Sociamonials
Capterra Rating: 4.6/5
G2 Rating: 4.6/5
FinancesOnline.com Rating: 7.3/10
GetApp Rating: 4.6/5
SourceForge Rating: 4/5
SoftwareSuggest Rating: No rating
SaaSworthy Rating: 87/100
Software Advice: 4.55/5
Sociamonials Review FAQs
What is Sociamonials used for?
Sociamonials is a social media management software. Sociamonials offers the following features:
Content Management

Analytics (Social Media)

Auto Publishing

Brand Tracking

Customer Engagement

Multi-Account Management

Multi-User Collaboration

Posts Scheduling
Does Sociamonials provide API?
Sociamonials offers an API.
How much does Sociamonials cost?
Sociamonials offers three plans: Small Business USD 150.0 (month), Corporate USD 400.0 (month), Enterprise USD 750.0 (month).
There is a free trial available
Who are the typical users of Sociamonials?
A typical customer of Sociamonials is a startup, enterprise, small business and freelancer.
Final Verdict: Sociamonials Review
Sociamonials makes it easy to post across your social media platforms all from one convenient dashboard. However, you should not overlook the other tools. 
This is the main reason for using it. The tool has plenty of features you can use to fine-tune your social marketing campaigns, such as analytics tracking and custom landing pages. 
Additionally, it integrates with the biggest social platforms (aside from Pinterest) to make managing multiple accounts easy. 
Overall, it's an affordable and effective option for managing and marketing social media. 
Get a free trial now to see if Sociamonials is the right solution for your marketing needs.
Sociamonials Alternative: A Must-Have Online Marketing Tool
As you are reading this review, I'm sure you are an online entrepreneur, so I would like to introduce a very powerful marketing tool to you to help you scale your business to the next level.
It's called ClickFunnels. You may have heard of it, but if not, let me explain why you should consider using it to generate more sales online.
ClickFunnels is an all-in-one marketing tool that helps entrepreneurs, digital marketers and business owners market, sell and deliver their products or services online. 
ClickFunnels is the only piece of software you will ever need to run an internet business.
It eliminates the need to hire a web designer or salesman who is overpriced and lazy. So you can save a lot of money using ClickFunnels in the long term.
Anybody can build, design, and launch a sales funnel using ClickFunnels, regardless of their experience. Those days of hiring coders, web designers, and marketing agencies are over. With ClickFunnels, getting your business online has never been easier.
Get 14-Day Free Trial of ClickFunnels Here
But How Much Can You Earn With ClickFunnels?
Many online entrepreneurs are using ClickFunnels and have earned at least $1 million in sales using ClickFunnels. The earning potential is limitless.
ClickFunnels created an award called the "Two Comma Club" award for entrepreneurs who reached the 7-figure financial milestone inside one of their ClickFunnels funnels.
The screenshots below are some of the winners of the "Two Comma Club" award. Do you want to be one of them?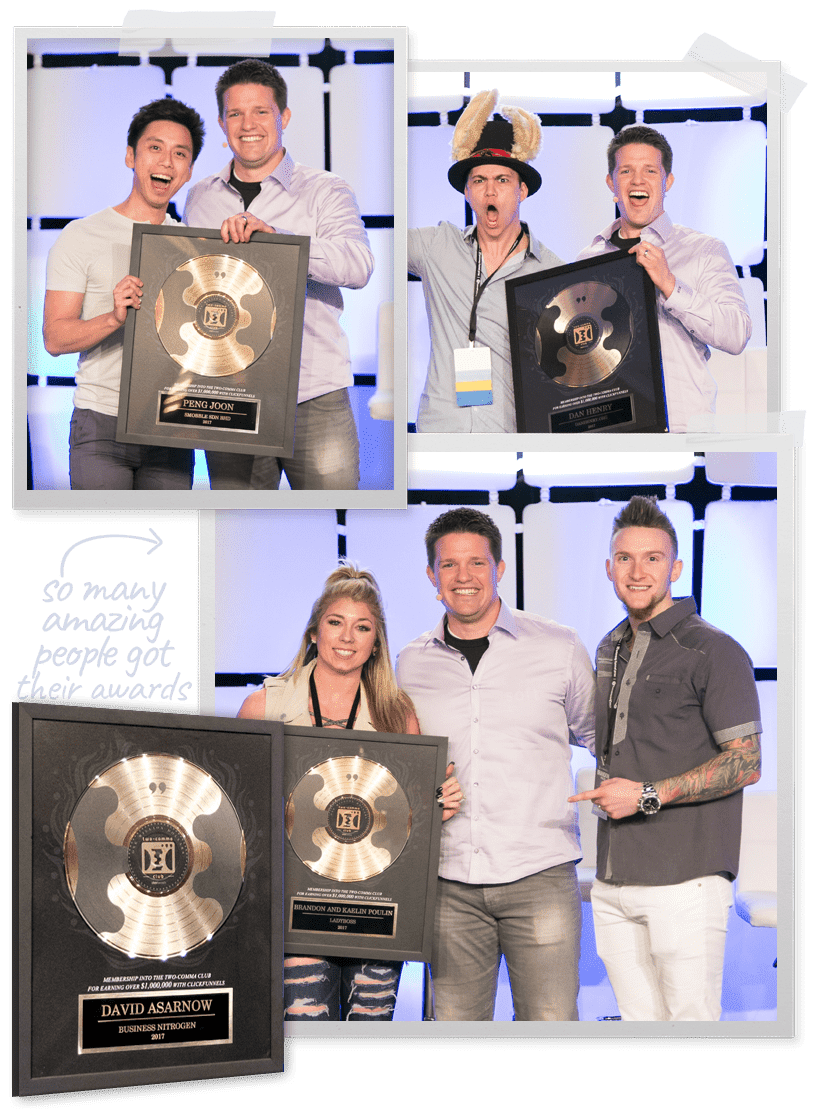 With ClickFunnels, you can drastically increase the opt-in rate and upsell conversion rate: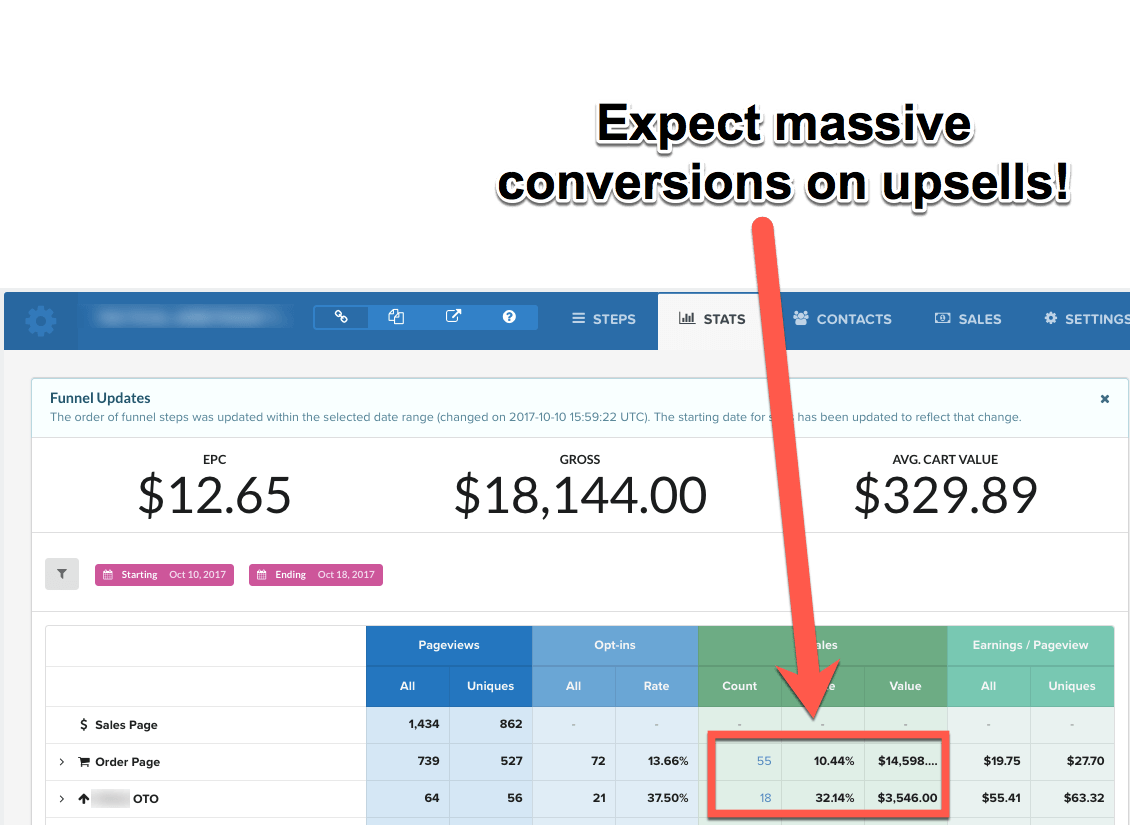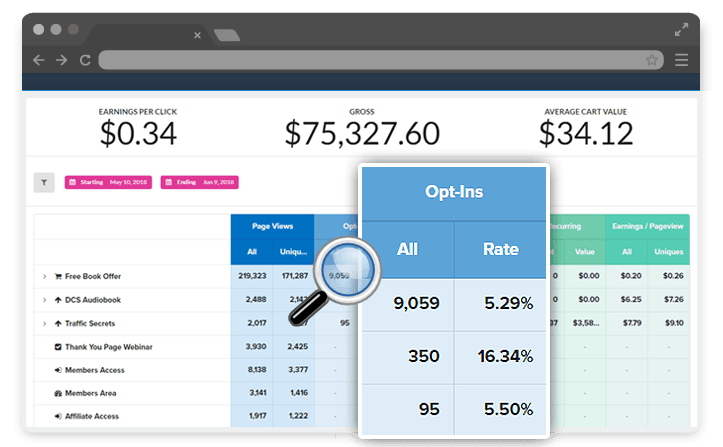 Get 14-Day Free Trial of ClickFunnels Here
Where to Get ClickFunnels?
ClickFunnels offers a 14-day free trial.
If you want to try ClickFunnels and see if it fits your online business model, you can sign up for the free trial here (no worries that you can cancel it anytime within 14 days and won't be charged a penny).
With the free trial, You can get instant access to every amazing feature of ClickFunnels:
Drag-And-Drop Website/Page Builder

One-Click Upsells & Downsells

Optin-Forms

Order Forms

Membership Area Pages

A/B Testing

Follow-up Funnels

Email List Building Tools

Email Management

Integrated Affiliate Management System

Sales Analytics

Pre-Built Funnel Templates

Payment Gateways Integration

Third-Party Integrations & Apps

CRM

And many more…
If you want to see a detailed evaluation of ClickFunnels, you can read this ClickFunnels review.
Anyway, I strongly recommend you to register a free account with ClickFunnels and see it yourself.