Are you looking for a SOCi review? Should you use it for your business? Is SOCi a scam?
If you are looking to use SOCi in your business, you may have these questions in mind. But you will have all your doubts resolved by the end of this SOCi review.
I have a passion to help businesses explore the best software to improve business operation and increase profit.
In the past week, I've done thorough research about SOCi. So I can tell you a lot of things about SOCi to help you make an informed and wise decision.
In this SOCi review, I'm going to cover the following.
What is SOCi?
SOCi allows businesses to streamline processes for campaign advertisements, managing reputations online, managing content, and engaging customers more effectively. 
Along with sharing content on social media and creating posts, users can also configure workflows to improve collaboration within the team. 
Using SOCi, users are able to maintain brand listings, create a single source of truth (SSOT) through integration with various application programming interfaces (APIs), and manage localized advertising campaigns across multiple locations.
SOCi Features
Listings – SOCi Review
In local search engine optimization, you'll want your results to dominate the local results. Accurate listings are one way to accomplish this.
The name, address, and phone number (NAP) of your company will appear in various places on the Internet under the name of a listing.
Putting your company's NAP all over the place is a tedious, time-consuming process that you can handle yourself.
With SOCi, you'll streamline processes so you can focus on things that are more important.
Besides, Professional Services team is available to help promote your brand.
Ads – SOCi Review
This review of SOCi, Inc. also covers the platform's capabilities for online advertising.
Through SOCi, you can create and deploy digital advertising campaigns that are highly targeted. The company does this with a product called SOCi Ads PLUS.
Dynamic Text and Dynamic Images are two of the features of our platform, which allows you to create a single advertisement that automatically populates the text and imagery with location-specific information.
SOCi Ads PLUS also supports banner ads, automatic placements, lead generation forms, custom targeting, and geo-fencing for social ads.
In addition, you are able to boost high-performing ads with another product known as Boost PLUS in under 30 seconds.
Moreover, the tool provides exceptional reporting so that users can know which ads are worth boosting and which ones are not.
Local Pages – SOCi Review
Throughout this review of SOCi, Inc., I'll also focus on the platform's ability to optimize local search results.
Your site may need to be optimized for local search if you want people to find your local business online. SOCi helps you accomplish that.
You can create schema-marked pages with keyword-optimized URLs so that your pages are discovered by people doing local searches.
SOCi also provides responsive local pages.
In case you're not familiar with responsive design, it refers to the style of website pages that allows them to look great across a variety of devices, including desktop monitors, laptops, smartphones, tablets, and even phablets.
The SOCi platform allows you to deploy hundreds of pages in less than two weeks.
Chatbots – SOCi Review
Next, I'll discuss how SOCi, Inc.'s Chatbot platform can help businesses.
Customers receive better customer service when they can engage a chatbot after regular business hours. They are automated, which explains why.
Your website can be enhanced with SOCi SmartBot to answer questions customers ask at midnight when they find your website. Frequently asked questions are addressed and even a call to action is delivered at the right time.
A chatbot uses natural language processing and machine learning to give potential customers a personalized experience.
You can also deploy chatbots on Facebook Messenger, Google My Business, local websites, and even via email.
Social Management – SOCi Review
Throughout this section of the SOCi, Inc. review, I'll explain how the platform streamlines social media management.
With this tool, you can publish localized content, respond to brand mentions, answer queries, and manage content libraries for various social media channels.
In addition, SOCi allows you to discover the top-trending content on the Internet. As a result, you can create brand-boosting social media content based on that content.
You can also deliver consistent messages across social media sites and posts using the platform.
SOCi Pricing
How much does SOCi cost? You'll be able to get an answer to that question by contacting the company. Unlike other services, SOCI does not publish its prices.
In fact, if you consider all it does for you, including being able to contact just one person, it is fairly sure to be expensive.
Do yourself a favor and speak with a sales representative at the company to find out how much you will need to pay based on your requirements.
Then decide if it's a good investment.
Other SOCi Reviews
Review #1 by SOCi User
I am using SOCi social media to manage my enterprise. It has saved a lot of human hours and efforts, I could easily manage multiple social media handles with this brilliant software. Manually managing it would be tedious and there are more chances of error. I could easily design and launch creative social media campaigns with the help of SOCi social media. The user interface is very easy to understand and hassle-free.
SOCi Pros
Affordable web based solution to manage the social media networks.
SOCi Cons
It would be nice if it could also be accessible on smartphones.
Review #2 by SOCi User
The time & hassle it saves us… Managing multiple social media accounts for multiple clients MANUALLY is ridiculous. We have observed a 62% Drop in errors & that number will be growing for sure.
There are plenty of software options available for automating the social media management process, but SOCi Social Media has blended well with our daily routine. I spent almost 30 hours going through different options, walkthroughs, and trials. I did the work so you don't have to… You're welcome 😉  
SOCi Pros
Overall functionality, smoothness & ease it offers even while working on multiple accounts.
Major Software Review Sites' Rating on SOCi
Capterra Rating: 4.5/5
G2 Rating: 4.3/5
GetApp Rating: 4.5/5
SourceForge Rating: No Rating
SaaSworthy Rating: 4.4/5
Software Advice Rating: 4.5/5
FeaturedCustomers Rating: 4.8/5
SOCi Review: Final Verdict
Try a demo of SOCi first if you are still unsure about the tool. The website also has case studies.
Although if you are into local marketing, you will find that there aren't that many tools out there that can do a better job.
SOCi Review FAQ
What is SOCi used for?
SOCi is a social media management tool. SOCi provides the following features:
Content Management

Analytics (Social Media)

Auto Publishing

Brand Tracking

Multi-Account Management

Multi-User Collaboration

Posts Scheduling

Social Media Monitoring
Does SOCi provide API?
SOCi does not provide APIs.
Who are the typical users of SOCi social media?
SOCi social media is typically used by startups, SMEs, and agencies
What payment method does SOCi social media support?
SOCi social media accepts the following payment methods: Monthly, annual
SOCi Alternative: A Must-Have Online Marketing Tool
As you are reading this review, I'm sure you are an online entrepreneur, so I would like to introduce a very powerful marketing tool to you to help you scale your business to the next level.
It's called ClickFunnels. You may have heard of it, but if not, let me explain why you should consider using it to generate more sales online.
ClickFunnels is an all-in-one marketing tool that helps entrepreneurs, digital marketers and business owners market, sell and deliver their products or services online. 
ClickFunnels is the only piece of software you will ever need to run an internet business.
It eliminates the need to hire a web designer or salesman who is overpriced and lazy. So you can save a lot of money using ClickFunnels in the long term.
Anybody can build, design, and launch a sales funnel using ClickFunnels, regardless of their experience. Those days of hiring coders, web designers, and marketing agencies are over. With ClickFunnels, getting your business online has never been easier.
Get 14-Day Free Trial of ClickFunnels Here
But How Much Can You Earn With ClickFunnels?
Many online entrepreneurs are using ClickFunnels and have earned at least $1 million in sales using ClickFunnels. The earning potential is limitless.
ClickFunnels created an award called the "Two Comma Club" award for entrepreneurs who reached the 7-figure financial milestone inside one of their ClickFunnels funnels.
The screenshots below are some of the winners of the "Two Comma Club" award. Do you want to be one of them?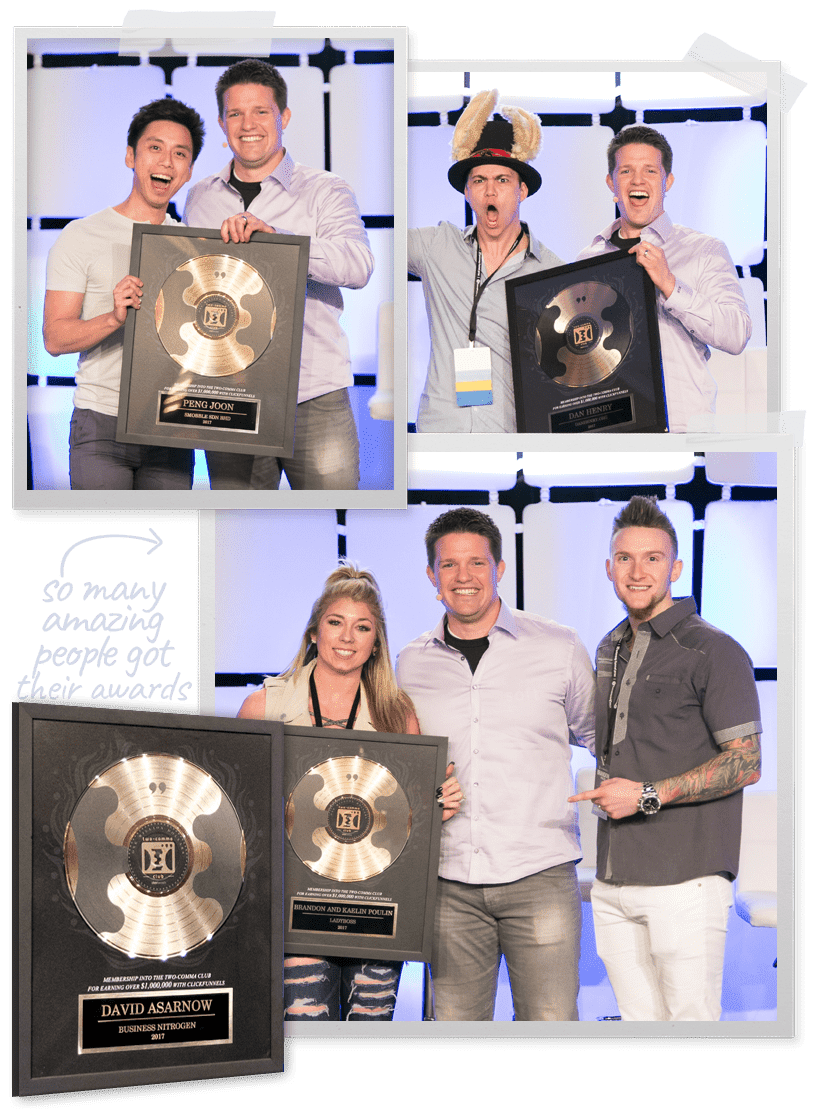 With ClickFunnels, you can drastically increase the opt-in rate and upsell conversion rate: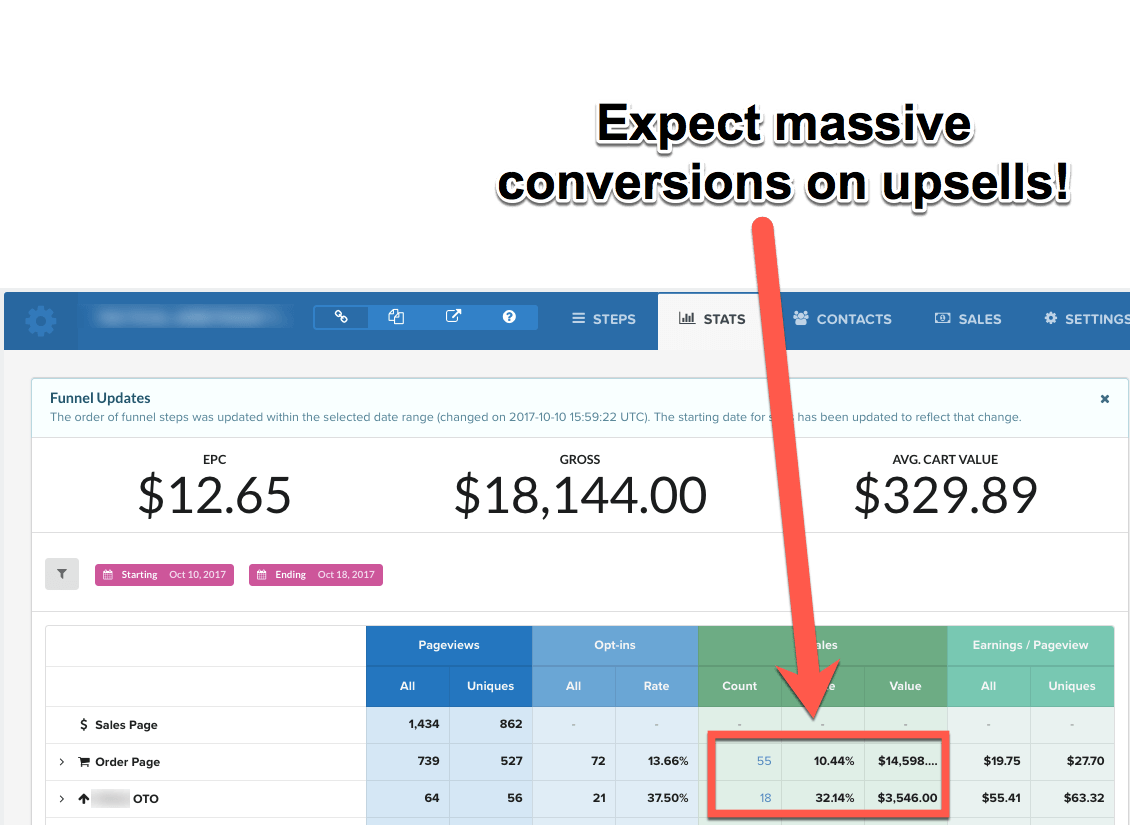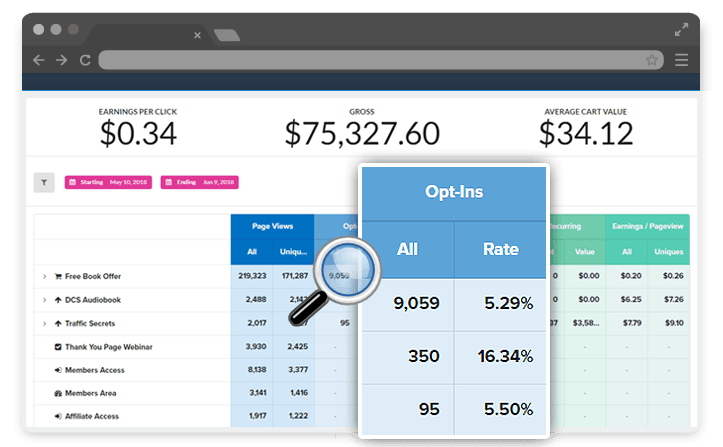 Get 14-Day Free Trial of ClickFunnels Here
Where to Get ClickFunnels?
ClickFunnels offers a 14-day free trial.
If you want to try ClickFunnels and see if it fits your online business model, you can sign up for the free trial here (no worries that you can cancel it anytime within 14 days and won't be charged a penny).
With the free trial, You can get instant access to every amazing feature of ClickFunnels:
Drag-And-Drop Website/Page Builder

One-Click Upsells & Downsells

Optin-Forms

Order Forms

Membership Area Pages

A/B Testing

Follow-up Funnels

Email List Building Tools

Email Management

Integrated Affiliate Management System

Sales Analytics

Pre-Built Funnel Templates

Payment Gateways Integration

Third-Party Integrations & Apps

CRM

And many more…
If you want to see a detailed evaluation of ClickFunnels, you can read this ClickFunnels review.
Anyway, I strongly recommend you to register a free account with ClickFunnels and see it yourself.