Are you looking for alternatives to SiteGround? SiteGround is a popular web hosting provider, but you may not like it for some reasons.
While SiteGround has many great features, it's not perfect that there are some drawbacks. Some websites might not be suitable for hosting on SiteGround's server. So some of the existing SiteGround switch to other hosting service providers.
In this article, I'm going to tell you 5 alternatives of SiteGround that you can consider.
Here are the 5 SiteGround Alternatives I'm going to talk about:
Cloudways

WPX Hosting

KnownHost

A2 Hosting

Immotion
What People Don't Like About SiteGround and Leave?
Siteground has several cons that discourage people to continue to use their service.
First, there is only limited disk space provided for the shared hosting plans. If your website has many videos or images, you may find the storage space not enough for use.
Also, if you are not an agency or developer, many features offered by SiteGround might be useless to you. For example, most people do not use Git integration and Joomla/WordPress staging areas to create websites.
Moreover, unlike other web hosting services, SiteGround doesn't have any bonuses when you subscribe to their service.
Reviews of 5 SiteGround Alternatives
Cloudways
Cloudways is a managed cloud server service. You can select a cloud provider such as DigitalOcean, Google Cloud, Linode, Vultr, AWS.
Cloudways works as a middleman to link your website to the cloud service provider and make everything easy to manage. You don't need to be a server specialist with Cloudways.
When compared with SiteGround, you can expect a much faster server with Cloudways. It's not a shared hosting service that you don't share server resources with others. You won't be subject to the CPU limits.
Moreover, I like Cloudways's control panel, which is very user friendly. If your website has a lot of traffic, Cloudways is definitely a better choice than SiteGround. 
However, SiteGround's customer support is better than Cloudways. You can only seek support from Cloudways for server-related issues, but not website issues. 
Cloudways Pricing
Cloudways provides monthly and hourly pricing plans. You're not bound to choose the yearly plan like SiteGround. The price is different depending on which cloud service you choose.
I recommend using Linode as it's cheap and performs pretty well. The cheapest plan for Linode costs $12/month. You can increase your storage, CPU, and Ram as your website grows. 
As for SiteGround, it costs $3.95 to 14.95/month for the initial promotional price. But for renewal, you have to pay the regular price from $11.95 to $34.95/month.
Cloudways Pros and Cons
Cloudways Pros
Cloudways offers a free trial

Easy to scale the server as your website grows

Apps are easy to install

Free site migration

Pricing is reasonable
Cloudways Cons
Using Cloudways requires more technical knowledge

No domain registration

No email accounts
If you don't want to handle any technical stuff, you can choose another simpler hosting service that I am going to introduce to you below.
WPX Hosting
WPX Hosting is an excellent Managed WordPress Hosting provider. Its Content Delivery Network (CDN) can speed up your website.
Also, if you host your website on WPX, you can be sure that your website is secure. It offers DDoS protection, firewall, spam protection etc.
Moreover, WPX hosting's customer support is excellent. It's fast and reliable.
If you want to migrate your website from SiteGround to WPX, it's very easy. It's free to migrate to WPX Hosting and their customer support will help you out.
Also, WPX has its own control panel which is very easy to use.
WPX Hosting Pricing
WPX Hosting has three plans: Business, Professional and Elite.
For the business, it cost $20.83/month (bill annually) or $24.99/month (bill monthly)
For Professional plan, it costs $41.58/month (bill annually) or $49.99/month (bill monthly)
For the Elite plan, it costs $83.25/month (bill annually) or $99/month (bill monthly)
WPX Hosting is more expensive than SIteGround, but you can expect better features and benefits such as firewall, malware protection.
WPX Pros and Cons
WPX Pros
WPX Hosting can manage large traffic volume without affecting the website performance

Malware scanning and removal is included

Unlimited free SSL certificates

Free site migration

Customer support is excellent
WPX Cons
Lack of phone support

The Control panel is easy to use
KnownHost
KnownHost is a good alternative to SiteGround. It offers 99.99% uptime, scalable hosting, DDoS protection etc.
Unlike SiteGround, KnowHost doesn't impose a limit on the number of monthly visitors. KnownHost also has great features like firewall, malware protection.
KnownHost Pricing
KnownHost has three shared hosting plans: Basic, Standard and Professional.
Here's the price if you choose to pay for three years.
Basic Shared Hosting: $3.47/month
Standard Shared Hosting: $6.47/month
Professional Shared Hosting: $9.97/month
The price is similar to the promotional price of SiteGround.
KnownHost Pros and Cons
KnownHost Pros
99.99% uptime guarantee

Free site migration

Free SSL certificates

Isolated resources: this will improve your website performance

24 hours website monitor

Customer support around the clock
KnownHost Cons  
No free domain name

No server in Asia so if your target market is in Asia, KnownHost might not be a good choice
A2 Hosting
A2 Hosting is a great web host. It offers many benefits such as unmetered web space and bandwidth, free site migration.
You can expect fast website speed if you host your website on A2 Hosting as they use superfast turbo servers. Their customer support is also very responsive and helpful.
Compared with SiteGround, A2 Hosting has better benefits such as unlimited monthly visitors and storage memory, free Patchman enhanced security tool, optimised site accelerator.
Also, A2 Hosting guarantees 99.9% uptime, which is not offered by SiteGround.
A2 Hosting Pricing
A2 Hosting has 4 shared hosting plans.
Startup: $2.99/month
Drive: $4.99/month
Turbo Boost: $9.99/month
Turbo Max: 14.99/month
A2 Hosting Pros and Cons
A2 Hosting Pros
The speed and uptime are excellent

You can choose server locations in the US, Asia, and Europe

Unmetered bandwidth and storage
A2 Hosting Cons
For on-demand backups, you have to pay extra
Inmotion
Inmotion Hosting offers many great benefits like SSD storage, space, unmetered data transfer and free domain.
The 1-click installer of over 400 apps and unlimited email accounts are very attractive when compared with SIteGround.
Moreover, unlike SiteGround, you will enjoy unlimited disk space and free domain.
Inmotion Pricing
Inmotion hosting has 3 shared hosting plans:
Launch: $6.39/month
Power: $8.49/month
Pro: 14.71/month
Inmotion doesn't offer a free trial.
Inmotion Pros and Cons
Inmotion Pros
The stability, speed and performance of Inmotion are excellent

Customer support is very reliable

The site builder is easy to use

Free website backups

Free site migration

Use green servers which is suitable for environmental-friendly people
Inmotion Cons
There are no monthly plans

There is a limit on the number of websites you can host
Conclusion
Now, you should understand what are the best alternatives to SiteGround. Here's a summary to help you do the final decision:
Cloudways:

while Cloudways is one of the best hosting services, you may need some technical knowledge. But you can expect excellent site performance.

WPX Hosting:

WPX Hosting is a bit more expensive than other options, but it can save you a lot of hassles while ensuring your website performance is great.

A2 Hosting:

A2 Hosting is cheap but reliable. Choose A2 Hosting if you don't have a big budget and need a good hosting service.

KnownHost:

If you need high-performance Linux and managed VPS hosting, KnownHost is a good choice for you.

Inmotion:

Inmotion offers great scalability, so you have a large website, it's suitable for you.
Each hosting service provider has pros and cons. You can choose the one that fits your requirement.
Personally, I host my websites on Cloudways and WPX Hosting. You cannot go wrong with these two if you have a WordPress website and need an excellent hosting service.
SiteGround and Other WordPress Hosting Alternative: A Must-Have Online Marketing Tool
As you are reading this review, I'm sure you are an online entrepreneur, so I would like to introduce a very powerful marketing tool to you to help you scale your business to the next level.
It's called ClickFunnels. You may have heard of it, but if not, let me explain why you should consider using it to generate more sales online.
ClickFunnels is an all-in-one marketing tool that helps entrepreneurs, digital marketers and business owners market, sell and deliver their products or services online. 
ClickFunnels is the only piece of software you will ever need to run an internet business.
It eliminates the need to hire a web designer or salesman who is overpriced and lazy. So you can save a lot of money using ClickFunnels in the long term.
Anybody can build, design, and launch a sales funnel using ClickFunnels, regardless of their experience. Those days of hiring coders, web designers, and marketing agencies are over. With ClickFunnels, getting your business online has never been easier.
Get 14-Day Free Trial of ClickFunnels Here
But How Much Can You Earn With ClickFunnels?
Many online entrepreneurs are using ClickFunnels and have earned at least $1 million in sales using ClickFunnels. The earning potential is limitless.
ClickFunnels created an award called the "Two Comma Club" award for entrepreneurs who reached the 7-figure financial milestone inside one of their ClickFunnels funnels.
The screenshots below are some of the winners of the "Two Comma Club" award. Do you want to be one of them?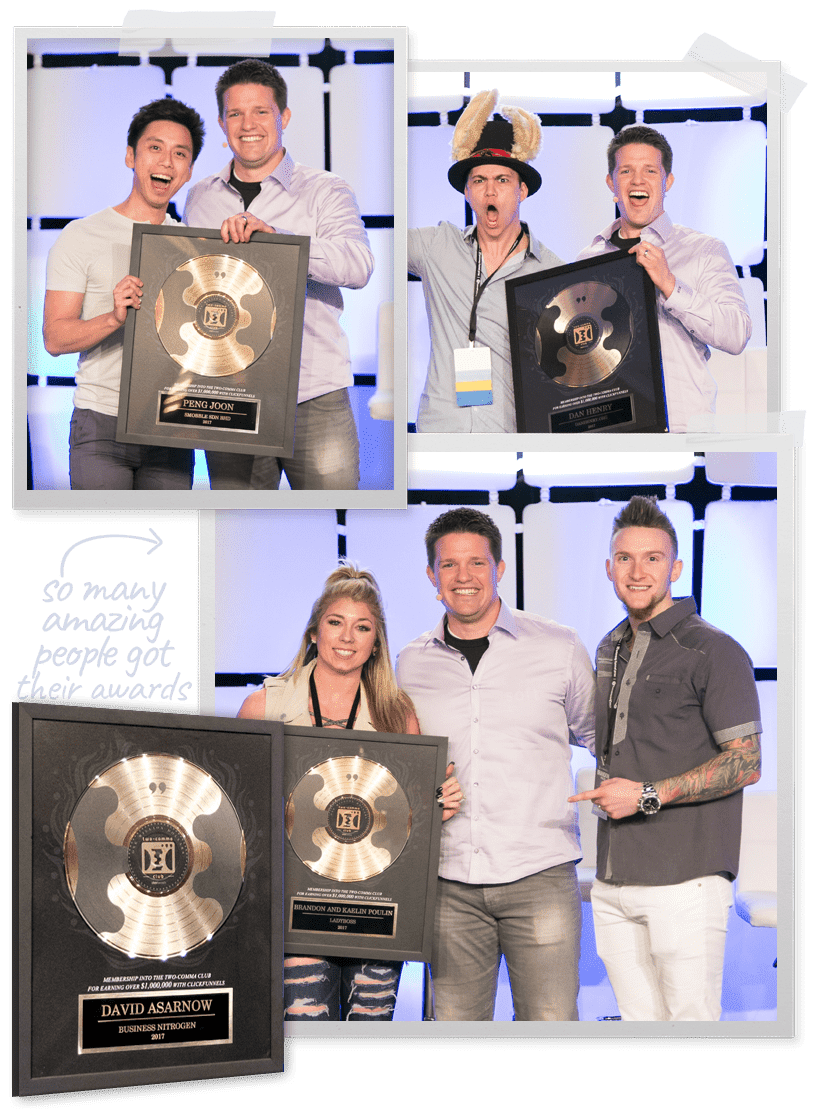 With ClickFunnels, you can drastically increase the opt-in rate and upsell conversion rate: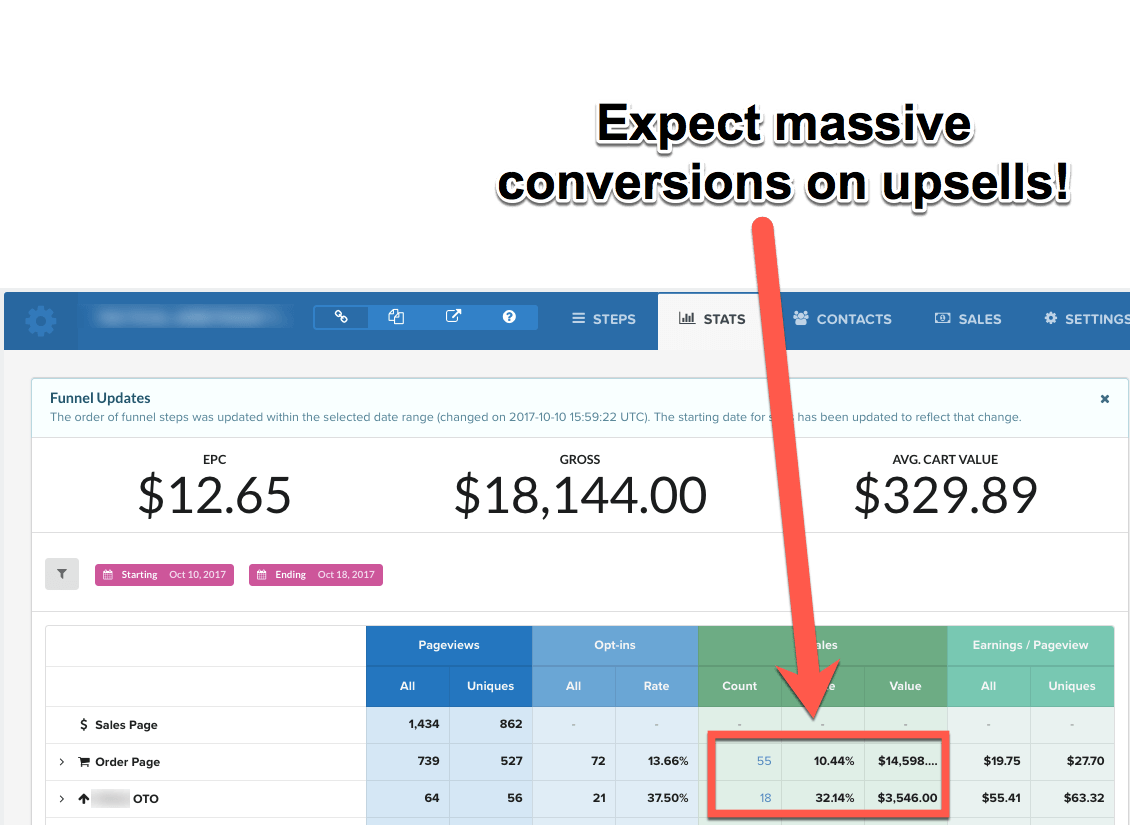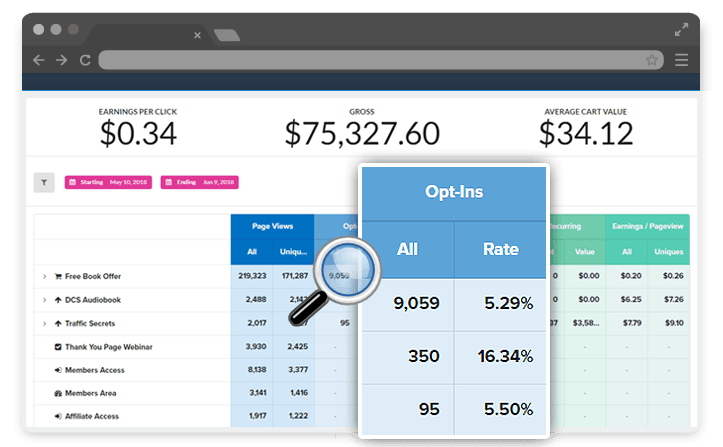 Get 14-Day Free Trial of ClickFunnels Here
Where to Get ClickFunnels?
ClickFunnels offers a 14-day free trial.
If you want to try ClickFunnels and see if it fits your online business model, you can sign up for the free trial here (no worries that you can cancel it anytime within 14 days and won't be charged a penny).
With the free trial, You can get instant access to every amazing feature of ClickFunnels:
Drag-And-Drop Website/Page Builder

One-Click Upsells & Downsells

Optin-Forms

Order Forms

Membership Area Pages

A/B Testing

Follow-up Funnels

Email List Building Tools

Email Management

Integrated Affiliate Management System

Sales Analytics

Pre-Built Funnel Templates

Payment Gateways Integration

Third-Party Integrations & Apps

CRM

And many more…
If you want to see a detailed evaluation of ClickFunnels, you can read this ClickFunnels review.
Anyway, I strongly recommend you to register a free account with ClickFunnels and see it yourself.