Are you looking for a SharpSpring review? Should you use it for your business? Is SharpSpring a scam?
If you are looking to use SharpSpring in your business, you may have these questions in mind. But you will have all your doubts resolved by the end of this SharpSpring review.
I have a passion to help businesses explore the best software to improve business operation and increase profit.
In the past week, I've done thorough research about SharpSpring. So I can tell you a lot of things about SharpSpring to help you make an informed and wise decision.
In this SharpSpring review, I'm going to cover the following.
What is SharpSpring?
Using SharpSpring, you can take advantage of email and social media marketing capabilities, among other features. Additionally, users get a CRM, reports, and more.
SharpSpring stands out as a marketing automation platform designed for agencies.
SharpSpring was founded by a former agency CEO, so SharpSpring provides a solution for agencies to track their clients' successes as well as their own.
The three main needs that SharpSpring addresses are lead generation, facilitating your strategy, and customer conversion. As a marketing automation platform, their goal is to have automation take over the core elements of your strategy, while humans are used when appropriate.
Customization is another important aspect of SharpSpring. It is likely that SharpSpring is attracting experienced agencies.
Agency methods and software requirements are unique, which they understand. For this reason, SharpSpring provides agencies with their own space on its platform.
SharpSpring also uses unique factors to engage their clients, which I find interesting.
The semantics of SharpSpring make their platform recognizable to clients; they call leads "opportunities," which may help them feel more comfortable with their platform and vocabulary.
In addition, SharpSpring offers flexibility. Their email marketing services use behavior-based messaging, offer several integration options, and support universal CMS compatibility.
SharpSpring helps businesses increase leads and manage marketing campaigns to improve results. As a result, they're constantly updating their platform to provide all solutions to agencies.
SharpSpring Features
Marketing automation platform SharpSpring offers a comprehensive set of services. 
Despite not having the most advanced features, SharpSpring boasts a list of useful tools that all teams can use. Features and functions of these products include:
Email marketing

Marketing automation

Visitor IDs

Web forms

Landing page builder

CRM

Social media marketing

Blogging

Analytics and reporting

Multi-device tracking
Let's explore some of its main features in greater detail.
Email Marketing Automation
With Sharpspring, you can not only automate your email marketing, you can also create high-quality marketing emails. 
You can add your own personalization to email templates, drag-and-drop email builders, and libraries of pre-designed templates. You can also design your own emails if you like.
Automatization is also one of their strong points. As well as mass mailing emails, marketers can also send emails based on users' previous actions.
It is a good idea to test emails before distributing them. It is also possible to track anything the user may do, from opening the email to downloading content to filling out a form.
Marketing Automation
SharpSpring offers a visual workflow builder for creating custom automations. A workflow captures an action taken by the lead, or a "trigger."
Triggers consist of three main parts:
Fit – what we know

Engagement – what they've done (clicked on a link, filled out a form, etc.)

Sales – change in opportunity
In addition, drip campaigns can be identified in the workflow. Leads who complete a role in a drip campaign are automatically removed from it when they respond to a specific trigger. 
You can then send these leads content that corresponds to their actions and interests, rather than making them go through the same campaign as those who did not respond to triggers.
SharpSprings stands out from the competition in another way. SharpSpring focuses on sending content that the audience wants, not distributing as many emails and forms as possible.
SharpSpring can also support personalization via its marketing automation system. 
When SharpSpring uses the merge variables feature, emails can be retrieved for data collection. By tailoring your emails and other marketing messages, you will be able to drive leads through the sales funnel.
SharpSpring places a high priority on compliance. The system will remove a lead from the system if a lead requests to stop communication.
Analytics and Reporting
Reports are included in all marketing strategies that show your successes and where you need to improve. This data can easily be provided by SharpSpring. 
They provide reports on campaign tracking, emails, multiple device tracking, behavior, and ROI. You can also create your own custom reports.
Marketers can view a variety of dashboards. The Web Insights dashboard, for example, allows you to track as many websites as you want. 
Among the metrics you can view are:
Bounce rates

Average time on a website

Referrals

Entrance page

And more
These metrics can be viewed across all of your tracked websites, allowing marketers to identify the most successful campaigns.
CRM
SharpSpring includes a built-in CRM for managing contacts. In addition to being intuitive, their CRM also provides a single interface for all workstations.
In one centralized area, you can view all of your contacts and input all the necessary information about them, as well as track who has contacted who. Email is the identifier that separates all of your contacts.
On the same platform, you can contact your leads directly. By integrating with a third-party communication tool, you can contact leads without leaving the platform, thanks to SharpSpring.
Using their "Task" section, you can also schedule meetings. The tasks you create can be assigned to yourself, another team member, or even management.
The dashboard in SharpSpring can be easily populated with all your existing contacts. Additionally, they offer an open API to migrate contacts from another platform.
In addition, you can track a lead's progress in a sales funnel by sending them emails, tracking their behaviour on the site, and tracking their form submissions (which forms they fill out and what they say). 
Lead activity can also be tracked more efficiently and quickly with SharpSpring's Life of the Lead feature.
Now let's talk about the Life of the Lead Tool. Here is a visual look at your leads and the actions they took. 
It can be seen in the screenshot that there are a number of icons which represent various actions and goals. 
Here are a few of these icons:
Globe

: visit your website(s) and which one(s)

Envelope

: email

Calendar

: meeting booked

Flag

: hit a conversion goal

Clipboard

: filled out a form

And more
The sales pipeline offered by SharpSpring is also very powerful. As many pipelines as you need can be made by customizing the stages for your campaign.  
Forms and Landing Pages
For the creation of forms and landing pages, SharpSpring offers an easy-to-use program.
Their drag-and-drop builder makes it easy for even non-technical users to create great lead-capturing pages.
Even if you want to avoid these types of designs, SharpSpring offers pre-built landing page designs so you won't have to worry about them. 
They have the same intuitive form builder and landing page builder as their email builder to enable seamless communication.
Their forms are particularly effective. Your form can be designed with auto-populating fields, custom fields, and a call-to-action.
Personalization is easy with these forms and landing pages. Also, integrations can be used for webinar landing pages.
Agency View
A marketing automation solution for agencies is offered by SharpSpring. Because of this, each agency gets its own platform.
In addition to your agency, the Agency View shows you all of the clients they represent. 
On this dashboard, you can view metrics such as contacts added and emails sent, and you can even control certain tasks such as billing. 
By creating your own workstation, you can see their success.
Content Calendar
The SharpSpring content calendar is my favorite. Over the past year, I have reviewed many content platforms, project management tools, and social media scheduling tools. SharpSpring's calendar is the most intuitive and organized I've ever seen.
The posts you schedule for your blogs, social media channels, and even your emails can be sent at a specific time. 
There is no limit to the number of websites and social media channels you can connect, making it convenient for agencies representing many companies.
I really like SharpSpring's calendaring feature for workstations because you are able to post directly to the calendar. Using the calendar view, for example, you can update your Facebook status.
With SharpSpring you can monitor mentions, messages, and engagement on social media to better manage your brand.
SharpSpring Pricing
Business owners care most about one factor: price. These features are great, but they aren't the only problem. 
Depending on how many contacts you require for your CRM, they offer one or more tiers. 
The following is a breakdown of SharpSpring's pricing:
1,500 contacts: $550/month

10,000 contacts: $850/month

20,000 contacts: $1,250 month
Those companies and agencies with millions of customers can also get their own plans.
Looks like these prices are expensive, don't they? SharpSpring can actually save you a significant amount of money. 
Due to the fact that all plans support a specific number of contacts, while competitors will charge you per user. On all plans, SharpSpring offers unlimited users.
Consider an agency with 30 employees who all need access to the system if you choose a competitor. Your monthly cost increases to $750 if their price is $25 per user. 
How about hiring more people? You may have to pay more or upgrade to a new plan.
SharpSpring doesn't require you to worry about this. If you have a team of 30 or 3,000 employees, you can scale your service based on the contacts in your CRM.
In addition, competitors may not be transparent about their fees. SharpSpring offers a full suite of services, for instance, but you may have to pay extra for them. SharpSpring plans include unlimited features and users.
The only downside is that the price tag remains high for small teams and new agencies.
Try SharpSpring's demo if you're unsure.
SharpSpring Pros
1. Behavioural-Based Email Automation
In SharpSpring, emails start conversations that lead to lead conversions.
Users can send personalized messages after clicking, instead of sending generic emails after clicking. 
Leads receive relevant information during key phases of the purchase process as a result.
2. Dynamic Forms
You can customize forms to include reorderable fields through the solution. Drag-and-drop capabilities make this easy to modify. 
You can also offer autocomplete functionality to regular visitors, both to make your website more engaging and to increase conversion rates. 
The tool can also be used to map fields from third-party and native forms.
3. Lead Engagement
With the system's visual workflow builder, marketing automation is really simple. 
In order to engage lead at crucial stages in a purchase journey, a branching logic approach is a useful tool. 
With customized buyer personas, targeted messaging can be performed, and users receive daily lists of strong leads via email, which can easily be converted into sales. 
In the meantime, lead scoring takes into account page tracking, engagement, and fit among other factors, allowing one to easily spot strong prospects.
4. Quick Lead Identification
Lead identification is easier with the tool because it can identify twice as many site visitors. 
Its behavioral-based tracking feature can be used to determine a prospect's motivation. This software allows you to track your leads since it provides a visual representation of your leads pipeline. 
In order to handle their distinct sales processes, users can create their own fields, deal stages, and filters.
5. Custom Landing Pages
Using SharpSpring, you can create landing pages and funnels that convert visitors into leads in no time. 
For more conversation, use dynamic web content that changes based on visitor attributes and interests. 
The tool's intuitive interface offers point-and-click functionalities that make these possible. In order to achieve these benefits, you do not need to be a developer or coder.
6. Powerful Analytics
Data-driven decisions are supported by the software's advanced analytics, which can be used to make business decisions. 
By using metrics, it becomes possible to generate info-rich reports easily and share them with teams and clients. 
It is possible to track an email's success, while messaging can be optimized by looking at open rates, click rates, bounce rates and delivery rates. 
By doing so, you can find out which emails are serving their purpose and which are not.
7. Cost-effective
In comparison to similar tools at this level, Sharpspring is 3-10X less expensive than Pardot or Marketo.
8. Month-to-month contracts
Sharpspring does not require long-term contracts or expensive transfer fees. It is only necessary to give 30 days notice if you want to switch providers.
9. Ideal for agencies
A particular strength of Sharpspring's offering is its focus on agencies. Agency-specific pricing and features are included on their platform, as well as rebranding.
SharpSpring Cons
Apart from the occasional slow speed and bugs, many customers have reported some downsides.
It has been noted that SharpSpring is lagging behind its competitors when it comes to building landing pages and emails, for instance.
I mentioned earlier that I was intrigued by the way SharpSpring uses its own unique semantics. This can engage customers, but it can also confuse them.
"Campaigns" are anything a brand does to promote engagement, not necessarily the marketing tactics that make up a marketing goal (what most people, including myself, may consider a "campaign").
What Problems Will SharpSpring Solve?
SharpSpring addresses numerous marketing concerns commonly encountered by marketing teams. Thanks to the system's vast tools, this is possible. 
The following are examples of problem scenarios and the way the software solves them:
Problem 1: Too many programs cause confusion
With SharpSpring, marketers have everything they need to plan, strategize, create, test, monitor, and measure marketing campaigns across different channels, which include social, SEO, email, and landing pages all the way to conversion. 
Moreover, you won't need to worry about your existing system not working with the platform. 
It comes with an open API that allows it to integrate with any solution, so that you can manage everything from a single location.
Problem 2: Lack of control over marketing automation by agencies
As most vendors require agencies to sign contracts with them, agencies often struggle with managing their customers' marketing automation. 
SharpSpring allows agencies to fully control their branding and pricing since it was designed to cater to their needs. 
Additionally, it provides agencies with control over their clients' marketing automation, which is a separate service.
Problem 3: Marketing automation is expensive
SharpSpring does not use annual subscriptions, which are known to lock users into long-term contracts. 
The price of the software should not fool you. Even though SharpSpring's plans are inexpensive, it has all the features you need to drive your leads and significantly increase conversions. 
Users can cancel their subscription at any time, which makes it even better.
SharpSpring Customer Support
If you need to contact customer service, what should you do? You can submit support tickets in SharpSpring. 
If you need to speak with a representative, you can use the live chat feature or contact the customer service department.
Alternatively, you can use any of the following additional support functions:
Training

Community forum

Surveys
How Does SharpSpring Compare to the Competition?
SharpSpring is not the only marketing automation and CRM available. Why does SharpSpring stand out from the competition? 
First of all, they cater specifically to agencies and let them design a workstation that works for them.
It is their support of various roles that makes them unique. SharpSpring provides unlimited users, unlike competitors. 
You will be able to better organize and connect your team with SharpSpring, since users can define their role and actions.
Quality is also a priority at SharpSpring. Marketers use marketing automation to ensure their leads receive content that resonates with them by using powerful personalized functions.
Major Software Review Sites' Rating on SharpSpring
Capterra Rating: 4.6/5
G2 Rating: 4.5/5
FinancesOnline.com Rating: 9.2/10
TrustRadius Rating: 7.6/10
GetApp Rating: 4.6/5
SourceForge Rating: 4.5/5
CompareCamp Rating: No Rating
Crozdesk Rating: 4.5/5
SaaSworthy Rating: 4.1/5
Software Advice Rating: 4.5/5
FeaturedCustomers Rating: 4.8/5
Fool.com Rating: 7.4/10
SelectHub Rating: 8.7/10
SharpSpring FAQs
How do you cancel SharpSpring?
SharpSpring advertises that their service requires no contracts and you can cancel at any time.
Unfortunately, I cannot cancel their service. If you Google "How to cancel SharpSpring", you will only find instructions to delete your bank account.
Several reviewers reported that customer service ignored them when they tried to cancel SharpSpring.
You should only sign up for SharpSpring if you are 100% certain you will use the service.
The demo doesn't require a credit card number, but don't give any financial information in advance of deciding how to cancel your account.
How Does Marketing Automation Work?
Various marketing tasks, such as email marketing, can be automated with marketing automation. 
In other words, you don't need to send or post marketing materials, or even control basic campaign tasks manually.
Behavioral marketing is one of the advanced features that SharpSpring offers. SharpSpring is extremely competitive because of this.
How well does SharpSpring's CRM work?
It scores engagement, completeness, and more in order to identify prospects in SharpSpring's CRM. Your customers and prospects will receive personalized messages from you this way. 
Through your CRM, you can automate tasks as well.
Final Verdict: SharpSpring Review
SharpSpring is a great marketing automation solution for agencies. At one price, you get powerful features and a marketing suite that's all-in-one. 
Their all-in-one solutions offer transparent pricing and businesses can save money. The company is committed to providing a customizable workstation for teams of any size and boasts powerful capabilities.
You can try their free demo first to see if it fits your business.
SharpSpring Alternative: A Must-Have Online Marketing Tool
As you are reading this review, I'm sure you are an online entrepreneur, so I would like to introduce a very powerful marketing tool to you to help you scale your business to the next level.
It's called ClickFunnels. You may have heard of it, but if not, let me explain why you should consider using it to generate more sales online.
ClickFunnels is an all-in-one marketing tool that helps entrepreneurs, digital marketers and business owners market, sell and deliver their products or services online. 
ClickFunnels is the only piece of software you will ever need to run an internet business.
It eliminates the need to hire a web designer or salesman who is overpriced and lazy. So you can save a lot of money using ClickFunnels in the long term.
Anybody can build, design, and launch a sales funnel using ClickFunnels, regardless of their experience. Those days of hiring coders, web designers, and marketing agencies are over. With ClickFunnels, getting your business online has never been easier.
Get 14-Day Free Trial of ClickFunnels Here
But How Much Can You Earn With ClickFunnels?
Many online entrepreneurs are using ClickFunnels and have earned at least $1 million in sales using ClickFunnels. The earning potential is limitless.
ClickFunnels created an award called the "Two Comma Club" award for entrepreneurs who reached the 7-figure financial milestone inside one of their ClickFunnels funnels.
The screenshots below are some of the winners of the "Two Comma Club" award. Do you want to be one of them?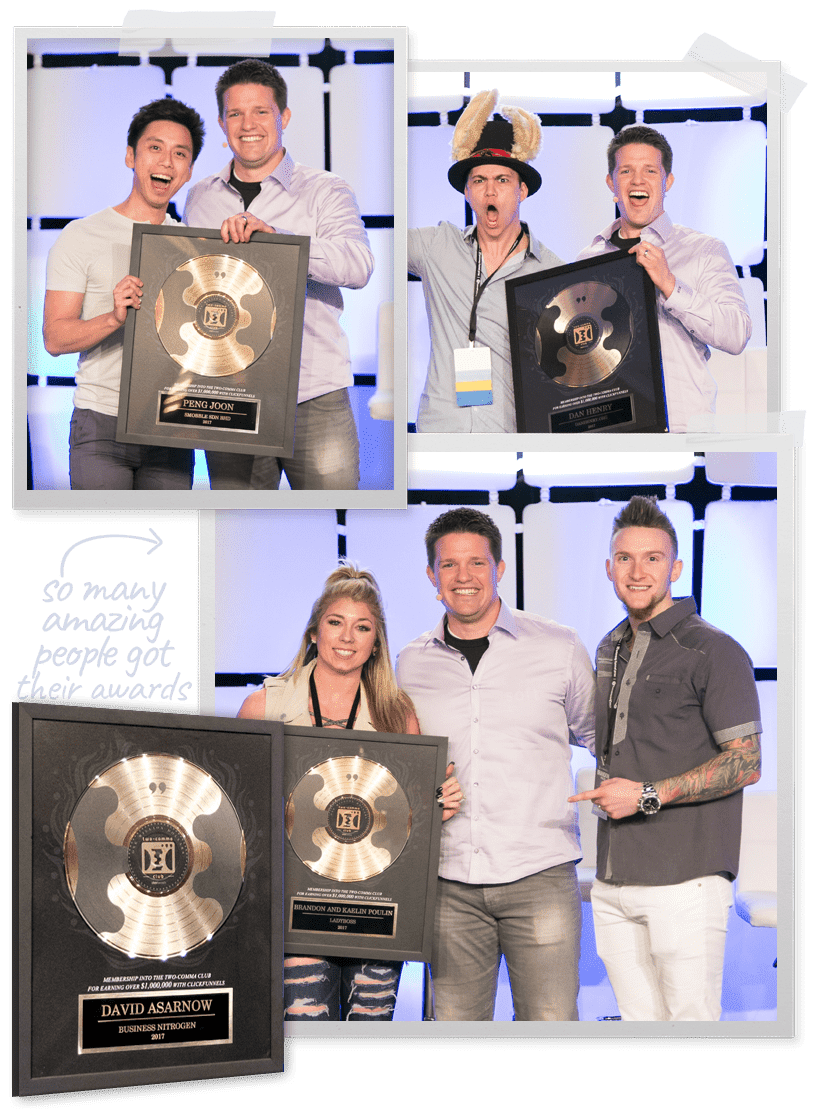 With ClickFunnels, you can drastically increase the opt-in rate and upsell conversion rate: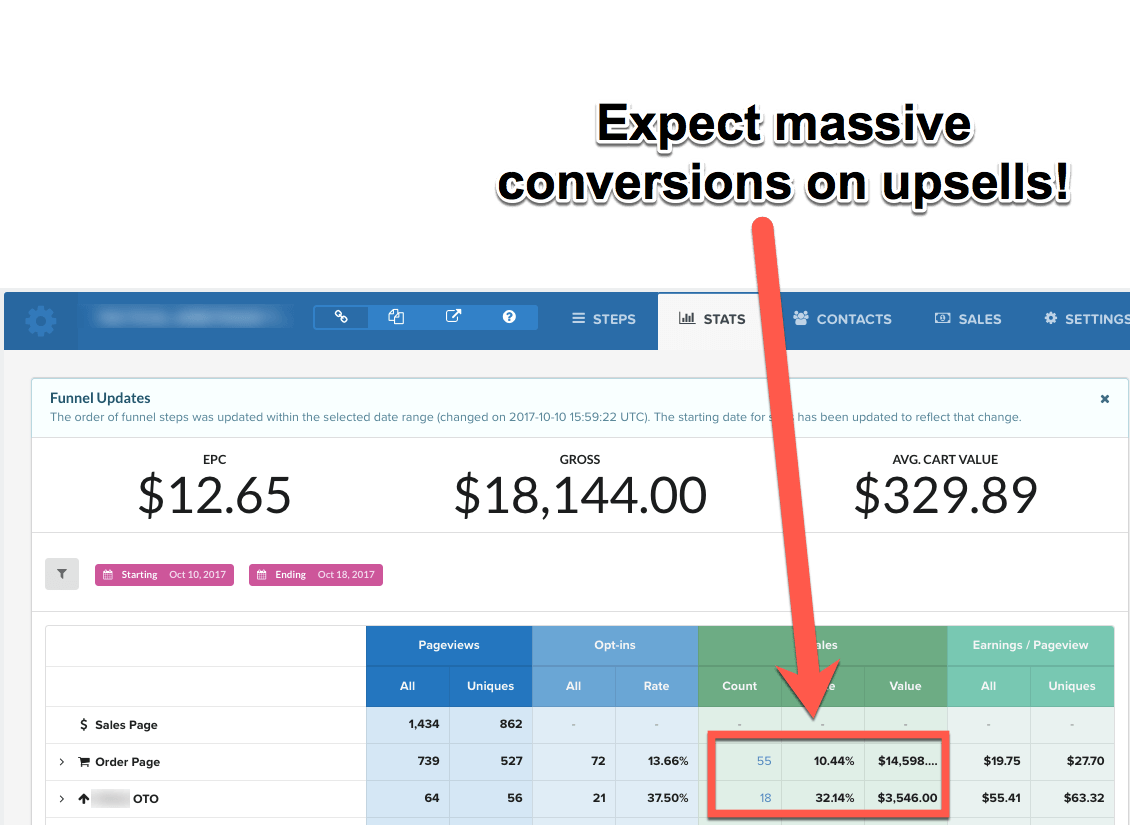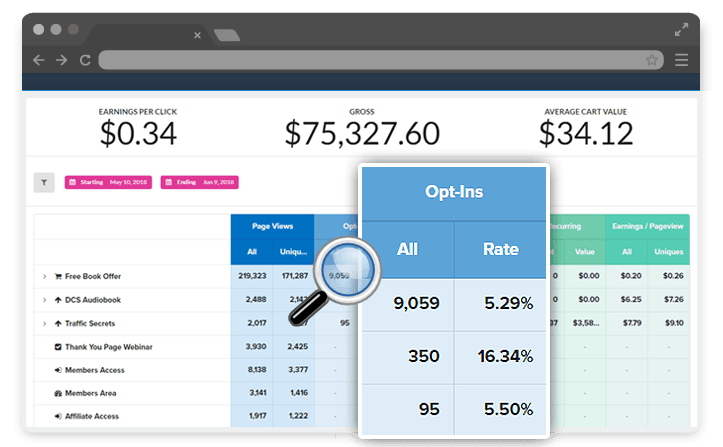 Get 14-Day Free Trial of ClickFunnels Here
Where to Get ClickFunnels?
ClickFunnels offers a 14-day free trial.
If you want to try ClickFunnels and see if it fits your online business model, you can sign up for the free trial here (no worries that you can cancel it anytime within 14 days and won't be charged a penny).
With the free trial, You can get instant access to every amazing feature of ClickFunnels:
Drag-And-Drop Website/Page Builder

One-Click Upsells & Downsells

Optin-Forms

Order Forms

Membership Area Pages

A/B Testing

Follow-up Funnels

Email List Building Tools

Email Management

Integrated Affiliate Management System

Sales Analytics

Pre-Built Funnel Templates

Payment Gateways Integration

Third-Party Integrations & Apps

CRM

And many more…
If you want to see a detailed evaluation of ClickFunnels, you can read this ClickFunnels review.
Anyway, I strongly recommend you to register a free account with ClickFunnels and see it yourself.