Are you looking for a Really Simple Systems review? Should you use it for your business? Is Really Simple Systems a scam?
If you are looking to use Really Simple Systems in your business, you may have these questions in mind. But you will have all your doubts resolved by the end of this Really Simple Systems review.
I have a passion to help businesses explore the best software to improve business operation and increase profit.
In the past week, I've done thorough research about Really Simple Systems. So I can tell you a lot of things about Really Simple Systems to help you make an informed and wise decision.
In this Really Simple Systems review, I'm going to cover the following.
What is Really Simple Systems CRM?
Really Simple Systems CRM is an easy-to-use online CRM platform for sales, marketing, and customer service. Hundreds of users can be accommodated by the hosted CRM system.
By connecting to the Internet, you can access your data from anywhere. With this CRM app, you can manage all of your prospects, customers, tasks, contacts, marketing campaigns, and sales opportunities in one place.
Since the vendor runs the CRM system on their servers, you get full functionality. You do not need to install or maintain anything on your computers. 
Data is backed up every night by the vendor's servers and software. You only need a browser to use Really Simple Systems CRM.
Who is Really Simple Systems CRM For?
You should use Really Simple Systems if you meet the following criteria:
Businesses that want to integrate customer data into one platform
Really Simple Systems integrates sales, marketing, and customer service data so you can see how each contact has progressed throughout the customer journey. 
Different teams can personalize customer interactions and strategies by using this integration. Our list of best contact management software now includes the platform.
Nonprofits, small teams, and startups without the budget for an advanced CRM
Teams can use the platform to manage relationships with members, benefactors, and other contacts for free. 
With its intuitive interface, you can tailor-fit reports for metrics that matter to your organization. One of our top picks for the best simple CRM systems.
Tenant support
A property manager can use Really Simple Systems' solutions to build relationships with tenants and to track support concerns. 
Due to this, we included the platform in our top picks for the best rental property management CRMs.
Email management
As a result of its comprehensive functionality, the platform allows you to manage emails throughout all your marketing, sales, and customer service processes.
Accounting
Really Simple Systems integrates with third-party accounting software, such as Xero, SageOne, and KashFlow. 
You can view your sales, generate invoices, and monitor account balances directly from your CRM with these integrations. 
As a result, Really Simple Systems made our list of the best CRM systems for accountants and bookkeepers.
Who is Really Simple Systems CRM Not For?
Field sales 
Really Simple Systems does not have a mobile app, which could be problematic if your sales process requires a lot of on-field work. 
You may want to take a look at Freshworks CRM if you need a powerful CRM with field appointment sales features.
Social media marketing
Social media integration is not available on the platform. Email and phone are its only communication channels. 
Social media plays an important role in your marketing, sales, and customer service processes, so HubSpot CRM may be a good fit for you.
Sales workflow automation
Really Simple Systems does not offer solutions for automating sales tasks and pipeline updates, which could be crucial for streamlining sales processes. 
You may want to consider Pipedrive if you are looking for a CRM solution with extensive automation features.
Really Simple Systems CRM Features
Home
It's the main dashboard that gives a quick overview of pending tasks, sales funnel, and opportunities and forecasts. 
Also included are Help Drawers and links to the comprehensive Customer Support Hub.
Contact Management (Accounts and Contacts)
With Really Simple Account & Contact Management, all your customers and prospects are organized into two tiers of data: Accounts (companies and organizations) and Contacts (people who work there).
These menus offer a wide range of useful features that make managing even the most complex businesses easy.
Opportunity Management
Using RSS, you are able to track all potential and closed deals, allowing you to prioritize sales effort and to see your and your team's sales pipeline.
The menu also keeps all the related information in one place, just like the Contacts and Accounts menus. Businesses that offer multiple products and services to their clients will benefit greatly from the opportunity management system.
Tasks
An integrated calendar will be released in January 2021, providing an automated and visual record of users' tasks as well as priority or date-ordered lists.
Reporting
A listing report system and forecasting are included in RSS. There are several built-in reports that can be run or modified as needed. A customized report can be created and downloaded as a PDF or data file.
Custom Charts
Custom Charts allows you to create your own dashboard widgets from your CRM data. You might use this to summarize your customer accounts, sales revenue, or a custom field. 
Pie charts, line charts, bar charts, gauges, and numeric output values are all displayed similarly to CRM reports.
Settings
In the RSS Settings menu, you can find intuitive groupings of various administrator controls, such as subscription management, managing users, custom fields, company information, web-to-lead forms, etc. 
You can also view the system log and view/update the subscription agreement from this menu.
Marketing Management
RSS provides two marketing tools: Simple Marketing and Advanced Marketing. Easy to use, Simple Marketing helps you create professional-looking emails and quickly send them. 
You can create sophisticated segments of your contact database using the Simple tool's mailing lists feature.
Service and Support Management
Customer Service & Support utilize Case Management to track support and service requests and escalate them to meet service levels.
Quotations
Quotations let users create sales quotations directly from an opportunity and send them to their contacts. When a Sales Opportunity is created in the Professional and Enterprise plans, a quotation can be generated directly from the opportunity. 
Your prospect or customer can view it onscreen, download it and send it to them. This feature allows users to set up their company logo, bank account, and tax information using a customizable template.  Then, all quotations will be standardised. 
In addition to the document storage limits for the user's price plan, all stored sales quotations are included. Professional plans include 5GB of data, and Enterprise plans include unlimited data. 
As part of the first phase of development, quotations are only available for a single currency and a single rate of taxation.
Really Simple Systems CRM Pricing
Really Simple Systems offers a free plan and three subscription plans starting at $18 per user, per month. 
Scaled-down versions of the platform's sales, marketing, and customer service CRMs are included in the free plan. Contact and pipeline management are some of its basic features. 
You can also sign up for a 14-day free trial before joining a paid plan, which offers more advanced features like geolocation, email integration, and quotations.
Free Plan
Up to two users can use the Free plan. It does provide a lot of useful tools for free, such as contact and pipeline management, calendar management, interaction timelines, sales forecasting, and custom dashboards. 
There is, however, no email integration, which is a major drawback.
Starter
With the Starter plan, you can also integrate email and accounting software, in addition to the platform's basic features. 
Additionally, it gives you access to additional features such as email design and schedules, dynamic mailing lists, response tracking, and drip campaigns if you purchase the marketing add-ons. 
There is no limit to the number of subscriptions you can purchase.
Professional
With the Professional plan, you have access to features like teams, permission levels, and profiles, but with the lower plans, you do not. 
By purchasing the Service Desk add-on, you can access features such as case management, service level agreements (SLAs), and case ranking.
Enterprise
Enterprise plans allow for full customization. The CRM can be customized through menus, charts, and menu items with this plan. 
Additionally, you have access to advanced reporting features, scheduled reports, runtime options, and single sign-on (SSO) integration. 
Enterprise subscribers have access to team training and a dedicated account manager for customer support.
Really Simple Systems CRM Pros 
Manage your business conveniently from anywhere, anytime with a quick, intuitive and robust web-based CRM

Since all related information is on the same page, you can perform any operation on your Contacts without having to switch tabs

The system is ideal for small companies that do not require complex functionality as well for larger organizations where user adoption is the main concern and willingness to sacrifice deeper levels of functionality for simplicity.

Our pricing plans include: Free (2 users, 100 Accounts), Starter $15 per user per month (1,000 Accounts and unlimited users), Professional $33 per user per month (5,000 Accounts and unlimited users), and Enterprise $50 per user per month (unlimited Account and unlimited users).

Customization and personalization

An easy way to schedule emails 

Click-through tracking of multiple links within the email and handling of unsubscribes and bounces

A clickable graph and report

Customer service and data security that's second to none

Guides and videos are available on the Support Hub for all our features

Live webinars regularly
Really Simple Systems CRM Cons
Currently, there is no social integration

While RSS is an easy app in general, some features, such as. A web-to-lead form takes a lot of time

It is the Customer Support team that needs to activate the Service & Support menu

Supports only one language and currency
What Problems Will Really Simple Systems CRM Solve?
Problem 1
CRM systems fail because users don't adopt them – the systems are hard to set up and complicated to use. 
Really Simple Systems has designed its CRM to be simple to set up and easy to use. 
Within minutes, staff can learn how to use the system, and benefits are immediately apparent.
Problem 2
A CRM system needs to have a consistent marketing strategy that takes advantage of insights gleaned through the CRM system if it is to be really effective. 
You can use the CRM to send emails and newsletters straight from the email marketing module of Really Simple Systems. 
You can drill down to the individual level, personalize emails and set up drip marketing campaigns with all your data in one place.
Problem 3
It may still be necessary for some organizations to receive assistance in getting started and loading data. 
For customers who aren't familiar with the system, the vendor offers free support and training materials.
Other Really Simple Systems CRM Reviews
Really Simple Systems users appreciate the user-friendly interface, especially when it comes to managing marketing campaigns, contacts, and tasks. 
On popular review sites, it had the following scores at the time of publication:
Its ease of use, customization, and competent customer support team are praised by many users, but some areas are lacking. 
Due to the lack of a mobile app, it is difficult to use. 
However, some users report the browser-based software doesn't work as smoothly on mobile devices as it does on computers.
Really Simple Systems CRM Review: Final Verdict
The strength of Really Simple Systems lies in the synergy between its sales, marketing, and customer support CRM systems. 
Customers can be engaged, converted, and satisfied with the service. Each system has a user-friendly interface with a visual dashboard, as its name implies. 
Try out the free plan of Really Simple Systems to determine whether it fits your business needs.
Really Simple Systems CRM Alternative: A Must-Have Online Marketing Tool
As you are reading this review, I'm sure you are an online entrepreneur, so I would like to introduce a very powerful marketing tool to you to help you scale your business to the next level.
It's called ClickFunnels. You may have heard of it, but if not, let me explain why you should consider using it to generate more sales online.
ClickFunnels is an all-in-one marketing tool that helps entrepreneurs, digital marketers and business owners market, sell and deliver their products or services online. 
ClickFunnels is the only piece of software you will ever need to run an internet business.
It eliminates the need to hire a web designer or salesman who is overpriced and lazy. So you can save a lot of money using ClickFunnels in the long term.
Anybody can build, design, and launch a sales funnel using ClickFunnels, regardless of their experience. Those days of hiring coders, web designers, and marketing agencies are over. With ClickFunnels, getting your business online has never been easier.
Get 14-Day Free Trial of ClickFunnels Here
But How Much Can You Earn With ClickFunnels?
Many online entrepreneurs are using ClickFunnels and have earned at least $1 million in sales using ClickFunnels. The earning potential is limitless.
ClickFunnels created an award called the "Two Comma Club" award for entrepreneurs who reached the 7-figure financial milestone inside one of their ClickFunnels funnels.
The screenshots below are some of the winners of the "Two Comma Club" award. Do you want to be one of them?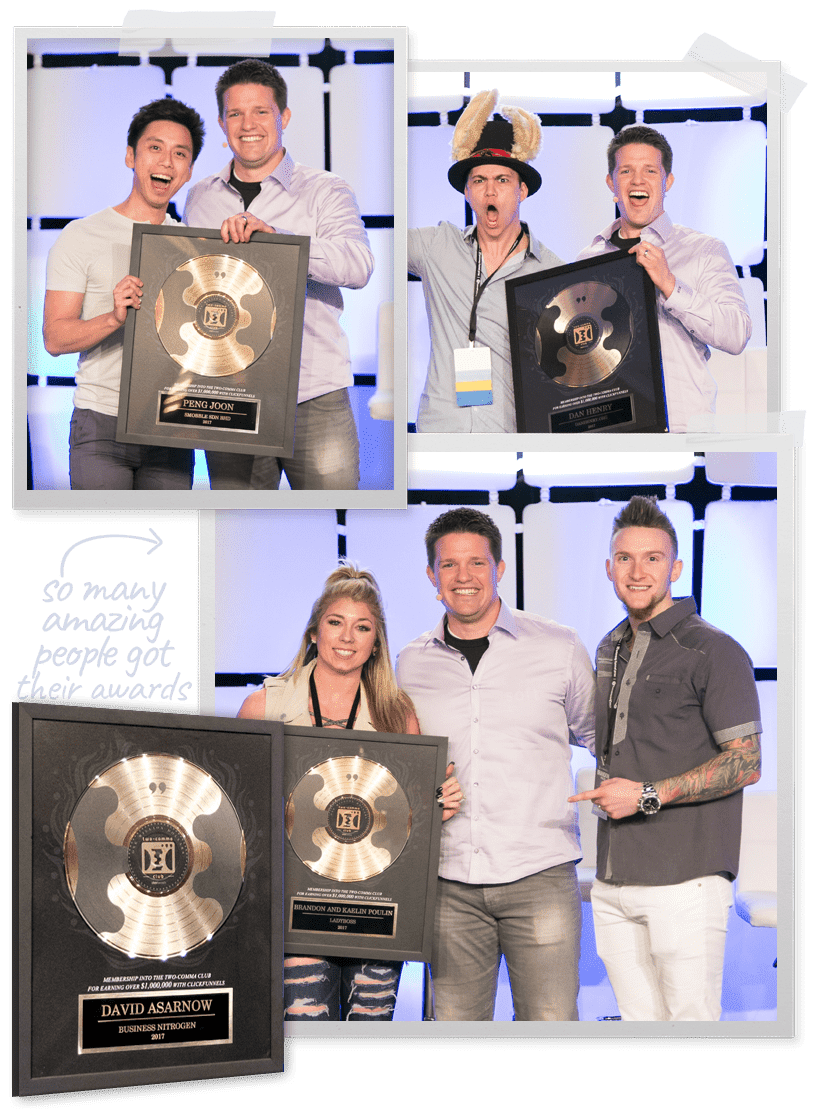 With ClickFunnels, you can drastically increase the opt-in rate and upsell conversion rate: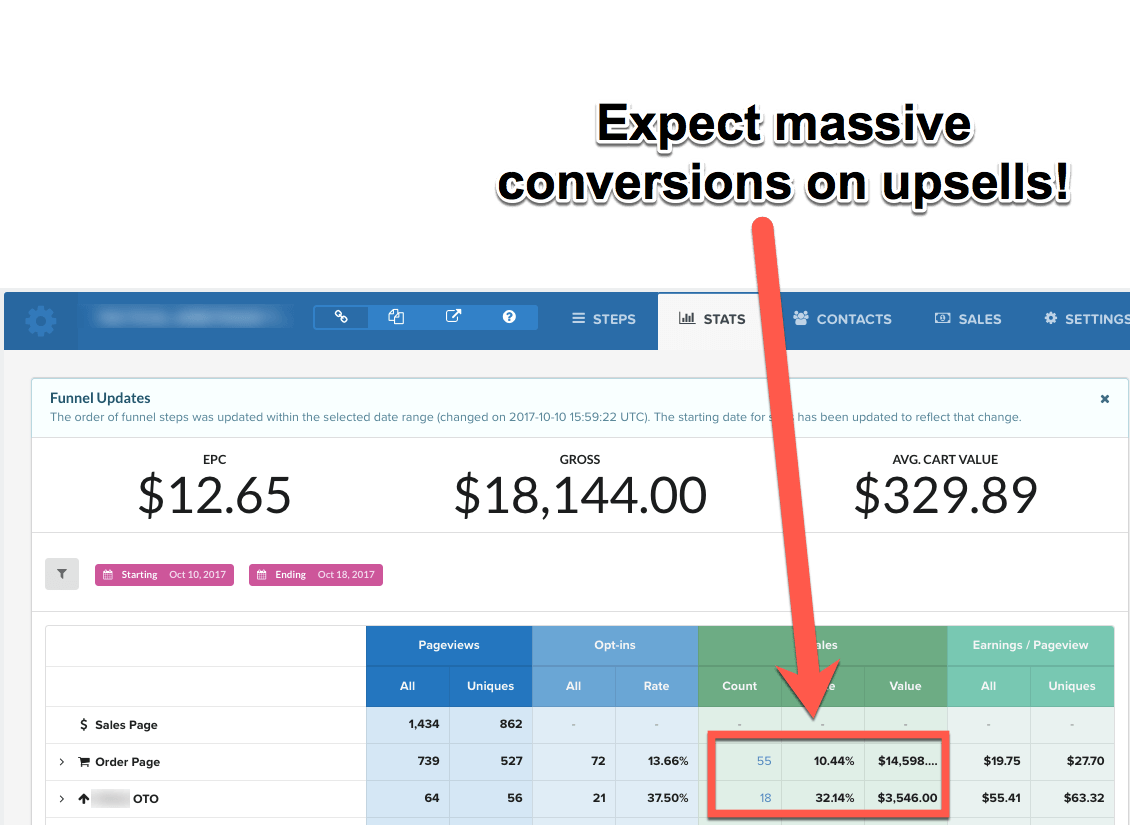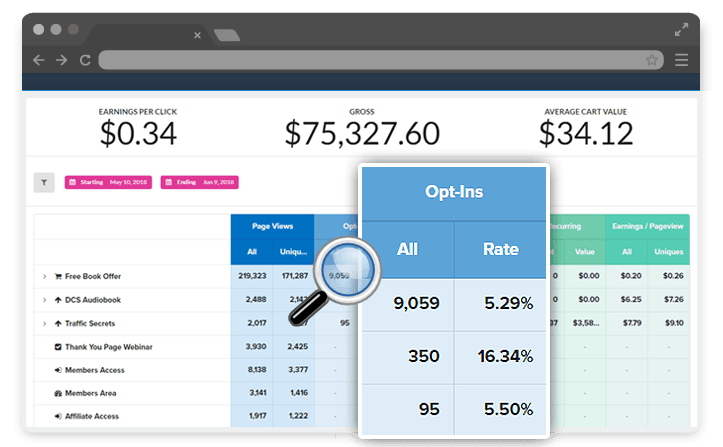 Get 14-Day Free Trial of ClickFunnels Here
Where to Get ClickFunnels?
ClickFunnels offers a 14-day free trial.
If you want to try ClickFunnels and see if it fits your online business model, you can sign up for the free trial here (no worries that you can cancel it anytime within 14 days and won't be charged a penny).
With the free trial, You can get instant access to every amazing feature of ClickFunnels:
Drag-And-Drop Website/Page Builder

One-Click Upsells & Downsells

Optin-Forms

Order Forms

Membership Area Pages

A/B Testing

Follow-up Funnels

Email List Building Tools

Email Management

Integrated Affiliate Management System

Sales Analytics

Pre-Built Funnel Templates

Payment Gateways Integration

Third-Party Integrations & Apps

CRM

And many more…
If you want to see a detailed evaluation of ClickFunnels, you can read this ClickFunnels review.
Anyway, I strongly recommend you to register a free account with ClickFunnels and see it yourself.