Are you looking for a Picreel review? Should you use it for your business? Is Picreel a scam?
If you are looking to use Picreel in your business, you may have these questions in mind. But you will have all your doubts resolved by the end of this  Picreel review.
I have a passion to help businesses explore the best software to improve business operation and increase profit.
In the past week, I've done thorough research about Picreel. So I can tell you a lot of things about  Picreel to help you make an informed and wise decision.
In this Picreel review, I'm going to cover the following.
What is Picreel?
Picreel is a software company that optimizes conversion rates. Founded over a decade ago, they offer customizable pop-over overlays, links, and other tools to help website owners capture more customers before they click away. 
Picreel is often described as an "out of the box" solution. Therefore, it works well with all the most popular CRM tools, such as WordPress, Squarespace, Shopify, and Wix, as well as being very easy to use. 
It takes less than 30 seconds for you to customize an offer with all of your company's details without any web coding knowledge. Additionally, it can be customized, allowing you to add colors, text, images, as well as HTML/CSS. 
With Picreel, you can implement campaigns, measure, and test them. In addition to split-testing (though you need the Pro plan), it captures impressions and conversions data. 
By selecting specific website pages, their location, whether they are new or returning, and other metrics, you can focus on specific users. In addition, you can increase activity on your site by implementing call-to-actions, timers, and other interactive elements across an overlay.
Generally, it makes web-based marketing easier to do, more powerful, and more effective since it offers many tools to support it.
How To Get Started With Picreel?
Picreel makes it easy to get started. You can set up your customized ad within minutes after registering for a free trial. 
Picreel should be integrated with your CRM as a first step. Using Picreel with your email marketing as well as your marketing automation platform is also possible. 
Your ad needs to be designed after it has been set up. Create your own template or choose from one of Picreel's thousands. From here, you can add any extra elements you desire, such as branding or photos, and it's ready to publish.
In Picreel, most of the focus is on leaving customers. Giving them an additional incentive to convert is the goal. Usually, it is a promo code or access to special resources, such as a podcast or webinar. 
Furthermore, Picreel uses features such as split testing to simplify ad refinements and attract more customers.
Who is Picreel For?
Picreel is primarily for eCommerce platforms. This is the tool for you if you sell a product or service online, especially if you already have a good amount of traffic from social media and other sources. 
Picreel gives you one last shot at converting the users, after you've already made an effort to get them there. It also works. At $14 a month, who wouldn't want to increase their conversion rate by 25%? 
Picreel can be used by eCommerce agencies as well. You can easily use its tools, letting your designers focus on more important tasks. 
The Picreel device is a valuable tool for anyone who is interested in improving conversion (and who does not want that?). It's also risk-free for you. That's one of the fastest turnaround times among all marketing solutions, according to Picreel.
Picreel Review – Features
The picture focuses on exit intent. By providing various incentives, you can keep potential customers on your site and convert them. 
Picreel may not ever appear on the screen of someone who goes to your site with the intent of buying something. You have already achieved success with them, so that's not the point. The moment your leads leave your site, Picreel captures them and turns them into a potential lead. 
Most importantly, they apply to all forms of content marketing-the longer someone stays on your website, the higher the conversion rate.  
1. Track the movement of the mouse
Your website's interaction with users is just as crucial as what you write. Picreel can track your visitor's mouse movements. Picreel deploys a solution as soon as a user attempts to leave the page. 
You can customize that to suit your needs. Think about creating a special offer or directing them to another web page. It's up to you. In this way, leads can be generated. It is easy to integrate into your site. 
You only need to copy and paste a small bit of code from Picreel onto each page. Installing the code is easy, and there is no impact on site performance.
2. Develop effective campaigns 
Most of the most successful web campaigns feature a banner page that appears when users attempt to leave the site. You can easily create beautiful pages using Picreel's Visual Editor or HTML Editor. 
You just need to upload your design or choose a template from the platform. In less than 24 hours, Picreel will transform your design into an effective campaign. For help with a custom campaign design, you can also reach out to Picreel. 
It is possible to design and code everything yourself using the HTML editor if you have the skills.
3. Conduct A/B testing 
A/B testing is the key to successful web marketing. It allows you to compare various versions of a website and find out which performs better among target users. The mouse movement features allow for A/B testing, and you can deploy two versions of a campaign to see which one gets the largest boost in conversions. 
You can add an A/B test by clicking on the "A/B" option in your campaign settings. In addition, Picreel saves previous versions of your campaign for reference. 
This feature is only available with the Plus, Pro, and Enterprise plans.
4. Improve the statistical data 
In addition to Picreel's tools, the data it generates can be extremely useful in helping you better design marketing campaigns. In addition to conversion rates and impressions, Picture Reel provides valuable campaign reports, as well as information such as conversion rates and impressions. 
Using them, you can easily see what's important at specific times. By focusing on the fine points, you can improve campaigns before.
5. Lead Acquisition 
Picreel also collects data about every user who visits the site. This information can be incorporated into email marketing campaigns to encourage users to return to your site in the future. 
When available, you'll find a lead's email address, geographic location, and the requested URL under the "Leads" tab. 
This information can then be exported into a CSV format or integrated into email marketing apps like Mailchimp and Getresponse for custom campaigns.
Picreel Pricing
Picreel's pricing starts with a 30-day free trial with no obligation to continue or leave credit card information. Picreel won't bind you to anything. Try out the free plan first, and if you like it, you can upgrade.
The following pricing options are available:
Starter – $14 per month for up to 3,000 monthly visitors, support for one site, unlimited campaigns and custom templates.
Basic – $52 per month for up to 10,000 monthly visitors, support for two sites, unlimited campaigns and custom templates.
Plus – $112 per month for up to 50,000 monthly visitors, support for four sites, unlimited campaigns and custom templates.
Pro – $299 per month for up to 300,000 monthly visitors, support for potentially more than four sites, unlimited campaigns and custom templates.
Picreel offers monthly and annual pricing options. In the pricing we discussed above, the monthly price is broken down, but the yearly price is paid in advance. Their low costs are a result of that. If you get billed annually, you get 25% off.
Each plan includes:
Stats

Re-targeting! (I ain't bluffing)

Cart and form abandonment

CRM Integration

Email marketing

Timed popups

Mobile support

A 10-second installation process

Email and phone support

Full-service management
Is Picreel Worth The Price? 
Picreel works extremely well, which is one of the reasons it is so popular. 
If you think you can just design your own exit intent ads, you're missing out on part of Picreel's magic. You're getting more than just ads; it's a whole suite of testing, analytic and other tools. 
There is, however, one caveat: Picreel won't drive traffic to your site overnight. Most of the responsibility still rests with you. It's essential that you use other apps on your site to attract visitors and promote it in the first place in order to succeed with Picreel.
Picreel Pros
Lead generator 

Exit intent 

Templates

Easy to use 

Customizable

Statistic 

Affordable

Free trial 

Integrates with all CRM/CMS 

Guaranteed to increase conversion
Picreel Cons
Split testing is only available in more expensive plans

Solutions limited primarily to exiting visitors
Major Software Review Sites' Rating on Picreel
Capterra Rating: 4.8/5
G2 Rating: 3.6/5
GetApp Rating: 4.8/5
Crozdesk Rating: 3.3/5
SoftwareSuggest Review: No rating
Picreel Customer Support Review
Picreel offers email and phone support for all of its plans, as you may have noticed in the pricing section. Since you may need to talk to someone on the phone, this is excellent news. You don't get direct lines like that very often. Furthermore, some people are more comfortable sending a quick email before returning to work.
It is possible to use a blog to keep up with conversion rate optimization and news, while tutorials and a full video tour are also available for users with a more visual bent.
Picreel's knowledge base gives you the ability to search for a keyword or topic and browse all of the documentation provided by the company. The fact that Picreel can be reached via Twitter and Facebook is also a nice feature.
It is true that social media is sometimes the fastest way to reach a support team.
Picreel Review FAQs
What guides, tutorials, or other support does Picreel offer?
You can always count on the Picreel support team for help. Experts in onboarding and conversion rate optimization (CRO) are available to help. Scheduling session setups.
Generally, what is the purpose of Picreel?
Generation of leads. Optimization of conversion rates. Exit popup.
What are some of the applications Picreel is typically used with?
Picreel is often used with MailChimp, Aweber, HubSpot, Marketo, Emarsys, Infusionsoft, Zapier
Does Picreel offer an API?
Picreel offers API access
What other apps can Picreel be integrated with?
More than 750 apps can be connected to Picreel.
Can Picreel be used by several individuals (teams, for example)?
Picreel can be accessed by as many teammates as you like. You can choose between read-only and full access modes.
What are the main user groups of Picreel?
Site owners. Marketing and sales teams.
Picreel is available on what platforms?
Web.
Picreel Review: Final Verdict
It's hard to find any major problems with Picreel. It has a user-friendly interface, is effective, and is affordable. 
Test them out for yourself with their free trial and conversion guarantee and there is really nothing to lose.  
See how Picreel can help you catch lost leads, improve your email marketing, and much more!
Picreel Alternative: A Must-Have Online Marketing Tool
As you are reading this review, I'm sure you are an online entrepreneur, so I would like to introduce a very powerful marketing tool to you to help you scale your business to the next level.
It's called ClickFunnels. You may have heard of it, but if not, let me explain why you should consider using it to generate more sales online.
ClickFunnels is an all-in-one marketing tool that helps entrepreneurs, digital marketers and business owners market, sell and deliver their products or services online. 
ClickFunnels is the only piece of software you will ever need to run an internet business.
It eliminates the need to hire a web designer or salesman who is overpriced and lazy. So you can save a lot of money using ClickFunnels in the long term.
Anybody can build, design, and launch a sales funnel using ClickFunnels, regardless of their experience. Those days of hiring coders, web designers, and marketing agencies are over. With ClickFunnels, getting your business online has never been easier.
Get 14-Day Free Trial of ClickFunnels Here
But How Much Can You Earn With ClickFunnels?
Many online entrepreneurs are using ClickFunnels and have earned at least $1 million in sales using ClickFunnels. The earning potential is limitless.
ClickFunnels created an award called the "Two Comma Club" award for entrepreneurs who reached the 7-figure financial milestone inside one of their ClickFunnels funnels.
The screenshots below are some of the winners of the "Two Comma Club" award. Do you want to be one of them?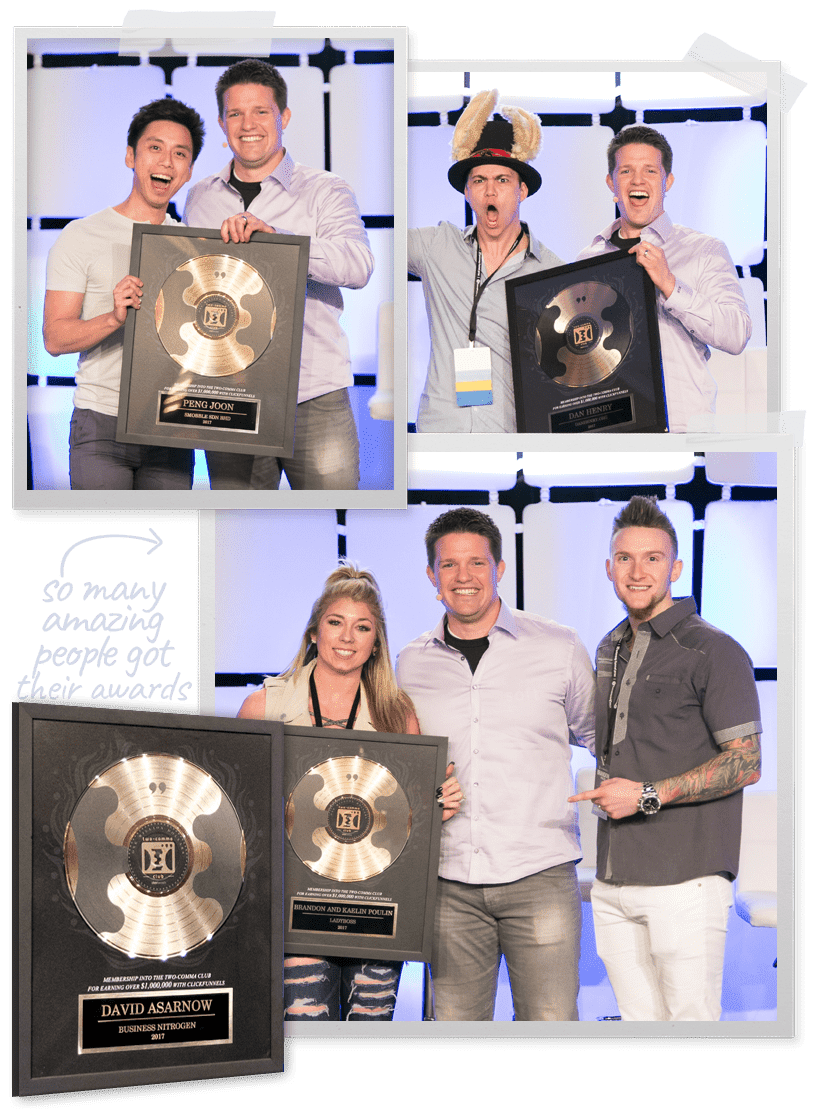 With ClickFunnels, you can drastically increase the opt-in rate and upsell conversion rate: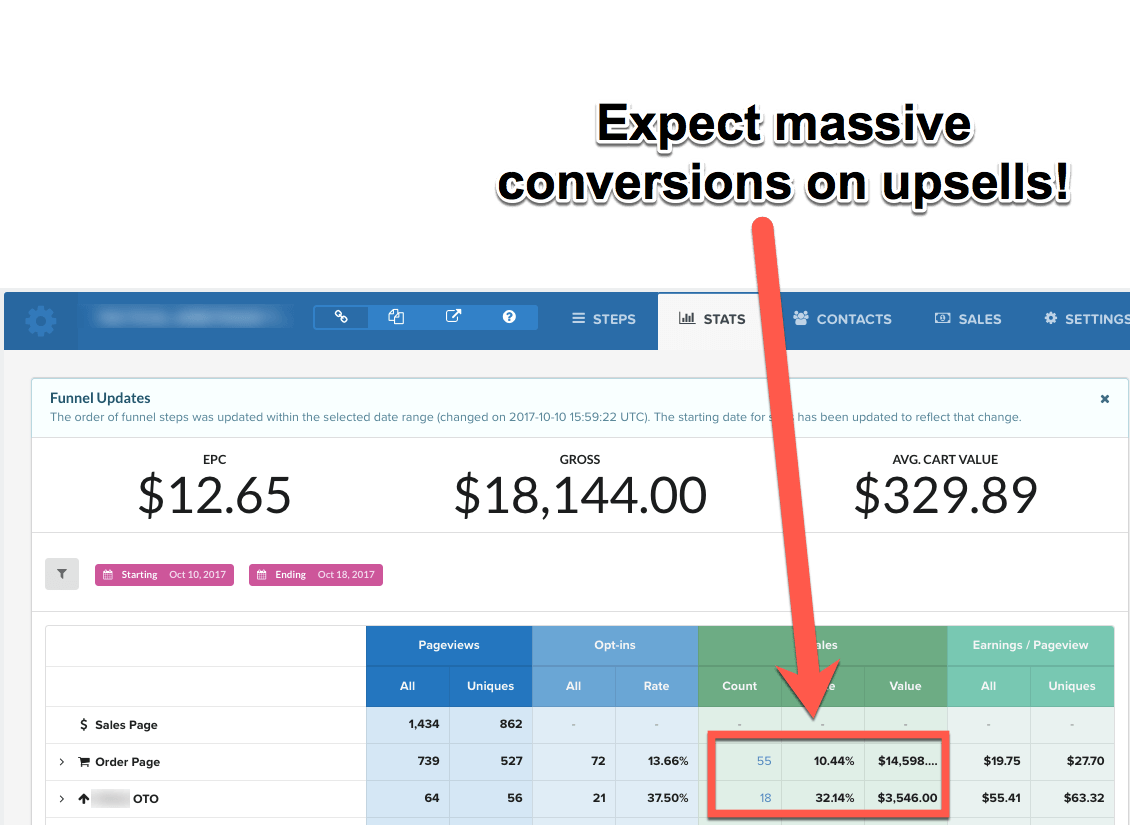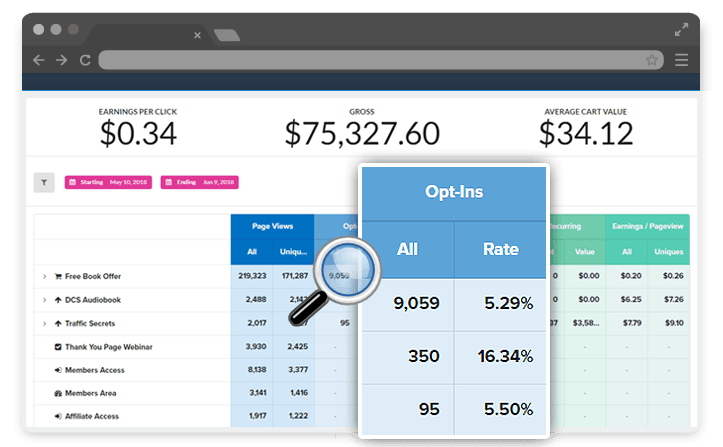 Get 14-Day Free Trial of ClickFunnels Here
Where to Get ClickFunnels?
ClickFunnels offers a 14-day free trial.
If you want to try ClickFunnels and see if it fits your online business model, you can sign up for the free trial here (no worries that you can cancel it anytime within 14 days and won't be charged a penny).
With the free trial, You can get instant access to every amazing feature of ClickFunnels:
Drag-And-Drop Website/Page Builder

One-Click Upsells & Downsells

Optin-Forms

Order Forms

Membership Area Pages

A/B Testing

Follow-up Funnels

Email List Building Tools

Email Management

Integrated Affiliate Management System

Sales Analytics

Pre-Built Funnel Templates

Payment Gateways Integration

Third-Party Integrations & Apps

CRM

And many more…
If you want to see a detailed evaluation of ClickFunnels, you can read this ClickFunnels review.
Anyway, I strongly recommend you to register a free account with ClickFunnels and see it yourself.