Are you looking for an Opteo review? Should you use it for your business? Is Opteo a scam?
If you are looking to use Opteo in your business, you may have these questions in mind. But you will have all your doubts resolved by the end of this Opteo review.
I have a passion to help businesses explore the best software to improve business operation and increase profit.
In the past week, I've done thorough research about Opteo. So I can tell you a lot of things about Opteo to help you make an informed and wise decision.
In this Opteo review, I'm going to cover the following.
What is Opteo?
AdWords monitoring tool Opteo provides email alerts, account monitoring, diagnostics, and reporting functionalities all within one platform for small and midsized businesses.
With Opteo, users can manage different functions such as an improvement engine, budget tracking, performance monitoring and alerts within AdWords Manager Accounts.
Opteo provides users with recommendations for optimizing their AdWords accounts. You can choose from more than 20 suggestions such as pausing underperforming bids, optimizing search queries, and fixing broken links.
In addition to "Test Ad Creatives," the product analyzes click-through rates and conversion rates to determine the best-performing campaigns.
Opteo provides search-query analytics, which allows users to identify negatives and expand keywords. As part of the solution, users can also track key metrics for their campaigns, including conversion rate, click-through rate, quality score, and ad rank.
Who is Opteo For?
Opteo is not for everyone. Here are the people who can benefit from Opteo:
For those who run multiple AdWords campaigns and want to streamline the process.

Those who wish to free up more time to spend on their business in other areas.

Business owners who care about the effectiveness of their AdWords campaigns and who would benefit from the ability to make real-time changes.
Opteo Review: Features
Inbox-style interface

Task automation

Ad performance analysis

Ad writing

Keyword bid updates

Ad pausing

Search query analysis

Budget optimization

Task prioritization

Improvement suggestions

Continuous account monitoring

One-click changes
What Are The Key Features For Opteo?
Based on conversion data and performance targets, Opteo will analyze your accounts and suggest improvements. You can easily apply Opteo improvements to your Adwords account with one click.

Real-time monitoring and optimization of Adwords performance is possible. Additionally, Opteo provides metrics such as AdRank and QS Components.

A single integrated table can be used to manage multiple accounts. You can view adgroups, keywords, and other metrics. Provides a complete overview of bids and budgets that can be optimized for better performance.

You can explore segments using an easy-to-use dashboard. Identify your most profitable segments and optimize performance. Spend less on inefficient segments and more on profitable ones.

Scorecards allow you to track your accounts' performance quickly and accurately. With in-depth account audits conducted in seconds, you not only understand the health of the account but also leverage your budget efficiently.

Get Improvements and Alerts delivered right to your inbox when you integrate with Slack.

Slack can be fully integrated with Opteo. In your inbox, you can receive updates from your favorite Slack channel about changes that are affecting the company. Keep up with important changes as they occur.
Opteo Pricing
A variety of pricing plans are available from Opteo to meet a variety of business requirements. 
The pricing is based on a monthly basis, with more components and functionality available in higher brackets. 
The following is a pricing overview:
Free Trial

Basic: $97/month
Professional: $197/month
Agency: $497/month
Unlimited: $997/month
Opteo Pros 
The application has been designed by AdWords users for AdWords users, eliminating many of the daily and weekly challenges related to managing multiple clients and campaigns.
 There will be no more laborious Excel analyses or tedious manual changes.
So you can focus on other areas of your business while still nurturing client relationships, refining creative strategies, and developing effective campaigns.
Opteo also changes your campaigns in real-time, based on its sophisticated algorithm. You will be notified immediately if any changes need to be made.
Optimizing your campaigns instantly, and on the go, means that planning and prioritizing is easier, more efficient, and more effective.
Opteo Cons and Complaints
Opteo is not perfect. There are some limitations and areas for improvement:
If you have an entry-level account, you can connect up to 25 accounts

It is only compatible with Google Ads. Opteo does not provide Facebook, Instagram, or Microsoft Ads integrations, and as far as we know, they are not on their Roadmap.
Other Opteo Customer Complaints
I have some customer complaints about Opteo. Here are some examples that I have extracted for your reference:
"A few improvements could be made – campaigns and ad groups list doesn't show up in alphabetical order, there could be a few more features – but I can see new features are regularly being developed. I'd love to see bid adjustment suggestions based on locations, and more frequent ad scheduling suggestions, but for the latter we likely don't have enough data in our accounts anyway to make meaningful adjustments, so perhaps that feature does come up more regularly for bigger accounts."
"Opteo can't grasp context. For example, I often have to dismiss "add keyword" suggestions because the suggested keyword is outside of the context of the targeted user intent. We do recognize however that other factors could be at play here that are obviously outside Opteo's control."
"I am not sure how effective the suggestions it gives for Google Ads–especially when Google already has their own bidding automation features. Some of the recommendations incorrect or redundant.'
"There's been a few instances where the recommendation didn't necessarily weigh up the total conversions against cost effectively. However I still endorse the solution as it's like a VA presenting the right information intelligently for effective decision making."
'Every once in a while I get an error where changes could not be pushed to Google ads."
Opteo Review FAQs
What is Opteo used for?
Opteo offers the following features:
Keyword Search

Analytics (ROI Tracking)

A/B Testing

Task Management

Campaign Management

Budget Management

Conversion Tracking
Does Opteo provide API?
Opteo does not provide APIs.
Major Software Review Sites' Rating on Opteo
Capterra Rating: 4.9/5
G2 Rating: 4.6/5
FinancesOnline.com Rating: 8.5/10
TrustRadius Rating: No rating
GetApp Rating: 4.9/5
SourceForge Rating: No rating
SoftwareSuggest Rating: No rating
SaaSworthy Rating: 4.6/5
Software Advice Rating: 4.86/5
Product Hunt: 5/5
Opteo Review: Final Verdict
Opteo is a first-class platform that offers great value for money when compared to its near-competitors. 
Every business or entrepreneur has different requirements and will need different software to meet those requirements.
Both small and large enterprises can make their AdWords campaigns more effective and profitable with Opteo. 
With Opteo, you can save time and resources monitoring AdWord campaigns and making changes you think will work. 
By analyzing data and applying an excellent algorithm, Opteo identifies which ads are most profitable and what is the best way to leverage your budget. 
Opteo's smart software makes data analytics easy.
Opteo Alternative: A Must-Have Online Marketing Tool
As you are reading this review, I'm sure you are an online entrepreneur, so I would like to introduce a very powerful marketing tool to you to help you scale your business to the next level.
It's called ClickFunnels. You may have heard of it, but if not, let me explain why you should consider using it to generate more sales online.
ClickFunnels is an all-in-one marketing tool that helps entrepreneurs, digital marketers and business owners market, sell and deliver their products or services online. 
ClickFunnels is the only piece of software you will ever need to run an internet business.
It eliminates the need to hire a web designer or salesman who is overpriced and lazy. So you can save a lot of money using ClickFunnels in the long term.
Anybody can build, design, and launch a sales funnel using ClickFunnels, regardless of their experience. Those days of hiring coders, web designers, and marketing agencies are over. With ClickFunnels, getting your business online has never been easier.
Get 14-Day Free Trial of ClickFunnels Here
But How Much Can You Earn With ClickFunnels?
Many online entrepreneurs are using ClickFunnels and have earned at least $1 million in sales using ClickFunnels. The earning potential is limitless.
ClickFunnels created an award called the "Two Comma Club" award for entrepreneurs who reached the 7-figure financial milestone inside one of their ClickFunnels funnels.
The screenshots below are some of the winners of the "Two Comma Club" award. Do you want to be one of them?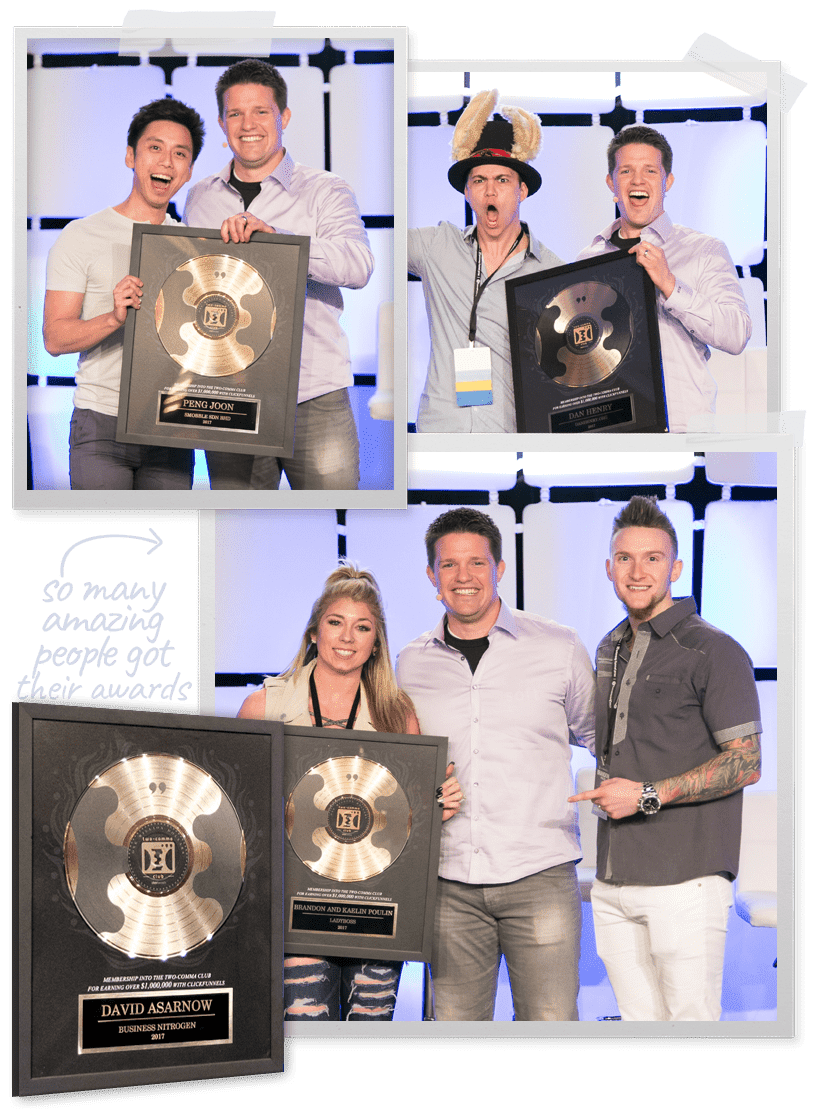 With ClickFunnels, you can drastically increase the opt-in rate and upsell conversion rate: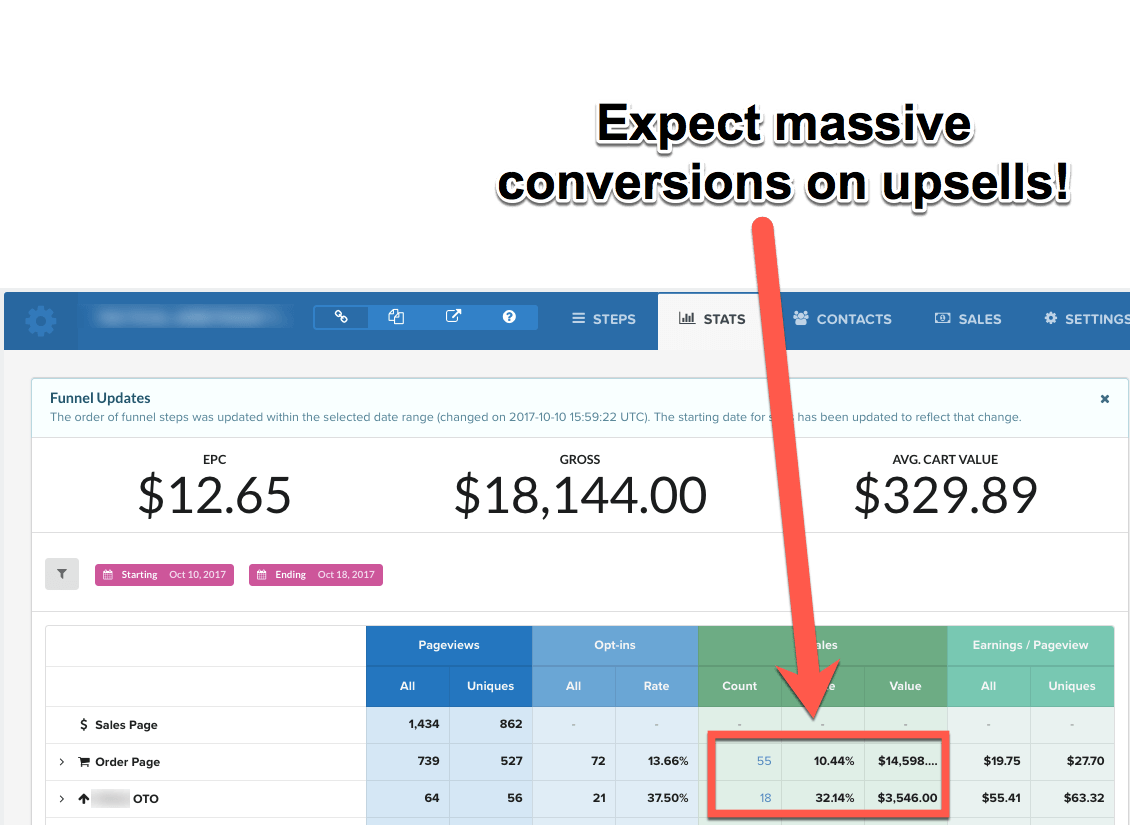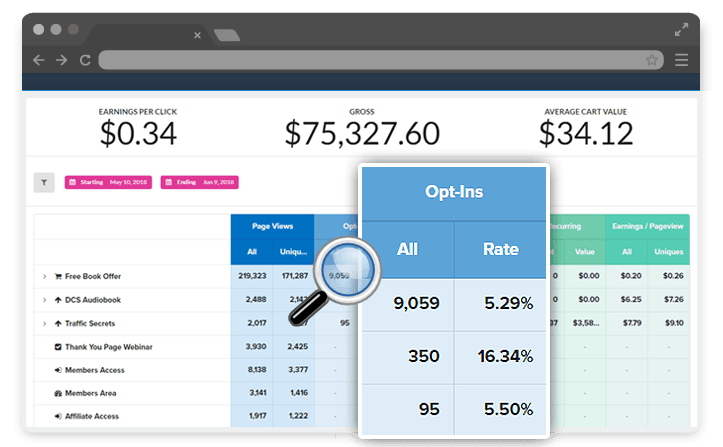 Get 14-Day Free Trial of ClickFunnels Here
Where to Get ClickFunnels?
ClickFunnels offers a 14-day free trial.
If you want to try ClickFunnels and see if it fits your online business model, you can sign up for the free trial here (no worries that you can cancel it anytime within 14 days and won't be charged a penny).
With the free trial, You can get instant access to every amazing feature of ClickFunnels:
Drag-And-Drop Website/Page Builder

One-Click Upsells & Downsells

Optin-Forms

Order Forms

Membership Area Pages

A/B Testing

Follow-up Funnels

Email List Building Tools

Email Management

Integrated Affiliate Management System

Sales Analytics

Pre-Built Funnel Templates

Payment Gateways Integration

Third-Party Integrations & Apps

CRM

And many more…
If you want to see a detailed evaluation of ClickFunnels, you can read this ClickFunnels review.
Anyway, I strongly recommend you to register a free account with ClickFunnels and see it yourself.