Are you looking for a MoonMail review? Should you use it for your business? Is MoonMail a scam?
If you are looking to use MoonMail in your business, you may have these questions in mind. But you will have all your doubts resolved by the end of this MoonMail review.
I have a passion to help businesses explore the best software to improve business operation and increase profit.
In the past week, I've done thorough research about MoonMail. So I can tell you a lot of things about MoonMail to help you make an informed and wise decision.
In this MoonMail review, I'm going to cover the following.
What is MoonMail?
MoonMail offers an email marketing solution that is so simple and straightforward that you can begin large-scale campaigns right away.
You can send up to 7,500 emails a month with the free version, and you can send bigger campaigns with the paid edition.
MoonMail is built on the Serverless Framework. A large email marketing campaign can be run using Amazon's cloud network using this setup. 
There are multiple ways to create mailing lists and deliver your emails based on certain traits and attributes of your target audience.
MoonMail allows you to track your emails and monitor their performance the moment they are sent. 
Once your customers have read your emails, you can see whether they have opened them or not.
Who is MoonMail for?
The majority of email and direct marketing solutions aim to appeal to all types of users. 
MoonMail's lack of ready-made email templates suggests that the product was built by someone who does not understand the need for pre-made templates for those who may not have the skill level to use markdown.
MoonMail Review: Features
There aren't many features in MoonMail. The features of this product include email wizard, segmentation, autoresponders, A/B testing, signup forms, and analytics.
However, it lacks advanced features that would make you pick it over other available options.
Campaigns
You can always see in MoonMail where you are in the process of creating an email blast, so you always know where you stand.
Creating an email newsletter begins with choosing whether to create a single message campaign or an autoresponder campaign that is triggered by customer behaviour.
It's time to create your message once you've selected your segment. It consists of a markdown cheatsheet and an HTML builder, but no pre-designed templates; you have to create your own using the tool.
This suggests that MoonMail was designed by someone who has no experience as a marketer or what they expect from an email platform.
This will also make it out of reach of people without design skills or who are new to email marketing.
It is also possible to create simple contact forms that encourage people to sign up for your email list.
Segmentation
Even though I've used and reviewed a lot of email marketing software, I was at a loss when it came to creating segments.
When it comes to choosing new software, it's not uncommon to want to test out a variety of different options before making a decision. During the testing process, it's important to be very clear about everything.
Segments can only be created based on when a contact was last active, such as if they opened an email within the last week or 24 hours. There is no option to add conditions such as location, past purchase behaviour, or website visits.
Analytics
MoonMail's reporting and analytics capabilities are basic, especially when compared to other email marketing solutions, like Mailchimp, which provide revenue-driven analytics.
In MoonMail's main dashboard, you can view different email campaign performance reports. It contains information about:
Total emails sent and delivered

Spam complaints

Bounces

Opens and open rate as a percentage

Clicks and click rate as a percentage

Unsubscribe rate

Email deliverability reputation
What Problems Will MoonMail Solve?
Problem #1: Simplicity 
Users find it disturbing when developers try to cram as many features as possible into an app. MoonMail's UI is extremely simple and easy to use because they kept this in mind.
Problem #2: Bounces
There are users who have lists that haven't been updated for some time and could have many bounces. The email list cleaning tool that MoonMail has used internally for almost a year is entirely powered by Big Data and Artificial Intelligence and helps users lower bounce rates.
Problem #3: Support
Human assistance when you need it. If you send a message through the live chat on the website, you will receive a fast and direct response from the MoonMail support team.
MoonMail Pricing
MoonMail offers a free sandbox account for testing, which allows you to send emails to up to 10 verified contacts.
A custom Enterprise plan is available along with the three main paid plans. The least expensive plan starts at $59 per month. 
You can send 50,000 emails per month to 10,000 recipients. Many small businesses may not be able to afford this price.
Unless you have a large list of subscribers or send a large number of emails a month, none of the pricing plans are worth the money. 
The Starter plan, which costs $249 a month, still limits the number of contacts you can email to 250,000. 
The more expensive plans of most email marketing solutions let you send emails to an unlimited number of contacts.
MoonMail Pros
With MoonMail's multilingual dashboard, users from all over the world can easily understand its features. Additionally, there are the following advantages:
Analytics
MoonMail offers comprehensive analytics including reports on interaction and delivery success rates. By using data, users can take business decisions that are backed up by data and enhance campaign performance.
Ease of use
There is a straightforward user interface that isn't cluttered with many features. As long as all recipient information is correctly entered in the system, automated email delivery is efficient. Clear details on the dashboard make navigation simple, with no chance of missing required fields or details since all features are laid out clearly.
Quality of support
Using Amazon Web Services infrastructure, live chat support is available 24/7. The user does not need to be a techie to understand the features of the application. 
Additionally, the help and support page is readily available for help with tech support issues and setup solutions. You can also read articles addressing developers' FAQs on the site.
MoonMail's website includes a link to a Quora forum page where site visitors and MoonMail staff can answer questions regarding the software.
Fully omnichannel
On top of sending on-demand messages via email, MoonMail is also able to send messages via SMS, WhatsApp, FB Messenger, Amazon, Apple, Baidu and Firebase.
Price calculator
The cost of email marketing using MoonMail is lower than that of other applications. By tracking the number of emails sent each month, users or site visitors can keep track of their email marketing expenses. 
Slide calculators and package plans automatically calculate and adjust.
Baremetrics
Pricing plans can include this feature. On the Control Center, Metrics, Forecasting, Customers and Benchmarks pages, users can view data and analytics on monthly revenue, annual run rate, average revenue per use, and net revenue.
This multi-page dashboard begins with the Control Center. The report can include a summary of the organization's net revenue and a breakdown of its activities. 
You can see a graph of money flow on the Forecast page, while the Metrics page shows all the revenue numbers. 
A timeline of the customer's payment history and transactions is available on the Customers page. 
Finally, the Benchmarks page gives a summary of all the metrics and numbers from the whole dashboard.
MoonMail Cons and Complaints
This platform didn't seem to have many flaws. I would like to suggest a few things:
The Shopify plug-in for e-commerce data is only available for automation, whereas regular newsletter segment options would be terrific.

If Amazon SES stops working, there is no option, and the footer branding is not very attractive.

A remarketing feature and an exclusion list are not available.

It would be nice to have more template options too, especially with the segmentation feature

It might be difficult for those without HTML experience to use this platform.

It would be great to have a mobile application.
Major Software Review Sites' Rating on MoonMail
Capterra Rating: 4.5/5
G2 Rating: 3.9/5
FinancesOnline.com Rating: 5/5
TrustRadius Rating: No Ratings
GetApp Rating: 4.5/5
Crozdesk Rating: 3.9/5
SourceForge Rating: 5/5
SaaSworthy Rating: 91/100
Fool.com: 5.2/10
Software Advice: 4.48/5
MoonMail Review FAQs
MoonMail is generally used for what?
MoonMail allows you to create and edit recipient lists, design responsive emails, send email campaigns, and track email campaigns.
Is MoonMail free?
Both yes and no. MoonMail offers a free sandbox account for testing, which allows you to send emails to up to 10 verified contacts. You won't be able to run email marketing campaigns if you have only a few customers. 
The cheapest plan starts at $59 per month, which allows you to send 50,000 emails a month to 10,000 recipients.
Is MoonMail equipped with autoresponders?
Using MoonMail's autoresponders, you can create automated emails that are triggered by customer behavior, such as signing up for a list. The least expensive plan does not include autoresponders.
Are there email templates in MoonMail?
MoonMail does not come with email templates. Create your email blasts using their HTML builder.
What are the main user groups of MoonMail?
Anyone who needs to send email marketing campaigns can use MoonMail. MoonMail is excellent for freelancers, marketing and design agencies, as well as enterprises since it scales to infinity.
Does MoonMail integrate with any other apps?
Shopify and Zapier will be integrated soon.
What platforms does MoonMail support?
MoonMail is a cloud-based solution that can be accessed using any web browser.
Does MoonMail offer guides, tutorials and or customer support?
MoonMail has a multilingual team that can help you if you need help or just want to say hi. It's not necessary to have an emergency to contact the MoonMail team, which supports 10 languages (05.2017).
Is there an API for MoonMail?
The answer is yes! MoonMail provides an API.
MoonMail is commonly used in conjunction with which other applications?
Email List Cleaning Tools, Design Tools, Amazon SES/AWS, Google Analytics.
Can MoonMail be used by multiple users (e.g. teams)?
Users can grant access to other MoonMail users so they can work together. If you're working on an email marketing campaign with another person, account sharing is helpful.
MoonMail Review: Final Verdict
You can use MoonMail's cloud-based email marketing software easily and effectively. 
With this platform, you can create and run your email marketing strategies and achieve optimum results. 
It's perfect for email marketing, according to brands like Warner Bros, Nespresso and Amazon. MoonMail has a comfortable plan so that you only need to pay for emails that will be sent and that's it. The email is sent in the same manner as a normal email would be and will not end up in spam or junk mail folders. 
The auto-response is a nice touch and is easy to set up and use. The dashboard will be accessible once it has been installed and launched. 
Consequently, you can update or adjust the campaign settings as you work with it and there are no additional fees. There are some email marketing platforms that try to cram as many extra features as possible into their apps and sites. 
This makes the platform more complex and unnerving than it needs to be. If you are a developer, than is definitely the right expression to keep in mind. 
MoonMail's simplistic approach is exactly what I needed and a little bit more. There is no need to bombard. 
MoonMail is a very good platform because it optimizes your success rate and makes the entire process as straightforward as possible. I highly recommend it.
MoonMail Alternative: A Must-Have Online Marketing Tool
As you are reading this review, I'm sure you are an online entrepreneur, so I would like to introduce a very powerful marketing tool to you to help you scale your business to the next level.
It's called ClickFunnels. You may have heard of it, but if not, let me explain why you should consider using it to generate more sales online.
ClickFunnels is an all-in-one marketing tool that helps entrepreneurs, digital marketers and business owners market, sell and deliver their products or services online. 
ClickFunnels is the only piece of software you will ever need to run an internet business.
It eliminates the need to hire a web designer or salesman who is overpriced and lazy. So you can save a lot of money using ClickFunnels in the long term.
Anybody can build, design, and launch a sales funnel using ClickFunnels, regardless of their experience. Those days of hiring coders, web designers, and marketing agencies are over. With ClickFunnels, getting your business online has never been easier.
Get 14-Day Free Trial of ClickFunnels Here
But How Much Can You Earn With ClickFunnels?
Many online entrepreneurs are using ClickFunnels and have earned at least $1 million in sales using ClickFunnels. The earning potential is limitless.
ClickFunnels created an award called the "Two Comma Club" award for entrepreneurs who reached the 7-figure financial milestone inside one of their ClickFunnels funnels.
The screenshots below are some of the winners of the "Two Comma Club" award. Do you want to be one of them?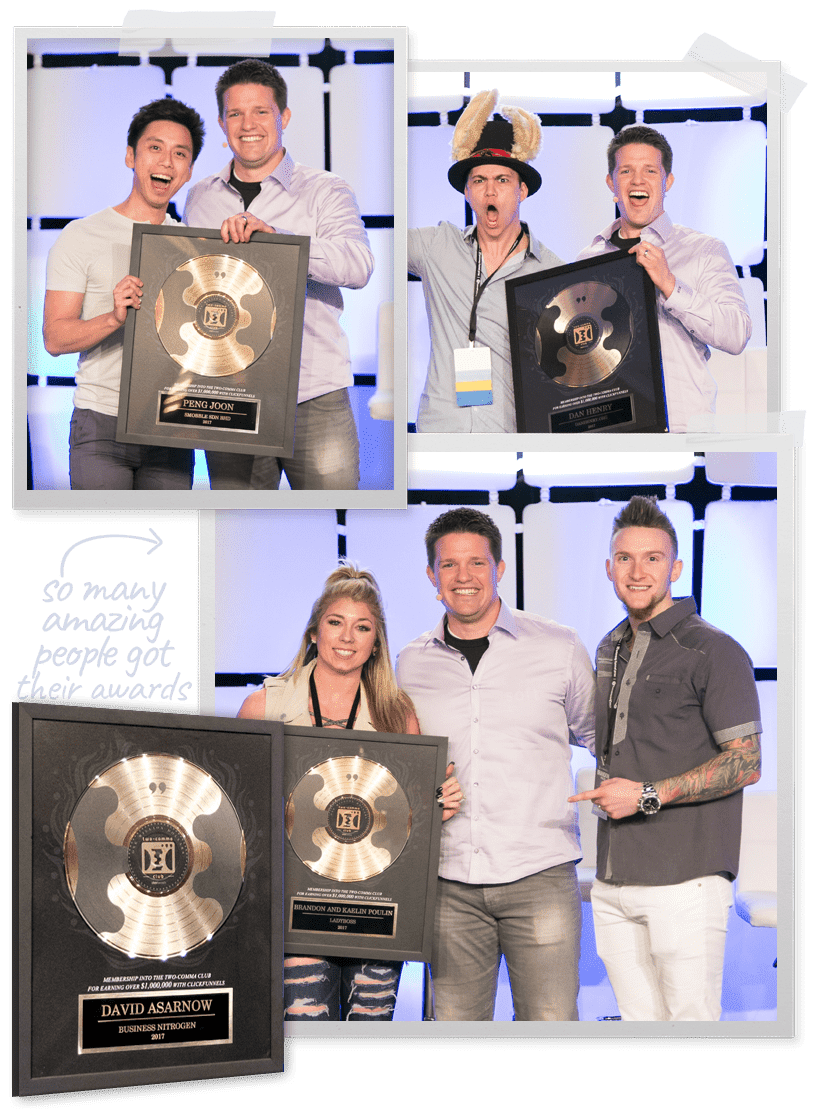 With ClickFunnels, you can drastically increase the opt-in rate and upsell conversion rate: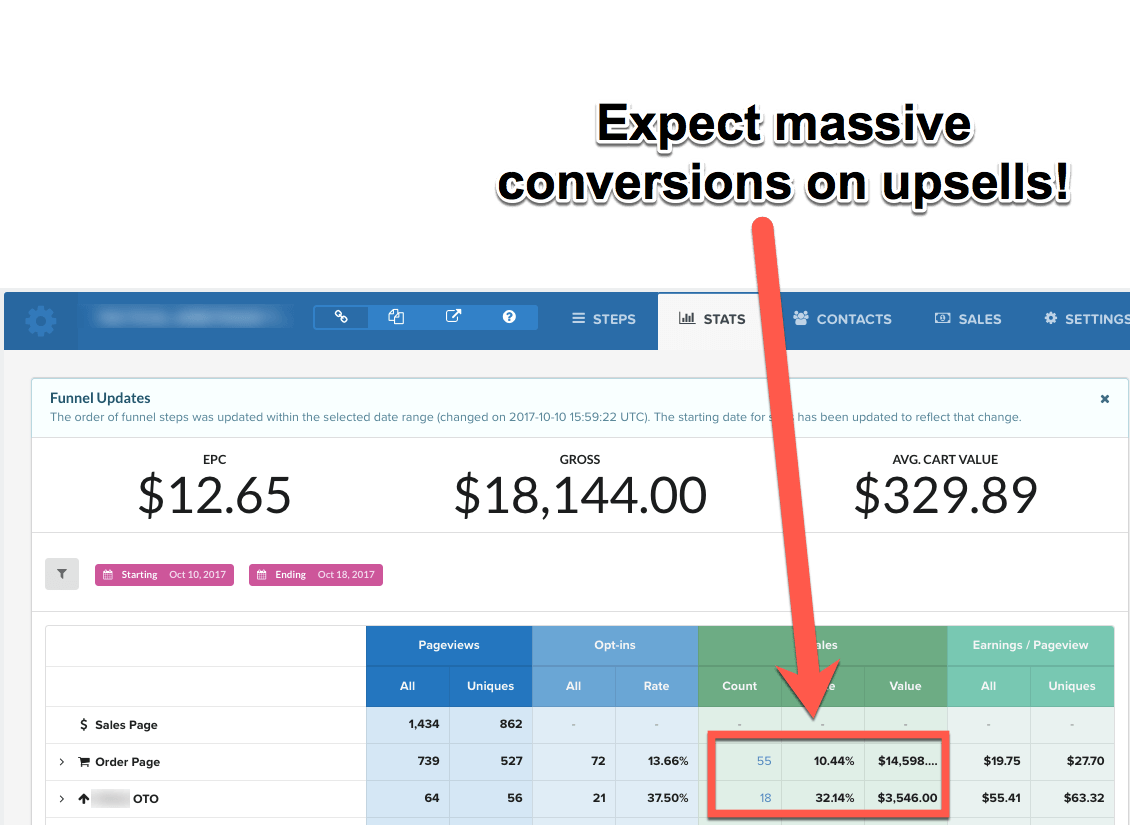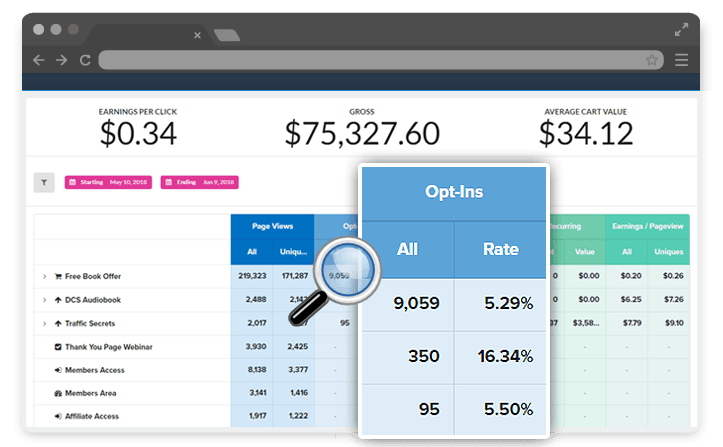 Get 14-Day Free Trial of ClickFunnels Here
Where to Get ClickFunnels?
ClickFunnels offers a 14-day free trial.
If you want to try ClickFunnels and see if it fits your online business model, you can sign up for the free trial here (no worries that you can cancel it anytime within 14 days and won't be charged a penny).
With the free trial, You can get instant access to every amazing feature of ClickFunnels:
Drag-And-Drop Website/Page Builder

One-Click Upsells & Downsells

Optin-Forms

Order Forms

Membership Area Pages

A/B Testing

Follow-up Funnels

Email List Building Tools

Email Management

Integrated Affiliate Management System

Sales Analytics

Pre-Built Funnel Templates

Payment Gateways Integration

Third-Party Integrations & Apps

CRM

And many more…
If you want to see a detailed evaluation of ClickFunnels, you can read this ClickFunnels review.
Anyway, I strongly recommend you to register a free account with ClickFunnels and see it yourself.