Are you looking for a Marketo Engage review? Should you use it for your business? Is Marketo Engage a scam?
If you are looking to use Marketo Engage in your business, you may have these questions in mind. But you will have all your doubts resolved by the end of this  Marketo Engage review.
I have a passion to help businesses explore the best software to improve business operation and increase profit.
In the past week, I've done thorough research about  Marketo Engage. So I can tell you a lot of things about  Marketo Engage to help you make an informed and wise decision.
In this Marketo Engage review, I'm going to cover the following.
What is Marketo Engage?
As part of Adobe Experience Cloud, Marketo Engage provides companies of all sizes a cloud-based email marketing platform to manage and monitor customer relationships. 
The solution offers integrated apps that deliver various capabilities including marketing automation, social marketing, lead nurturing, budget management, analytics, and sales insight. 
Marketo Engage integrates natively with Salesforce.com, Microsoft Dynamics CRM, and SugarCRM. Sales reps can use this bi-directional communication to understand the leads in their pipeline and prioritize based on prospect engagement. 
Marketo Engage is an online community of marketers who share ideas, collaborate, and influence product development. 
A business with three users or more can adopt this solution, but its price point makes it ideal for enterprises and mid-market organizations. The company offers support via phone, email, and an online FAQ page.
Marketo Engage Features – Marketo Review
CRM platforms and other enterprise tools are often overloaded with features that make them difficult to use. 
In order to prevent this from happening, Marketo has divided the vast range of its features into separate apps and dashboards that are easy to navigate.
Marketo offers the following features:
1. Lead Management
Marketo's lead management system allows marketers to attract prospective customers by using either inbound or outbound marketing.
Also, it provides access to lead scoring models, with which sales representatives can identify hot leads. 
With this information, they can reach out to the hottest leads first and move them closer to conversion. Then, they can focus on top-of-funnel traffic. Optimizing the sales process is possible by analyzing the conversion rate.
2. Email Marketing
Marketo offers an email marketing tool that allows marketers to send relevant emails based on subscribers' activity. 
Marketo's email marketing tool allows you to segment your subscriber list and personalize your emails accordingly. 
KPIs such as open rate, click-through rate, bounce rate, unsubscribe rate, click-to-conversion ratio, and ROI can also be tracked. 
With the help of these comprehensive reports, you can create more effective email campaigns that yield results.
3. Account-based Marketing
With account-based marketing, marketing and sales teams can work together and reach out to the most qualified leads and persuade them to buy.
It will make account-based marketing a breeze for you if you have trouble engaging your audience or deciding which metrics to track. 
With this feature, you will receive more detailed insights, so you can pinpoint exactly what you need to focus on. This strategy is used by most marketers to grow their businesses.
4. Marketing Automation
Marketo's marketing automation tool is another essential feature.
By tracking previous interactions and purchases, you can engage the right customers. 
Using it, you can send the right communications across different marketing channels, such as email and social media platforms. 
Taking an omnichannel marketing approach will allow you to gain a holistic view of your customers' activities.
5. Overall Revenue Attribution
Marketo has provided users with a wealth of data about the effectiveness of the marketing campaigns. 
By connecting data, you can not only measure every touchpoint but also unify them. Using pre-built tiles and dashboards, you can perform advanced filters and segmentation.
6. Customer Service
Marketo's customer service executives are ready to answer any questions about any feature. A consultant is assigned to each customer to assist with the onboarding process. Marketo's expert consultants can provide you with marketing best practices and strategic marketing advice. 
They also have a panel of experts who can assist organizations with auditing their current digital marketing strategy and optimizing it for the best results. You can even access a creative services team with Marketo that can help you design better emails and landing pages.
What can you do with Marketo?
A Marketo platform is divided into a number of apps, allowing you to use the features you need without being distracted by others.
Having a platform like this on hand can drown you in features and dashboards, so you have a hard time navigating and using it. 
Marketo's suite is broken up into dedicated apps so that you can easily find what you need, when you need it.
Marketing automation

: Develop, automate, and measure campaigns across channels.

Account-based marketing

: Use artificial intelligence to target the accounts that matter most.

Email marketing

: Engage customers with relevant conversations in seconds.

Mobile marketing

: Stay in touch with customers wherever they are.

Social media

: Use social media to find customers and make them advocates.

Digital ads

: Display ads that target the right customers.

Web personalisation

: Engage customers on your website dynamically.

Marketing analytics

: Analyze campaigns, prove their effectiveness, and improve performance.

Content AI

: Automatically provide customers with the content they want.

Marketo Sales Engage

: Make it easier for your sales reps to identify the most valuable leads and keep them engaged.
With that, you can cover all of your marketing strategies and automate processes between them. 
The CRM is missing, so you'll need to integrate it with a third-party platform. Marketo integrates nicely with leading CRM platforms, but these are not free.
Marketo's poor landing page and form builders were also a frustration. Reporting and analytics are also weak points and, despite dividing the platform into individual apps, the UX of specific tools could be improved.
Marketo Engage Pricing
Pricing for Marketo is mid-range. I can tell you what I learned from our most recent experience with this platform, even though they do not advertise pricing on their site. 
For the most up-to-date pricing, please contact Marketo directly. There are three pricing tiers: Spark, Standard, and Select.
Basic Plan
starts at $1,195 per month

10,000 contacts

5 marketing users

5 sales users
Pro Plan
starts at $1,995 per month

10,000 contacts

5 marketing users

10 sales users
Elite Plan
starts at $3,195 per month

10,000 contacts

5 marketing users

20 sales users
Marketo Engage Pros
1. Easy and intuitive to use
Marketo's platform is praised for its usability. While it does not have the prettiest of user interfaces, everything is well labeled and easy to use, making adoption easier than with some other tools.
2. Great Salesforce integration
Marketo's integration with Salesforce is exceptional. Salesforce and Marketo may take time to sync, but they work seamlessly together.
3. Quick and easy to setup
Marketo is relatively easy to implement and set up compared to some of its competitors.
4. Great customer support & community
Marketo has a great customer support team and a vibrant community of users who help one another with campaigns and technical issues.
5. Modular design
Marketo offers its services through a modular system with four main components.
Marketing automation

Consumer engagement marketing

Real-time personalization

Marketing management
Marketo comes with several parts that can be customized so you can get a solution that's unique and tailored to your needs. You can purchase all four modules for a unified marketing strategy.
6. Customization
With Marketo, you can set up exactly what you want for a tailored approach to your marketing strategy. You can see only what you want (and when you want it) so you don't have to deal with unwanted stats.
Marketo Engage Cons
1. Complicated pricing
Marketo's complex pricing can be frustrating for businesses looking for a simple marketing solution. 
Most companies offer only one product with different packaging options, but Marketo offers four – and with different payment plans for each item, you have dozens of potential combinations.
However, Marketo is easily one of the most expensive options out there, if not the most expensive. If you're going to use it, make sure you'll get your money's worth before you invest. 
Otherwise, it can be a major drain on your finances. When you pay for marketing automation, it's important to generate a high ROI.
2. Complicated setup
If you don't have experience with software or analytics, Marketo's emphasis on custom solutions can be a pain. 
You may need an IT or marketing automation specialist to set everything up because all of their customization options require a lot of knowledge and time to make them work properly. 
For something that should make marketing easier, that's a lot of downtime and specialized know-how.
3. Poor customer service
You should also check each possible payment plan for references to customer support. While Marketo has grown rapidly since its creation, it can also mean a lot of growing pains. 
Clearly, Marketo's customer service is inconsistent and spotty.
4. Poor landing page and form builder
Marketo wasn't originally designed to be a marketing automation tool (it was a lead management tool). 
There are still some remnants of the old product, such as the landing page builder, which is clunky and difficult to use.
5. Reports & analytics
Reporting and analytics are two of the most common complaints about Marketo. 
It can take a long time to generate reports that you should be able to generate with a click of a button without additional extensions.
6. A sharp increase in prices
Pricing for Marketo begins at $895 per month and ends at $3,175. Tiers unlock new features, so it might cost an extra $900 – $1,400 per month for just a handful of extras.
Other Marketo Engage Reviews
On Trustpilot, Marketo has a rating of 3.5 out of 5 stars, which is average.
There are only 4 customer reviews there. It seems that the comments from the users are quite extreme. Some give it a four-star and some give it two stars.
Major Software Review Sites' Rating on Marketo Engage
Capterra Rating: 4.2/5
G2 Rating: 4.1/5
FinancesOnline.com Rating: 9.3/10
TrustRadius Rating: 8/10
GetApp Rating: 4.2/5
SourceForge Rating: 5/5
SaaSworthy Rating: 4/5
Gartner Rating: 4.4/5
Final Verdict: Marketo Engage Review
You now have a better understanding of what Marketo has to offer and how it works. To determine if it's the right solution for your business, you should review the pros and cons of the product. 
If you want to take your email marketing campaigns to the next level and have the budget for it, it's an excellent choice.
Generally, Marketo offers one of the most comprehensive analytics strategies for people looking for omnichannel advertising opportunities. It comes at a high price, however. 
For your business, it might be worth your investment if you want predictive strategies, artificial intelligence, and deep analytics.
Give Marketo Engage a try and see if you like it or not.
Marketo Engage Alternative: A Must-Have Online Marketing Tool
As you are reading this review, I'm sure you are an online entrepreneur, so I would like to introduce a very powerful marketing tool to you to help you scale your business to the next level.
It's called ClickFunnels. You may have heard of it, but if not, let me explain why you should consider using it to generate more sales online.
ClickFunnels is an all-in-one marketing tool that helps entrepreneurs, digital marketers and business owners market, sell and deliver their products or services online. 
ClickFunnels is the only piece of software you will ever need to run an internet business.
It eliminates the need to hire a web designer or salesman who is overpriced and lazy. So you can save a lot of money using ClickFunnels in the long term.
Anybody can build, design, and launch a sales funnel using ClickFunnels, regardless of their experience. Those days of hiring coders, web designers, and marketing agencies are over. With ClickFunnels, getting your business online has never been easier.
Get 14-Day Free Trial of ClickFunnels Here
But How Much Can You Earn With ClickFunnels?
Many online entrepreneurs are using ClickFunnels and have earned at least $1 million in sales using ClickFunnels. The earning potential is limitless.
ClickFunnels created an award called the "Two Comma Club" award for entrepreneurs who reached the 7-figure financial milestone inside one of their ClickFunnels funnels.
The screenshots below are some of the winners of the "Two Comma Club" award. Do you want to be one of them?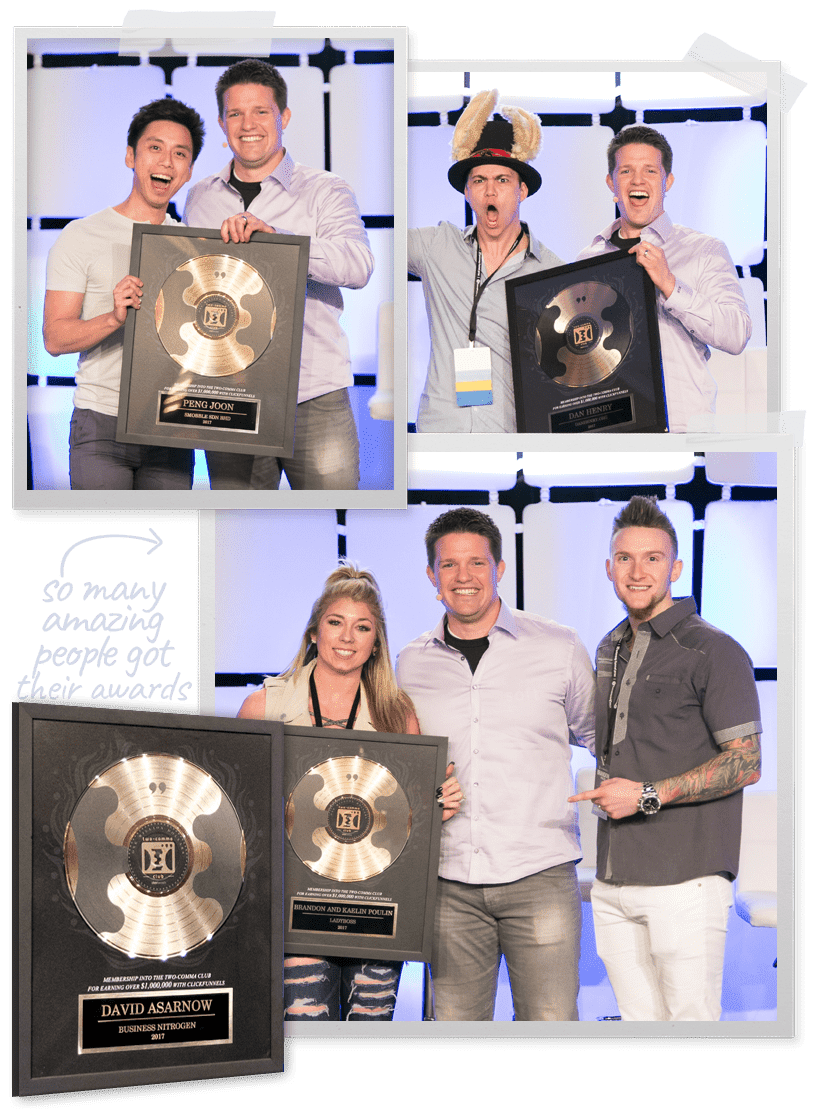 With ClickFunnels, you can drastically increase the opt-in rate and upsell conversion rate: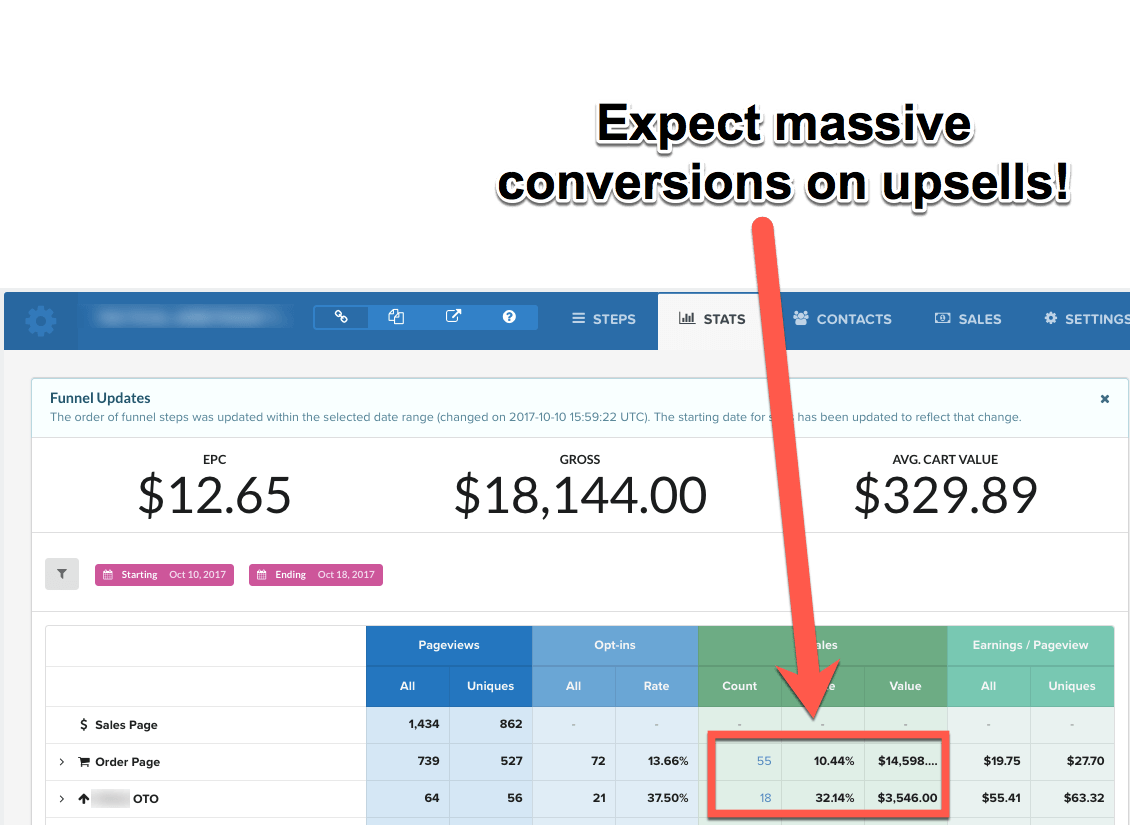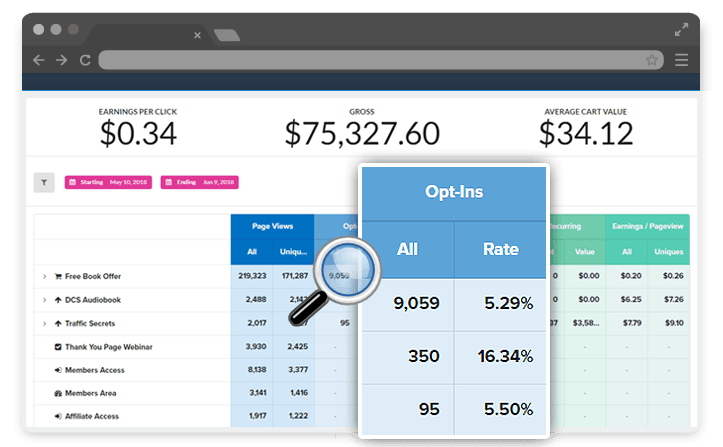 Get 14-Day Free Trial of ClickFunnels Here
Where to Get ClickFunnels?
ClickFunnels offers a 14-day free trial.
If you want to try ClickFunnels and see if it fits your online business model, you can sign up for the free trial here (no worries that you can cancel it anytime within 14 days and won't be charged a penny).
With the free trial, You can get instant access to every amazing feature of ClickFunnels:
Drag-And-Drop Website/Page Builder

One-Click Upsells & Downsells

Optin-Forms

Order Forms

Membership Area Pages

A/B Testing

Follow-up Funnels

Email List Building Tools

Email Management

Integrated Affiliate Management System

Sales Analytics

Pre-Built Funnel Templates

Payment Gateways Integration

Third-Party Integrations & Apps

CRM

And many more…
If you want to see a detailed evaluation of ClickFunnels, you can read this ClickFunnels review.
Anyway, I strongly recommend you to register a free account with ClickFunnels and see it yourself.