Are you looking for a Marketing 360 review? Should you use it for your business? Is Marketing 360 a scam?
If you are looking to use Marketing 360 in your business, you may have these questions in mind. But you will have all your doubts resolved by the end of this Marketing 360 review.
I have a passion to help businesses explore the best software to improve business operation and increase profit.
In the past week, I've done thorough research about Marketing 360. So I can tell you a lot of things about Marketing 360 to help you make an informed and wise decision.
In this Marketing 360 review, I'm going to cover the following.
What is Marketing 360?
The Marketing 360 platform is an all-in-one marketing solution designed to help entrepreneurs, small businesses, and enterprises grow their sales and brands. 
The solution provides businesses with an integrated internet marketing solution that includes the software, the website designs, and the marketing services to manage their campaigns. 
Using Marketing 360, you can aggregate and use online marketing data for specific marketing goals, add human expertise to campaigns, and access data from all your resources in one tool.
Marketing platforms provide modules that help businesses increase their visibility and rankings on search engines, drive brand awareness through banner ads, identify and understand the social profiles of potential customers, and enhance their reputation online. 
Brands can also use Marketing 360 to organize contact information and manage tasks associated with customers and leads. 
Additionally, its easy-to-edit and customizable sites are designed to convert visitors into customers.
Who is Marketing 360 For?
Those who are looking to grow from a smart marketing strategy will be able to utilize this platform to pilot their strategy.
Marketing 360 Features
Marketing 360 has a lot of features. Here's a list for your reference:
On-Demand Services

Organic Sales And Higher Keyword Rankings

Paid Search Management

Remarketing

Retargeting Ads

Manage Local Listings

Fully-Customizable Business Websites

Marketing Analytics

Social Profiling

CRM
Marketing 360 Pricing
Pricing is not listed on Marketing360's website. Contact Marketing360 to get a tailored quote.
Who is Marketing 360 for?
Those who are looking to grow from a smart marketing strategy will be able to utilize this platform to pilot their strategy.
Marketing 360 Pros
With Marketing 360, you can save time and money by using its on-demand services, improve organic search engine optimization, and remarket to customers. The specifics are as follows:
Improved efficiency with on-demand services
Small businesses can now access resources, tools, and support that had previously been reserved for enterprises and large corporations. 
Even with a limited budget and capacity, they are able to compete with large corporations in the digital marketing industry thanks to the marketing software. 
For their digital marketing needs, Marketing 360 meets all of their needs without them having to hire someone in-house. 
This is because the software allows them to utilize the services of highly skilled digital marketers, designers, developers, content creators, and video production experts. 
Through the platform, they can request help from any of these certified professionals and experts whenever they need it. 
With software that integrates on-demand marketing services, small businesses can save time and money; and work with people able to interpret data and give insights to complement marketing programs.
Organic SEO improved
Businesses and entrepreneurs can improve their organic search engine rankings with Marketing 360, which will result in high conversion rates as well. 
Their software allows them to track and analyze the rankings of keywords in search engines like Google, Yahoo, and Bing, as well as assess how their website is optimized for such keywords compared to those of competitors. 
Furthermore, it allows them to optimize their landing pages, ad copies, and content to improve their SEO rankings; and convert traffic into sales and conversions.
Remarketing can be used to recapture visitors
A very important part of running marketing campaigns is following up on leads. People who are able to convert a large number of people the first time they visit a website are lucky. 
In some cases, however, visitors will just leave the website and search for a similar product or service. The key aspect of marketing is recapturing these prospects. Remarketing is possible with Marketing 360.
Retargeting ads allow businesses to automatically follow up on leads using Marketing 360. 
During a website visit, prospects are served with these ads. 
Users can access a library of eye-catching retargeting banner ad designs and landing pages so they can capture the prospects who previously visited their website more effectively.
Remarketing capabilities of Marketing 360 also allows them to identify the people they will serve retargeting ads to, as well as, to determine when the ads will be served and the sites where they will be displayed. 
Each prospect can have its own set of banner ads.
Paid Search Management
While Marketing 360 offers features for improving organic search rankings, it also offers powerful features for paid search advertising. 
The software helps them to ensure that their sponsored ads appear in the top 3 spots on Google, Yahoo, and Bing, where most sales originate. 
The paid search ads can also be analyzed, with key statistics such as visibility, clickability, and convertibility as well.
Improved Local Visibility
By letting users list their brands on local sites, Marketing 360 allows them to drive more sales. Their online presence will be enhanced by adding listings to local business websites and local directories. 
Additionally, they can keep track of and manage all their local listings in one location, ensuring that the company's information is current and accurate. It is interesting to note that they can link to their profiles from these local listings.
Websites That Market And Sell
A marketing plan and campaign are incomplete without a website that caters to the needs of ideal clients. 
In light of this, Marketing 360 offers companies and entrepreneurs websites that encourage customers, leave a positive impression on them, and provide information about their company. 
There are a number of customizable websites available in the software. They are able to customize a website to match their branding, adjust its layout with a drag-and-drop interface, and make it their primary domain or a niche marketing site. 
Marketing 360's content writers can also create content for the website.
Marketing 360 Cons
Does not support large buisnesses

It would be an added advantage if it had multi-lingual options also
Other Marketing 360 Reviews
On Trustpilot, Marketing 360 has a rating of 3.1 out of 5 stars, which is average.
There are only 5 customer reviews there. It seems that the comments from the users are quite extreme. Some give it a five star and some give it one star.
Major Software Review Sites' Rating on Marketing 360
Capterra Rating: 4.7/5
G2 Rating: 3.9/5
FinancesOnline.com Rating: 8.8/10
GetApp Rating: 4.7/5
SourceForge Rating: No rating
CompareCamp Rating: 8.8/10
Crozdesk Rating: 3.8/5
SoftwareSuggest Rating: 4.8/5
SaaSworthy Rating: 2.8/5
Marketing 360 FAQ
Who are the typical users of Marketing 360?
Marketing 360's typical clients are startups and SMEs
Marketing360 is located in what city?
Marketing360 is based in Fort Collins, Colorado.
Final Verdict: Marketing 360 Review
Marketing 360 provides businesses of any size with an online platform to keep their market impression strong as well as achieve fame and success. 
All of its features contribute to the smooth operation of a brand.
You can give Marketing 360 a try and see if it fits your business.
Marketing 360 Alternative: A Must-Have Online Marketing Tool
As you are reading this review, I'm sure you are an online entrepreneur, so I would like to introduce a very powerful marketing tool to you to help you scale your business to the next level.
It's called ClickFunnels. You may have heard of it, but if not, let me explain why you should consider using it to generate more sales online.
ClickFunnels is an all-in-one marketing tool that helps entrepreneurs, digital marketers and business owners market, sell and deliver their products or services online. 
ClickFunnels is the only piece of software you will ever need to run an internet business.
It eliminates the need to hire a web designer or salesman who is overpriced and lazy. So you can save a lot of money using ClickFunnels in the long term.
Anybody can build, design, and launch a sales funnel using ClickFunnels, regardless of their experience. Those days of hiring coders, web designers, and marketing agencies are over. With ClickFunnels, getting your business online has never been easier.
Get 14-Day Free Trial of ClickFunnels Here
But How Much Can You Earn With ClickFunnels?
Many online entrepreneurs are using ClickFunnels and have earned at least $1 million in sales using ClickFunnels. The earning potential is limitless.
ClickFunnels created an award called the "Two Comma Club" award for entrepreneurs who reached the 7-figure financial milestone inside one of their ClickFunnels funnels.
The screenshots below are some of the winners of the "Two Comma Club" award. Do you want to be one of them?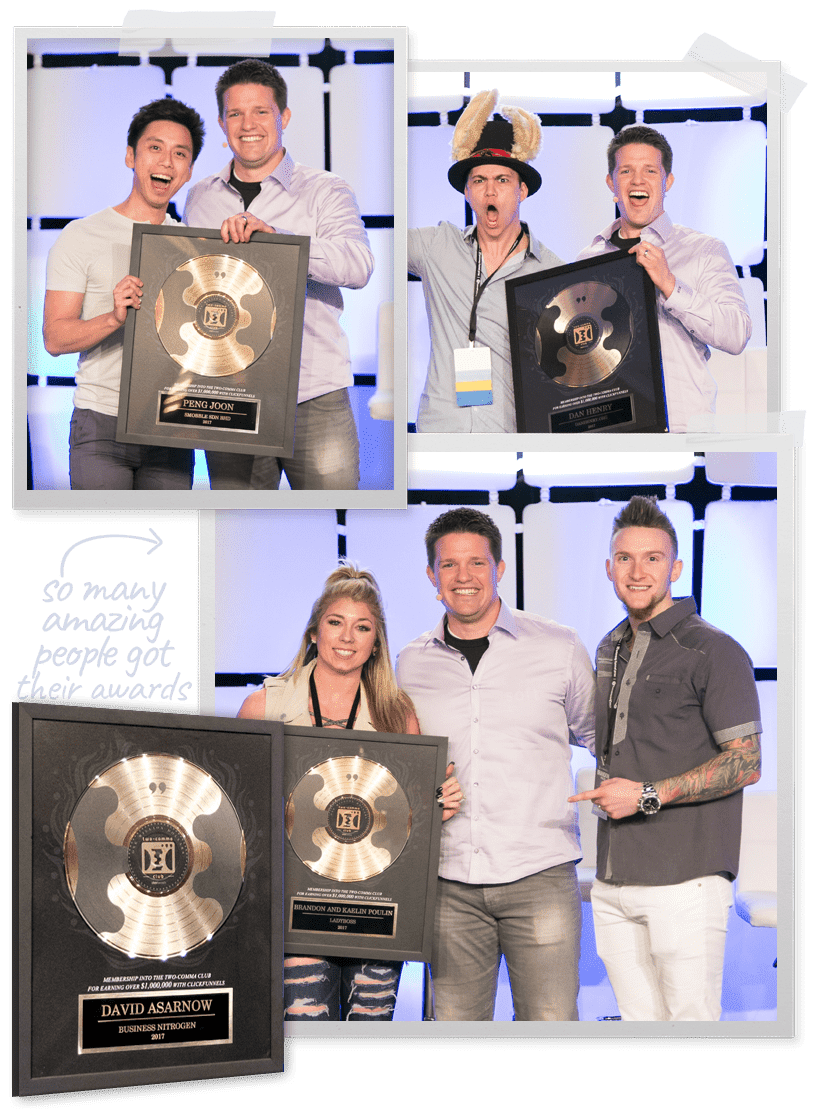 With ClickFunnels, you can drastically increase the opt-in rate and upsell conversion rate: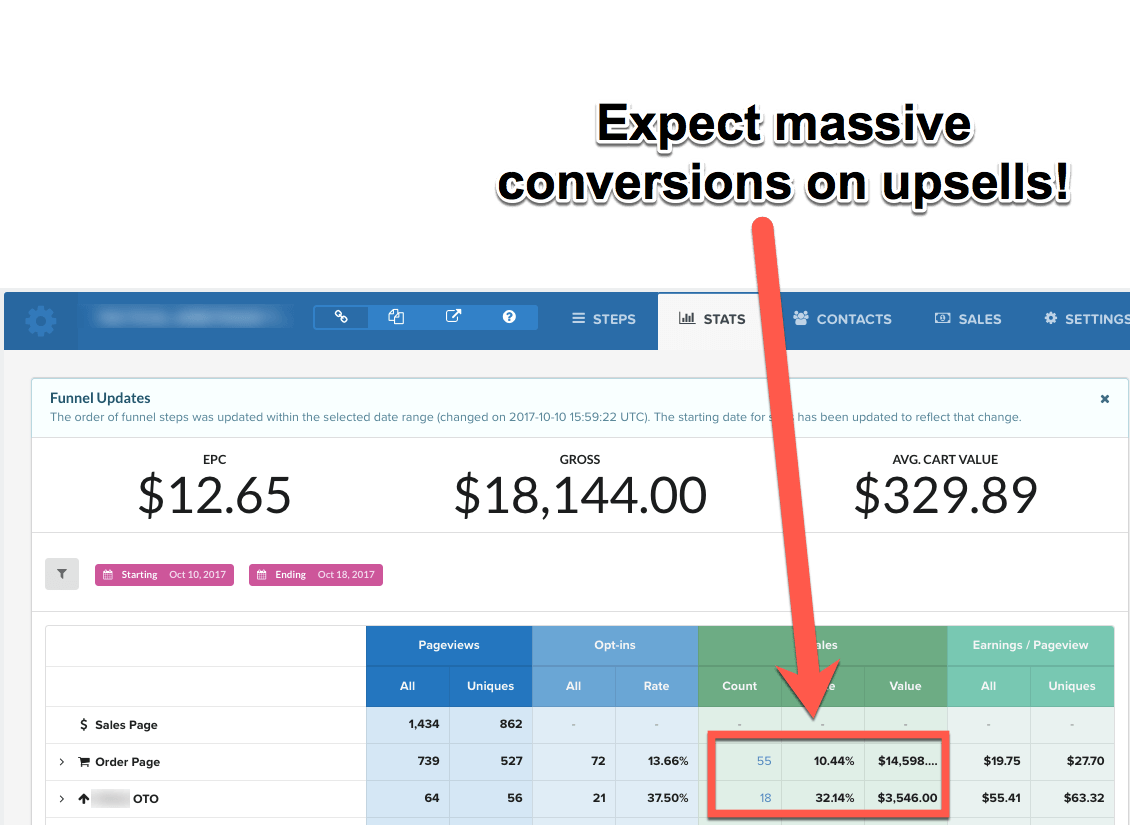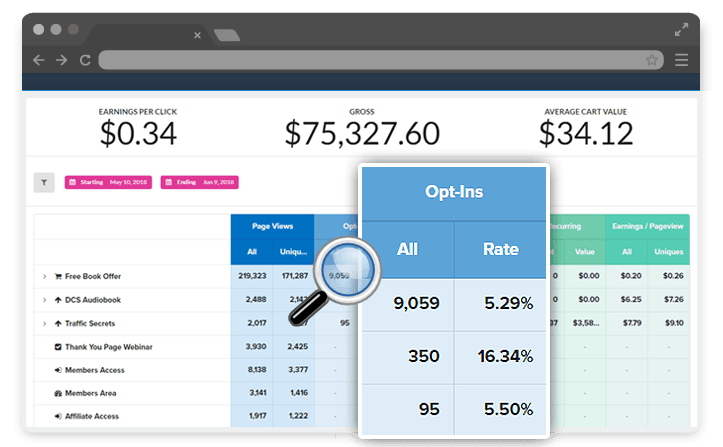 Get 14-Day Free Trial of ClickFunnels Here
Where to Get ClickFunnels?
ClickFunnels offers a 14-day free trial.
If you want to try ClickFunnels and see if it fits your online business model, you can sign up for the free trial here (no worries that you can cancel it anytime within 14 days and won't be charged a penny).
With the free trial, You can get instant access to every amazing feature of ClickFunnels:
Drag-And-Drop Website/Page Builder

One-Click Upsells & Downsells

Optin-Forms

Order Forms

Membership Area Pages

A/B Testing

Follow-up Funnels

Email List Building Tools

Email Management

Integrated Affiliate Management System

Sales Analytics

Pre-Built Funnel Templates

Payment Gateways Integration

Third-Party Integrations & Apps

CRM

And many more…
If you want to see a detailed evaluation of ClickFunnels, you can read this ClickFunnels review.
Anyway, I strongly recommend you to register a free account with ClickFunnels and see it yourself.