Are you looking for a Madgicx review? Do you advertise on Facebook for your online brand?
Nowadays, internet-savvy businesses rely on social media for promoting and other types of marketing.
The first thing that comes to mind when we hear the term "Social media marketing" is Facebook Ads. 
A pioneer in social media, Facebook makes it possible for billions of people around the globe to instantly connect with one another.
Facebook's "Power of Connection" makes Facebook the perfect platform for online brands and businesses to market products and services to people online using Facebook Ads.
There's an array of Facebook marketing tools you can use to help you optimise your Facebook advertising.  
I have personally used a powerful Facebook marketing tool for both my personal and business Facebook ad operations. It greatly reduces the cost of promoting on Facebook and it is quite affordable. This tool is called Madgicx.
If you want to know more about Madgicx, let me tell you more in this madgicx review.
Here's what I'm going to cover.
What is Madgicx?
With Madgicx, you can use one powerful Facebook advertising platform to manage all of your ad campaigns effortlessly using 7 Advertising Products in one platform.
The Madgicx software takes care of the everyday ad-buying tasks, so marketers do not have to waste time manually optimizing their ads.
Madgicx Features
Madgicx currently features the following tools for clients to use:
Automation Tactics
The ad campaign you created has to be managed by someone, whether it's you or the ad agency you hired.
Madgicx has created a set of Automation tactics and strategies for you. Thanks to the experts in the field, these strategies have been proved effective in the past.
Now let's take a look at the automation tactics that Madgicx is offering. 
Stop-Loss: This tool essentially safeguards your budget by pausing the low-performer ad sets. Additionally, it turns them back on the next day so they get a second chance. 
Surf: This ad actually detects strong performance trends and capitalizes on the positive momentum by increasing the ad spend beyond the original budget. 
Sunsetting: Sunsetting monitors your ad set performance over time to identify the ones that are performing poorly. It also protects your budget over time with some serious steps.
Revive: When it finds out any paused ad sets have become profitable again, Revive turns on any paused sets right away. 
Bid Testing
By using this feature, you can run bid campaigns in order to find your best-performing bid. All your campaign data is available after the launch of your bid campaigns. You can choose between manual and automation bidding settings. 
Mass Creation
Through Mass Creation, you can launch 100+ AI-based Audiences with ease letting you easily create new audience-based campaigns. It lets you build a full-funnel targeting strategy.
Just make these campaigns compete right with your account setup after you launch them all.  
Creative Cluster
Using creative clusters, you'll be able to discover, analyze and compare other creative clusters to find out which single ad element drives high performing ads. 
Also, the creative clusters can be used for analyzing winning creative factors and also for comparing clusters as well. 
Automated Reporting
This feature allows you to easily automate agency reporting that will share the results with clients directly. 
Furthermore, you can set the timing and frequency of the reports and have them delivered to your email inbox on a daily, weekly or monthly basis.
Madgicx Knowledgebase
In addition to Madgicx's excellent customer support service, they have also assembled a very useful knowledge base, which consists of an online video training course and a blog.
The Madgicx Video Training Course is an all-encompassing collection of tutorials and demo videos that cover the product's features and tools. 
If you cannot find the products and services you need, you can inquire with their customer success team. 
Madgicx Pricing
Magidcx does not offer a "fixed" pricing package.
Because the factors involved in ad marketing are ALWAYS changing. And there are two factors that have the largest impact on ad campaigns:
Estimated Monthly Fee

Monthly Ad Spend
A slider meter has been designed for Madgicx's pricing structure, in order to take these two factors into account.
You can view the pricing section on their official website and find a slider on the page that will let you know the estimated subscription fee. You can slide the button left and right according to your requirement. 
The price varies depending on how many ad accounts you're using.
Estimated Monthly Fee: $49 – $149 (1 Ad Accounts)
Estimated Monthly Fee: $379 – $849 (3 Ad Accounts) 
Estimated Monthly Fee: $1299 – $11699 (10 Ad Accounts)
If you choose the Quarterly or Annual plan, the numbers will be different.
There's no limit, no credit card to sign up for the free trial.
What I Like About Madgicx
My experience with Madgicx has been so great, and I have been utilizing their ad management tools for quite some time now to build and manage my Facebook ad campaigns. 
The reality of advertisement is that as your brand evolves, the task of managing your advertisement campaigns and other marketing aspects manually becomes time-consuming.
What Madgicx does is to combine artificial intelligence with ad automation to learn, understand and act on behalf of you without your physical presence at all times. 
That has saved me a great deal of time and energy, in addition to the money for hiring a marketing expert.
Who is Madgicx For?
Madgicx is perfect for Internet-based businesses, Lead Generation, and App Installs, as well as local businesses that run Facebook ads.
Madgicx Pros and Cons
Madgicx Pros
AI-powered omnichannel marketing platform

Creative intelligence powered by artificial intelligence

Optimization of budgets

Optimization of bids

Adspend based pricing for every advertiser

A 360-degree audience coverage

A data-driven approach to targeting

Optimized placement

White-labeling included in every plan
Madgicx Cons
There should be more pricing options available.

The cost of white labeling is quite high.
Major Software Review Sites' Rating on Madgicx
Capterra Rating: 4.9/5
G2 Rating: 4.9/5
GetApp Rating: 4.9/5
SourceForge Rating: 5/5
SaaSworthy Rating: 4.6/5
Product Hunt Rating: 4.4/5
FeaturedCustomers Rating: 4.8/5
Final Verdict: Madgicx Review
The Madgicx platform combines creative intelligence with autonomous ad buying capabilities to optimize ads.
Madgicx is a complete package that can help you effectively utilize your Facebook remarketing to gain more conversions from your existing site visitors.
Get access to the free trial of Madgicx here. 
Madgicx Alternative: A Must-Have Online Marketing Tool
As you are reading this review, I'm sure you are an online entrepreneur, so I would like to introduce a very powerful marketing tool to you to help you scale your business to the next level.
It's called ClickFunnels. You may have heard of it, but if not, let me explain why you should consider using it to generate more sales online.
ClickFunnels is an all-in-one marketing tool that helps entrepreneurs, digital marketers and business owners market, sell and deliver their products or services online. 
ClickFunnels is the only piece of software you will ever need to run an internet business.
It eliminates the need to hire a web designer or salesman who is overpriced and lazy. So you can save a lot of money using ClickFunnels in the long term.
Anybody can build, design, and launch a sales funnel using ClickFunnels, regardless of their experience. Those days of hiring coders, web designers, and marketing agencies are over. With ClickFunnels, getting your business online has never been easier.
Get 14-Day Free Trial of ClickFunnels Here
But How Much Can You Earn With ClickFunnels?
Many online entrepreneurs are using ClickFunnels and have earned at least $1 million in sales using ClickFunnels. The earning potential is limitless.
ClickFunnels created an award called the "Two Comma Club" award for entrepreneurs who reached the 7-figure financial milestone inside one of their ClickFunnels funnels.
The screenshots below are some of the winners of the "Two Comma Club" award. Do you want to be one of them?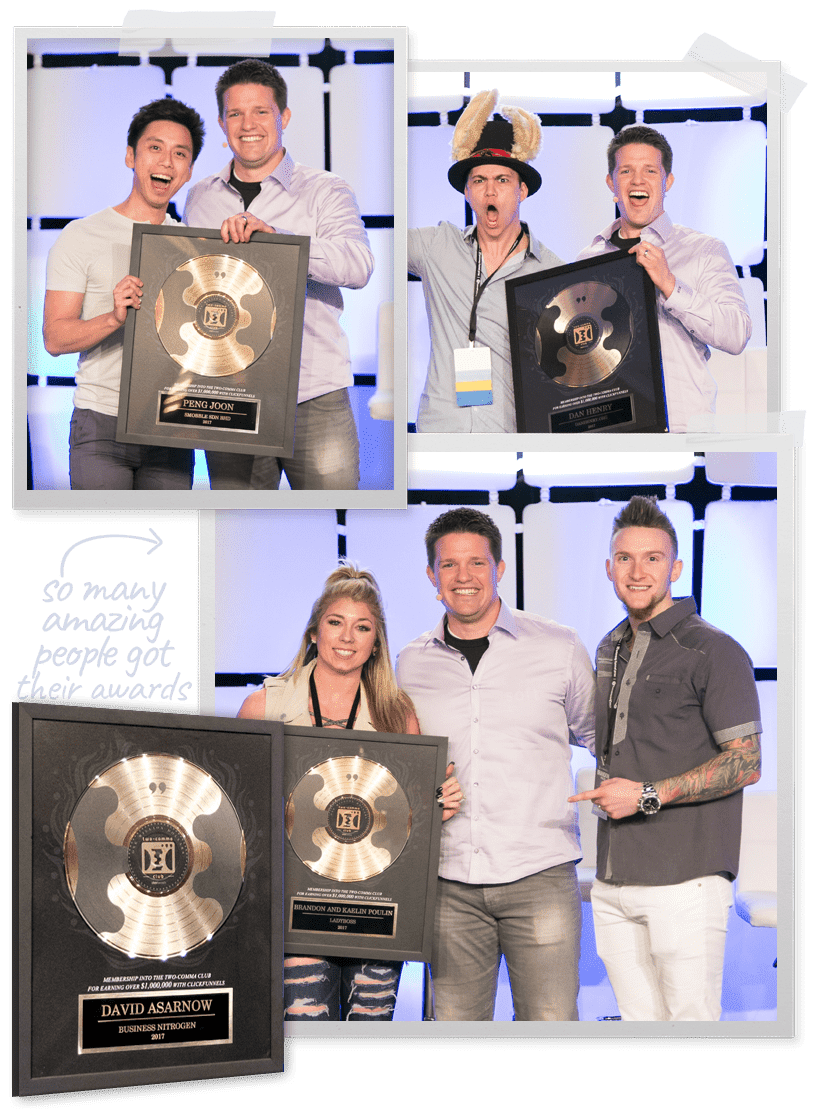 With ClickFunnels, you can drastically increase the opt-in rate and upsell conversion rate: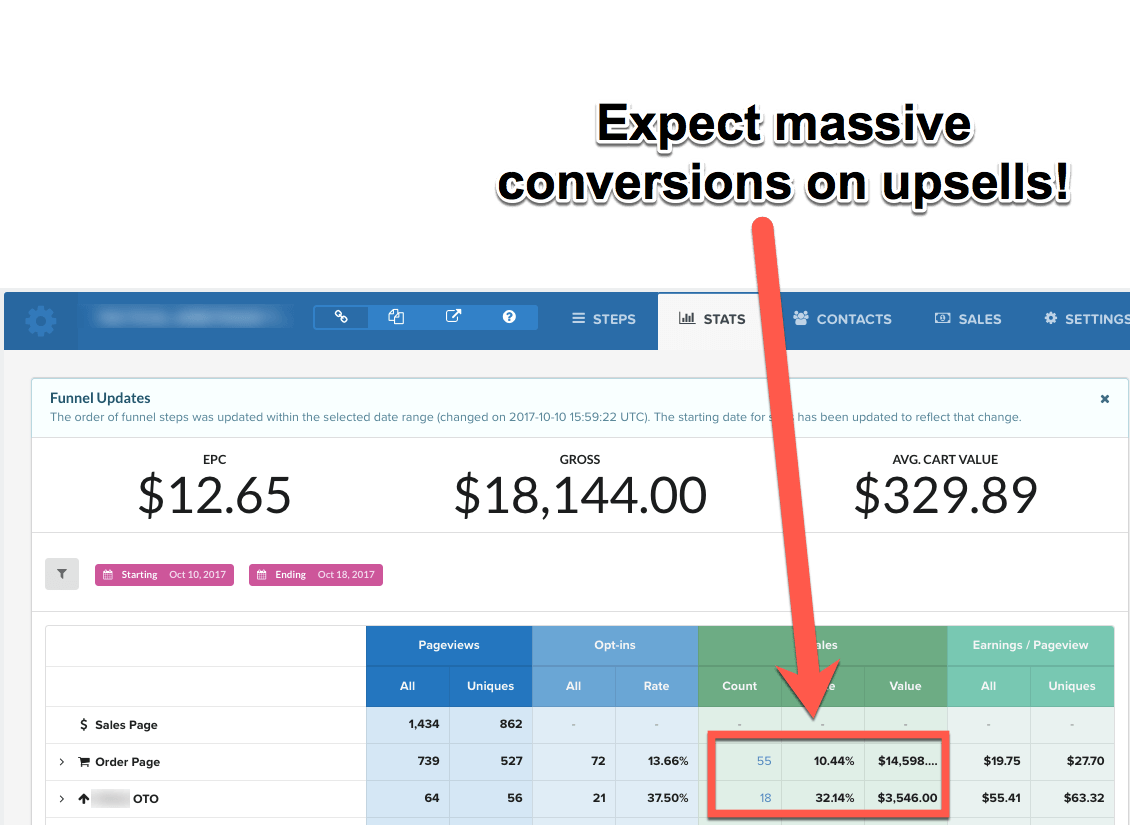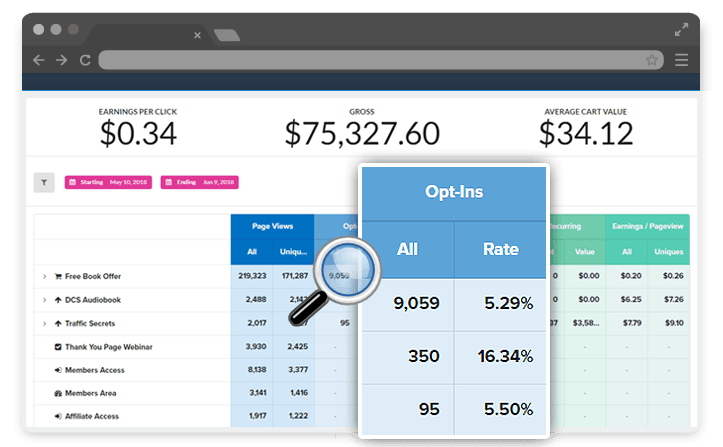 Get 14-Day Free Trial of ClickFunnels Here
Where to Get ClickFunnels?
ClickFunnels offers a 14-day free trial.
If you want to try ClickFunnels and see if it fits your online business model, you can sign up for the free trial here (no worries that you can cancel it anytime within 14 days and won't be charged a penny).
With the free trial, You can get instant access to every amazing feature of ClickFunnels:
Drag-And-Drop Website/Page Builder

One-Click Upsells & Downsells

Optin-Forms

Order Forms

Membership Area Pages

A/B Testing

Follow-up Funnels

Email List Building Tools

Email Management

Integrated Affiliate Management System

Sales Analytics

Pre-Built Funnel Templates

Payment Gateways Integration

Third-Party Integrations & Apps

CRM

And many more…
If you want to see a detailed evaluation of ClickFunnels, you can read this ClickFunnels review.
Anyway, I strongly recommend you to register a free account with ClickFunnels and see it yourself.