Are you looking for a Keap review? Should you use it for your business? Is Keap a scam?
If you are looking to use Keap in your business, you may have these questions in mind. But you will have all your doubts resolved by the end of this Keap review.
I have a passion to help businesses explore the best software to improve business operation and increase profit.
In the past week, I've done thorough research about Keap. So I can tell you a lot of things about Keap to help you make an informed and wise decision.
In this Keap review, I'm going to cover the following.
What is Keap?
You can track your prospects and customers with Keap's customer management software. Keap has features like client databases, email marketing, SMS marketing, client scheduling, automation, and more.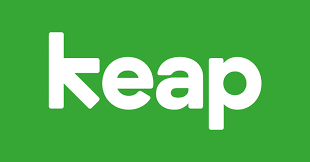 Keap's main advantage is that it houses all client activity and communications in one place. While you focus on providing great service, you can set up the software to handle customer follow-up, update your client records, and collect money for invoices.
Are you wondering if this is something you need for your business? Then keep reading (as you can see)? This Keap review will help you decide if it is right for you.
Keap Grow vs Keap Pro
Prior to diving into the details of this particular Keap, it is important to point out that there are two versions: Keap Grow and Keap Pro. They are similar, but have different features. 
Keap Grow is designed to help start up businesses or entrepreneurs manage clients and follow up via SMS and email.  
Keap vs Infusionsoft: What's the difference?
You may have heard these two products mentioned together. This one seems a little confusing at first, but once you understand the history, everything makes sense.
Keap (the software company) offers three products: Keap Grow, Keap Pro. Infusionsoft by Keap is the third.
Marketing and power users used Infusionsoft, which was built for them. Keap was created several years later as a more "simplified" version of Infusionsoft for a broader audience. Although it offered some Infusionsoft features, it lacked the ultra-powerful (and sometimes confusing) features.
Why Keap Has Three Different Products?
Every product is designed for a different audience and business maturity level. The following outline will give you a good idea of the size and type of business for each product.
Keap Grow
Keap Grow is a great tool for solopreneurs who are upgrading from spreadsheets. Typically, Keap Grow is the first or second real tool for gathering and marketing customer data.
Keap Pro
Keap Pro is generally best suited to businesses with a few employees. It is important to them to keep track of their clients, but they also recognize that it is time to automate some of their business processes.
Infusionsoft by Keap
Infusionsoft is typically best suited to companies with three to four employees. Businesses with good marketing know-how need a CRM and marketing automation tool to help them reach the next level.
Keap Features – Keap Review
While Keap is capable of many good things, it's not a good thing all the time.
Its effectiveness and usefulness for business owners depends on how well it integrates with your business.
Here are the top features Keap advertises:
1. Customer Relationship Management (CRM)
There are not that many good growth tools on the market, and it is quite exciting to review one.
The most important feature to expect from Keap is CRM since its predecessor is InfusionSoft.
Your client communications are housed and tracked in one place with their CRM feature.
Keep track of your clients with Keap's client management software, as well as keep company records and manage how you get paid.
Data, applications, and devices can also be integrated with various software such as Gmail, Outlook, and AppointmentCore.
Responses are sent promptly to existing contacts and new leads receive highly personalized responses that drive actions and sales.
You can also do the following with their CRM software:
Choose from a variety of pre-written emails to save time

View the details of your customers at a glance

You can pull up any documents, contracts, or images shared between you and your customer

Personalize your email templates and messages

Collect specific information using automated internal forms
You can stay in touch with both leads and customers using these features.
Getting in touch with +100 new leads daily is impossible if you're onboarding them all.
Keap lets you onboard new leads and follow up with them quickly and efficiently.
A welcome email is needed for these new leads. In order to grow your business, you should welcome emails as they:
Give you the opportunity to introduce your brand

X4 more opens than all other mails

X5 more clicks (thus higher traffic to the website)
You'll have an easier time growing your business if you have an automated tool for this.
2. Email Marketing
Previously, we briefly mentioned email marketing, but what this illustrates is how seamlessly CRM and email marketing are integrated.
Although there are many specialized email marketing tools out there, such as ActiveCampaign, ConvertKit, and MailChimp, Keap holds its own.
A feature of Keap's email marketing is that they offer a variety of beautiful templates. 
You will be able to customize it to fit your branding once you have chosen the one you like.
A second advantage is that your audience can be segmented. But what is it exactly?
Using email segmentation, you can segment your contacts and email subscribers based on their interests, activities, and other factors.
Using this method, you can tailor their emails more effectively.
You can use this to ensure you maximize the lifetime value of all your contacts.
Leads might want one product type, while customers might want an upgrade.
Using email segmentation, you can sell to all of them by adapting to their individual needs.
You can set triggers in Keap's email marketing automation feature, like:
Keap automatically sends the lead magnet to the lead who completes a form

Keap sends an e-mail with a great offer to a lead that engages with your website

Keap invites the customer to upgrade or contact your sales team after reviewing the pricing page
As a result, you'll be able to quantify the effectiveness of your email marketing with Keap's email reporting.
Overall, Keap's email marketing features are simple, yet powerful, and a welcome addition to any CRM tool.
3. Landing Pages
As with tools such as systeme.io, Keap lets you pick a template from a gallery to match your brand, and customize it to make it yours.
What's the best part? You don't need to write a single line of code!
Your landing pages can also be customized based on:
Products or services

Special offers

Events
Additionally, Keap templates allow you to add conversion-driving elements, such as:
You can add your landing page to your automation sequence once you create it.
It's great that Keap offers landing pages, since they are the "crown jewel" of your sales pipeline.
A nice touch in large-scale personalization is the difference in traffic sources and other characteristics.
4. Marketing Automation
Email marketing and CRM are the backbone of Keap's marketing automation system.
How does that work?
The emails will be sent to your contacts automatically after setting up triggers in Keap.
Lead information, such as behavior, preferences, or likelihood to buy, can be captured and used to improve lead conversions.
This is pretty handy for nurturing leads through email sequences.
5. Keap in Touch With Contacts
You can message your US-based contacts with Keap.
SMS marketing has the main benefit that everyone reads their texts.
A text message has an average open rate of 99%, with 97% of messages read within 15 minutes of delivery.
This feature is a great example of Keap's forward-thinking approach, and many entrepreneurs love it!
Thus, you'll be able to contact your leads via SMS and phone calls in addition to emails.
Your customer profile will automatically be created for them, allowing you to automate their actions.
6. Sales Pipeline
Keap's sales pipeline tool is a great tool for sales teams.
An advantage of this tool is that you don't need an entire sales team. 
The whole thing can be run by you and you will still benefit from it!
You can visualize where your leads and customers are in your sales pipeline using a sales pipeline.
You can also automate your sales pipeline management.
When a lead receives an offer, you can re-qualify them as a prospect.
When it comes to converting leads into prospects and prospects into customers, sales funnels are usually better than sales pipelines.
7. Other Keap Features
So far, we've covered the features that are most effective for companies.
As well as scheduling and paperwork, Keap has the following features:
Payments

Reporting and Analytics

Appointments feature

Quotes

Invoices and payments
One of the most important features is Appointments, which allows you and your customers/partners to work together to schedule meetings at a time that works for everyone!
Now that you know what to expect when you use Keap, here are the pricing details.
Keap Review: Is it worth the investment?
A lot of people ask me this question, and I usually respond that it totally depends on you. When you're done reading this Keap review, you'll have a clear picture of what to do next.
In my opinion, Keap does an excellent job of keeping clients and prospects organized for small service businesses. The Keap product is probably going to be an excellent investment if you are feeling overwhelmed with client communication in your business.
Keap has the advantage of sharing features from Infusionsoft, making it one of the best tools for marketers. Keap can help you market your business like you've never done before, even if you're not a marketer today.
Keap Pricing – Keap Review
You can see from Keap's pricing page that they've made a smart move (or perhaps not) by including a slider bar to input how many customers you have.
This is smart since not all businesses are created equal.
There are some who can afford to pay for Keap's pro plan and supplementary software, while others might make it their only option.
Keap offers four plans. If you have 500 leads (the lowest amount on their slider bar), then pricing begins as follows:
Keap Lite: $79/month
With Keap Lite, you get the cheapest plan, which is designed for small businesses and/or entrepreneurs.
The features include:
CRM

SMS and Email marketing tools

Automation

B2B Capabilities

Invoice and Quote generator

Appointment scheduling tools

Reminders & Reports

Internal Forms
The downside of Keap Lite is that you can't build landing pages or use marketing automation tools.
Scaling your business will be much more difficult if you do this.
Keap Pro: $149/month
Keap Pro has all the features of Keap Lite, plus:
Sales pipelines

Marketing automation tools

Landing pages

A/B Testing

Recurring Payments
You would have to choose this plan if you wanted to grow your business as fast as possible using Keap.
Keap Max: $199/month
For established businesses and teams, Keap Max is recommended. 
In addition to Keap Lite and Keap Pro, Keap Max includes:
Checkout forms

Subscription management

Lead scoring

Analytics
This plan is ideal for those looking to grow their companies and are confident that Keap will meet their needs.
Keap Max Classic: Price on Demand
For advanced eCommerce and sales team needs, this subscription plan is similar to InfusionSoft before it became more user-friendly and was renamed Keap.
As a reminder, these are the baseline prices if you are 1 user with 500 leads. 
You'll have to pay more if you have more contacts or want to add other team members.
Keap Pros
1. The Keap Campaign Builder is Wonderful
Keap's campaign builder is still my favorite, after trying out several knock-offs. You can setup your flow to fit your business and your needs using the drag-and-drop functionality. It is very hard to create flows in most other tools.
Campaign builder's 'goal-oriented' design helps me focus on what I am trying to get prospects and customers to accomplish, instead of thinking about what cool automation I may be able to run. 
It's important to think in this way when you're analyzing complex things.
2. Keap makes it simple to launch campaigns quickly and conveniently
Having an all-in-one solution like Keap enables me to launch campaigns quickly and manage contacts easily in one place in addition to the advantages I discussed above.
It is easy to launch a campaign with Keap since it has most everything I need.
3. Keap is easy to use
Imagine building a landing page visually. 
Normally, you would have to learn how to code or hire someone to do it for you.
You can create an effective landing page by dragging and dropping sections with Keap.
In the same way, creating automation rules doesn't require a great deal of knowledge.
Therefore, all-in-one tools like Keap, which offer a few tools, are great to use.
The tools can be set up with only a few clicks, so you don't have to learn the intricacies of each.
4. Keap saves you money
If you do not use Keap, you will have to buy several tools, including:
A contact /customer relationship management tool

An email marketing tool

A landing page builder
All you need to get started is those three things, and Keap brings them all together under one roof.
By purchasing one tool rather than an entire tool shed, we all save money.
5. Plenty of integrations
What Keap lacks in features, it compensates for with its integrations.
With Keap, you can integrate your online store with:
Tools for eCommerce such as BigCommerce

Keap's Gmail integration lets you manage your emails

Improve your checkout page conversion with ThriveCart
Keap Cons
1. New online businesses won't find Keap useful
Keap provides the most value if you've been in business for a while.
CRM is a big part of it.
Even though email automation is a nice feature, it's not as simple and sales-focused as some other tools.
2. Landing page builder is not good enough
The majority of tools that offer landing page builders offer advanced sales funnels as well as conversion-focused elements.
Keap unfortunately does not provide this service.
In other words, you may use it for a small part of your work.
However, other tools are more effective if you're trying to minimize costs and maximize sales.
3. Keap is expensive for some people
For what Keap offers, it is quite expensive.
It is nice that they have a slider for their prices, but it may limit their options. 
The price of marketing tools should not be influenced by specificity.
For a $79/month price for this limited plan, Keap could provide much more value for entrepreneurs.
Who is Keap For?
Keap is recommended if you meet the following criteria:
You are a client-focused service company

A list of at least 100 engaged contacts is currently available to you

Your team or you have a basic understanding of digital marketing

Your prospect and client flow needs to be automated

Lead generation is a good focus and strategy for your business

You sell one-to-one services and would like to automate more of the marketing or fulfillment processes
Who is Keap Not For?
Keap is not for everyone. Don't use Keap is are the following people:
You sell to corporations (B2B) and rely heavily on company records to link contacts (Keap does not offer this feature).

Business decisions are driven by custom-built reports

You have a complex CRM structure with advanced record linking (Keap cannot create new record types)

You're a startup or strapped for cash

Your interest in digital marketing isn't keen or you have never really done any online marketing

If your business has more than 15 employees, Keap is generally too small for your needs
Keap Customer Support
Support is available by phone, email or chat. Additionally, users can browse Help Center articles and join community forums to connect with their peers.
Major Software Review Sites' Reviews on Keap
Capterra Rating: 4.1/5
G2 Rating: 4.1/5
TrustRadius Rating: 7.7/10
GetApp Rating: 4.1/5
PCMag Rating: 4/5
SourceForge Rating: 4.5/5
Crozdesk Rating: 4.1/5
SaaSworthy Rating: 4.3/5
Gartner Rating: 4.1/5
Fool.com Rating: 7.6/10
Final Verdict: Keap Review
You might consider Keap if things like client communication keep falling through the cracks in your business.
A key benefit of Keap is that it shares features with Infusionsoft, making it a marketer's best friend.
The fact that it's a powerful CRM tool makes it hard not to like it.
Keap Alternative: A Must-Have Online Marketing Tool
As you are reading this review, I'm sure you are an online entrepreneur, so I would like to introduce a very powerful marketing tool to you to help you scale your business to the next level.
It's called ClickFunnels. You may have heard of it, but if not, let me explain why you should consider using it to generate more sales online.
ClickFunnels is an all-in-one marketing tool that helps entrepreneurs, digital marketers and business owners market, sell and deliver their products or services online. 
ClickFunnels is the only piece of software you will ever need to run an internet business.
It eliminates the need to hire a web designer or salesman who is overpriced and lazy. So you can save a lot of money using ClickFunnels in the long term.
Anybody can build, design, and launch a sales funnel using ClickFunnels, regardless of their experience. Those days of hiring coders, web designers, and marketing agencies are over. With ClickFunnels, getting your business online has never been easier.
Get 14-Day Free Trial of ClickFunnels Here
But How Much Can You Earn With ClickFunnels?
Many online entrepreneurs are using ClickFunnels and have earned at least $1 million in sales using ClickFunnels. The earning potential is limitless.
ClickFunnels created an award called the "Two Comma Club" award for entrepreneurs who reached the 7-figure financial milestone inside one of their ClickFunnels funnels.
The screenshots below are some of the winners of the "Two Comma Club" award. Do you want to be one of them?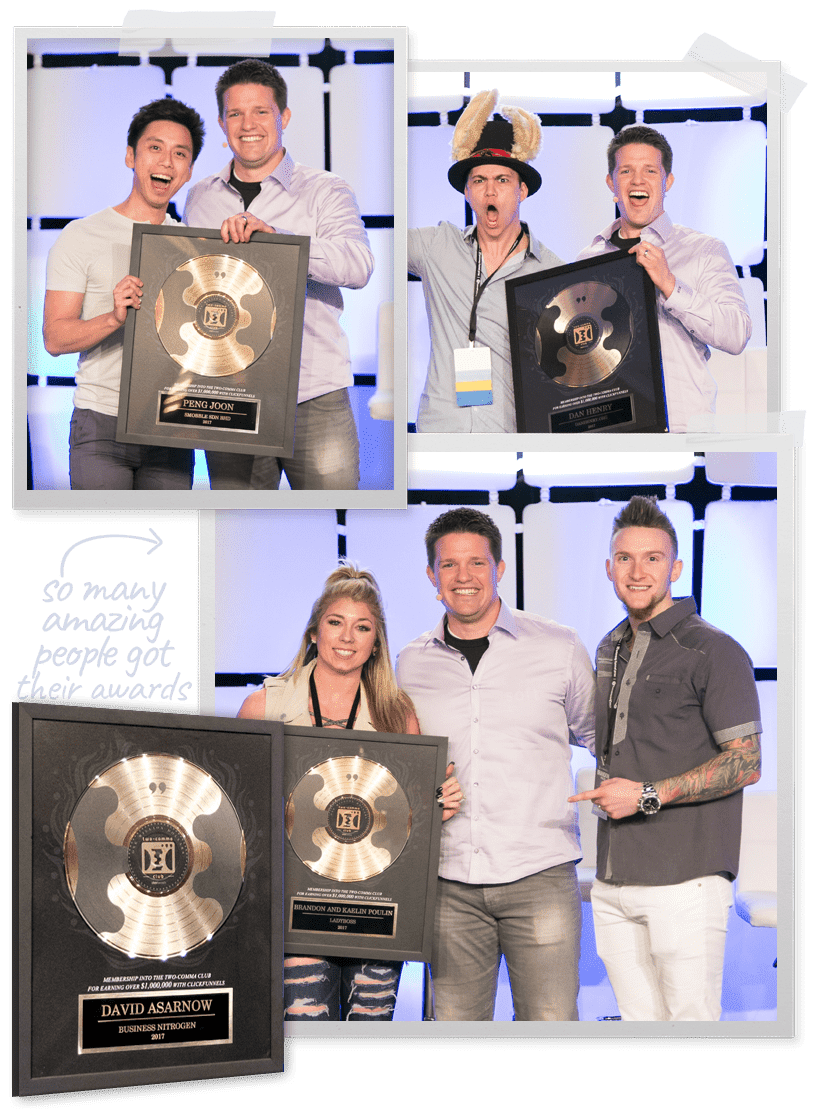 With ClickFunnels, you can drastically increase the opt-in rate and upsell conversion rate: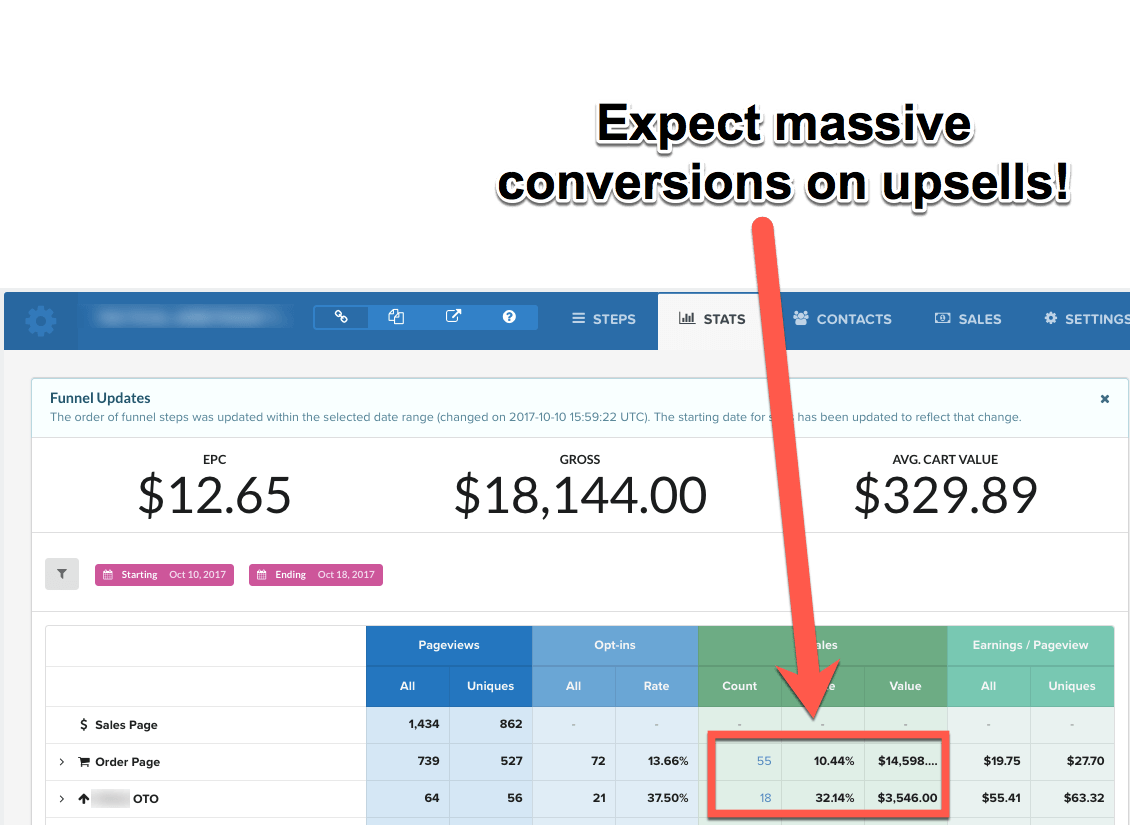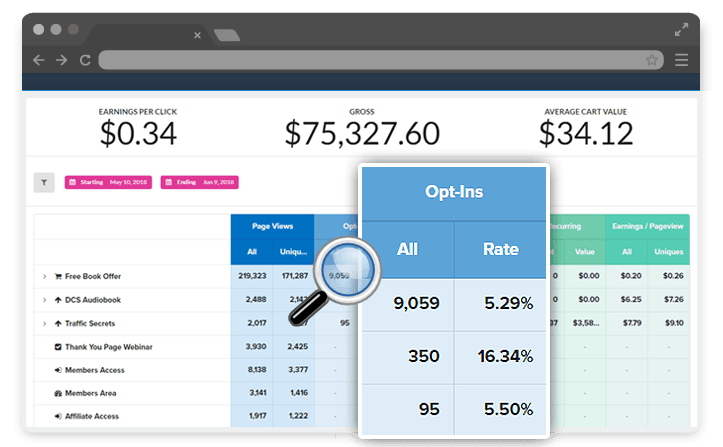 Get 14-Day Free Trial of ClickFunnels Here
Where to Get ClickFunnels?
ClickFunnels offers a 14-day free trial.
If you want to try ClickFunnels and see if it fits your online business model, you can sign up for the free trial here (no worries that you can cancel it anytime within 14 days and won't be charged a penny).
With the free trial, You can get instant access to every amazing feature of ClickFunnels:
Drag-And-Drop Website/Page Builder

One-Click Upsells & Downsells

Optin-Forms

Order Forms

Membership Area Pages

A/B Testing

Follow-up Funnels

Email List Building Tools

Email Management

Integrated Affiliate Management System

Sales Analytics

Pre-Built Funnel Templates

Payment Gateways Integration

Third-Party Integrations & Apps

CRM

And many more…
If you want to see a detailed evaluation of ClickFunnels, you can read this ClickFunnels review.
Anyway, I strongly recommend you to register a free account with ClickFunnels and see it yourself.