Are you looking for an Issuu review? Should you use it for your business? Is Issuu a scam?
If you are looking to use Issuu in your business, you may have these questions in mind. But you will have all your doubts resolved by the end of this Issuu review.
I have a passion to help businesses explore the best software to improve business operation and increase profit.
In the past week, I've done thorough research about Issuu. So I can tell you a lot of things about Issuu to help you make an informed and wise decision.
In this Issuu review, I'm going to cover the following.
What is Issuu?
A Danish start-up founded in 2006 by Martin Ferro-Thomsen, Ruben Bjerg Hansen, Mikkel Jensen, and Michael Hansen, Issuu is the world's largest online publication. 
The site currently hosts over 50 million active publications, records over 1 billion page views monthly, and receives upwards of 20,000 uploads per day.
You can upload your publications to Issuu and share them online. The platform provides no tools for building publications and is often described as an online magazine stand. You must create your publications elsewhere before considering hosting them on Issuu. 
While the site doesn't offer unlimited customization options, it does offer a simple publishing process.
As well as magazines, Issuu is much more than that. Content can be published on the site in many forms, including brochures, portfolios, product catalogues, menus, tutorials, newspapers, and DIY guides. 
It is therefore used by a wide range of publishers, from full-fledged media companies to teachers who want to share educational content with their students in an easy-to-read format. If you create and save a publication as a PDF, you are likely to be able to publish it on Issuu.
How to Use Issuu?
You will need to create an account on Issuu and sign up for a free or paid membership. There are some restrictions to the free option, but you can do the most important thing – upload your publications. 
Paid features (obviously) can help you get more mileage out of your publications and get more out of the platform. We will discuss the free and paid plans later.
Issuu's publishing process is relatively straightforward. It is simply a matter of converting your PDF to a print-ready version and uploading it to the Issuu platform. 
In order to view the content on a computer or smartphone, the content is automatically arranged into a readable, page-flipping format. 
Additionally, you can add audio to your publication as well as customize the cover.
Issuu gives you the option of sharing a document elsewhere after it has been published. Issuu publications can be embedded on your website, for example. 
Your publication can also be used for Instagram posts, Facebook posts, and even Pinterest-ready animated media with Issuu.
Issuu Review: Features
Issuu's core features include:
Unlimited Publishing
The number of publications you can publish with Issuu is unlimited, there is no limit on the number of publications. Publications are limited in size and number of pages, however.
Embedded Reader
Embedding your publication on another website is as simple as copying and pasting some code.
HTML5 Reader
You can visit Issuu publications directly in your subscribers' browsers with an HTML5 reader, they don't need to install an app to view your publication.
Native Apps
Issuu also offers native apps for iOS and Android in addition to HTML5 readers. Many users wonder how to use the Issuu app.
Analytics
Giving you the ability to view how your users interact with your content, identify pages viewed and areas that need improvement, and learn what content is popular with your readers.
Sharing
Social media platforms are great for sharing information. Publication can be done in a similar way. 
To share your publication on leading social media platforms such as Facebook, Twitter, LinkedIn, Google+ and co., you just have to ensure that your publication is ready. It's as simple as logging into your social media account.
Issuu Pricing
Issuu is a free service for anyone who wants to publish their content online. However, the basic free plan has some limitations. Depending on your publishing goals, you may find three additional tiers useful.
You can embed your Issuu publications on your website with the Starter plan, offered for $19 monthly.
The Premium plan costs $40 per month and has all the features of the Starter plan, along with the capability to remove ads, embed videos, access analytics, and monetize your publications. Furthermore, three users can be added to one account.
One account can have 25 users on the Optimum plan, which costs $269 monthly. The Optimum option also includes priority phone support, unlimited API access, collaboration tools for designing and publishing documents, and unlimited private sharing.
Apart from the above packages, Issuu also offers customizable enterprise plans for companies that require a more tailored solution.
Issuu Pros
The process of uploading a PDF file is really quick and easy. A web magazine or HTML5 flipbook is immediately generated as a result. HTML5 Flipbook is the solution.

Many handy features are available, such as page-turning animations and page zooming.

All the different social media platforms allow you to share your magazines.

Every page loads in advance and is very quick to load.

There are several ways in which you can view the pages.
Issuu Cons
You must choose a Paid-Plan (starts at $29/month) if you don't want ads on your publications.

Although Issuu generally offers great customer service, its support is sometimes quite slow.

You cannot embed your magazine on your homepage or social media

You cannot embed a video or audio in your magazine

There is a limit of 500MB per upload, and the file cannot be longer than 500 pages. However, it is much larger and longer than the average magazine.
Major Software Review Sites' Rating on Issuu
Capterra Rating: 4.7/5
G2 Rating: 4.2/5
GetApp Rating: 4.7/5
Software Advice Rating: 4.7/5
Issuu Review: Final Verdict
Although it isn't perfect, Issuu comes close. When I reviewed ISSUU a year ago, I would have given a lower rating since iOS devices were not available as a way to access their magazines.
But this wasn't an issue with Issuu, but rather with Apple, who didn't want any competition for their own magazine publishing functions. There is now an app available for both iOS and Android. Moreover, it indicates that the company listens to its clients' needs and tries to address them as much as possible.
In the end, what makes Issuu different is what it offers. As a blogger, it is crucial to building an online presence that can increase your authority. Issuu provides that service. It goes beyond that, however.
You can even choose to have whatever is made be physically published with them, being a part of the digital age of publications. This program offers you an opportunity to gain further authority through self-publishing.
You can change how your readers engage with you, even on their free Basic plan.
Issuu Review FAQs
How do the different Issuu plans differ?
Basic
A flipbook-based digital marketing service for customers looking to use Issuu.com to display their content to their audience. 
The content sharing via a full-screen reader, embedding websites and videos, analytic tools, and website and video embedding is not included in this plan. 
Issuu.com will display targeted banner ads on your content.
Starter
This plan includes all the features included in our Basic plan, ideal for students, organizations and small businesses who desire to embed their content into a website or display it full-screen (great for large documents). 
You can also use SEO in this plan.
Premium
Issuu offers all the tools content creators need to run their business in this most popular subscription plan. You can use custom embeds, a full-screen reader, analytics, and allow your readers to download your content. 
You can also sell your content, get up to three users sharing an account, and auto-link reading without reaching your audience with target ads. 
Optimum
For large content creators who need priority phone support, unlimited private sharing for their content, flat planning tools, up to 25 users sharing one account, and unlimited API access.
What is Issuu's content upload limit?
Free accounts can upload two public documents per year. Optimum users can upload unlimited public documents, while Starter users can upload 6 public documents. 
However, all Issuu plans come with a fixed number of free Unlisted documents. 
You can subscribe to an Unlisted content package once you reach that limit.
Free, Starter and legacy Pro Plans: 500 pages per document up to 100MB in size

Legacy Plus Plan: 500 pages per document, up to 250MB in size

Premium and Optimum Plans: 5000 pages per document, up to 500MB in size
What is the difference between Reads and Impressions on Issuu?
Content impressions are the number of times your content has been served or shown on the Issuu network, whether in someone's feed (as a thumbnail), in search results or embedded in a website

A read is when someone opens your content and either takes an action (by flipping pages, zooming in, etc.) or stays for more than two seconds.

Once the content has been loaded for two seconds (when considered a Read), the Read Time will be calculated. The format will be hours:minutes: seconds

The average time spent reading is the read time divided by the reads
Issuu Alternative: A Must-Have Online Marketing Tool
As you are reading this review, I'm sure you are an online entrepreneur, so I would like to introduce a very powerful marketing tool to you to help you scale your business to the next level.
It's called ClickFunnels. You may have heard of it, but if not, let me explain why you should consider using it to generate more sales online.
ClickFunnels is an all-in-one marketing tool that helps entrepreneurs, digital marketers and business owners market, sell and deliver their products or services online. 
ClickFunnels is the only piece of software you will ever need to run an internet business.
It eliminates the need to hire a web designer or salesman who is overpriced and lazy. So you can save a lot of money using ClickFunnels in the long term.
Anybody can build, design, and launch a sales funnel using ClickFunnels, regardless of their experience. Those days of hiring coders, web designers, and marketing agencies are over. With ClickFunnels, getting your business online has never been easier.
Get 14-Day Free Trial of ClickFunnels Here
But How Much Can You Earn With ClickFunnels?
Many online entrepreneurs are using ClickFunnels and have earned at least $1 million in sales using ClickFunnels. The earning potential is limitless.
ClickFunnels created an award called the "Two Comma Club" award for entrepreneurs who reached the 7-figure financial milestone inside one of their ClickFunnels funnels.
The screenshots below are some of the winners of the "Two Comma Club" award. Do you want to be one of them?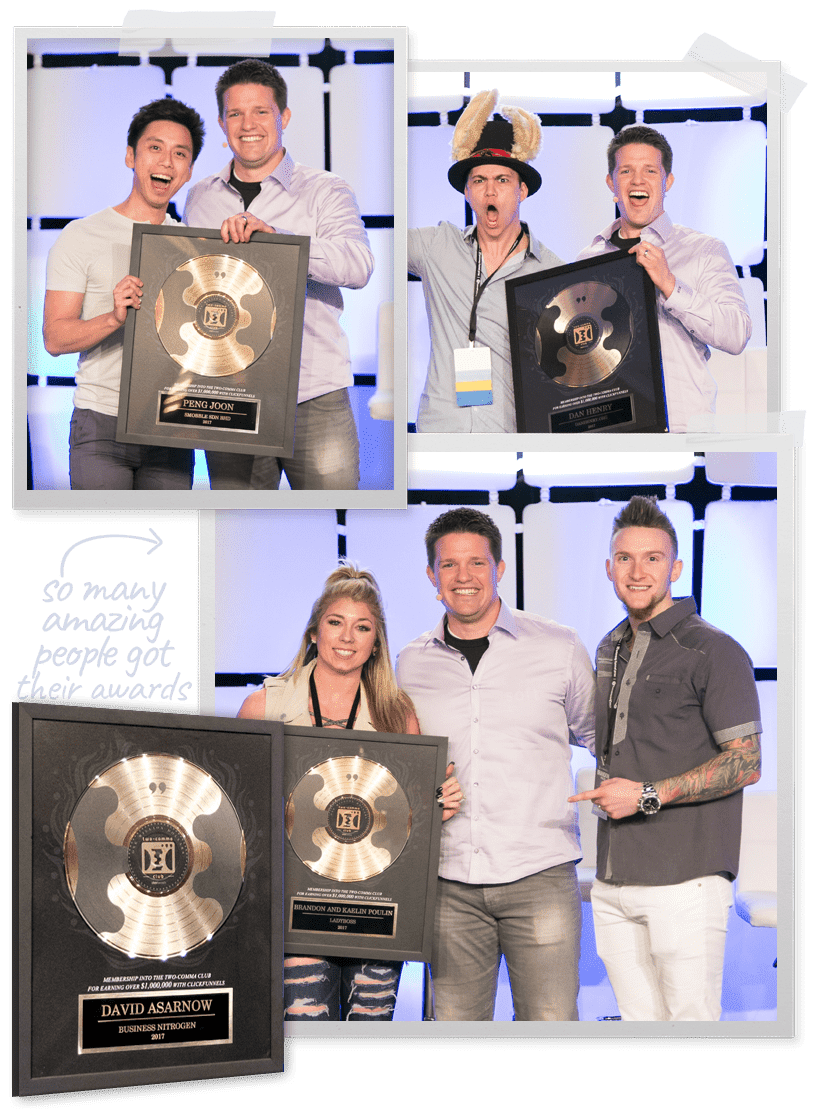 With ClickFunnels, you can drastically increase the opt-in rate and upsell conversion rate: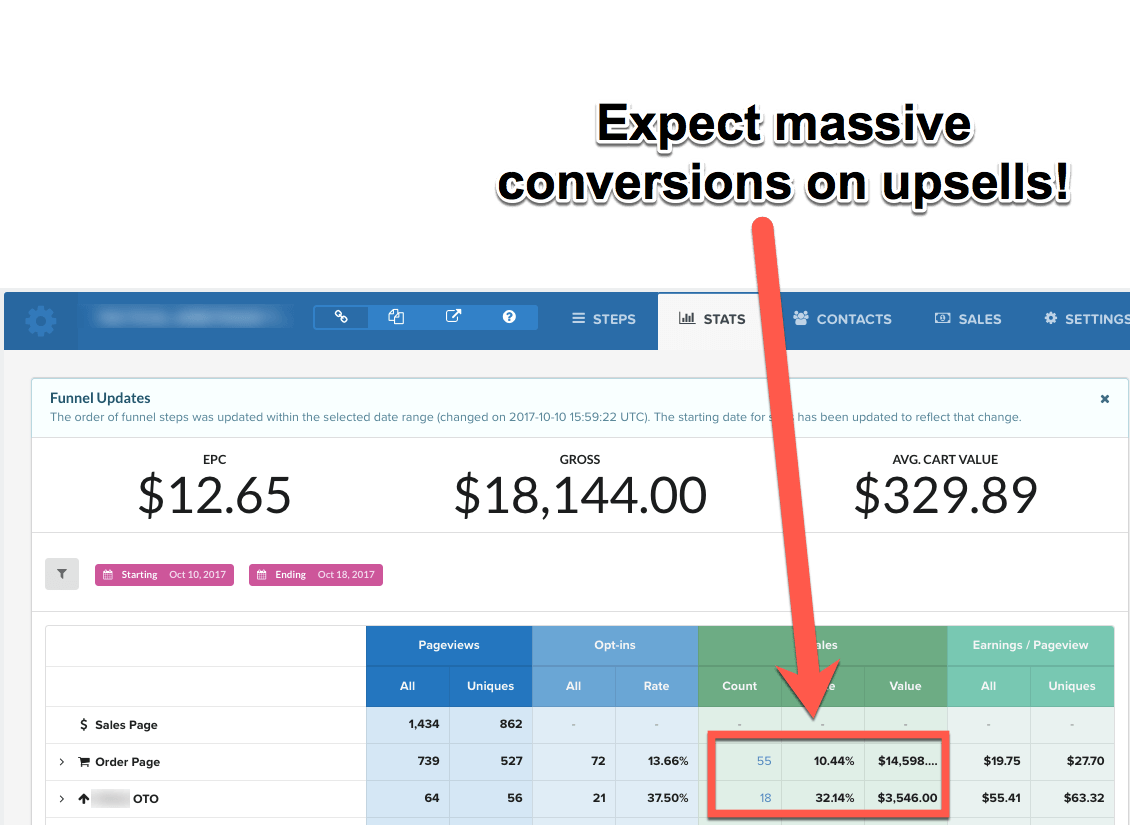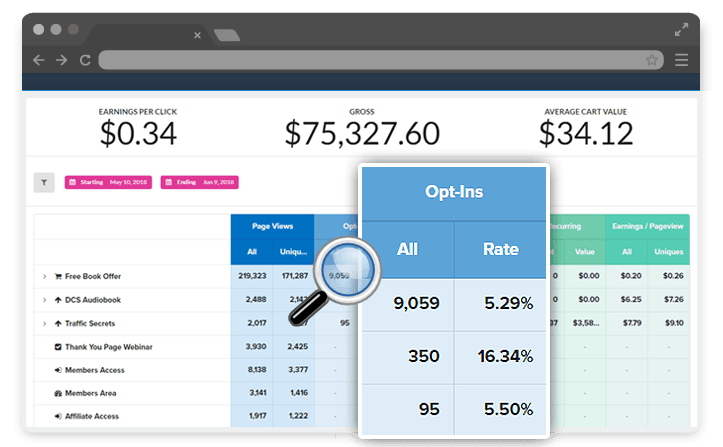 Get 14-Day Free Trial of ClickFunnels Here
Where to Get ClickFunnels?
ClickFunnels offers a 14-day free trial.
If you want to try ClickFunnels and see if it fits your online business model, you can sign up for the free trial here (no worries that you can cancel it anytime within 14 days and won't be charged a penny).
With the free trial, You can get instant access to every amazing feature of ClickFunnels:
Drag-And-Drop Website/Page Builder

One-Click Upsells & Downsells

Optin-Forms

Order Forms

Membership Area Pages

A/B Testing

Follow-up Funnels

Email List Building Tools

Email Management

Integrated Affiliate Management System

Sales Analytics

Pre-Built Funnel Templates

Payment Gateways Integration

Third-Party Integrations & Apps

CRM

And many more…
If you want to see a detailed evaluation of ClickFunnels, you can read this ClickFunnels review.
Anyway, I strongly recommend you to register a free account with ClickFunnels and see it yourself.