Are you looking for a HubSpot Marketing Hub review? Should you use it for your business?
I have a passion to help businesses explore the best software to improve business operation and increase profit.
In the past week, I've done thorough research about HubSpot Marketing Hub. So I can tell you a lot of things about HubSpot Marketing Hub to help you make an informed and wise decision.
In this HubSpot Marketing Hub review, I'm going to cover the following.
What is HubSpot Marketing Hub?
The HubSpot Marketing Hub is a powerful tool. 
Not only does HubSpot offer email marketing but it also offers CRM, lead gen, social media, customer service & collaboration.
Before you put down the money for HubSpot, think carefully about whether your needs include the whole marketing suite or only the email marketing tool. If you're just starting out and only need a basic email solution, HubSpot might be too much.
That's why it's so important to assess your goals and do your homework before making a decision.
HubSpot Marketing Hub features
You can create email campaigns rapidly with HubSpot Marketing Hub, personalize content to individual audiences, and track performance of campaigns in great detail.
Let's take a look at the key features one by one.
Email editor
HubSpot Marketing Hub offers a variety of email templates for various purposes, including:
Welcome emails

Event invitations

E-book launch

Reengagement
The email editor allows you to add content such as images, buttons, or social sharing options and to change the layout of each. It gives you the flexibility to add and remove columns and rows as well.
Marketers can use HubSpot Marketing Hub for both B2B and B2C marketing, because the tool lets you personalize your email with contact details from customers, such as name and location, and company information, such as company names and industry.
HubSpot Marketing Hub includes a handy feature that lets users customize emails by customer lifecycle stage or by membership in different lists.
In other words, you can send out only one email and HubSpot will adjust the content, such as subject lines, links, and attachments, based on criteria such as how often they make a purchase.
With HubSpot Marketing Hub's landing page functionality, you can create landing pages from scratch or from templates. Additionally, it allows you to grow your email list and increase conversions by permitting you to create pages that target certain groups of customers or campaigns.
Additionally, the lead flow functionality in HubSpot Marketing Hub allows you to create popup forms for special offers as well as to capture additional sign-up details.
Automations
When you are creating a single email, you have the option to turn it into a series of automated emails. These can be activated by a number of triggers, including:
Customer completes a sign-up form

Last date of interaction with your brand by a customer

Product pageviews

Interactions with emails and advertisements
It's up to you how many triggers or conditions to use, and how many steps to follow each sequence. 
You can choose a trigger that can send reengagement actions every time you receive an email that isn't opened or that hasn't been viewed by a customer in the last 60 days.
With HubSpot Marketing Hub, you can also build automations with full flexibility, setting them to run for a period of time or only during certain campaigns.
It's also possible for you to set goals for your automated emails, like a website visit or email open, and your customers will be removed from the sequence once they accomplish those goals.
Contact management
In HubSpot Marketing Hub, customer data is presented like a CRM solution, showing all aspects of contact interaction in one place. For example, you can see lists that contacts are on, automations they have been signed up for, updates to their information, and all interactions they have had.
It is possible to filter contacts by multiple conditions, including location, date of sign-up, last activity, and the customer's lifecycle stage. These results enables you to create more granular contact lists that are tailored to each specific condition.
Analytics
In HubSpot Marketing Hub you will find performance data on email marketing campaigns. They can easily be compared to other marketing channels such as social media and paid display ads, making it easy to learn which is more successful.
You can track metrics relating to the performance of your email campaigns using the overall performance view, such as:
Opens

Clicks

Bounces

Unsubscribes

Spam reports
An HTML click map will show you which links get the most clicks and who gets engaged. HubSpot Marketing Hub goes even further, enabling you to take a deeper dive into email engagement.
HubSpot Marketing Hub's overall marketing analysis can help you figure out who is truly interested through tracking the number of new contacts you gain or miss through each email campaign, as well as the time spent viewing and interacting with an email, along with their engagement over time.
Is HubSpot Marketing Hub Easy To Use?
The HubSpot Marketing Hub is a comprehensive solution for marketing, sales, customer service, and CRM. Like any other all-in-one solution, it takes a while to figure it out.
With integrated marketing solutions, the learning curve is evidently steeper than with standalone email marketing solutions due to the numerous features and functions available.
It may seem overwhelming if you don't have much experience with email marketing software. 
The navigation, however, is clear and straightforward, so it's easy to find all the functionality. It is also easy to use these features, and the interface is simple so every next step is always clear.
HubSpot Marketing Hub provides useful tips and tricks when you start working with a feature. In addition, a comprehensive blog cover a wide range of topics. These articles are referenced within the app so you can learn how to do things like send better emails or use the features better. 
HubSpot Marketing Hub's Pricing
Although HubSpot Marketing Hub does not offer an individual email marketing plan, its free CRM plan includes email marketing capabilities. You can email up to 2,000 contacts a month, but this is only for businesses that don't have much contact data on their email list.
The most basic plan starts at $50 per month for up to 1,000 contacts. There is also a 14-day free trial and a 20% discount if you pay annually.
The most affordable plan goes up to $100 per month up to 2,000 contacts and $150 per month for up to 3,000 contacts.
Other plans have a richer feature set, but are priced at $800 per month for 1,000 contacts and $3,200 for 10,000 contacts, so they may not be affordable for small businesses.
Get access to the 14-day free trial.
Who is HubSpot Marketing Hub for?
HubSpot Marketing Hub is designed for all business sizes, but on the other hand it might be too expensive for small companies or solopreneurs.
With its ease of use, HubSpot is suited to any level of email marketer and you can get started quickly. Their Marketing Hub software is already popular and, as a result, many email marketers are already familiar with the solution and have an understanding of how it works.
What I Like About HubSpot Marketing Hub
With HubSpot Marketing Hub's email editor, you can create professional looking campaigns within minutes. The editor is also great for automatically creating highly personalized content. 
You can assess both the overall and detailed performance of your emails, as well as the behavior of your lists, with HubSpot Marketing Hub.
Major Software Review Sites' Rating on HubSpot Marketing Hub
Capterra Rating: 4.5/5
G2 Rating: 4.4/5
TrustRadius Rating: 8.5/10
GetApp Rating: 4.5/5
PCMag Rating: 4.5/5
SourceForge Rating: 4.5/5
SaaSworthy Rating: 4.5/5
Gartner Rating: 4.5/5
Fool.com Rating: 8/10
Software Advice Rating: No rating
SelectHub Rating: 8.7/10
Final Verdict: HubSpot Marketing Hub Review
The HubSpot Marketing Hub is a fantastic email marketing tool, but not a standalone one. Since it isn't a standalone product, it may be too costly for many smaller businesses. 
If you can afford to pay more, and want a feature-packed solution that puts you in control, then HubSpot Marketing Hub may be a good choice. Learning its features may take some time, but it's worth it when you figure it out.
The HubSpot Marketing Hub allows you to amplify revenue by personalizing email marketing campaigns on a granular level. For example, you can create automated email sequences that guide prospects down the sales funnel.
So I would recommend giving it a try. Get access to the 14-day free trial here.
HubSpot Marketing Hub Alternative: A Must-Have Online Marketing Tool
As you are reading this review, I'm sure you are an online entrepreneur, so I would like to introduce a very powerful marketing tool to you to help you scale your business to the next level.
It's called ClickFunnels. You may have heard of it, but if not, let me explain why you should consider using it to generate more sales online.
ClickFunnels is an all-in-one marketing tool that helps entrepreneurs, digital marketers and business owners market, sell and deliver their products or services online. 
ClickFunnels is the only piece of software you will ever need to run an internet business.
It eliminates the need to hire a web designer or salesman who is overpriced and lazy. So you can save a lot of money using ClickFunnels in the long term.
Anybody can build, design, and launch a sales funnel using ClickFunnels, regardless of their experience. Those days of hiring coders, web designers, and marketing agencies are over. With ClickFunnels, getting your business online has never been easier.
Get 14-Day Free Trial of ClickFunnels Here
But How Much Can You Earn With ClickFunnels?
Many online entrepreneurs are using ClickFunnels and have earned at least $1 million in sales using ClickFunnels. The earning potential is limitless.
ClickFunnels created an award called the "Two Comma Club" award for entrepreneurs who reached the 7-figure financial milestone inside one of their ClickFunnels funnels.
The screenshots below are some of the winners of the "Two Comma Club" award. Do you want to be one of them?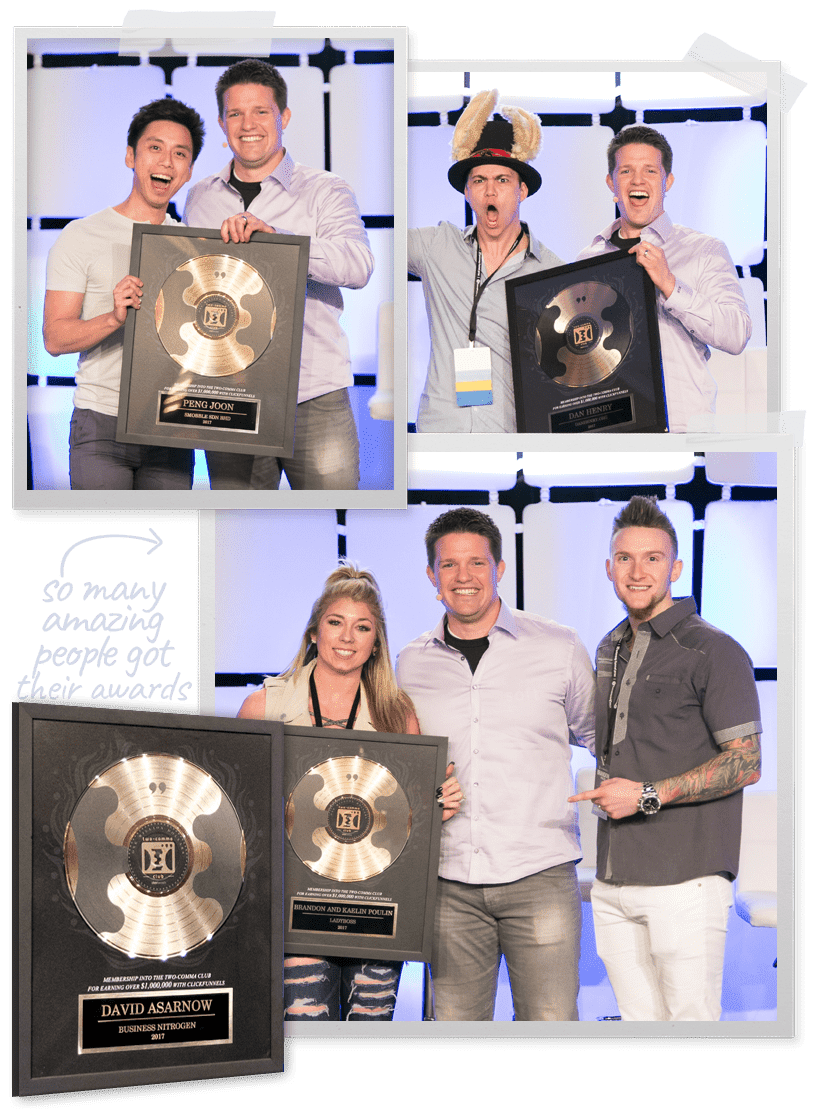 With ClickFunnels, you can drastically increase the opt-in rate and upsell conversion rate: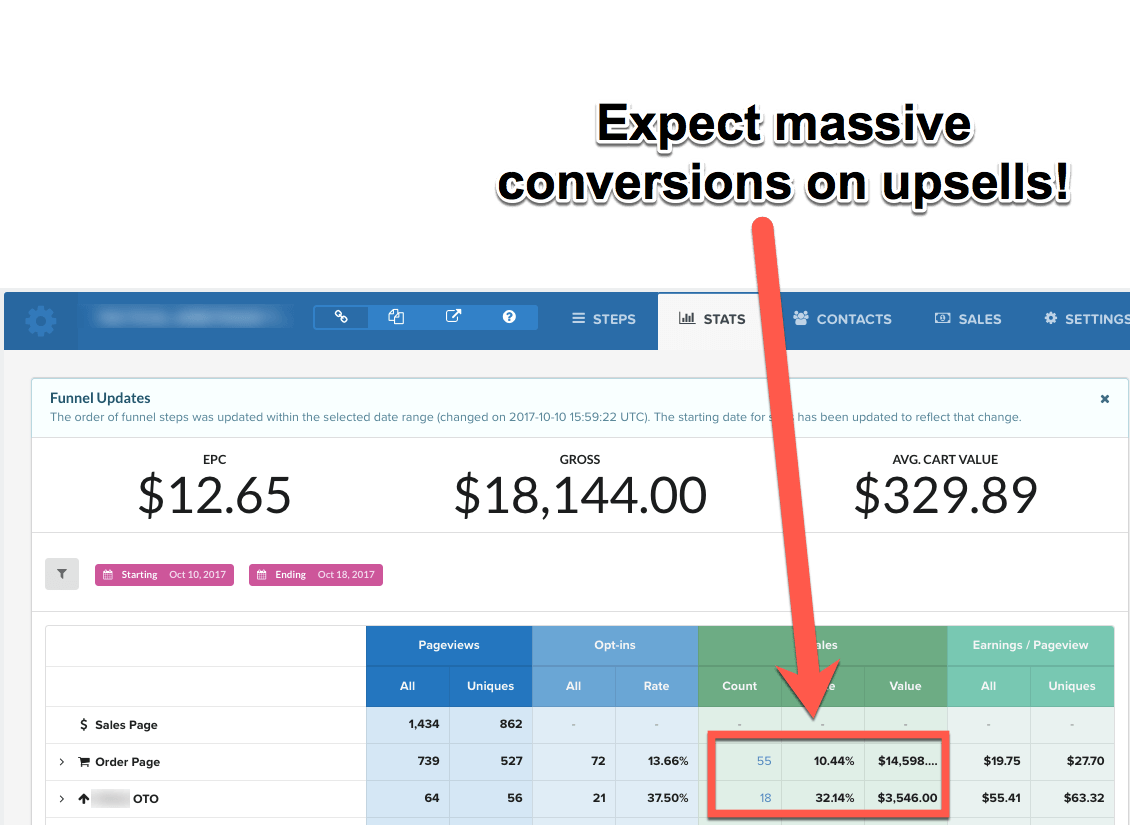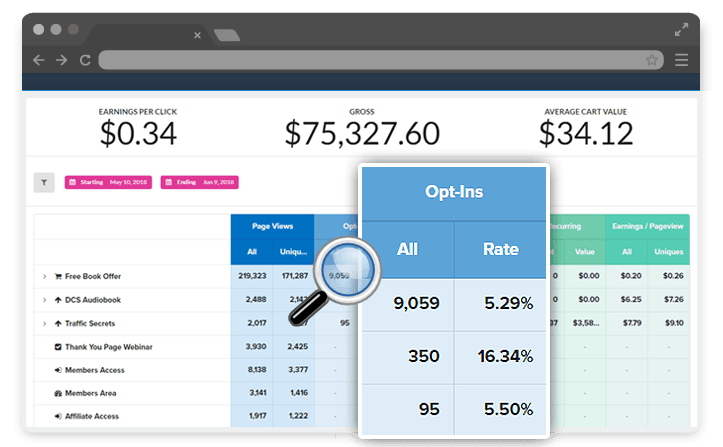 Get 14-Day Free Trial of ClickFunnels Here
Where to Get ClickFunnels?
ClickFunnels offers a 14-day free trial.
If you want to try ClickFunnels and see if it fits your online business model, you can sign up for the free trial here (no worries that you can cancel it anytime within 14 days and won't be charged a penny).
With the free trial, You can get instant access to every amazing feature of ClickFunnels:
Drag-And-Drop Website/Page Builder

One-Click Upsells & Downsells

Optin-Forms

Order Forms

Membership Area Pages

A/B Testing

Follow-up Funnels

Email List Building Tools

Email Management

Integrated Affiliate Management System

Sales Analytics

Pre-Built Funnel Templates

Payment Gateways Integration

Third-Party Integrations & Apps

CRM

And many more…
If you want to see a detailed evaluation of ClickFunnels, you can read this ClickFunnels review.
Anyway, I strongly recommend you to register a free account with ClickFunnels and see it yourself.