How much does Groovefunnels cost?
Is GrooveFunnels Platinum Lifetime worth it?
In what way does it help my business?
We answer these questions and more in this pricing review, so you can make an informed purchasing decision.
Many of the Groovefunnels pricing reviews on the web are outdated, ESPECIALLY around the Platinum Lifetime deal and its planned price increase in 2021.  
Updated for 2021, this article details how you can lock in all GrooveFunnels features for life with a one-time payment (no monthly fees).
If you act before the special pricing changes, Groovefunnel is a potential game-changer.
Groovefunnels isn't right for everyone (we will talk about that later).
GrooveFunnels Pricing

GrooveFunnels Pricing Plans
Free Plan
$0/ mo
NO CREDIT CARD REQUIRED
Free Plan GrooveFunnels Product List
GroovePages(Replaces Clickfunnels)
GrooveSell  (Replaces SamCart)
GrooveMember (Replaces Kajabi)
GrooveKart (Replaces Shopify)
GrooveMail  (Replaces ActiveCampaign)
GrooveAffiliate  (Replaces TapAffiliate)
GrooveWebinars (Replaces EverWebinar)
GrooveWebinars (Replaces EverWebinar)
GrooveVideo (Replaces Vimeo)
GrooveDesk  (Replaces ZenDesk)
+ Access To Other Unreleased Groovefunnel Products Like GrooveSurvey and GrooveProof
Platinum Lifetime
$1,397
ONE TIME PAYMENT(OTHER STAGGERED PAYMENT OPTIONS AVAILABLE)
UNRESTRICTED ACCESS TO ALL GROOVEFUNNELS PRODUCTS FOR LIFE
What Is GrooveFunnels?
Groovefunnels is a marketing tool that will unlock the growth potential of your business. This is achieved through a combination of targeted email marketing, high-converting landing pages, and automated marketing campaigns.
How does this really benefit you?
This means you will have everything you need to build a profitable course or product, drive traffic and attract devoted, returning customers.
By automating this process, you can grow sales without having to put in the extra effort while you are busy with family or travelling.
The following tedious tasks disappeared when you moved to GrooveFunnels:
Four separate platforms to manage. (extremely inconvenient)
Troubleshooting integration errors (technical knowledge required),
Integrating all customer support teams (time-consuming).
Paying multiple providers (expensive).
Groovefunnels Pricing: Is it Legit?
Groovefunnels is a legit service. Thousands of people use their software every day to build businesses.
Mike Filsaime founded Groovefunnels.
He is one of the founders of Kartra and WebinarJam and has over a decade's worth of experience in internet marketing. The business software company Kartra, in particular, generates millions of dollars in revenue annually.
Groovefunnels is used by 425,000 business owners, including me. The Lifetime Plan comes with a 30-day money-back guarantee as well.
In case of any problems, just get your money back.
How Much Does Groovefunnels Cost?
Groovefunnels Free Plan
It's free! All tools are available with restrictions. There is no need for a credit card. When pricing returns to monthly billing, some features will no longer be available. 
Groovefunnels Lifetime Platinum Plan
$1,397 (One time payment for Lifetime Feature Access.) or:
5 x $497 payments ($2,485)
Groovefunnels Lifetime Plan To Become $2,497 Soon (Step By Step Guide)
Mike Filsaime announced in a Webinar on March 10th 2021 that the Lifetime Platinum price will gradually increase throughout the year before replacing it with monthly billing at $299 per month. 
Prior to the expiration of the Lifetime deal, the current price of $1,397 will increase to $1,497 before climbing steeply to $1,997 and $2,497.
It is not known when the exact dates of each increase will be, but May 2021 looks likely to be the first price increase to $1,497 because an affiliate promotion ends on this date.
To lock in and save money on a lifetime Groovefunnels subscription, click here. If you sign up before the price adjustment, you will also get a Funnels Masterclass bonus. 
Also, you can watch the Groove Webinar where Mike announces this change (the price increase discussion starts at 2:14:30). 
You can also find below screenshots of the Webinar's price increase slides.
Features of Both Free and Platinum Plans
Design unlimited high-converting sales funnels and landing pages (GroovePages)
Sell Unlimited Products (GrooveSell)
Custom Domains (GroovePages)
Automated Email Marketing Platform (GrooveMail)
Membership Site Platform (Groovemember)
Video Marketing with GrooveVideo
Shopping cart functionality (GrooveKart)
Powerful affiliate program (GrooveAffiliate)
Webinar software (GrooveWebinar coming in 2021)
Built-in helpdesk (GrooveDesk coming in 2021)
Groovefunnels Free Plan
Groovefunnels Free Plan feature restrictions will quickly limit your business growth. The Groovepages landing page templates are limited to five.
With the Platinum Plan, you will have hUNDREDS of templates to choose from…
Groovekart charges 2% per transaction on the Free Plan versus 0% on the Platinum Lifetime Plan. It will eat up your profits.
Here, you can take advantage of many free features. Other software companies aren't giving away as much as this one.
With Groovefunnels' Free Plan, for example:
You can sell an unlimited number of products. To an unlimited number of customers.
Featuring a fully-featured shopping cart (1-click upsells, bump offers, flexible pricing options).
A free plan that offers this much functionality is unusual since close competitors like Kajabi or Kartra don't provide unlimited customers and products at even their highest priced tier. 
In addition, you can build a fully branded website with your own custom domain (no need to use  xyz.groovefunnels.com).
The Free plan is great, but there are some limitations (more on those later).
The Lifetime Platinum plan, on the other hand, offers unlimited access to everything for life.
Groovefunnels users can also expect an INEVITABLE price change in 2021.
Groovefunnels has announced that the Lifetime Platinum deal will end in 2021  and they will revert to monthly recurring billing. Below is a screenshot from the Groovefunnels website.
These changes will not affect Platinum lifetime members. As their Lifetime memberships are locked in for life, they will never be charged a monthly fee.
If the pricing changes, free members will still have access to some features like GrooveSell. Despite this, most Groovefunnels features will require you to pay monthly.
I know it's disappointing, but COME ON! Groovefunnels needs to make money so they can continue to provide this service!
Groovefunnels Platinum Lifetime Offer ($1,397 one-time payment)
The $1,397 may seem intimidating, but you need to consider what you're getting in return.
The entire Groovefunnels toolkit including upgrades is included in lifetime membership. You will never be charged again.
However, I understand. It can be difficult to pay $1,397 for software when you are just starting out with an online business and won't see any return for a few months.
However, think about it.
When you generate $1,397 or more in revenue from your business, Groovefunnels is paid for. After that, your automation business will generate sales without software costs.
By the time your business is up and running, you should make more than $1,397 from it.
You will have to spend money on scaling your business.
Entrepreneurs who are serious about growing their business should invest in this. As an alternative, see the table below comparing how expensive software can be (Sidenote: for a subset of readers, I strongly recommend Kajabi over Groovefunnels).
You can also choose to pay for the Platinum Groovefunnels plan in 4 monthly instalments of $497 (comes to $1,988).
In lieu of the $1,397 one-time payment, you will pay an additional $591 for this instalment plan.
The change is not small, but at least it's something to help secure your Lifetime account.
A Comparison of the Free Plan vs. The Platinum Lifetime Plan
In the future, if you are a Free customer, Groovefunnels will change its pricing structure to monthly billing. Platinum members will not have to pay any monthly fees. A one-time payment ensures lifetime access to all features.
GrooveMail Contacts Limit – With Free GrooveFunnels, you are limited to 500 contacts. This is a real barrier to growth because email is still the most effective way to make online sales. Platinum Lifetime Pan includes unlimited contacts.
The GrooveMail free plan allows for 5,000 emails per month, but the Platinum Lifetime plan gives you unlimited email. The 5,000 limits can quickly be exceeded once you have several automated campaigns running.
With the Free Plan, you are limited to only 5 GroovePages (Landing Page Builder) templates. The Platinum Plan includes hundreds of page and sales funnel templates that have been proven to convert users into paying customers. By using these ready-made optimized pages, you can avoid designing and testing your own pages.
GrooveMember – 100 members with the Free plan, unlimited with the Platinum plan. With the Free plan, you also get only one membership site whereas Lifetime Platinum gives you unlimited sites.
Groove offers a 20% commission for life if you refer someone to the free plan. With the Platinum Lifetime plan, you get double the commission (40%) for life. The Platinum level also includes 10% commissions on Tier 2 sales (which your referrals can make). It's best to upgrade so that you don't lose out on this extra money.
Charges from Third-Party Payment Processors – The Free Plan eats into the profits from sales as it charges 2% per transaction made through third-party payment processors such as PayPal and Stripe. With the Platinum Lifetime plan, there is no charge (0%) for using these third party processors.
Unreleased tools are still subject to package limits that have not yet been confirmed.
In 2021, GrooveProof (social proof pop-up feature), GrooveDesk (customer support integrated into the platform) and GrooveWebinars (automated or live webinars) will be available.
Why Groovefunnels Offers Lifetime Platinum Plans
Currently, Groovefunnels is in beta, which means new features are being added every month.
The company wants to give new customers this lifetime benefit for joining Groovefunnels at an early stage since some of their main features haven't been released yet such as Groovedesk or Groovewebinars.
Groove products come with all future updates and new features.
For a one-time flat lifetime rate.
I Recommend Groovefunnels IF:
Your business is growing or you are a beginner who needs an all-in-one  marketing tool. By purchasing one software package, you can convert leads into paying customers in a repeatable manner. All of this for just one fee and without any technical knowledge. There is no competitor to Groovefunnels with this mix of features at this special price.
Owners of eCommerce stores. The cost of running an ecommerce store quickly rises as you integrate various platforms like Shopify and Wix. GrooveKart (a GrooveFunnels e-commerce software) combines print-on-demand, dropshipping, and cart abandonment features with other Groove platforms such as GroovePages to increase conversions and sales.
I Don't Recommend Groovefunnels IF:
Your marketing budget is big and you wish to implement advanced automations based on conditional logic in emails and product offerings. In terms of automation features, Kajabi (starting at $145 per month) is the best in show for advanced marketers. Kajabi's tech is currently more advanced than Groovefunnels' at the moment.
You just need a simple email campaign builder. With Mailchimp's Free plan (2,000 contacts), you'll be able to get started right away.
Other Points To Consider With Groovefunnels
GrooveMail Current Issue (May 2021 Resumption)
Beginning in late May 2021, GrooveMail broadcasts and sequences will be available again.
Due to some Free members affecting email delivery, Groove had to temporarily disable certain features of GrooveMail.
GrooveMember user information, transactional emails, affiliate emails, and affiliate emails are not affected by this stoppage.
For April and parts of May, you can use MailChimp, which is an effective short-term substitute. Free plans with up to 2,000 contacts are available from Mailchimp.
Is Groovefunnels Better Than Clickfunnels
Both yes and no.
The unique selling point of ClickFunnels is their landing page and sales funnel templates. Landing pages have been the foundation of their business.
That said, Clickfunnels does not offer much beyond its 'Sales Funnel' feature.
Their shopping cart is basic at best, and many users end up integrating with external carts, adding to your monthly costs.
Automated marketing is also available only at the highest tier, $297 per month.  
Groovefunnels is more competitive in terms of all-around features. The features that Clickfunnels adds are random and not based on user-friendliness.  
Groovefunnels Pros
This software will meet all your online business needs
Groovefunnels Free Plan Does Not Require a Credit Card
The Groovefunnels Platinum Plan gives you lifetime access to all Groovefunnels tools and updates
Easy to use for non-technical business founders
Affiliate commissions of 40% on Tier 1 and 10% on Tier 2 with Lifetime Deal
Groovefunnels Cons
It will take time for the customer support team to develop processes, since it is a new company
GrooveWebinar and GrooveDesk are not yet available
Groovefunnels Cost Verdict: Is It Worth It?
Groovefunnels Lifetime plan has a pricey upfront fee, but it pays for itself if you build a sales pipeline that automates every stage of the customer transaction, from lead qualification to payments.
GrooveFunnels Tutorial
If you don't know how GrooveFunnels work, here's a YouTube video for you:
GrooveFunnels Alternative: A Must-Have Online Marketing Tool
As you are reading this review, I'm sure you are an online entrepreneur, so I would like to introduce a very powerful marketing tool to you to help you scale your business to the next level.
It's called ClickFunnels. You may have heard of it, but if not, let me explain why you should consider using it to generate more sales online.
ClickFunnels is an all-in-one marketing tool that helps entrepreneurs, digital marketers and business owners market, sell and deliver their products or services online. 
ClickFunnels is the only piece of software you will ever need to run an internet business.
It eliminates the need to hire a web designer or salesman who is overpriced and lazy. So you can save a lot of money using ClickFunnels in the long term.
Anybody can build, design, and launch a sales funnel using ClickFunnels, regardless of their experience. Those days of hiring coders, web designers, and marketing agencies are over. With ClickFunnels, getting your business online has never been easier.
But How Much Can You Earn With ClickFunnels?
Many online entrepreneurs are using ClickFunnels and have earned at least $1 million in sales using ClickFunnels. The earning potential is limitless.
ClickFunnels created an award called the "Two Comma Club" award for entrepreneurs who reached the 7-figure financial milestone inside one of their ClickFunnels funnels.
The screenshots below are some of the winners of the "Two Comma Club" award. Do you want to be one of them?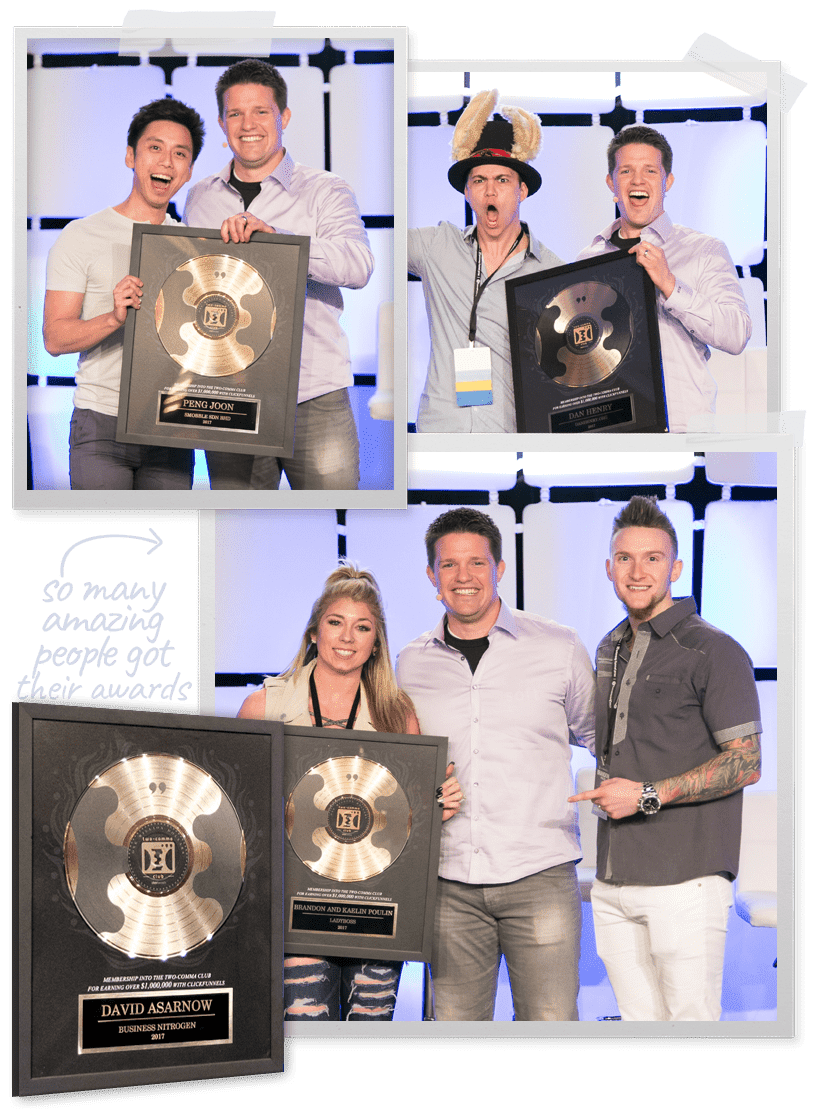 With ClickFunnels, you can drastically increase the opt-in rate and upsell conversion rate: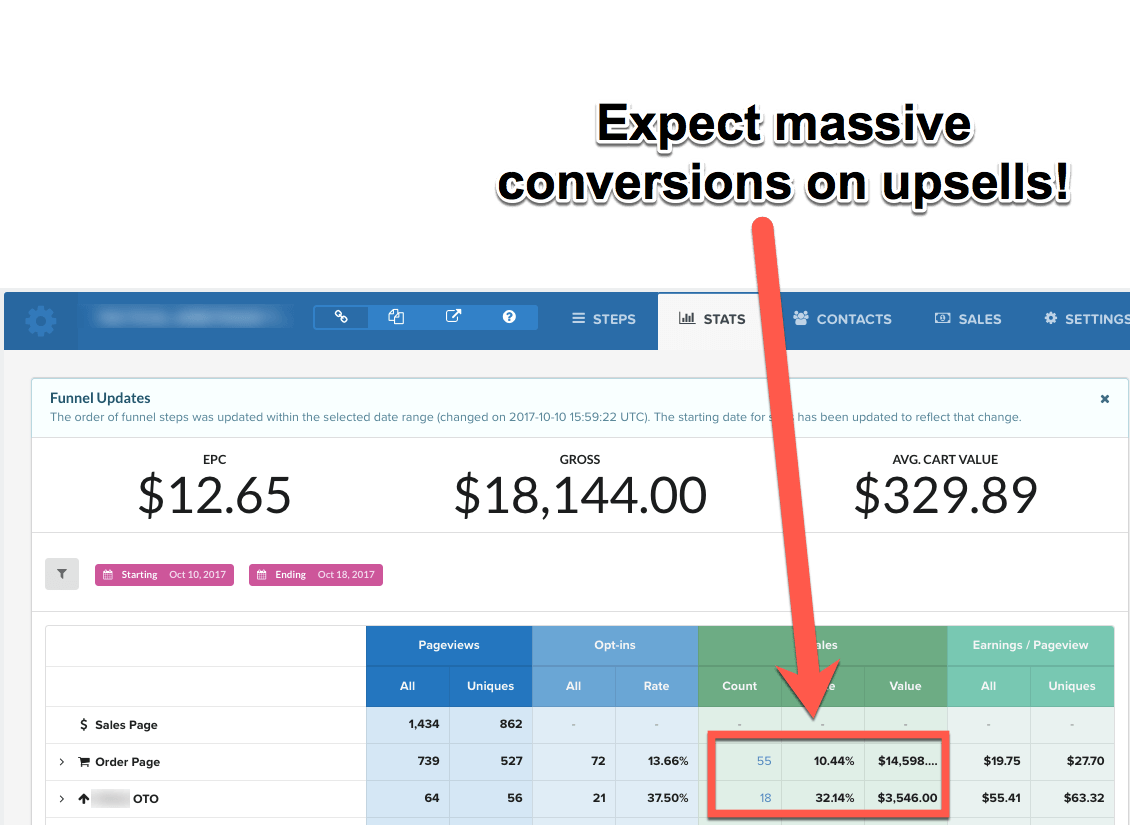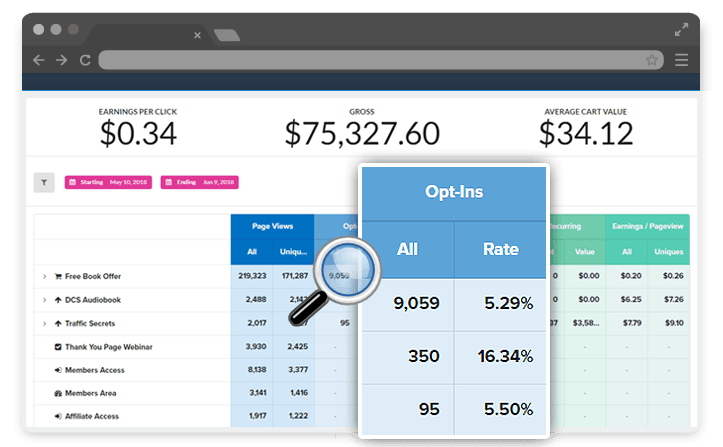 Where to Get ClickFunnels?
ClickFunnels offers a 14-day free trial.
If you want to try ClickFunnels and see if it fits your online business model, you can sign up for the free trial here (no worries that you can cancel it anytime within 14 days and won't be charged a penny).
With the free trial, You can get instant access to every amazing feature of ClickFunnels:
Drag-And-Drop Website/Page Builder
One-Click Upsells & Downsells
Optin-Forms
Order Forms
Membership Area Pages
A/B Testing
Follow-up Funnels
Email List Building Tools
Email Management
Integrated Affiliate Management System
Sales Analytics
Pre-Built Funnel Templates
Payment Gateways Integration
Third-Party Integrations & Apps
CRM
And many more…
If you want to see a detailed evaluation of ClickFunnels, you can read this ClickFunnels review.
Anyway, I strongly recommend you to register a free account with ClickFunnels and see it yourself.