Are you making a comparison between GeneratePress and Genesis? It's quite a headache to compare these two themes because they are both very popular.
A great WordPress theme should be fast, easy to customise, and most importantly lightweight. Some themes are specifically made for certain purposes, such as online stores, directories, review sites etc.
GeneratePress and Genesis are both known for speed and flexibility. They are optimised for SEO, so if your major traffic source is from search engines, these two themes should be your best choices.
But the question here is whether you should choose GeneratePress or Genesis. In this article, I'm going to compare these two themes for you.
Overview of GeneratePress and Genesis Themes
Genesis Theme Introduction
Genesis has existed for a long time, which is a very famous WordPress theme. 
Genesis theme is developed by Studiopress, which advocates the usage of parent and child themes in developing a WordPress site.
GeneratePress Theme Introduction
GeneratePress is a newcomer when compared to Genesis, but it doesn't mean GeneratePress is not as good as Genesis. 
Actually, GeneratePress's popularity is growing pretty fast. Many people shift to use GeneratePress in recent years because of its emphasis on lightweight. I like its minimalistic approach because complicated or heavy websites are outdated. 
To rank well on Google, you have to make sure your website is fast and easy to navigate. So keeping things simple is a better approach.
Comparing the Features of GeneraPress and Genesis Theme
Genesis Features
Using the Genesis Theme requires installing the Genesis Framework. It is the foundation for installing a child theme. You can then make customisation to the child theme.
Genesis allows other WordPress developers to develop different child themes for their Framework.
If you use Genesis, you can have the following features:
SEO features: Genesis comes with in-built SEO features. But if you are using an SEO plugin, these features might become redundant.
Basic Theme Settings: Genesis theme allows you to add Google Adsense, change the layout, breadcrumbs and others.
Export/Import: You can export the settings of Genesis Theme and import for the other WordPress websites.
Child Themes have different customisation options: Genesis has many child themes. Each one has different options to customise. You can choose the one that fits your needs.
What I don't like about Genesis Theme is that it's a bit difficult to customise without coding knowledge. 
If you are a developer and know CSS, JS, PHP, Genesis Theme might be good for you. If not, the Genesis theme is hard to manage. For example, you have to add additional CSS code to the theme files to make a logo responsive on mobile devices.
Since Genesis is not very user-friendly when it comes to customisation, you may have to install a lot of plugins to add customisation options. For example, you may need to install the plugins like Genesis Simple Edits, Genesis Simple Hooks. Genesis Custom Footers, CSS Hero, Genesis Responsive Menu, Genesis Connect for WooCommerce
GeneratePress Features
GeneratePress is the theme that I am using on this website. It has a free and premium version. I'm using the Premium version.
Actually, the GeneretePress free version is comparable to the Genesis framework. It allows you to customise a number of things like the logo, header, primary navigation, sidebars, containers, footers and even add custom CSS.
But I personally use the premium Generatepress, because it comes with other useful add-ons that allow you to customise anything of the theme easily. 
Here's a list of the premium add-ons you get when upgrading to the premium version:
Colors

Typography

WooCommerce

Sections

Menu Plus

Page Header

Blog

Backgrounds

Spacing

Secondary Nav

Copyright

Disable elements

Hooks

Import/Export
I like using the Hooks of GeneratePress because you don't need to add code snippets to the pages and can do customisation.
GeneratePress theme is also optimised for SEO, so you can expect your web pages to rank higher than other websites with heavy themes.
Comparing the Speed and Performance of GeneratePress and Genesis Theme
Genesis Theme Speed and Performance
Genesis Theme lacks customisation options, so you need to install many plugins to add some simple functions or features to your website. This will slow down your website.
GeneratePress Theme Speed and Performance
GeneratePress theme has a very quick page load speed. When hosting on a good quality server with caching settings, the speed is even faster.
With GeneratePress, you don't need to install many plugins because a lot of the customisation can be done easily.
When it comes to speed, I would say GeneratePress theme is faster than Genesis Theme in general.
Comparing the Ease of Use of GeneratePress and Genesis Theme
Is Genesis Theme Easy To Use?
As mentioned, to customise Genesis Theme, you need some coding knowledge. You also have to install plugins to get some features. When your site has many plugins to handle, it can be quite difficult to figure out the issues.
Is GeneratePress Theme Easy to Use?
The GeneratePress theme is easy to use. There are many powerful customisation options that do not require coding knowledge. You can use the theme customise to design your website easily.
So I think in general, GeneratePress is an easier theme to use.
Comparing the Price of GeneratePress and Genesis Theme
Genesis Pricing
Genesis Framework costs $59.95. It will get lifetime updates for the Genesis Framework.
However, as mentioned, you also need a child theme if you use Genesis. The child theme will cost at least $50 more. 
GeneratePress Pricing
GeneratePress is freemium. I recommend people investing in the premium version because it comes with many more features. When you use GeneratePress, you don't need to purchase an additional child theme.
It costs $59/year for the GeneratePress premium. They also have a lifetime offer, which is $249. 
Get A Special Offer of GeneratePress Here
FAQs on GeneratePress vs Genesis
Are GeneratePress and Genesis Themes SEO Friendly?
Both themes are SEO friendly. They are very lightweight. But if you install a lot of plugins with the Genesis theme, it might affect your site speed and hence the SEO.
Can I Use Child Themes With GeneratePress and Genesis?
If you use Genesis, you must use a Child Theme, but for GeneratePress, you don't need it. But still, if you want to use a child theme, you can download it from GeneratePress for free.
Are Generatepress and Genesis Themes Free?
Genesis doesn't have a free theme. For GeneratePress, you can install the free version to have a try. Just search within your WordPress dashboard and install.
Are GeneratePress and Genesis Compatible With Gutenberg?
Both themes are compatible with the new Gutenberg editor of WordPress. If you use Generatepress, you can even install the GenerateBlocks, which makes the Gutenberg editor even more powerful for building and designing web pages.
Final Verdict: GeneratePress vs Genesis
Considering all the factors above, GeneratePress is the clear winner. It offers more value for the price. 
Most importantly, GeneratePress is easier to use. It's very SEO friendly and great in terms of performance and speed. The cost of the premium version is also very reasonable.
That's why I choose to use the GeneratePress theme for this website.
Get A Special Offer of GeneratePress Here
GeneratePress or Genesis Alternative: A Must-Have Online Marketing Tool
As you are reading this review, I'm sure you are an online entrepreneur, so I would like to introduce a very powerful marketing tool to you to help you scale your business to the next level.
It's called ClickFunnels. You may have heard of it, but if not, let me explain why you should consider using it to generate more sales online.
ClickFunnels is an all-in-one marketing tool that helps entrepreneurs, digital marketers and business owners market, sell and deliver their products or services online. 
ClickFunnels is the only piece of software you will ever need to run an internet business.
It eliminates the need to hire a web designer or salesman who is overpriced and lazy. So you can save a lot of money using ClickFunnels in the long term.
Anybody can build, design, and launch a sales funnel using ClickFunnels, regardless of their experience. Those days of hiring coders, web designers, and marketing agencies are over. With ClickFunnels, getting your business online has never been easier.
Get 14-Day Free Trial of ClickFunnels Here
But How Much Can You Earn With ClickFunnels?
Many online entrepreneurs are using ClickFunnels and have earned at least $1 million in sales using ClickFunnels. The earning potential is limitless.
ClickFunnels created an award called the "Two Comma Club" award for entrepreneurs who reached the 7-figure financial milestone inside one of their ClickFunnels funnels.
The screenshots below are some of the winners of the "Two Comma Club" award. Do you want to be one of them?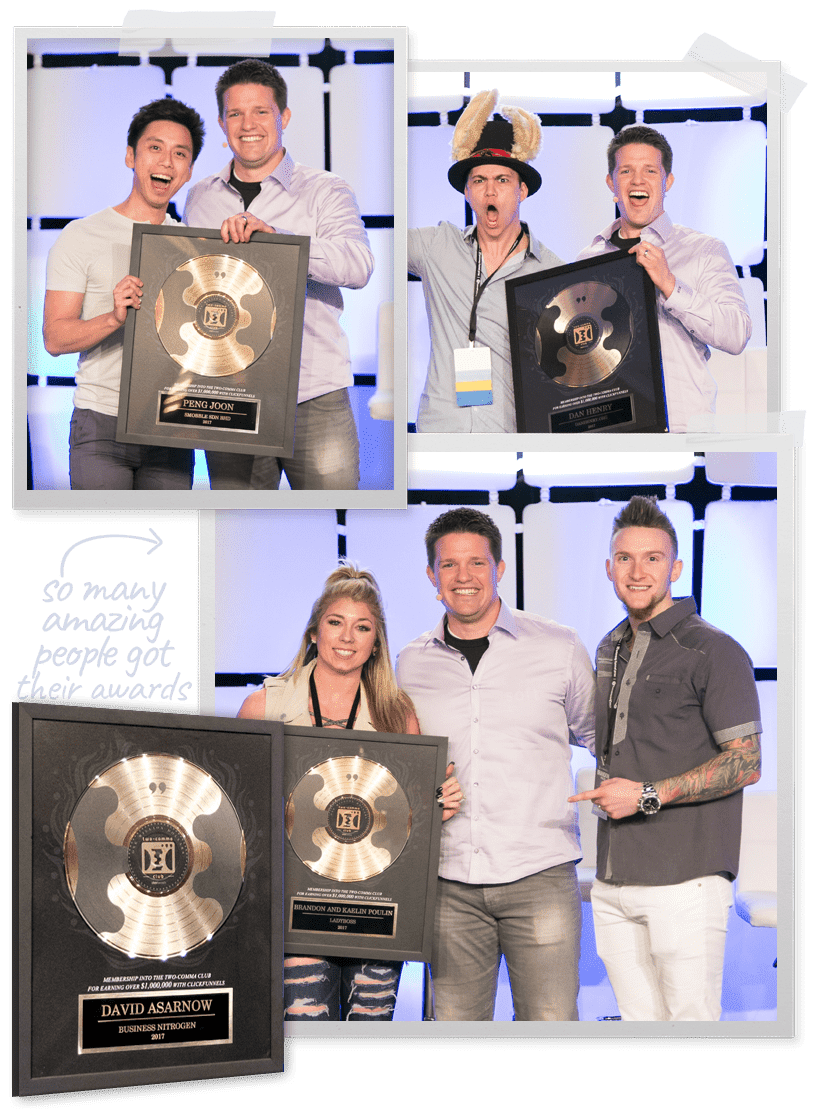 With ClickFunnels, you can drastically increase the opt-in rate and upsell conversion rate: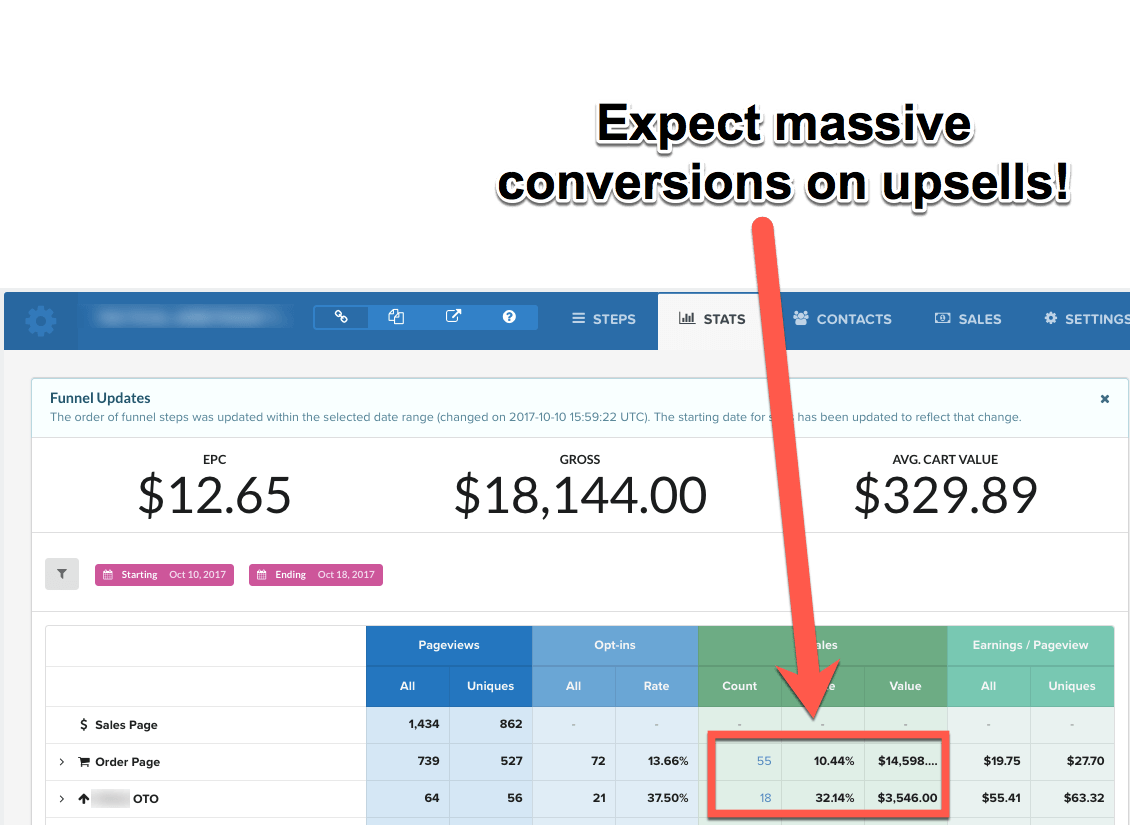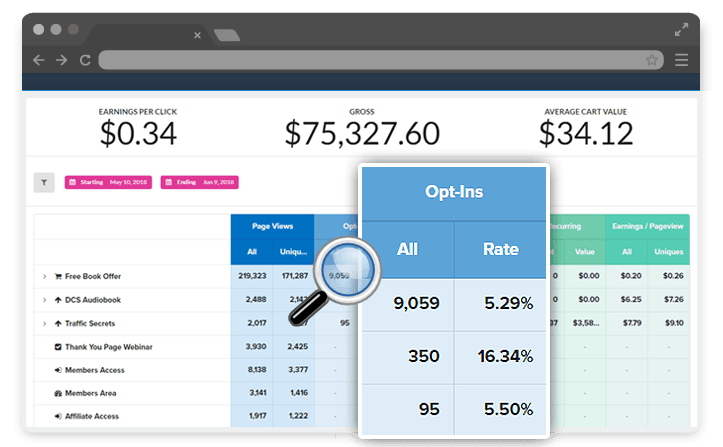 Get 14-Day Free Trial of ClickFunnels Here
Where to Get ClickFunnels?
ClickFunnels offers a 14-day free trial.
If you want to try ClickFunnels and see if it fits your online business model, you can sign up for the free trial here (no worries that you can cancel it anytime within 14 days and won't be charged a penny).
With the free trial, You can get instant access to every amazing feature of ClickFunnels:
Drag-And-Drop Website/Page Builder

One-Click Upsells & Downsells

Optin-Forms

Order Forms

Membership Area Pages

A/B Testing

Follow-up Funnels

Email List Building Tools

Email Management

Integrated Affiliate Management System

Sales Analytics

Pre-Built Funnel Templates

Payment Gateways Integration

Third-Party Integrations & Apps

CRM

And many more…
If you want to see a detailed evaluation of ClickFunnels, you can read this ClickFunnels review.
Anyway, I strongly recommend you to register a free account with ClickFunnels and see it yourself.