Are you looking for an EngageBay review? Should you use it for your business? Is EngageBay a scam?
If you are looking to use EngageBay in your business, you may have these questions in mind. But you will have all your doubts resolved by the end of this EngageBay review.
I have a passion to help businesses explore the best software to improve business operation and increase profit.
In the past week, I've done thorough research about EngageBay. So I can tell you a lot of things about EngageBay to help you make an informed and wise decision.
EngageBay Review – Takeaways
In this EngageBay review, I'm going to cover the following.
What is EngageBay?
Today's companies need an exceptional customer experience if they are going to gain customers' loyalty and attention.
You need to understand what your target audience needs, how to interact with them, and how to convert them when you engage with them for the first time.
Businesses find it increasingly difficult to see the whole picture at once. Your clients are engaging with you through a variety of new channels.
Without an understanding of how their experience differs across touchpoints, you may be unable to paint a complete picture.
Engagebay provides the solution. You can create email marketing campaigns, landing pages, online marketing automations and more using this all-in-one marketing solution. In this Engagebay review, you'll learn everything you need to know about this service.
With EngageBay, you get an easy-to-use, affordable, all-in-one marketing, sales, and customer service CRM solution. 
With one easy platform, you can generate leads, engage website visitors with beautiful landing pages, nurture prospects with engaging emails, and automate your marketing funnel with marketing automation.
Get A Special Offer of EngageBay Here
What Problems Will EngageBay Solve?
Problem #1: Data leaks due to the use of multiple platforms
Sometimes, data is lost during the process of generating leads for the sales team. 
This means that the sales teams lack complete visibility into the source of the lead. 
There is no information on how they could contact the leads. Sales teams need to start over in order to win the prospects, which can result in negative customer experiences. Previous relationships were cut short and talking points were lost. 
As all data is saved in one platform, this risk is mitigated with EngageBay. Customers and sales teams will be able to view the historical interactions between them and the company. By leveraging past information, they can direct the process straight to sales.
Problem #2: Missing and confusing information about customers 
You can consolidate all customer information on one screen with Engagebay's customer profiles. From the same source, all members of the team will receive the same information. 
Sales teams won't have to rebuild their databases from scratch. From the lead generation stage, they can fill out customer profiles. Not only will this be helpful in sales, but also in CRM and other post-sales services.
Problem #3: Lead generation is a major challenge for small and growing businesses
EngageBay offers a suite of tools to capture organically website visitors and their information. By using a variety of forms and pop-ups, you can engage your prospects instantly on the web. 
The automated generation of leads can further decrease manhours and improve efficiency. Leads can be nurtured through drip campaigns. In addition to getting new leads, there are ways to convert them into loyal customers as well.
Get A Special Offer of EngageBay Here
EngageBay Review: Features
Engagebay combines an easy-to-use CRM with sales, service, and marketing automation. Essentially, the purpose of this solution is to give businesses a place to align sales, support, and marketing teams. 
It's easier to make informed decisions that encourage conversions when you have a more comprehensive view of your customers.
Engagebay offers an array of marketing tools and resources, combining a number of solutions into one, so you don't have to deal with separate vendors.
Here are some of the features you'll get:
Email marketing

Lead generation tools

Marketing automation services

Landing pages

Contact management

Task management

Deal pipeline

Appointment scheduling

Sales automation

Multiple ticketing segments

Help desk automation

Web forms

Live chat software
Marketing Bay – Engagebay Review
Engagebay is created to provide businesses with a convenient and comprehensive tool for handling all aspects of marketing, sales, and ticketing. If you haven't already, you should look over each section before you decide.
Firstly, we'll be looking at marketing bay, which promises to help you attract new customers and grow your business. 
In addition to delivering a complete view of the customer journey, Marketing Bay provides you with tools to engage customers throughout their journey. The following are included:
1. Lead capture forms
Create beautiful and responsive lead capture forms. There are both standard and popup pages you can use.
2. Landing pages
It will be easier to convince your customers to connect with you if your landing pages are attractive. From welcome messages to marketing content, build the perfect email templates.
3. Email broadcasts
Send a quick email to encourage action from your audience.
4. Email automation
Engage your target audience with comprehensive email pipelines. To improve ROI, you can measure the performance of your campaigns, increase click-through rates, and use different tools.
5. Complete automation
Engagebay's automation solution extends beyond email marketing. Besides automating data sync processes, you can also manage events, subscribe and unsubscribe customers, and more.
6. Social media marketing
With the all-in-one platform, you can access social media marketing tools to manage your profiles in one place. You can track everything from Twitter and Facebook to Instagram.
7. Site messaging
Your website visitors can be followed up with instantly through live chat, during times when they are most likely to be engaged. To engage your audience, you can customize the color scheme, icons, layouts, and imagery to match your brand.
8. SMS marketing
With SMS marketing, you can connect with customers on yet another channel. Messages can be personalized based on attributes such as age and location.
There is also the option to set triggers to send SMS messages when someone leaves their cart or completes a form. Texting is easy with the drag and drop designer.
9. Push notifications
Engagebay helps you engage your customers wherever they are with intelligent push notifications.
Device-friendly push notifications drive traffic and conversions in real-time by delivering messages straight to your customers' mobile devices. Aside from creating and executing intelligent campaigns, you can also create custom icons.
10. Video marketing templates
You can easily reach out to your customers through video marketing templates.
The vast selection of templates makes it easy for you to customize your experience. The option is also available to link to your video using thumbnail images created from your video.
Get A Special Offer of EngageBay Here
CRM and Sales Bay – Engagebay Review
With Engagebay, you also have access to sales automation, and CRM SaaS to keep track of each customer relationship as it develops.
One of the great things about CRM solutions is how easy it is to learn. The sales bay makes tracking your outcomes easy and intuitive. Information about contacts and specific tasks can even be used to organize your sales team.
This CRM and sales bay from Engagebay includes the following features:
1. Simple contact management
Track every interaction you have with your leads to build a more satisfied customer base.
2. Targeted marketing for companies
Focus your B2B marketing efforts on the key people in each company.
3. Visual deal pipeline
Analyze the potential of each deal individually, tracking the status of all your leads.
4. Task management
Streamline the sales process by creating tasks and assigning them to the sales team. Show employees what to do next to increase productivity.
5. Appointment scheduling
Each member of your sales team should have their own calendar where they can schedule appointments with potential leads.
6. Unlimited mailboxes
You can capture every email your team sends with the unlimited mailbox feature and two-way sync.
7. Complete integrations 
With a comprehensive CRM platform integrated with your sales solution, you can reduce the risk of miscommunication between the sales and marketing teams.
Your team will be able to see every detail about your customers in one place, so they can work together to achieve better results.
8. Contact management
With a comprehensive contact management system, all your valuable deal information is kept in one place, so your marketing campaigns can be targeted and personalized. Filters can even be used to search through contacts.
9. Pipeline visibility
Through Engagebay, you can view every component of your deal pipeline and track the status of a sale in one place. The CRM makes it easy to move a deal from one stage to another.
10. Meeting scheduling
With a convenient scheduling solution for your appointments, you will eliminate the annoying back-and-forth emails most companies deal with every day. As a result, you will be able to reduce manual admin work and increase team efficiency.
11. Task management
You can assign specific tasks within the CRM and sales environment to individuals based on their skills or experience to drive the most effective results. Keep yourself on track with periodic reminders.
12. Automatic data logging
Using a better admin experience, all your notes, emails, and phone calls will be automatically tracked and logged.
13. Sales reporting
Get a complete understanding of what drives results in your sales strategy with a comprehensive reporting module. In the reporting section, you can easily create graphs and charts, which will help you increase revenue.
14. Gamification
Gamification and leaderboards can motivate your sales team. There are tons of ways to keep them motivated.
15. Email syncing
Integrate your CRM with your email solution to track the communication between your prospects.
16. Lead scoring
Using automatic lead scoring and tracking services, you can identify which leads are most likely to deliver revenue.
17. Telephony
Get more context on each call with a free CRM that integrates your calls.
You can delight your customers by providing them with the assistance they need throughout the customer journey.
As a result, Engagebay offers a fantastic segment of services that are all about helping your customers.
You can use the features available to track and solve problems your customers may be experiencing. The following options are available:
18. Unlimited tickets
You can store as many requests and respond to them as needed.
19. Ticket views
Customize the ticket view with customizable elements to make tracking data easier.
20. Service automation
Assign people to ticket tasks automatically to simplify your customer support.
21. Unlimited groups
Organize your tickets more effectively by creating as many groups as you need.
22. Canned responses
By creating responses to answer your clients directly, you can save hours each day.
23. Live chat
Give your customers another way to ask for information about your products and services in real-time.
24. Customer experience tracking 
With a fully integrated all-in-one platform, you can track and understand the customer experience at every step of the sales cycle. You can align your sales, marketing, and service teams in one convenient location.
25. Organization
Organize all the support options you need to handle in one place. Provide personalized views of agents' queues according to their ticket status, group assignment, assignee, etc.
26. Complete visibility
You can track the status of every support ticket in one place, including open and closed tickets as well as new tickets. You'll be able to see how the team as a whole is performing, as well as the individual agents.
27. Fast responses
Provide a complete list of ready-made answers to questions your customers commonly ask, so your agents can provide better service.
28. Productivity
Keep your agents focused with task creation to improve their productivity. Set up escalation rules to track open and closed tasks.
29. Save time
By using automated and routing solutions for your customer service strategy, you can easily reduce the amount of time spent on ticket routing, task creation, and escalation. Feedback responses can also be used to send customer marketing emails.
30. Reporting
A reporting module gives you a full view of your support processes and numbers. When all the data is ready for you, you can examine the insights in any way you like and make meaningful decisions.
31. Macros
When a team responds to common queries frequently, macros can be used as shortcuts. Agents are able to focus on tickets and avoid repetitive or mundane tasks with these tools.
The Engagebay service solution offers small businesses free functionality for unlimited users for as long as you need it. No matter the size of your company, you won't face any price restrictions when using customer support and automation platform.
Get A Special Offer of EngageBay Here
Engagebay All-in-One Package
The features above demonstrate how Engagebay provides start-ups and small businesses with excellent tools for increasing sales and improving the sales pipeline. 
The service also allows you to combine functionality available into a single platform.
With the all-in-one package, you receive:
1. Comprehensive marketing hub
You can use email marketing tools, marketing automation, template builders, landing page builders, lead generation, and social media connections.
2. Customer relationship/service hub 
A full suite of contact management, deal pipeline, appointment scheduling, task management, and more.
3. Helpdesk software
Provide a wider range of support options to your customers and resolve issues faster. There is also live chat software available
Comprehensive marketing, support, and sales software kit would allow you to eliminate the need to purchase thousands of dollars in software and bring everything under one roof. 
This is an easier way to run your entire business in one place.
Get A Special Offer of EngageBay Here
Simple To Use – Engagebay Review
Engagebay has many great features, from email marketing campaigns to automation, but the best thing about it is probably how simple it is to use.
It takes a lot of time and effort to set up CRM, email sequences, marketing, and support solutions.
You need to learn how to use the marketing automation software, as well as experiment with the landing page builder. It can take days to complete the onboarding process.
Due to Engagebay's intuitive nature, you don't really need that much time. You can easily jump in and see how everything is laid out to make it easy for you. Despite so many in-depth features, the interface is clean and simple.
Engagebay offers a series of videos devoted to improving the onboarding experience, such as how to use the platform, and what you need to do to track deals in your sales and service environment. 
The full kit will let you effortlessly switch between marketing, sales, and customer service. The section you're in is also displayed as a drop-down menu.
As a result, you end up with a site that's extremely easy to navigate and beautifully designed at times. 
Specifically designed for beginners who may not have a great deal of prior experience, the tool offers a wide range of features.
Engagebay Pricing
Engagebay is available as either a full-stack or chunk-by-chunk solution. If you already have a CRM or Sales system, for instance, you can buy just the pieces you need.
The packages you'll need to consider if you choose the all-in-one service are as follows:
Free: $0 per month
The plan supports up to 1000 contacts and 1000 branded emails. It includes basic email marketing and broadcast features, autoresponders, lead grabbers, sequences, and landing pages. A help desk, live chat, and a CRM are all included.
Basic: $8.99 per month per user
It comes with all the features of Free, as well as up to 15,000 contacts and 10,000 branded emails. Additionally, you'll be able to unlock features like social media marketing, SMS marketing, website pop-ups, and 3rd party integrations.
Growth: $29.99 per month per user
This plan offers up to 50,000 contacts and 25,000 branded emails, as well as site messages, push notifications, A/B testing, call records, product management, service automation, proposals, and more.
Pro: $47.99 per month per user
A great choice for growing companies, Pro comes with unlimited contacts, branded emails, proposal analytics, SSO, marketing automation, uptime SLA support, custom reports, and phone support as well.
You might prefer to purchase just one part of the solution instead if you're like many startups who already use tools to manage certain aspects of marketing and customer support.
Marketing and CRM/Sales bay are also available with free plans, as well as a $7.79 basic option, a $14.99 Growth plan, and a $29.99 Pro plan.
You can upgrade to the full stack at any time, change your plan, or adjust your payment structure quite easily.
Marketing: From free to $29.99
Every level of the platform includes email broadcasting, sequences, lead grabbers, landing pages, autoresponders, video marketing, and custom fields.
The higher tiers offer SMS marketing, tag management, third-party integration, support for more contacts and emails, web analytics, SSO, and custom reporting.
CRM and Sales: From free to $29.99
The software provides contact management, 360-degree customer views, deal information, email tracking, task assignment, appointment scheduling, and live chat.
More expensive packages include calling, predictive lead scoring, sales automation, multi-currency support, and proposal analytics.
Currently, EngageBay's Service Bay comes with a single "free forever" plan. This free service lets you add live chat and help desk functionality to your website instantly.
Then, if you like the way the service bay works, you can always sign up for the marketing or CRM/sales bays later. There is, however, no obligation to do so.
Get A Special Offer of EngageBay Here
Engagebay Review: Customer Service
It is crucial to note that Engagebay packages vary in terms of the level of customer support you'll receive.
If you choose a free version of any service, you will basically have to do it all yourself, although you will have access to various resources and knowledge tools.
Engagebay has many helpful videos, articles, and guides on its website, and there are even upcoming webinars.
Whenever you need help with a specific topic, such as successful marketing segmentation, or scaling your business in a new country, you can always reach out to the community on LinkedIn and other social media platforms.
If you choose to pay the top price for a "Pro" version, you'll also receive extra support in the form of phone guidance, and an SLA that ensures your business will always run smoothly. 
Support agents are available all over the world, from Brazil to the United States.
Major Software Review Sites' Rating on Engagebay
Capterra Rating: 4.6/5
G2 Rating: 4.6/5
FinancesOnline.com Rating: 8.9/10
GetApp Rating: 4.6/5
SourceForge Rating: 5/5
CompareCamp Rating: No rating
Crozdesk Rating: 4.6/5
SoftwareSuggest Rating: 4.8/5
SaaSworthy Rating: 4.7/5
Software Advice Rating: 4.5/5
FeaturedCustomers Rating: 4.8/5
SelectHub Rating: 9.4/10
Final Verdict: Engagebay Review
There are a few competitors in the digital landscape that offer experiences similar to EngageBay's these days, including ActiveCampaign, HubSpot, or Marketo. 
Despite this, all of these options can be expensive, making it more difficult for a small company to invest in marketing, sales, and CRM.
Due to its affordability, Engagebay is a unique solution in the current environment. With a free tier for all of the bays, as well as a free option for the all-in-one service, there's no reason not to give the features a try.
Businesses need EngageBay's tools to increase profits and delight their customers. Whether you're looking for CRM solutions that track customer relationships, marketing automation, or both, there's something for almost every need. Additionally, there is virtually no learning curve, so you won't have to worry about the service being too complicated.
Would you like to try some of EngageBay's free features before deciding whether it's right for you? You may find something that transforms your business.
Get A Special Offer of EngageBay Here
Engagebay Alternative: A Must-Have Online Marketing Tool
As you are reading this review, I'm sure you are an online entrepreneur, so I would like to introduce a very powerful marketing tool to you to help you scale your business to the next level.
It's called ClickFunnels. You may have heard of it, but if not, let me explain why you should consider using it to generate more sales online.
ClickFunnels is an all-in-one marketing tool that helps entrepreneurs, digital marketers and business owners market, sell and deliver their products or services online. 
ClickFunnels is the only piece of software you will ever need to run an internet business.
It eliminates the need to hire a web designer or salesman who is overpriced and lazy. So you can save a lot of money using ClickFunnels in the long term.
Anybody can build, design, and launch a sales funnel using ClickFunnels, regardless of their experience. Those days of hiring coders, web designers, and marketing agencies are over. With ClickFunnels, getting your business online has never been easier.
Get 14-Day Free Trial of ClickFunnels Here
But How Much Can You Earn With ClickFunnels?
Many online entrepreneurs are using ClickFunnels and have earned at least $1 million in sales using ClickFunnels. The earning potential is limitless.
ClickFunnels created an award called the "Two Comma Club" award for entrepreneurs who reached the 7-figure financial milestone inside one of their ClickFunnels funnels.
The screenshots below are some of the winners of the "Two Comma Club" award. Do you want to be one of them?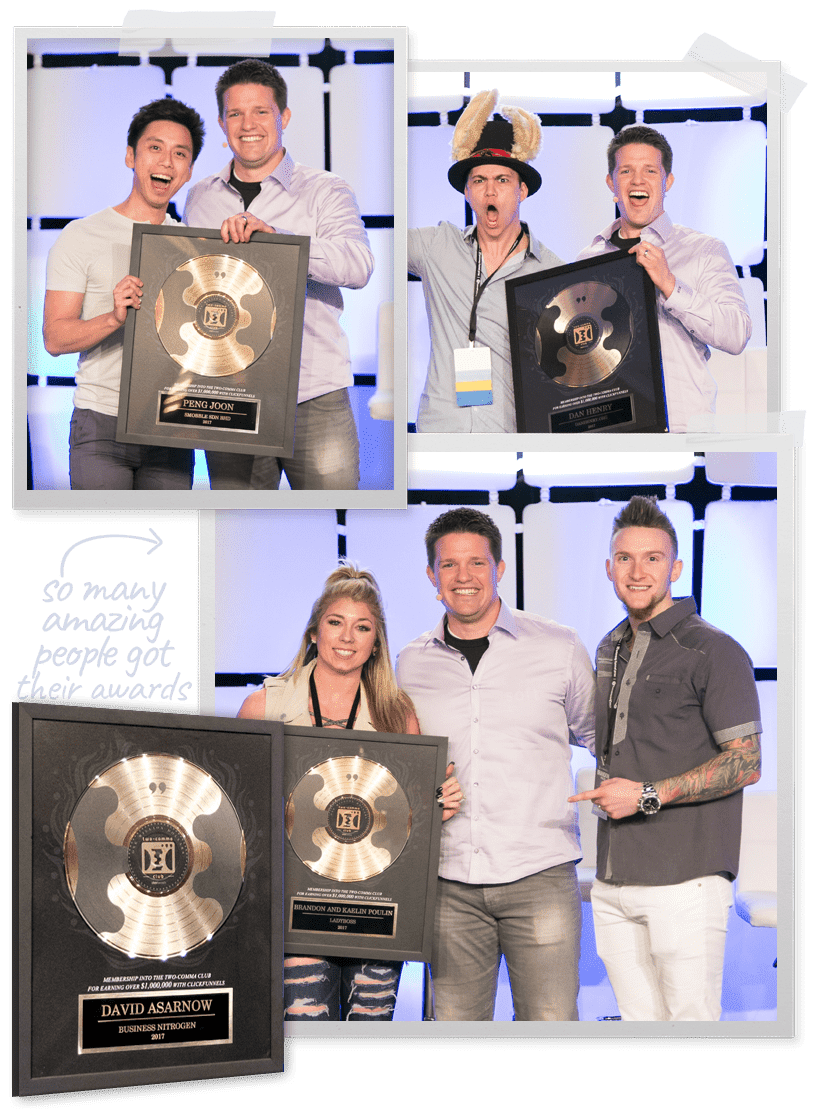 With ClickFunnels, you can drastically increase the opt-in rate and upsell conversion rate: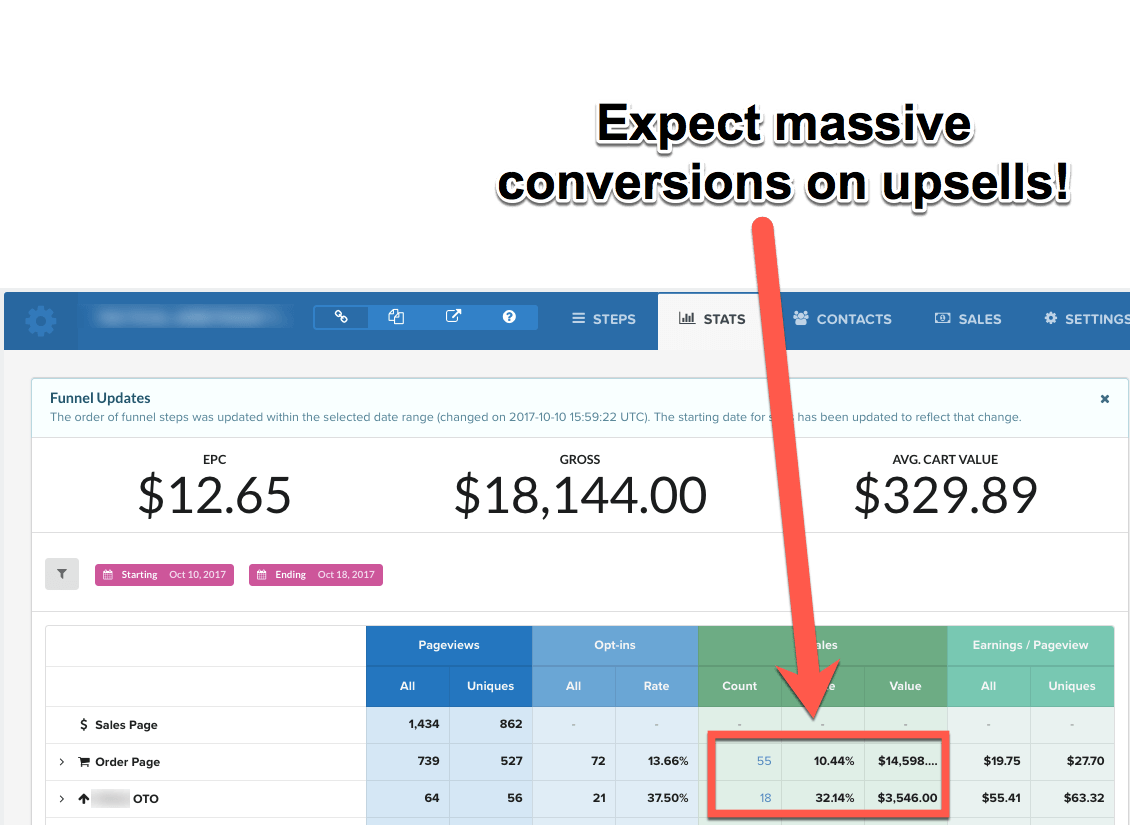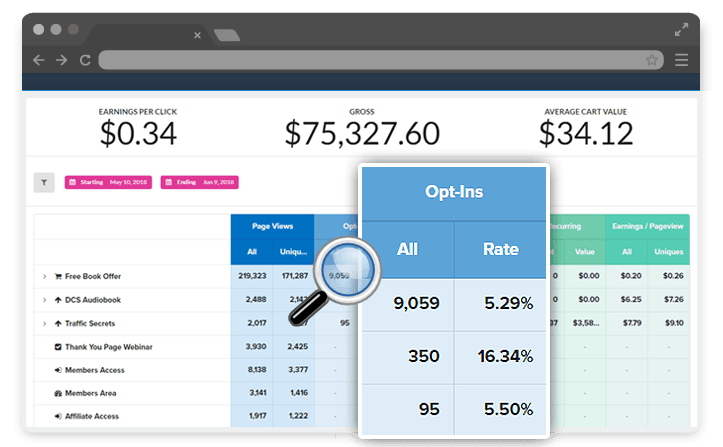 Get 14-Day Free Trial of ClickFunnels Here
Where to Get ClickFunnels?
ClickFunnels offers a 14-day free trial.
If you want to try ClickFunnels and see if it fits your online business model, you can sign up for the free trial here (no worries that you can cancel it anytime within 14 days and won't be charged a penny).
With the free trial, You can get instant access to every amazing feature of ClickFunnels:
Drag-And-Drop Website/Page Builder

One-Click Upsells & Downsells

Optin-Forms

Order Forms

Membership Area Pages

A/B Testing

Follow-up Funnels

Email List Building Tools

Email Management

Integrated Affiliate Management System

Sales Analytics

Pre-Built Funnel Templates

Payment Gateways Integration

Third-Party Integrations & Apps

CRM

And many more…
If you want to see a detailed evaluation of ClickFunnels, you can read this ClickFunnels review.
Anyway, I strongly recommend you to register a free account with ClickFunnels and see it yourself.