Are you looking for a dotdigital Engagement Cloud review? Should you use it for your business? Is dotdigital a scam?
If you are looking to use dotdigital in your business, you may have these questions in mind. But you will have all your doubts resolved by the end of this dotdigital review.
I have a passion to help businesses explore the best software to improve business operation and increase profit.
In the past week, I've done thorough research about dotdigital Engagement Cloud. So I can tell you a lot of things about dotdigital Engagement Cloud to help you make an informed and wise decision.
In this dotdigital Engagement Cloud review, I'm going to cover the following.
What is dotdigital Engagement Cloud?
Dotdigital provides e-commerce, B2B and B2C marketers with modern web-based customer engagement platforms. 
The omnichannel platform provides users with a centralized platform for providing global customer engagement across all channels. 
Through seamless integration with e-commerce platforms, it delivers a seamless experience with existing systems so that users can leverage its technology. 
With dotdigital, you can collect leads, convert them into customers, and maintain and build relationships with those customers. 
Based on the goals you want to achieve with your marketing activities, the tool can be customized to increase ROI, deliver automated campaigns, improve communication, or boost productivity. 
Moreover, a team of experts develops custom solutions tailored to match unique business needs.
dotdigital Engagement Cloud Features
Omnichannel Marketing
Create meaningful experiences for your customers wherever they are. Easily combine email, SMS, push notifications, social media, and web for omnichannel functionality!
Segmentation & Personalization
Create experiences that resonate with the right people. Make sure each customer or prospect receives a message that is tailored to their needs.
Design without coding for impressive results
With easy-to-use tools, creating and testing campaigns is faster and easier than ever. You can be the designer with the EasyEditor.
Marketing Automation
With Marketing Automation tools from dotdigital Engagement Cloud, your team can work more efficiently. With the 30+ ready-to-go automation templates, you can automate key customer touchpoints such as welcome, events, and re-engagement.
Commerce Intelligence
Monitor your key success metrics with retail and customer dashboards. Create campaigns that convert your customers from one-time buyers to brand champions using pre-built commerce personas.
AI-powered product recommendations will dramatically increase your ROI. 
Incorporate it into your automated marketing programs to always offer relevant options. Create triggered abandoned cart campaigns in just a few clicks.
dotdigital Engagement Cloud Pricing
dotdigital Engagement Cloud does not have a fixed pricing plan. It's by custom price.
But you should expect it to be quite expensive, starting from $400/month.
dotdigital Engagement Cloud Pros
Feature-rich platform
The dotdigital is notable for its feature richness. Customer relationships can be created and activated completely within the solution. 
An intuitive suite of tools enables users to launch and manage an omnichannel marketing campaign more efficiently and effectively. 
Data transparency, empowerment, and communication with audiences are some of the tools that help marketers achieve marketing success.
Easy to design stylish email
You can easily create, test, and send visually engaging emails with dotdigital. EasyEditor amplifies your creativity and lets you create effective emails in a matter of minutes with drag-and-drop functionality. 
Furthermore, it allows you to customize the emails so they fit the needs of your customers.
To design professional-looking emails, the application allows you to add content, images and videos, links, and CTAs (call-to-actions). 
Email marketing boosts conversion and allows businesses to form stronger relationships with their audiences.
Intelligent automation
With dotdigital, you can create automated processes. Automating marketing efforts, creating smart conversion paths, and building customer engagements across multiple channels are all services provided by the automation builder. 
Using data-driven automation, you can reduce time and resources spent on marketing and increase returns. 
In addition, you can offer personalized product recommendations using the platform's AI technology in order to engage your customers.
dotdigital Engagement Cloud Cons and Complaints
I found some users complain about certain aspects of dotdigital Engagement Cloud.
Here are some examples of bad reviews:
"The platform does not do a good job notifying you if your emails are failing or if data is failing to be collected from orders or customers. Can go months without knowing if something is not working." ~ Leticia B
"Problem re-subscribing customers who unsubscribed in the past due to strict spam control."
"Seems difficult to set up and manage audiences and segments. How they are linked to automated programs is confusing." ~ Rob C.
"I would like for there to be a few tweaks to the address book and segment functionality. I feel in some ways the system requires you to choose one or the other, when I'd like to be able to use a segment vs. an address book. I also would like it to be easier to select campaigns in the segment builder– i.e. pin selected campaigns at the top." ~ Jennifer
"Dotmailer pricing is on the high side when compared with substitute products.However , with the amount of quality support we have gotten so far ; it does not matter ,as far as it keeps getting the job done for us." ~ Naomi
"When you export the data to excel it exports the file to a .csv by default and in this scenario it is possible that you will lose data more often than if the file were exported as .xls file. However, this seems like a very simple fix and may simply be dependent upon user preference and the software your company works with outside of Dot Digital." ~ Sean
"It does take a little time to learn. We originally got dotmailer because it was recommend by a consultant we were working with. We are no longer working with this consultant, so the system was passed onto me. Since I was not working with it in the beginning, there was a learners curve in adjusting to a new email system. I have not yet set up our website leads to automatically go into the dotmailer system as it seems like this can be a process that might take a little more time. I wish dotmailer paired a little easier with CRMs and other sites, such as word press, just to save a little time." ~ Mackenzie
"Not being able to create our own bespoke auto responses without contacting Dotmailer themselves to do it." ~ Simon
"Reporting could be improved. We can't figure out how to link to our Google Analytics account. Easyeditor for emails is OK. Would prefer something more robust with more even more features. Sometimes pages load slow through the UI."
Major Software Review Sites' Rating on Dotdigital
Capterra Rating: 4.3/5
G2 Rating: 4.3/5
FinancesOnline.com Rating: 8.8/10
GetApp Rating: 4.3/5
CompareCamp Rating: 8.8/10
SoftwareSuggest Rating: No rating
SaaSworthy Rating: 4.3/5
Software Advice: 4.26/5
FeaturedCustomers: 4.7/5
BigCommerce: 5/5
Dotdigital Review FAQs
What is dotdigital used for?
dotdigital is a Marketing Automation System. dotdigital offers the following features:
Lead Scoring

Multivariate Testing

Analytics (ROI Tracking)

Campaign Segmentation

Channel Management

Email Drip Campaigns

Landing Pages

Lead Nurturing

Website Visitor Tracking
Are APIs available from dotdigital?
Yes, dotdigital provides API.
What are the main features of the dotdigital Engagement Cloud?
Dotdigital Engagement Cloud has the following key features:
Social Marketing

A/B Testing

Subscriber Management

Event Triggered Actions

Image Library

Website Visitor Tracking

Template Management

CAN SPAM Compliance

Email Marketing

Segmentation

Drip Campaigns

WYSIWYG Email Editor

Customer Surveys
What are the typical users of dotdigital Engagement Cloud?
Customers of dotdigital Engagement Cloud typically include enterprises and SMEs
What is the deployment type?
Cloud-based deployment is available with dotdigital Engagement Cloud.
dotdigital Engagement Cloud Review: Final Verdict
Dotdigital provides omnichannel marketing automation. Using automation, the customer journey can be streamlined and nurtured more effectively. 
Build your ideal customer experience with intelligent workflows built into the automation program builder. 
Dotdigital Engagement Cloud's automation reporting tools help you discover what's working and what's not. 
Easily analyze the results of all your marketing automation programs without having to crunch numbers endlessly.
Give dotdigital Engagement Cloud a try and see if it fits your business needs.
dotdigital Engagement Cloud Alternative: A Must-Have Online Marketing Tool
As you are reading this review, I'm sure you are an online entrepreneur, so I would like to introduce a very powerful marketing tool to you to help you scale your business to the next level.
It's called ClickFunnels. You may have heard of it, but if not, let me explain why you should consider using it to generate more sales online.
ClickFunnels is an all-in-one marketing tool that helps entrepreneurs, digital marketers and business owners market, sell and deliver their products or services online. 
ClickFunnels is the only piece of software you will ever need to run an internet business.
It eliminates the need to hire a web designer or salesman who is overpriced and lazy. So you can save a lot of money using ClickFunnels in the long term.
Anybody can build, design, and launch a sales funnel using ClickFunnels, regardless of their experience. Those days of hiring coders, web designers, and marketing agencies are over. With ClickFunnels, getting your business online has never been easier.
Get 14-Day Free Trial of ClickFunnels Here
But How Much Can You Earn With ClickFunnels?
Many online entrepreneurs are using ClickFunnels and have earned at least $1 million in sales using ClickFunnels. The earning potential is limitless.
ClickFunnels created an award called the "Two Comma Club" award for entrepreneurs who reached the 7-figure financial milestone inside one of their ClickFunnels funnels.
The screenshots below are some of the winners of the "Two Comma Club" award. Do you want to be one of them?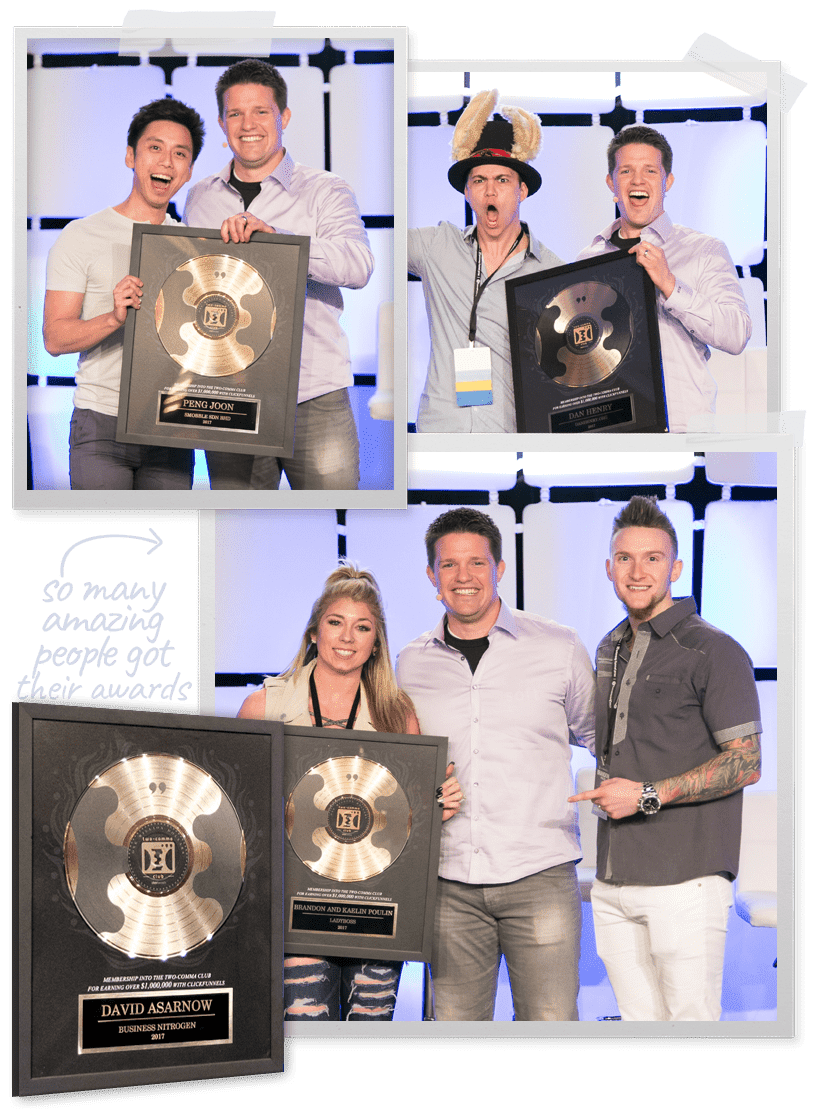 With ClickFunnels, you can drastically increase the opt-in rate and upsell conversion rate: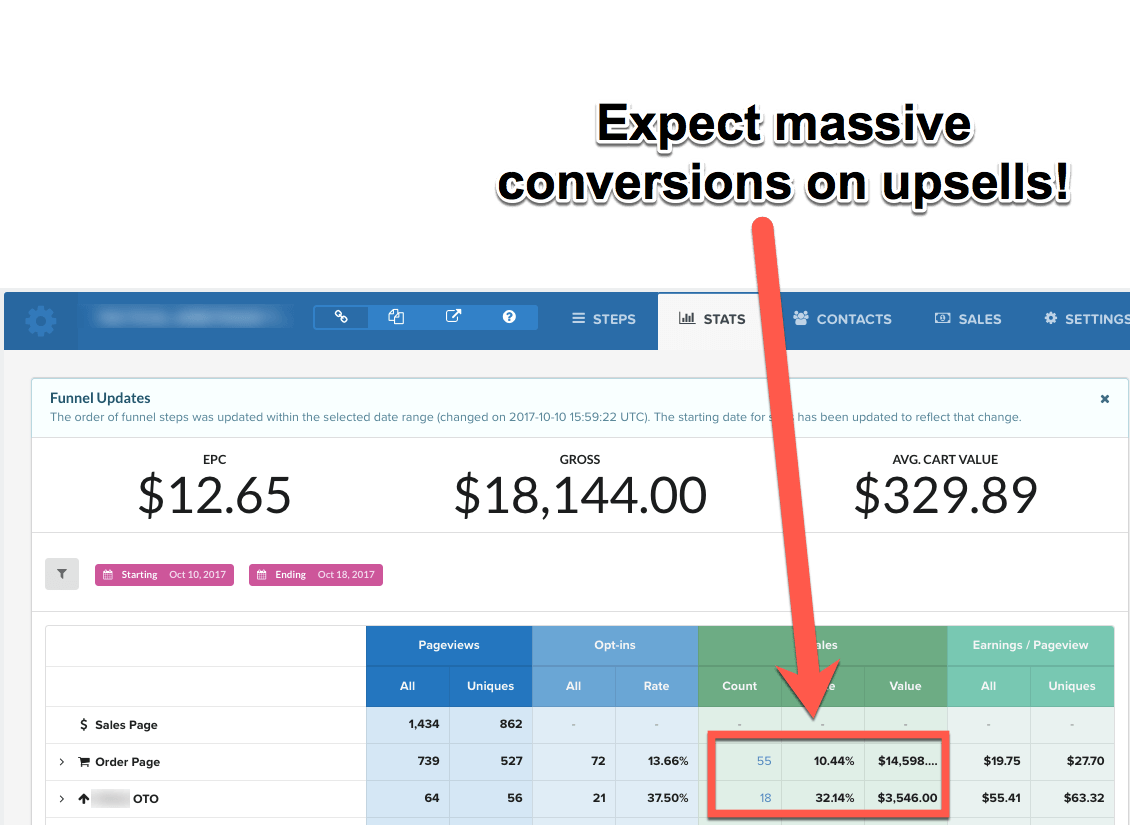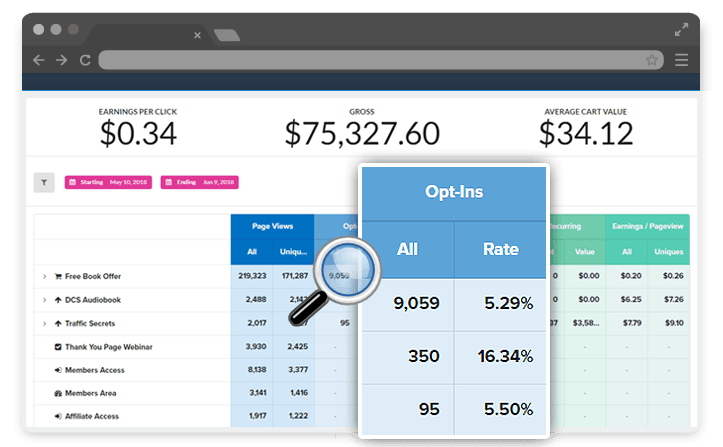 Get 14-Day Free Trial of ClickFunnels Here
Where to Get ClickFunnels?
ClickFunnels offers a 14-day free trial.
If you want to try ClickFunnels and see if it fits your online business model, you can sign up for the free trial here (no worries that you can cancel it anytime within 14 days and won't be charged a penny).
With the free trial, You can get instant access to every amazing feature of ClickFunnels:
Drag-And-Drop Website/Page Builder

One-Click Upsells & Downsells

Optin-Forms

Order Forms

Membership Area Pages

A/B Testing

Follow-up Funnels

Email List Building Tools

Email Management

Integrated Affiliate Management System

Sales Analytics

Pre-Built Funnel Templates

Payment Gateways Integration

Third-Party Integrations & Apps

CRM

And many more…
If you want to see a detailed evaluation of ClickFunnels, you can read this ClickFunnels review.
Anyway, I strongly recommend you to register a free account with ClickFunnels and see it yourself.