Are you looking for a Contactually review? Should you use it for your business? Is Contactually a scam?
If you are looking to use Contactually in your business, you may have these questions in mind. But you will have all your doubts resolved by the end of this Contactually review.
I have a passion to help businesses explore the best software to improve business operation and increase profit.
In the past week, I've done thorough research about Contactually. So I can tell you a lot of things about Contactually to help you make an informed and wise decision.
In this Contactually review, I'm going to cover the following.
What is Contactually?
Contactually is a real estate CRM that helps realtors increase business and referrals from their network by focusing on relationship building and automation. Contactually knows it's easy to become overwhelmed by your contact list. You miss opportunities when you are overwhelmed.
Consistent communication means taking advantage of every person in your database, and that is what Contactually is all about.
Jeff Carbonella, Tony Cappaert, and Zvi Band (founders of Contactually) probably chose a little email icon with the words "Relationship Marketing Rules" under it for their matching tattoos.
Underneath all the infrastructure, automation, and systems, that is what Contactually is about: Building, maintaining, and maximizing relationships.
How Does Contactually Work?
Contactually accomplishes three things really well. The app gathers all your contacts seamlessly and puts them in one easy-to-use place, across all your devices and platforms. 
The second is that it helps you categorize your contacts based on their sources and their potential. 
Additionally, it makes it easy to set up automated accountability and communication programs, keeping you on top of your game no matter where you are.
Is Contactually Easy to Use?
That's the case, in fact. In spite of all the options Contactually offers, this platform is extremely intuitive.
I spent about 30 minutes just clicking around the dashboard and interface before diving into the webinars and official training. 
During that time, I figured out the core functions, workflows, and even setup some buckets for contacts.
Contactually can be an in-depth and sophisticated tool, but a Bachelor's degree in Computer Science is not necessary to use it.
Who is Contactually For?
You should use Contractually if you meet the following criteria:
The "gamification" of work – transforming it into a rewarding game for yourself – appeals to you

An easy-to-use product that scales with your business is your priority

Mobile CRM is important to you since you do a lot of work on the go
Who is Contactually Not For?
Contactually is not for everyone. You shouldn't use Contactually if you are the following people:
It is more important for you to have something affordable with the same or more options.

Consider Realvolve, which can take a lead from prospect to close in one system (highly customizable).

For less money, you want front-end features (e.g. website) and a library of marketing materials.
Contactually Features
Usability
An intuitive, modern design

Video texts and emails can be sent automatically!

Has everything you need to make your own yard sign autoresponders
A concept called "buckets" is used by Contactually for managing leads. Some agents find that it is a very intuitive way of organizing leads. Others may not be used to it. I recommend checking it out with the free trial to see if it is a system you would like.
The Contactually mobile apps are available for iPhone and Android. In addition, their interface is very modern, sleek, and easy to use.
On your computer or phone, Contactually sends you push notifications to remind you of daily tasks.
It works almost like your own internal sales agent (ISA) with Contactually's Concierge plan! For busy agents or small teams that dislike follow-up, it can be an interesting option for those who hate the follow-up part of real estate.
Integrations
Numerous third-party integrations are possible with Zapier

There are relatively few integrations outside of Zapier, but those few direct integrations are very well done

Power dialer integrated into the most affordable solution (for a little more)

As with most CRMs, Contactually is integrated with Zapier, which may require an additional subscription and a little setup.
Contactually has some well-done direct integrations with companies like the dialer Kixie, open house software Spacio, and social media tool Hootsuite.
Gamification
How does gamification work? It literally turns work into a game. This is a philosophy of software development that makes doing tasks more fun and easy.
In their "Bucket Your Contacts" game, for example, you are rewarded for making sure that all the leads that have entered your sales pipelines have been successfully added to the right buckets.
Contactually might be worth considering if you are the competitive type who is attracted to gamification.
Support
Provides reasonably good video tutorial content and a robust Facebook group

Their webinars are the core of their support

Contactually has a decent customer service, although they advertise that a "dedicated customer success manager" is only available for $199/month on the "Accelerator" plan.

Their webinars contain most of the tutorial content. 
Contactually's webinars and video content go beyond just learning the Contactually system and provide a general education resource for agents.
Contactually Pricing
Contactually offers a 14-day free trial and three pricing tiers:
PROFESSIONAL PLAN – $69/MO (MONTHLY) OR $59/MO (ANNUAL, SAVE 15%)
Bulk Messaging (Daily)

iPhone and Android Apps

Zapier, MailChimp, Integrations

Best-Time-To-Send Email Intelligence

Personal Automated Campaigns

Onboarding + Product Training

Deal Management Workflow

Contact Relationship Insights

Email/Text Template Library
ACCELERATOR PLAN – $119/MO (MONTHLY) OR $99/MO (ANNUAL, SAVE 17%)
It includes all the features of the Professional Plan, plus:
Prioritized Support

Access to Upgraded Support

Lead Nurturing Content
CONCIERGE PLAN – $599/MO (MONTHLY) OR $399/MO (ANNUAL, SAVE 33%)
Includes all the features of the Accelerator Plan, plus:
Developing And Maintaining Your Communication Strategy

Executing Outreach Campaigns

Following Up To Stay In Contact And Ask For Referrals

Bulk Messaging Execution

Importing And Cleaning Up Your Contact Database

Integrating Lead Sources

Managing The System And Training
Contactually Pros
Contactually has a wide range of functionalities, advanced communication management capabilities, ScaleMail, seamless integrations, and reliable support. 
Details are as follows:
1. Acts as a Virtual Prompter
Platforms can handle the role or a virtual prompter. Users in a company can be reminded of pending contacting activities by the system. 
Additionally, it can be a virtual assistant who can perform several tasks with the help of separate programs. 
You no longer have to manage, check, and schedule communications on a daily basis.
2. Advanced Communication Management Capabilities
It's main objective is to offer advanced communication management capabilities that will accelerate the process of dealing with communication tasks, enabling companies to save more time. 
As a result, Contactually allows users to import, sort, segment, as well as organize contacts into "buckets" in the system. Afterwards, users can create particular pipelines and programs that can be used to automate activities such as chain mails. 
Furthermore, you will have access to an extensive library of content, as well as trained professionals who can assist you in creating and distributing targeted emails.
3. ScaleMail Feature
Using the ScaleMail feature, users can select the people they wish to contact and create a message that fits their needs. 
You can use this capability to ensure that your emails and newsletters meet your business needs. 
Additionally, the platform comes with a number of different templates, as well as custom and preset tokens.
4. Seamless Integration and Reliable Support
Users can connect third-party apps to the system using the open API. Other native integrations include MailChimp, Facebook, Twitter, Gmail, and more. 
Furthermore, the vendor and its team offer reliable technical and customer support to users.
Contactually Cons and Complaints
1. No Native Phone and Texting Integration
With a platform that encourages tracking of all conversations and communication, you'd expect it to work to provide a way for those conversations to be had in app. 
Contactually's email functionality has the benefit that every email you send to a contact is automatically logged in their profile.
Text messages with clients must be manually logged into their account when sent or received.
2. No Native Social Interaction, Other Than Twitter
When it comes to direct social media interaction, there is no way to maximize Zapier's interactions with social platforms. 
To record interactions on social media (commenting on an Instagram photo, exchanging a message on Facebook, etc. ), you must manually add notes to your contact's profile.
Twitter is the exception to this rule. Contactually can sync direct message communication with Twitter, but not likes or retweets.
Is Contactually a Scam?
Contactually is definitely not a scam.
Contactually identifies specific areas where opportunities slip through the cracks for agents, such as failure to maximize referral potential of their contacts, not properly vetting new leads, and the poor nurturing of long term leads.
Through all the time we've spent with Contactually, it is clear that these are solvable problems. They tackle these issues by:
Creating a database where all your contacts live. No more spreading your sphere across your phone, email accounts, social media, and your excel spreadsheet.
Take that organization a step further with Contactually's bucket and tagging system, sorting your clients into the perfect path to maximize their return.
Giving you a platform for personal outreach and automated communication. Nobody, not even the guy you hired to touch up the paint on the front door before the open house that one time goes without ever hearing from you again. Contactually helps you touch the right person with the right message at the right time.
Creating a system that is easy to use and holds you accountable. If a CRM is complicated and hard to use, you're not going to use it. Period.
Contactually's interface and daily tasks are designed to streamline your workload with automation and an easily navigable homebase. Also, this system is built so that you as the user feel accountable to the tasks you have set yourself.
Other Contactually Customer Reviews
I have found some real customer reviews about Contactually. 
Here are some extracts of other Contactually reviews:
Contactually Customer Review #1
Pros: The application has been presented to us as a solution due to its multitasking origin, we can sell our products remotely providing all the tools that this activity deserves, it allows us to create digital invoices and provide customers with different payment options to make their purchase from the comfort of their home. Likewise, we can contact them to offer them our promotions.
Cons: The notifications made by the application for its promotions section are via email and it integrates an automatic promotion management option; we have received many complaints from customers because the notifications offered by Contactually are so repetitive as they do not receive confirmation within 12 hours of issuance that it generates harassment.
Contactually Customer Review #2
Pros: Unique interface for handling relationships. You can separate people in buckets and easily manage your relationships on any device.
Cons: Less customizable than other software. It's not for the advanced user. If you want greater flexibility and integrations to make your own marketing engine look at other options.
Contactually Customer Review #3
Pros: The application has given us new opportunities to recover those customers with whom we have lost interaction. It establishes tools for segmenting and tracking users and manages the creation of invoices and methods to make payments through different financial means. It has served as a multitasking tool on occasions.
Cons: The application has the failure to generate notifications constantly if a response is not received within 12 hours, which causes harassment and complaints from customers. In addition to the latter, the automated responses are sometimes generated randomly and take conversations out of context.
Contactually Customer Review #4
Pros: The program has a fairly clean and easy to use platform. It's nice that it has customer follow-up and sales management tools via email. It helps us to recover and promote contact with customers with whom we haven't had interaction for a while, which makes it useful for retargeting.
Cons: Sometimes it presents problems to manage automatic responses generating a loss of context in the message. In addition we have complaints from users due to the excessive persistence of notifications, and in our case it does not notify us of their responses by notifications, which causes problems because we think that the case has been abandoned.
Major Software Review Sites' Rating on Contactually
Capterra Rating: 4.3/5
G2 Rating: 4.2/5
FinancesOnline.com Rating: 5/5
TrustRadius Rating: 9/10
GetApp Rating: 4.3/5
PCMag Rating: 4/5
SourceForge Rating: 4.5/5
CompareCamp Rating: 9/10
Crozdesk Rating: 4.1/5
SoftwareSuggest Rating: 4.5/5
SaaSworthy Rating: 91/100
Contactually Review: Final Verdict
Contactually is not as powerful as some of the other more feature-rich CRMs. However, where it shines is in its great design and engaging style. Contactually CRM is one of the most user-friendly CRMs available.
Gamification is a unique concept. Contactually might be the solution that ensures you never miss an opportunity to nurture your leads if you enjoy turning work into a game.
Try the Contactually demo (along with several other CRMs) and play around with it for a week to see if you like it and to compare its usability with those of the other CRMs.
The CRM is ideal for staying in contact with past clients, building stronger relationships, and nurturing referrals, and I would especially recommend it for agents focused on repeat and referral business.
Contactually Review FAQs
Contactually supports which platforms?
With mobile apps for Android and iPhone-iPad, this platform is web-based.
What are the main user groups of Contactually?
Small to medium sized companies that want to stay in touch with their key contractors, collaborators, and suppliers will benefit from the software.
Contactually is generally used for what?
Contactually offers advanced communication management features.
What other apps is Contactually compatible with?
Contactually integrates with SalesForce, Zapier, Mail Chimp, Linkedin, Gmail, Facebook, and Twitter.
Is there an API offered by Contactually?
It offers an API.
What kind of customer support does Contactually provide?
They offer webinars, FAQs, email support, phone support, and video tutorials.
Contactually Alternative: A Must-Have Online Marketing Tool
As you are reading this review, I'm sure you are an online entrepreneur, so I would like to introduce a very powerful marketing tool to you to help you scale your business to the next level.
It's called ClickFunnels. You may have heard of it, but if not, let me explain why you should consider using it to generate more sales online.
ClickFunnels is an all-in-one marketing tool that helps entrepreneurs, digital marketers and business owners market, sell and deliver their products or services online. 
ClickFunnels is the only piece of software you will ever need to run an internet business.
It eliminates the need to hire a web designer or salesman who is overpriced and lazy. So you can save a lot of money using ClickFunnels in the long term.
Anybody can build, design, and launch a sales funnel using ClickFunnels, regardless of their experience. Those days of hiring coders, web designers, and marketing agencies are over. With ClickFunnels, getting your business online has never been easier.
Get 14-Day Free Trial of ClickFunnels Here
But How Much Can You Earn With ClickFunnels?
Many online entrepreneurs are using ClickFunnels and have earned at least $1 million in sales using ClickFunnels. The earning potential is limitless.
ClickFunnels created an award called the "Two Comma Club" award for entrepreneurs who reached the 7-figure financial milestone inside one of their ClickFunnels funnels.
The screenshots below are some of the winners of the "Two Comma Club" award. Do you want to be one of them?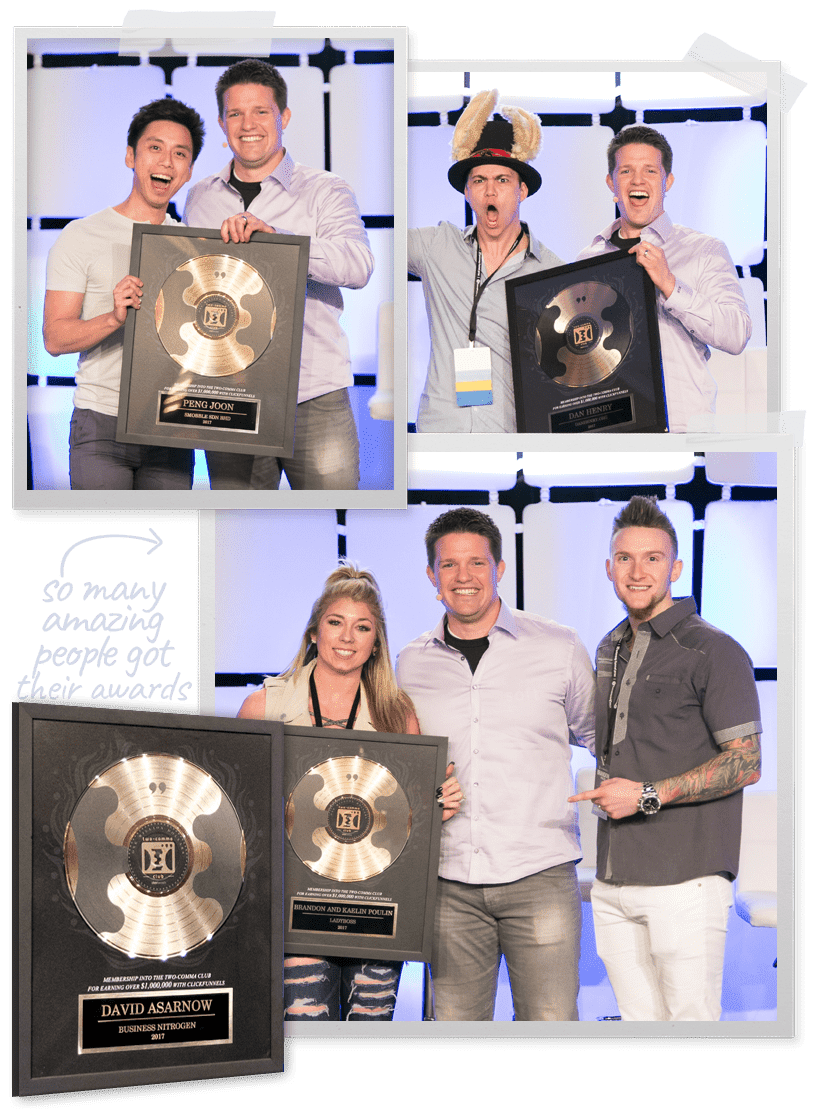 With ClickFunnels, you can drastically increase the opt-in rate and upsell conversion rate: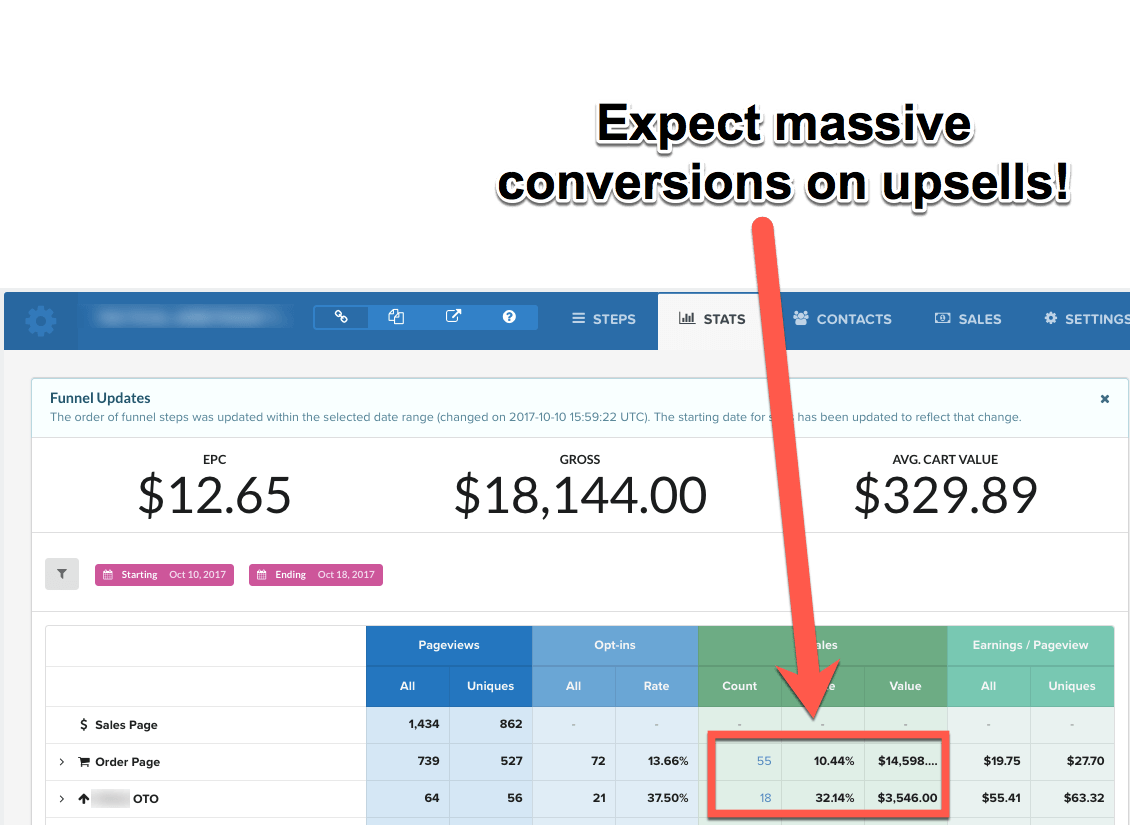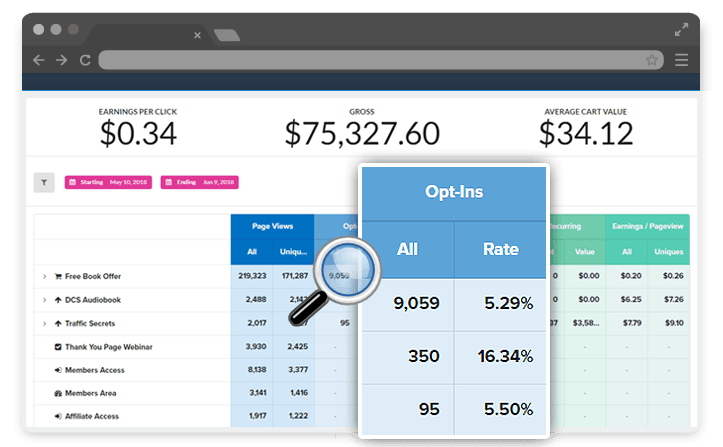 Get 14-Day Free Trial of ClickFunnels Here
Where to Get ClickFunnels?
ClickFunnels offers a 14-day free trial.
If you want to try ClickFunnels and see if it fits your online business model, you can sign up for the free trial here (no worries that you can cancel it anytime within 14 days and won't be charged a penny).
With the free trial, You can get instant access to every amazing feature of ClickFunnels:
Drag-And-Drop Website/Page Builder

One-Click Upsells & Downsells

Optin-Forms

Order Forms

Membership Area Pages

A/B Testing

Follow-up Funnels

Email List Building Tools

Email Management

Integrated Affiliate Management System

Sales Analytics

Pre-Built Funnel Templates

Payment Gateways Integration

Third-Party Integrations & Apps

CRM

And many more…
If you want to see a detailed evaluation of ClickFunnels, you can read this ClickFunnels review.
Anyway, I strongly recommend you to register a free account with ClickFunnels and see it yourself.