WordPress is optimised for search engines but many WordPress users make some critical mistakes that affect their ranking on Google.
Although WordPress sites are generally easier to rank on Google, you still need to apply some onsite SEO measures. In this article, I'm going to tell you what common SEO mistakes to avoid. If you don't ratify these mistakes, it's going to have a negative impact on your website's ability to rank for the target keywords.
10 Common SEO Mistakes
1. Poor Permalink Setting
Your permalink serves two major purposes. One is to indicate what the page is about. Another is to indicate the relevancy of your content to the search engine.
To optimise the permalink structure, I recommend choosing "Post name" in the permalink settings. It's short and clean.
Also, you should make sure your permalink for each post includes the target keywords. You don't have to include the whole post title for the permalink. Focus on the most important keywords and keep it short.
For example, this post's title is "10 Common WordPress SEO Mistakes To Avoid", but my permalink is simply "avoid common wordpress seo mistakes". 
2. Post's SERPs Optimisation
Every WordPress site should have a SEO plugin. I like using SEOPress, which is one of the best SEO plugins in my opinion.
After you install the SEOPress plugin, you'll be able to optimise the SEO title and meta description. Make sure you fill in the fields.
You can adjust your title tag and make it more search engine friendly. It's not necessary to be the same as your post title. You should aim to write a title tag which is attractive to more link clicks on the SERP.
The meta description allows you to describe what your post is about and it will show in the SERPs. Make sure you include your target keyword in the meta description to increase the chance of being ranked for a certain keyword.
3. Lack interlinking of Posts or Pages
Interlinking is very important for SEO. It can reduce the bounce rate and increase user engagement on your website. 
Google can understand your site's relevancy to a certain topic if you are linking to other relevant pages on your website. When you have a lot of relevant internal links for a certain topic, Google will see you as an authority for that topic and you will see a better ranking as a result.
However, make sure your internal links are relevant to each other. You should also include relevant anchor texts for those links.
4. Lack External Linking
Many people fail to link to external sites as they are afraid of losing traffic to others. But this is a misconception. You should always include some external links to the relevant and authoritative websites.
The reason is that external links are like citations you see in academic papers. Google will see your content to be more trustworthy and more authoritative when you are citing some relevant sources.
5. Image are not Optimised
This is one of the most common SEO mistakes. People tend to ignore image optimisation. Search engines rely on alt and title tags of images as they cannot see the text in image form. Also, for some browsers, images may not be viewable and users will see the alt text.
The alt text should be descriptive of the image and include the target keyword. It will allow search engines to better understand the context of your post and hence decide the relevancy of your content to certain keywords or topics.
Moreover, images usually take a longer time to load, which might impact the page loading speed. It's important to use image compression plugins to reduce the size of your images. I recommend using ShortPixel which is great in optimising the size of images.
6. Poor Header Structure
Headers are very important as Google uses them to gauge the relevancy of a post. The header tags are weighted more heavily than the content, so you should include target keywords in the header tags.
In addition, the header tags should be structured in a proper way. The H1 tag should be the name of your site and the headline of a post. You shouldn't include more than one H1 tag for a post. You can use H2 or H3 tags freely within your content to help users and search engines understand the content better.
7. Index Useless Pages
You can control what pages on your website for Google to crawl and index. You shouldn't allow Google to crawl all of the content, but only those that are worth ranking. For example, some pages like taxonomy/archive pages, privacy policy, disclaimers should be excluded. This avoids affecting your site's relevancy in the eyes of Google.
To instruct Google what pages not to crawl and index, you can set the pages to be "noindex" by using SEOPress. You can easily nonidex the entire taxonomies or archive pages in the setting. You can either do this in whole or on a per post or page basis.
8. XML Sitemap is not provided to Google or Bing
XML sitemap is a must to help search engines find your pages and index faster. You can generate an XML sitemap very easily with the SEOPress plugin.
Just go to SEOPress > XML/HTML Sitemap and toggle on the functionality. It will keep a dynamically updated XML sitemap for the search engine to crawl and index your pages.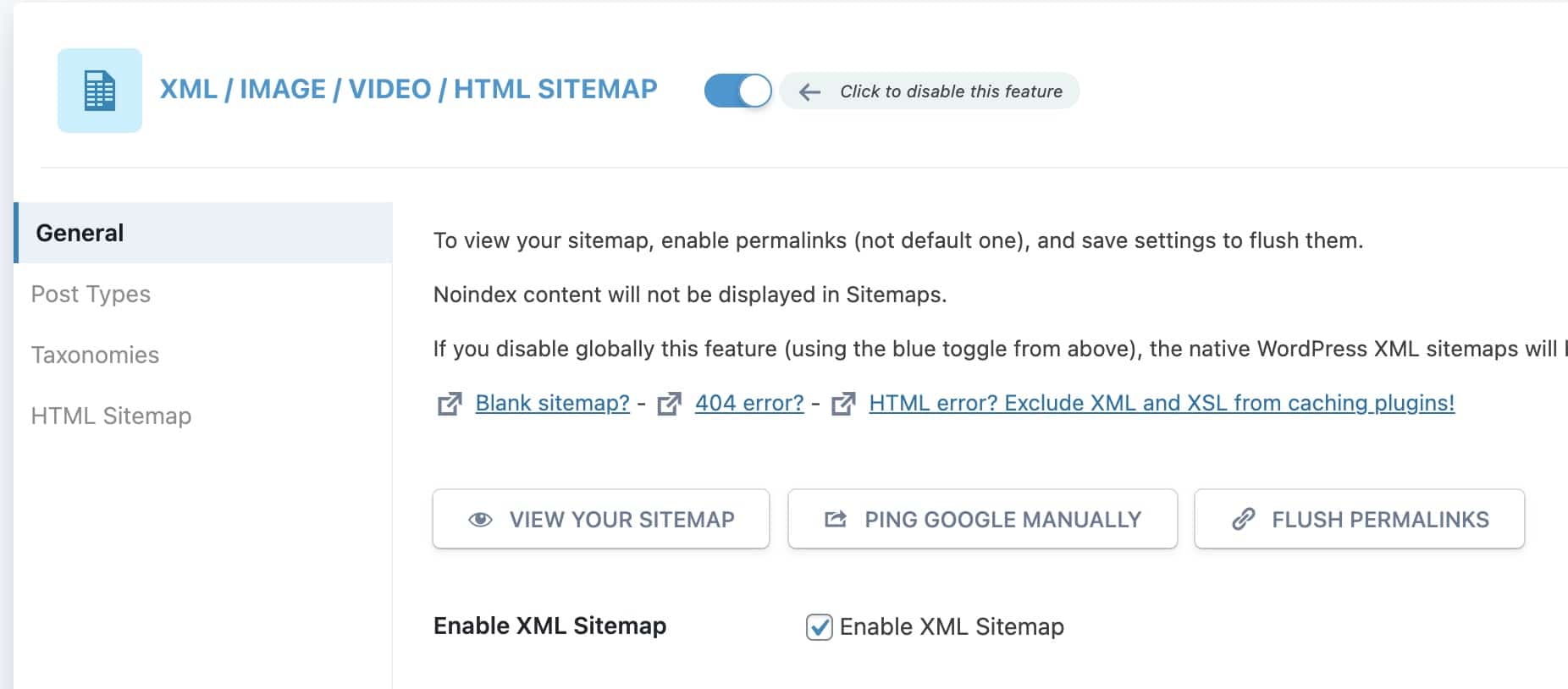 9. Site Speed is Not Optimised
Site speed is very important for SEO. Google puts a lot of weight on site speed as it seriously affects user experience. Therefore, you should ensure your webpages load fast.
Using a good web host is the most critical. You shouldn't build your business on some cheap shared hosting servers. I recommend using WPX hosting, which is affordable and super fast. Also, using a lightweight WordPress like GeneratePress can speed your site without extra configuration.
To check your site speed, you can use some free tools like Pingdom, PageSpeed Insights or GTmetrix.
10. Duplicate Content
Although Google does not penalize sites for publishing duplicate content, it will be able to figure out which one is the original publisher. Only the original one will be able to be shown on the search results.
Also, having duplicate content on the same site is not good. You cannot rank for the same keyword with multiple pages. It looks messy and you should combine the duplicate articles into one. 
For removed articles, you should create a redirection to the original post as well. It's easy to do this with the SEOPress plugin.
Conclusion
SEO is not easy and it takes time to understand what works and what does not work. Google seldom reveals how its algorithm works. Sometimes, you need to test.
Nobody can do everything right, but those who do most things right win the SEO competition. This article only lists out 10 common SEO mistakes and there are still many more. But at least, you should avoid these 10 mistakes to increase your chance of ranking on Google.
This article is not exhaustive when it comes to what to do and what not to do for SEO. Please comment below to share with us more SEO mistakes to avoid.