Are you looking for a Benchmark Email review? Should you use it for your business? Is Benchmark Email a scam?
If you are looking to use Benchmark Email in your business, you may have these questions in mind. But you will have all your doubts resolved by the end of this Benchmark Email review.
I have a passion to help businesses explore the best software to improve business operation and increase profit.
In the past week, I've done thorough research about Benchmark Email. So I can tell you a lot of things about Benchmark Email to help you make an informed and wise decision.
In this Benchmark Email review, I'm going to cover the following.
What is Benchmark Email?
Benchmark Email was founded in 2004 in California.  The feature set is solid and the price is competitive.  Benchmark does not lead in terms of price or features in the industry. It, however, offers simplicity and value for money.
With Benchmark Email, you'll get robust visual automation tools, A/B testing that runs smoothly, and analytical tools that can be used for training.  
Its social integrations with Facebook, Twitter, and LinkedIn, as well as Slack, offer a well-rounded product offering.  Also included is a reasonable CRM for small businesses.  
Even the Pro service is quite competitively priced, starting at Free for up to 2,000 contacts.
Benchmark Email Review: Features
When it comes to email creation functionality, Benchmark Email excels. Additionally, contact management features are robust, but segmentation options are limited.
Email editor
By displaying one step per page, Benchmark Email helps you create an email as efficiently as possible. You first select whether to use a drag-and-drop editor, a plain text editor or to write the email by hand. A subject line is prompted next.
You can be sure you have completed all the steps by using this step-by-step approach. The email is then sent along with a checklist of steps you must complete. In this manner, you can accomplish exactly what you need in a way that is similar to Mailchimp, making it extremely easy for people with no email marketing experience to use.
Email recipients can be selected from your existing list of emails and individuals can be manually removed from the list as needed.
You can really benefit from this. You might not want to contact people on the mailing list if they have an open ticket with customer support.
You can choose from a wide range of email design templates organized by industry and occasion with Benchmark Email.
You are able to customize each template, deleting, editing, and moving existing content blocks, as well as adding new content, including images, videos, buttons, navigation bars, and email reminders.
It's easy to optimize emails. Based on successful previous campaigns, Benchmark Email can suggest subject lines. Additionally, you can use it to determine which subject lines work best by running A/B tests.
Make sure your emails end up in the recipient's inbox by sending test emails, checking how the email looks in their email client, and running a spam check, which catches broken links, design problems, and typos.
Benchmark Email's email editor offers a couple more unique features including the ability to auto-tweet your emails and to automatically add them to your website's email newsletter archive.
Contact management
If you want to add contacts to Benchmark Email, you can add them manually, upload a list, copy and paste from another document, or import them from another tool. 
Creating signup forms is easy with Benchmark Email, but it is not very advanced or intuitive and is difficult to customize.
Benchmark Email's list cleaning feature is highly useful. If you need to remove addresses after sending an email, you can run the following functionality and look at recipient actions:
Bounces (hard, confirmed, and soft)

Unsubscribes

People who have not opened a newsletter in a set time period
The creation of segments in Benchmark Email is simplified by breaking the process down into small steps, as it is with most of its features. 
Afterwards, you specify criteria based on the segment name, description, the list you want to use, and once you've done that, you choose an email list.
In Benchmark Email, you can segment customers according to as many factors as you like, but these factors are limited to demographic information, specific dates, such as when they joined a list, and custom data you collect from them.
The application lacks conditions for purchasing history, website browsing history, and contact source, including social media, websites, and trade shows.
Autoresponders
You can build your own autoresponder with Benchmark Email, or use one of the provided templates.
With Benchmark Email, you can easily create complex sequences of emails that better engage your customers by breaking autoresponder implementation down into manageable steps. 
Before adding emails to sequences, you pick your list, your trigger, and the time delay to use. 
In the event you have not already created these emails, you can do so manually.
Reports
A/B tests, automated email sequences, and email campaigns are all tracked by Benchmark Email. Reports on these topics include:
Opens

Clicks

Bounces

Unsubscribes

Email forwards

Shares on social media

Opens by location
Comparing these metrics through A/B testing reports will show you which subject lines and delivery times perform best.
Benchmark Email Pricing
Benchmark Email offers a free plan, a paid plan for small businesses, and a custom plan for enterprises. There are a lot of features in the free plan, but they don't include:
Email list cleaning

Advanced segmentation

Landing pages
The main paid plans include unlimited email, and the price depends on how many subscribers you have. Here are the prices:
Up to 500 contacts: $15 per month

600 to 1,000 contacts: $23 per month

1,001 to 2,500 contacts: $35 per month

2,501 to 5,000 contacts: $58 per month

5,001 to 10,000 contacts: $89 per month

10,001 to 15,000 contacts: $118 per month
There are also add-ons available for Benchmark Email that you can purchase at a monthly or flat rate.
A few of these include testing your email on 100 different devices ($14), hosting your images ($5 per month), and verifying your list of email addresses ($3 for 1,000 contacts).
Benchmark Email Pros 
Easy-to-use editor
Most newsletter tools get this wrong, but Benchmark is easy to use with all the features you'll need. It is easy to navigate and work through the setup process quickly thanks to the clean design.
Straightforward user interface
The user experience and the user interface at Benchmark Email are also very simple. The four main menus are:
Email

Contacts

Automations

Reports
There are several submenus beneath each of these menus, each with a clearly marked functionality, such as "segments" and "A/B" testing. 
Benchmark Email describes all its features in the most straightforward terms so you can easily find the one you're looking for. 
You can also easily return to the dashboard at any time.
Flexible templates
Their template selection is wide and high-quality, with mobile display options for all templates. Types, industries, and calendar holidays are sorted by date.
Marketing automation
Benchmark allows you to set up behaviour-based email campaigns that are ideal for things like abandoned cart follow-ups and basic lead nurturing. 
Setting up automation is easy with the visual workflow editor.
Benchmark Email Cons
Deliverability issues
Benchmark emails have been flagged as spam a lot in past email deliverability tests. Recent tests have yielded similar results, which is disappointing.
File storage charges
The amount of image storage is useless, and they charge for an expensive upgrade ($5/mo). It should be included in the plan price.
Who is Benchmark Email For?
You need a simple and easy newsletter tool:
Benchmark is an easy-to-use tool with a clean design, logical navigation, and an intuitive email editor. This is a great email tool for beginners, or if you just want something easy.
Who is Benchmark Email Not For?
You can't afford to have your email go undelivered:
As funny as it sounds, if your email needs to be delivered (such as transactional emails), then you should avoid Benchmark because it performed poorly in our deliverability tests.
You don't want to spend a cent:
Benchmark offers a free plan (which includes a fair amount of features), but with its tiny image storage limit, you'll probably need to pay $5 a month extra to get unlimited storage. 
You are also limited to sending 250 emails per month with the free plan.
Benchmark Email Customer support
Benchmark Email has a sticky help button at the bottom of its main navigation, which you can access regardless of what feature you are using. Support varies depending on your plan.
You will only get online support (email) Monday through Friday between 6 a.m. and 9 a.m. if you subscribe to the free plan. and 5 p.m. PST. 
As part of the Pro plan, you get Premium support, which includes live chat and phone support, as well as access to the knowledge base. 
The Enterprise plan includes priority support, email deliverability monitoring, and semi-annual health checks.
Other Benchmark Email Reviews
Customer Review #1
"Very good! Customer support responded quickly to my inquiries. For emailing your customer base easily and on a regular basis – this is good value for the money.
Pros
I loved the ability to design newsletters and email them directly to my subscribers. They have many different templates for you to choose from. The ease of use made my actual "writing time" for a newsletter minimal.
Cons
I used Benchmark when I first started in an online business. It was very easy to use and the price was in my comfort zone. I then tried to set up a couple of "funnels" and could not do so (this was a couple of years ago – so time may have changed). I contacted Customer Support and was informed that the system I was trying to put in place was not available through Benchmark, that they were only for emailing directly. Unfortunately, I had to close my account and move on to a competitor that did allow me to build out my funnels for online marketing."
Customer Review #2
"Overall, I am satisfied and will continue to use Benchmark. I started on a Free Trial and upgraded to a paid service. I plan on sticking to Benchmark for a quarterly newsletter and using to send an invitation or special emails.
Pros
This platform is very user-friendly. It doesn't take much effort to get up to speed on how to use it, and there are many email templates to choose from so you don't always have to create something from scratch! I think it's good value for the money, and the support team has been very helpful in my experience.
Cons
There are some features where I feel limited. I am not too experienced with software like this, so I don't know what's available….but I really wish there was a pop-up feature, where users could click on a button and it would connect to their email to forward a newsletter for example. I also have experienced some deliverability issues and have not been 100% satisfied with the response. I think with this and being a new user, it takes time to learn and develop the best strategy."
Customer Review #3
"I send out a great many videos and wouldn't use an email service without this capability. My trial period was cut short due to the limitations on a free account, forcing me to pay before I had a chance to evaluate the platform. I feel there should be special pricing for a Non-Profit. I'd like to see unlimited contacts and due to a paid account, have unlimited emails.
Pros
I've experienced great support and sending my first email was fairly easy. Drag & Drop feature is a good selling point.
Cons
The editor is slow and I set the line spacing but it seems to choose what it wants."
Major Software Review Sites' Rating on Benchmark Email
Capterra Rating: 4.2/5
G2 Rating: 4.1/5
TrustRadius Rating: 8.3/10
GetApp Rating: 4.2/5
PCMag Rating: 3.5/5
SourceForge Rating: No rating
Crozdesk Rating: 4.1/5
SoftwareSuggest Rating: No Rating
SaaSworthy Rating: 92/100
EmailToolTester Rating: 3.5/5
TechRadar Rating: 3.5/5
Fool.com Rating: 8.2/10
Gartner Rating : 4.9/5
Software Advice Rating: 4.24/5
Website Planet Rating: 4.6/5
Benchmark Email Review FAQs
How much does Benchmark Email cost?
With Benchmark Email's free version, you can access several of the company's features, but you're not able to use advanced segmentation, landing pages, or email list cleaning. Payment plans for up to 500 contacts begin at $15 per month. 
Depending on how many contacts you have in your email list, the price increases. Additionally, there is an Enterprise plan with custom pricing.
Does Benchmark Email include autoresponders?
The answer is yes. Both Benchmark Email's free and paid plans include autoresponder functionality.
What support options does Benchmark Email include?
Benchmark Email's support varies depending on the price plan. Support is only available online (via email) with the free plan. 
Additionally, you'll gain access to a searchable knowledge base as well as live and recorded webinars with the Pro pricing plan. 
You receive semi-annual health checks and managed account setup as part of the Enterprise plan.
Benchmark Email Review: Final Verdict
Benchmark's paid plans are in the middle to higher-end, depending on subscriber numbers, when compared to those of its competitors.
Easy-to-use, especially in terms of the editor and templates, makes them a viable competitor to their competitors. When you take into account issues such as deliverability, Benchmark starts to lose some of its lustre.
With automation pro, users can create simple yet useful campaigns so they can get a head start when it comes to marketing automation. However, it cannot match ActiveCampaign's powerful automation tools. Automation Pro is free to try, but you will have to upgrade to a paid plan to activate your campaigns.
Benchmark is surprisingly stingy with their image and file storage: 10 MB won't get you very far. You'll probably have to pay an additional $5 on top of that when calculating the cost of their plans.
Benchmark is an excellent tool that is easy to use as well as well designed.
You can also check out their free plan to see if their marketing automation and email capabilities suit your business needs.
Benchmark Email Alternative: A Must-Have Online Marketing Tool
As you are reading this review, I'm sure you are an online entrepreneur, so I would like to introduce a very powerful marketing tool to you to help you scale your business to the next level.
It's called ClickFunnels. You may have heard of it, but if not, let me explain why you should consider using it to generate more sales online.
ClickFunnels is an all-in-one marketing tool that helps entrepreneurs, digital marketers and business owners market, sell and deliver their products or services online. 
ClickFunnels is the only piece of software you will ever need to run an internet business.
It eliminates the need to hire a web designer or salesman who is overpriced and lazy. So you can save a lot of money using ClickFunnels in the long term.
Anybody can build, design, and launch a sales funnel using ClickFunnels, regardless of their experience. Those days of hiring coders, web designers, and marketing agencies are over. With ClickFunnels, getting your business online has never been easier.
Get 14-Day Free Trial of ClickFunnels Here
But How Much Can You Earn With ClickFunnels?
Many online entrepreneurs are using ClickFunnels and have earned at least $1 million in sales using ClickFunnels. The earning potential is limitless.
ClickFunnels created an award called the "Two Comma Club" award for entrepreneurs who reached the 7-figure financial milestone inside one of their ClickFunnels funnels.
The screenshots below are some of the winners of the "Two Comma Club" award. Do you want to be one of them?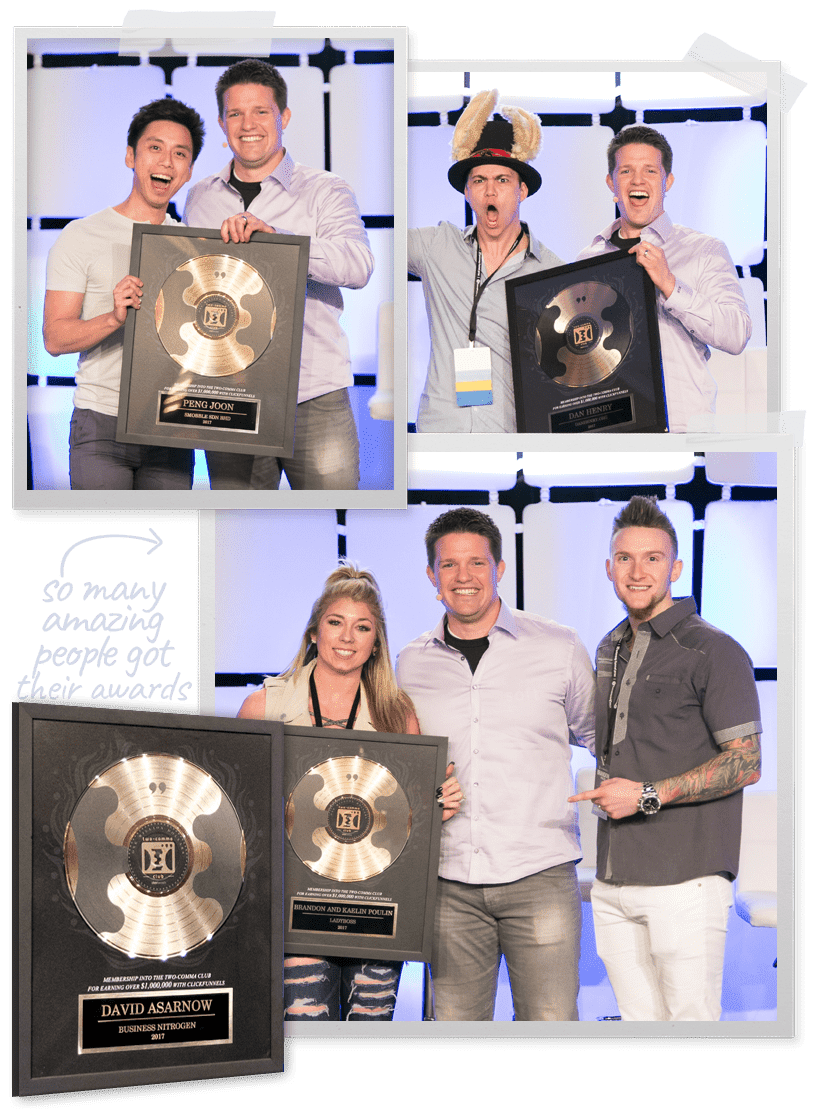 With ClickFunnels, you can drastically increase the opt-in rate and upsell conversion rate: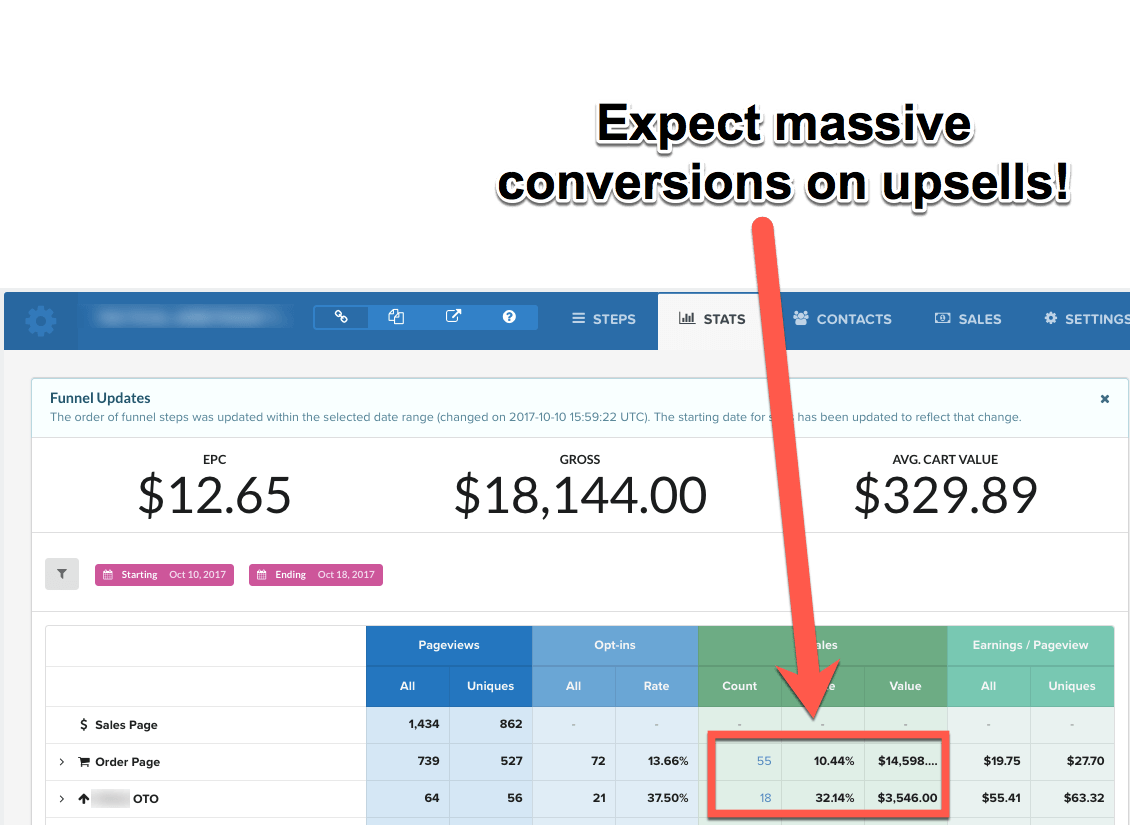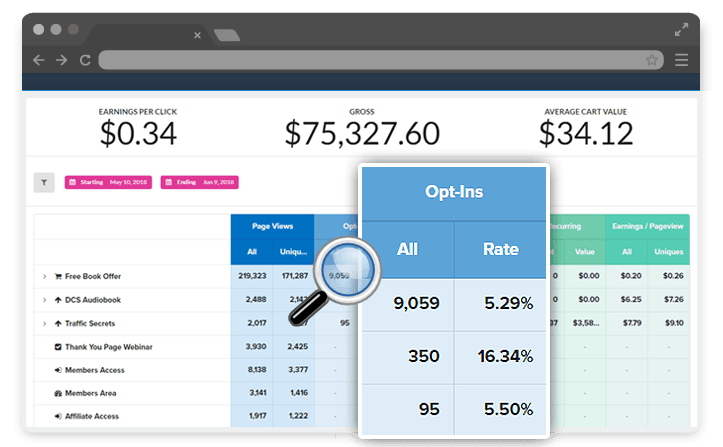 Get 14-Day Free Trial of ClickFunnels Here
Where to Get ClickFunnels?
ClickFunnels offers a 14-day free trial.
If you want to try ClickFunnels and see if it fits your online business model, you can sign up for the free trial here (no worries that you can cancel it anytime within 14 days and won't be charged a penny).
With the free trial, You can get instant access to every amazing feature of ClickFunnels:
Drag-And-Drop Website/Page Builder

One-Click Upsells & Downsells

Optin-Forms

Order Forms

Membership Area Pages

A/B Testing

Follow-up Funnels

Email List Building Tools

Email Management

Integrated Affiliate Management System

Sales Analytics

Pre-Built Funnel Templates

Payment Gateways Integration

Third-Party Integrations & Apps

CRM

And many more…
If you want to see a detailed evaluation of ClickFunnels, you can read this ClickFunnels review.
Anyway, I strongly recommend you to register a free account with ClickFunnels and see it yourself.